Washington and Madison Squares. The King of All Buildings. St. Patrick's Cathedral. Tiffany & Co. The east end of Central Park. The Plaza Hotel. The Metropolitan Museum of Art. The Guggenheim Museum. The Museum of the City of New York. Captain Jack McCarthy and the St. Patrick's Day Parade. Classic lampposts. When you think of the Queen of Avenues, you think of all those things and more.
But, I do things a little differently here on Forgotten New York, as you have known for over fifteen years. In November 2015, I walked the length of 5th Avenue north of Central Park all the way up to the Harlem River Drive, a part of the avenue the tour buses and walking tours don't visit often or don't visit at all. It's hardly an abandoned stretch of road, but it's usually little-remarked upon…
When I left off at the end of Part 1, I had reached West 127th Street, or Langston Hughes Place. Continuing north….
On the west side of 5th Avenue between West 127th and 128th, there's a stand of classic residential buildings, interrupted by a noncontextually renovated building that kept its brownstone stoop, which only makes it stand out like a sore thumb even more.
But, the building on the left in this picture, #2064 5th Avenue, is somewhat rundown but has retained most of its classic elements. According to a Trulia freal estate listing it was designed as a mansion with 19 rooms that included 15 bedrooms, 6 bathrooms and a full cellar, and original detail like inlay flooring and fireplaces are still intact.
Today's architectural term is voussoir. A voussoir (pronounced voo-swahr') is one of many wedge-shaped stones used to build an arch. They're hard to see here, but a closer look will reveal them. The central voussoir is of course the keystone.
Though the glass blocks came much later, the original number plate with serifed script seems intact from the building's origin.
#2068-2076 5th Avenue are a matched set of bricked palaces with arched entrances, heavy window lintels, and a corner turret Rapunzel would find useful. These date to the 1880s. The modern window replacements at #2068 make that building not quite as fab.
#2069 5th is another handsome brick building, better maintained that its cousin across the street, #2064. The presence of some religious symbols on the front gate leads me to think it might be a parish house for St. Andrew's Church (see Part 1)
The Collyer Brothers Park at the NW corner of 5th and West 128th is named for history's most infamous hoarders. It is all that remains of the former abode of Homer and Langley Collyer, a brownstone row house on the corner that the two brothers had occupied for 38 years between 1909-1947. They had moved to the house with their parents, gynecologist Herman Collyer and his wife Susie; the doctor abandoned his family in 1919, passed away in 1923, and the two sons inherited their parents' possessions and moved them into the 5th Avenue brownstone. Both brothers were Columbia University graduates, Homer earning a degree in admiralty law and Langley a degree in engineering, though he also apparently aspired to be a concert pianist.
After a series of attempts to burglarize the building by outsiders the brothers became increasingly reclusive, boarding up the windows, never throwing out any accumulated possessions and even setting elaborate booby traps to foil any intruder. Eventually they had collected numerous pianos, thousands of newspapers, and a model T Ford (living without gas or electricity, Langley had rigged up a generator from the car engine). Homer suffered a crippling stroke and lost his sight, forcing Langley to scour the neighborhood for scraps or cheap food, with water being obtained from Mt. Morris Park fountains. The brownstone became suffused in squalor with dozens of stray cats, rodents and other vermin. The two brothers were finally found dead in the apartment in 1947; Langley had fallen victim to one of his own booby traps while Homer died of malnutrition. It took weeks to find his body amid all the accumulated junk. The authorities followed the stench.
The block of East 128th between 5th and Madison Avenues was subnamed in July 2014 for the great author/playwright James Baldwin (1925-1987) for the 90th anniversary of his birth in Harlem.
During his youth James Baldwin had attended PS 24 at #22 East 128th, now the Harlem Renaissance School.
When I'm in the neighborhood I always drift over to see one of the neighborhood's last remaining wood frame/porched homes at #17 East 128th Street. It was constructed as early as 1865 in the French Second Empire style best recognizable by its scaled, slanted roof with three dormer windows. In 1981 the house was purchased by Carolyn Adams, a prominent dancer and choreographer with the Paul Taylor Dance Company, from Paul Seeley, then 90 years old, who had occupied the house for 60 years. The house and its environs are described in detail at this Neighborhood Preservation Center webpage.
Much larger example of the French Second Empire style on the NE corner of 5th Ave. and East 129th Street, actually a pair of attached buildings.
Another of the neighborhood's old country houses, this one at 12 West 129th Street, constructed about 1863, boasts a Moorish style porch added in 1882. There's a separate pavilion on the driveway out in the back. It was close to abandonment in 1991, but it has since been restored as a hostel called Jazz on the Villa.
5th Avenue becomes perhaps less interesting architecturally  for several blocks north of 129th Street, but here's the remnants of a meat market near West 132nd Street. Just the letters EAT remain.
Nearing 135th Street, the towers of the Riverton Square Apartments come into view. Riverton Square bills itself as "Harlem's premier professionally managed apartment community" and has the pricing to back that up, with one-BR apartments averaging close to $1800 a month. The complex was completed in 1944.
East 135th Street offers access to the Madison Avenue Bridge via a left turn on Madison Avenue. However, that's not the bridge seen in this shot. Instead, it's the majestic lift bridge that brings Metro North, formerly the NY, New Haven and Hartford RR and New York Central, over the Harlem River. The bridge is able to be lifted along the towers to allow shipping to pass. This bridge was built in 1956; it replaced an earlier box truss and wood spring span (1841) and a 4-track steel swing bridge built by Alfred Pancoast Boller, who built several traffic bridges crossing the Harlem.
#2238 5th Avenue, the Central Harlem District Health Center, part of the Harlem Hospital Center, was constructed in the 1930s with a McKim, Mead and White design featuring two Ionic columns at the front entrance. The building's interior was modernized in 2008.
Classic apartment buildings get sparse on Upper 5th, which is dominated by projects such as the Abraham Lincoln Houses, Lenox Houses, and North Harlem Houses. This one was constructed ca. 1910-1920 and like buildings of its time, features large heavy window lintels, round windows on the 2nd floor, and quoins (the stones seen on the corner).
At 5th and West 138th is an original-design fire alarm from 1912. How do I know it's 1912? The answer is simple.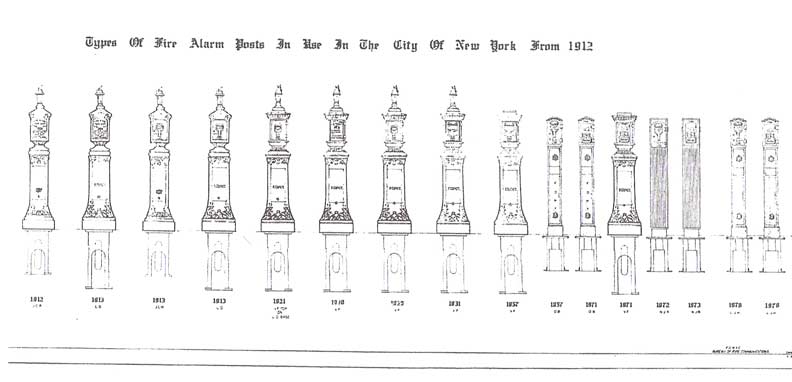 I happen to have Steven Scher's guide to NYC fire alarms — and the design used in 1912, seen at far left, was used in only that year. It features a slope-roofed alarm box and an interlocking FDNY logo on the base. In subsequent years the slope-roofed boxes would be modified and the FDNY would be spelled out in four separate letters. Two designs , including both renderings of FDNY, were used in 1913.
Scher is the author of NYC Firefighting 1901-2001 [Arcadia 2002]
I always enjoy it when I happen upon one of the 1912 originals.
Mid-to-late 20th Century housing at 5th Avenue and 139th Street.
A pictographic sign at West 139th points to an on-ramp for the Harlem River Drive, which in turn services the George Washington Bridge.
Harlem Self-Storage, on 5th Avenue between West 141st and West 142nd Streets, is painted red, white and blue, but that's not what makes it unusual. It's also the home of the Global Community Charter School, a K-3 school founded in 2012. It moved to this building in February 2015.
Before 5th Avenue attains its northern reaches, there's one more card in the deck: the 369th Regiment Armory, constructed in two stages in the late 1920s and early 1930s when Art Deco was in full sway (check those eagles!) According to Nancy L. Todd, author of New York's Historic Armories, the 369th was a tribute to African-Americans' participation in war efforts since it became known as the 15th Regiment, founded as the Negro Regiment of Infantry in 1913, renamed four years later and colloquially known as the Harlem Hellfighters. It was the first regiment made up of African-Americans in the National Guard: before the foundation of the 15th, American or Puerto Rican blacks had to fight for Canada or France.
A monument to the fallen of the 15th Regiment is located in the traffic triangle at 5th Avenue, Harlem River Drive and 142nd Street. Also notably, this is the only lamppost on the east side of 5th Avenue that carries a West street sign (142nd ends at 5th avenue).
As shadows gather, the north end of 5th Avenue is at a playground at West 143rd Street. A tower in the Esplanade Gardens housing project can be seen at the rear. This is the northernmost "5th Avenue" sign in Manhattan.
Also seen here is the 145th Street Bridge: construction on the 145th Street Bridge began on April 19, 1901, and the $2.75 million bridge was opened to traffic on August 24, 1905. The designer was Alfred Pancoast Boller.
11/29/15