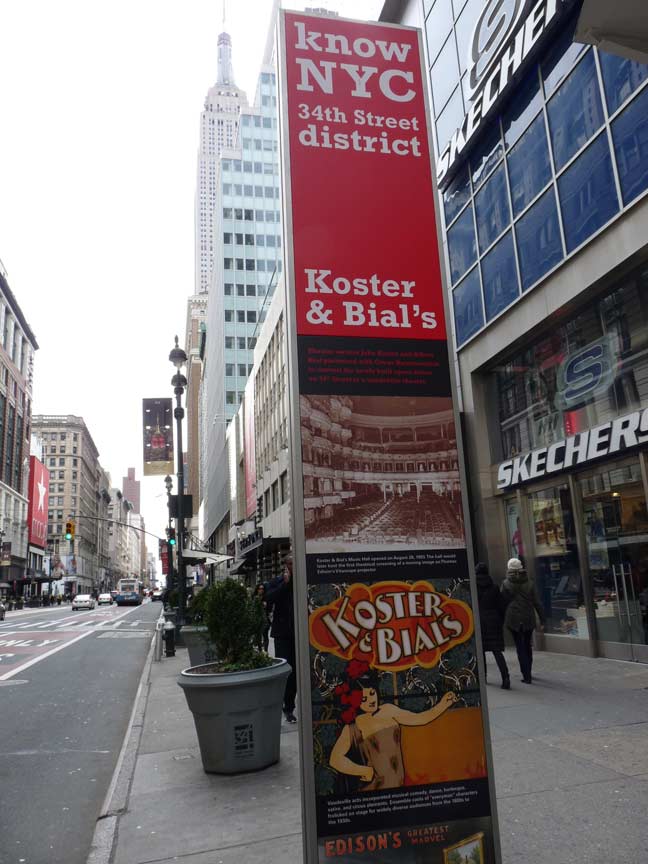 In one of the great NYC injustices, there is no immediate transfer from the Long Island Rail Road in Penn Station to the subway lines that run under 6th Avenue including the PATH train, which I have had to take for a few weeks in the spring of 2016, necessitating a forced march down 34th Street each morning. However some surprises have turned up. A new informational "kiosk," more of a narrow sign than anything else, notes the presence of Koster & Bial's, an opera and vaudeville house that was in business on the block between 1893 and 1901.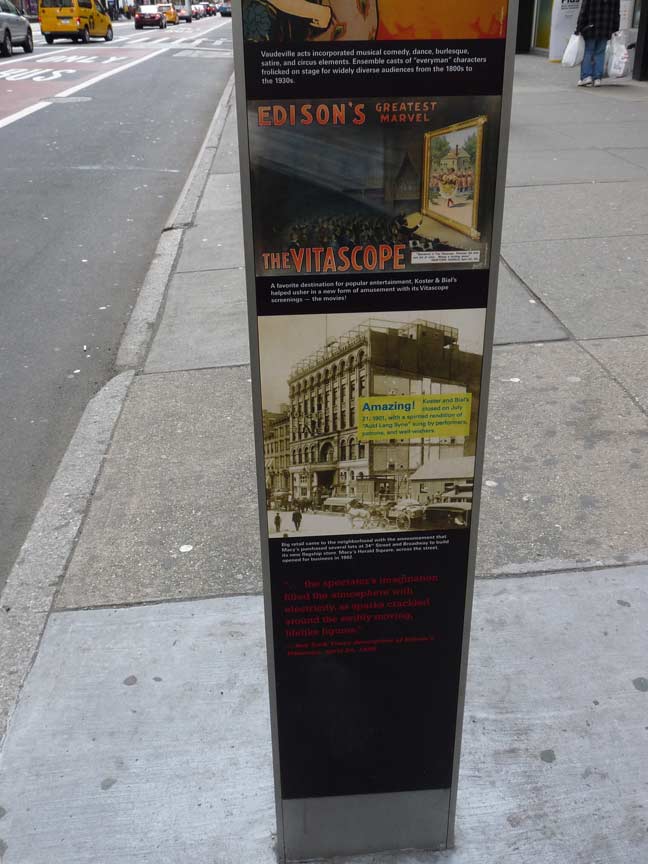 John Koster and Albert Bial were German immigrants who ran a series of entertainment establishments and concert halls in the late 19th Century. They opened their first venue at 6th Avenue and 23rd Street, in 1879, a beer garden with occasional performances. Two years later Koster & Bial opened a second establishment at 115-117 West 23rd; this one was more of a theatre offering song and comedy, a precursor of sorts to vaudeville. K & B remained in the 23rd Street area until 1892, when they moved uptown, as much of NYC's entertainment business then was doing, to West 34th, where they ran a larger theater under the aegis of Oscar Hammerstein, Senior until their deaths in 1895 and 1897 respectively. The uptown Koster & Bial's property was purchased by R.H. Macy's in 1901, and The World's Biggest Store remains on the property today.
Thomas Edison presented what he called the first demonstration of a moving picture at K&B in 1896, though that accomplishment is claimed by others.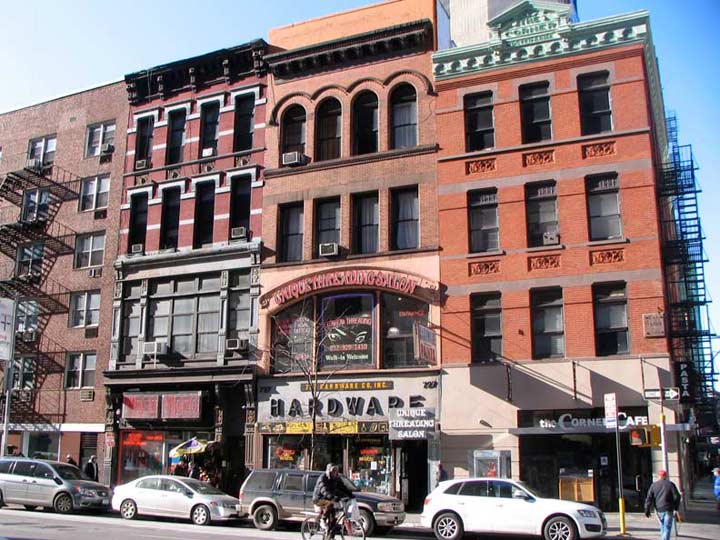 There's a more tangible and immediate remnant of Koster & Bial's further downtown at 6th Avenue and West 24th, where there's a handsome brick building that has somehow resisted being demolished in favor of high-rise apartment buildings on that stretch. "The Corner" building  was constructed from 1886-1887 and served as K&B's offices, also containing a beer bottling business. Ironically it was part of the K&B empire for only a short time but it has advertised their former presence forevermore.
That corner, of course, was also the longtime home of Billy's Topless, before new regulations ultimately doomed it.
3/21/16