For this trip, I transferred from the J train to the 7 train. The two lines do not have a transfer point at any station — so I had to walk seven or eight miles to make the transfer. After a few weeks trampling about southern and western Staten Island, visiting Prince's Bay, Travis and Charleston, I was in the mood to travel through more urban scenes and starting in Williamsburg, which has been built up for over a century and a half, fit the bill pretty well. I decided to travel through the Willie, into Greenpoint's eastern reaches, and then cross the noxious and noisome Newtown Creek into Sunnyside.
GOOGLE MAP: WILLIAMSBURG TO SUNNYSIDE
When I left off, I'd just finished with Washington Plaza, its domed bank-turned-church and statue of George at Valley Forge. I made a beeline up Havemeyer, named, as I mentioned in Part One, for a sugar-manufacturing family that sent a member to City Hall.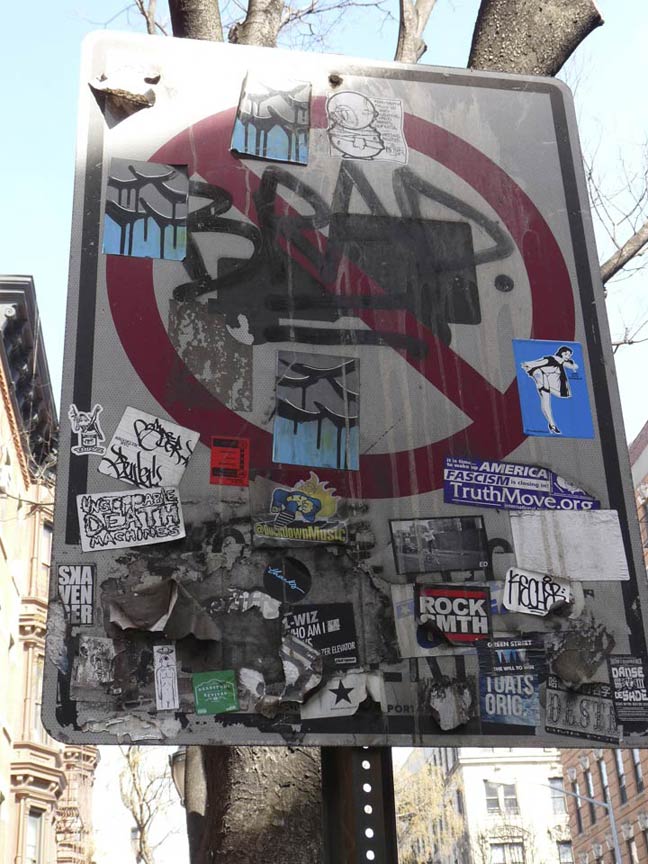 Havemeyer Street, as we'll see, is replete with signage — old, new and in between. This traffic sign is so begrimed with additions by the neighborhood youth that I don't even recognize what the original signal was supposed to be.
Here's an unusual hybrid: an octagonal-shafted post with a classic park post affixed to the top. Sometimes the Department of Transportation just uses what's immediately available on hand.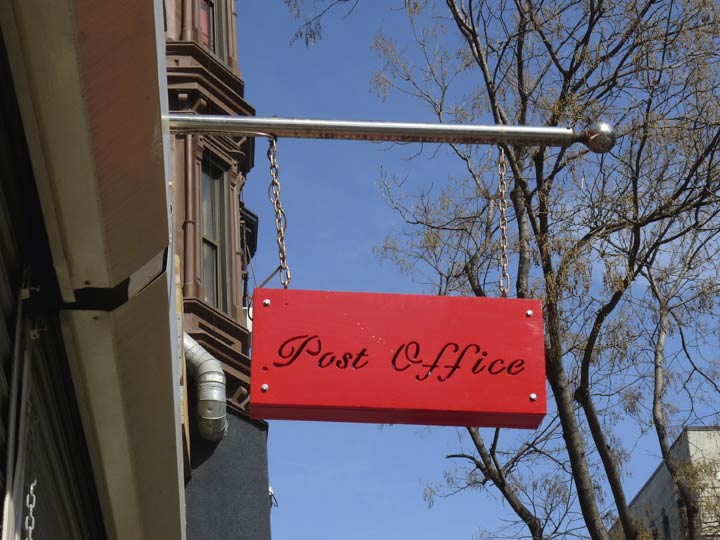 Post Office is a liquor bar — mostly whiskey — on Havemeyer just north of the BQE that also serves food. Its only identification is this small red shingle sign. Its name baffles me; perhaps the space was formerly a post office (it doesn't look like it) but "post" may have something to do with whiskey or liquor.
I must admit, that as the world's oldest child at age 58, the appeal of hard liquor has always been lost to me except for sleep inducement. I dislike getting buzzed or drunk and the taste, whatever variety you can think of, vodka, whiskey, whatever, has always been too harsh. Even wine to me tastes like very bitter grape juice and I'd rather have the grape juice.
[WRG id=54274]
Directly across Havemeyer is this place, which, according to Google Street View, used to be called "Daily Press Coffee" but has decided now to go with just the name of what you will find inside. This is one of those places where they create designs with milk swirls in the coffee cup. I must admit I have one cup of coffee a year, and that at one holiday gathering or the other. I don't really have a dislike of coffee, but I never got into the habit of swallowing it several times daily, the way some people do it. Don't worry. I do have some addictions, like Diet Coke and Diet Sprite. Anyway you can't swing a dead cat in "gentrifying" neighborhoods without hitting coffee joints like this. If I did drink coffee I'd probably use Folger's or get it from the corner deli in one of those blue and white cups with designs from ancient Greece on them. I hear regular comes with milk and sugar.
For many years South Williamsburg has been a Latino stronghold and in many respects Latin culture is still hanging tough. At first glance you would think this is a surviving shoe repair place from the old days, but I noted with not a little disappointment that gentrifiers believed the old-school shoe repair sign was cool in some way and have simply retained it on top of the new "invading" business, Foxy Greens, a vegetarian juice bar and smoothie shop.
As the Spanish-language words (for pharmacy and prescriptions) on the cut-wood sign indicate, Mittman's Pharmacy has been a neighborhood staple for decades. In recent years, the wood sign has been repainted from blue and orange to brown and white.
[WRG id=54284]
I should note that between Broadway and Metropolitan Avenue, Havemeyer Street is lined with simply designed, cylindrical, davit-style lampposts not found in general issue anywhere else in NYC, likely from an urban-renewal project in the 1970s; Roebling Street and Division Avenue feature differently designed lamps also unique to New York.
L-shaped specialty lamps produced by the Downtown Alliance have also appeared in lower Manhattan on Broadway and Queens' Jackson Avenue, and curved posts have sprung up on Fulton Street in recent years in other unique lamppost designs; the 34th Street Partnership also installed hundreds of its own designed lamps in Midtown in the early 1990s.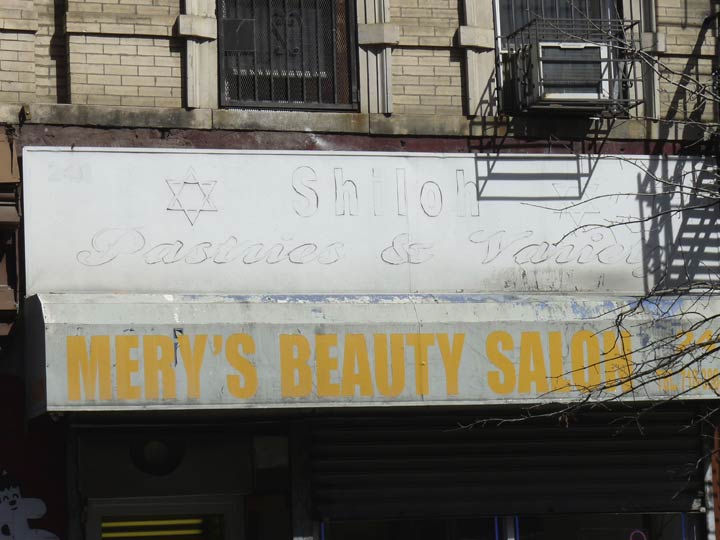 Next door to Mittman's on South 3rd, there's a ghost of a previous Jewish bake shop above a beauty salon sign.
[WRG id=54294]
New and old methods of building construction side by side on Havemeyer north of South 3rd Street.
[WRG id=54291]
In one of the more extensive of Havemeyer Street's transmogrifications, Jack's Cancellation Shoes at 161 Havemeyer has undergone a radical transformation. For those mystified by the name, as I was, the blog called I'm Not Sayin, I'm Just Sayin' offers:
according to the American Marketing Association's Marketing Terms Dictionary, in this context the term cancellation means

A notification to a vendor that a buyer does not wish to accept ordered merchandise. Also, it is merchandise declared surplus by retailers, often sold in broken lots to discount houses or liquidators. (Out-of-style or slightly damaged shoes are frequently sold as "cancellation shoes".)

A glance around Google's results suggests that 'Cancellation Shoe' stores were a mid-20th century phenomenon in the US, and that there's only a couple of stores left using the phrase – including Jack's, and one Dan's Cancellation Shoes in Philadelphia.
Just to show you that misspellings are nothing new. The "Havemayer" Flats, a large apartment building on the corner of Havemeyer and South 2nd Street, sounds like a name found on the frontier days way out west.
[WRG id=54298]
An otherwise abandoned building across the street still has several functioning businesses on the ground floor that, in addition, point to the nearby Orthodox Jewish section of South Williamsburg found mostly south of Division Avenue.
Normally, I don't go in for slapped-up buildings displaying cinderblocks, but at least these folks on South 2nd west of Havemeyer made an effort and used multicolors to liven things up.
[WRG id=54302]
Across the street, L'Industrie is a hole in the wall pizzeria that has gained decent reviews. I never seem to be able to sample from pizzerias, delis, diners etc. along my walk routes, since I always have dinner planned or something defrosting for later on, but this is one place I wanted to try, prices allowing. There are more traditional pizzerias elsewhere on Havemeyer.
[WRG id=54307]
NYC Bikes, at 140 Havemeyer, is situated in a former liquor store (obvious by the presence of an overhanging sidewalk neon sign that has been out of order for some time now. When I passed in early 2016 the bike shop itself was under renovation and had plastered the windows with scenes from They Live and The Apartment (Jack Lemmon has come to chew bubble gum and kick ass and Shirley McLaine's all out of bubble gum). The building it's situated in appears to have been built in the latter part of the 18th Century.
Liquor store businesses often have decades-old signage, since there's no need to change a large sign that says "liquors" if it's getting the job done.
Two doors away at 164 Havemeyer is a classic plastic-lettered sign, likely from the 1970s or earlier. Note the Spanish word envios, "shipments."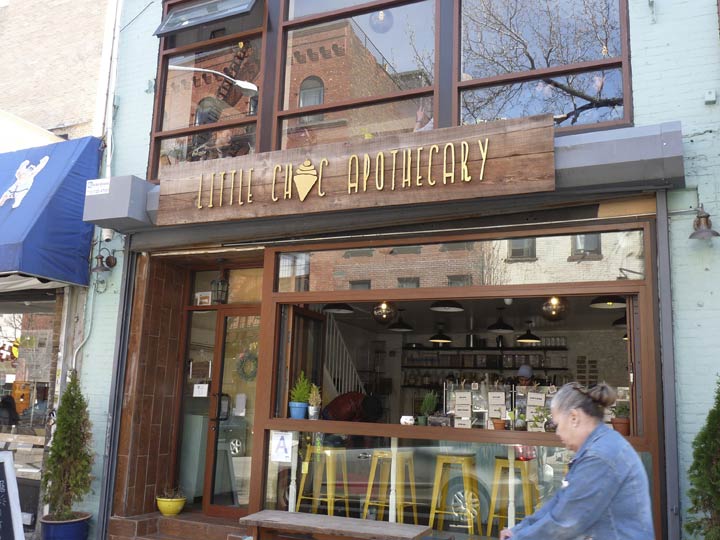 Little Choc Apothecary, 141 Havemeyer. Despite the word "apothecary" which means "drugstore" this is actually a vegan crepe vendor.  "Choc" apparently means chocolate.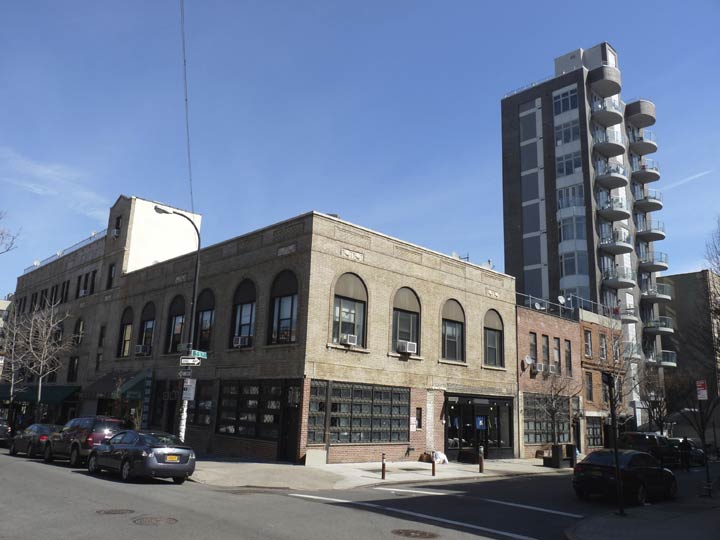 An incongruous high-rise, 275 South 1st, looms over the immediate neighborhood. Most of Williamsburg's new high-rises are closer to the East River. The two-story building with the arched windows is actually part of a larger complex…
…once known as the Miller-Grand Ballroom, running along Havemeyer with frontage on Grand Street. It was constructed as a ballroom, music venue and catering facility in 1901. The entire place was converted to residential several years ago, but, according to the development's website, there are several traces of its ballroom days still in evidence. It survived as a music venue until 1975 and over the years played host to such stars as Benny Goodman, Paul Robeson, Celia Cruz and Tito Puente, who lived for a time near the building. The website has several photos of the ballroom building in its glory days.
[WRG id=54311]
The northeast corner of Grand and Havemeyer is held down by a Spanish-language 7th Day Adventist church that was once a bank, though I don't know which. The night depository window is still in place. Most older banks have such a window; at one time, most banks kept strict hours and closed at 3 PM. After that hour, deposits were made at the night window, in envelopes with deposit slips, and the envelopes went straight to a safe that would be opened by bank employees the following day.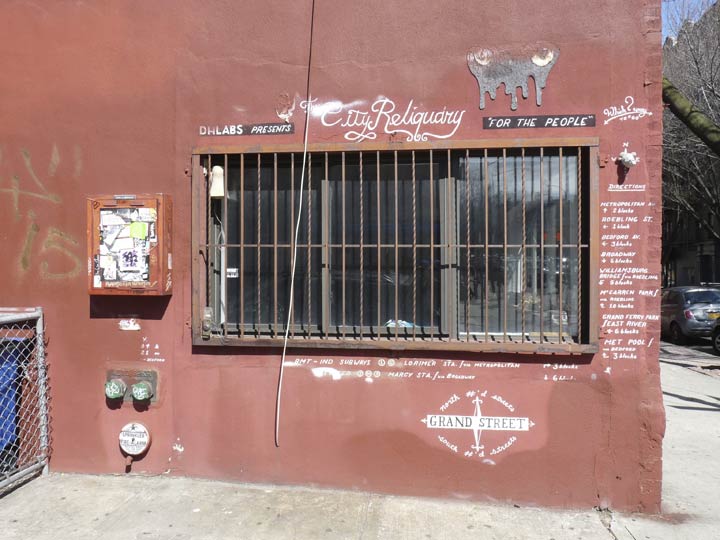 The storefront window that was the original home to the City Reliquary in 2004, opened by firefighter Dave Herman as a means for displaying his enthusiasm for NYC ephemera, can still be found on the northwest corner of Grand and Havemeyer, though several years ago the Reliquary moved around the corner to 370 Metropolitan Avenue (see below).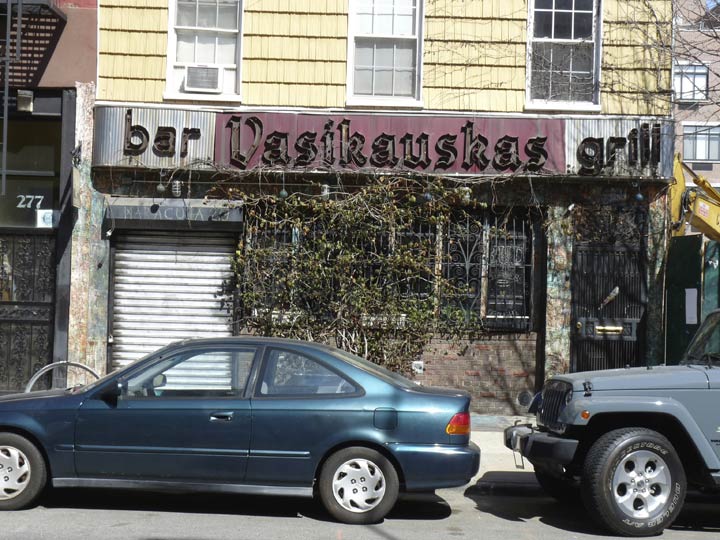 I detoured west on Grand, to see if the ancient neon sign for the Vasikauskas Bar & Grill is still in place, which it was. It's been closed for so long there isn't an internet trail, and with the neighborhood rapidly gentrifying, I had thought the only hope for the sign is for it to be retained as an ironic counterpart to a vegan pet food store.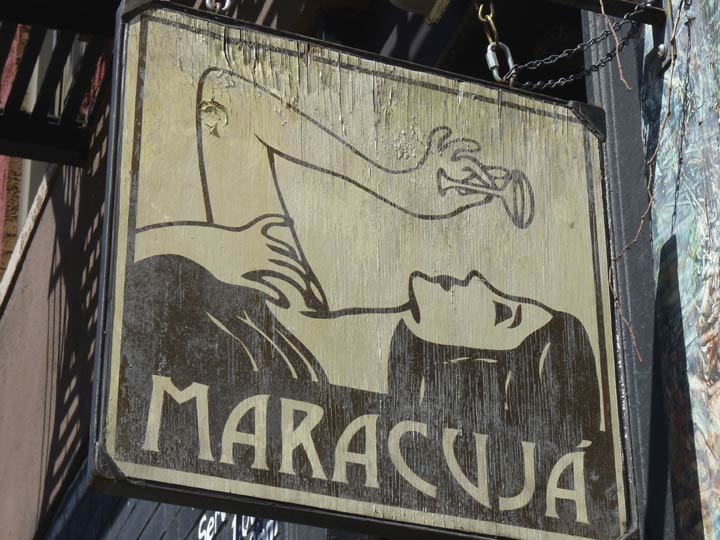 However, the space is home to Maricuja, a somewhat low-key drinking establishment.
[WRG id=54316]
A few doors away on Grand, though, the Four Horsemen restaurant has retained the illuminated plastic sign of its predecessor in the space, the El Faro Supermarket No. 8, implying there was once a chain. Faro is "lighthouse," and the Four Horsemen referred to are figures in the visions of the writer of the Book of Revelation (for Catholics, Apocalypse), the last book in the New Testament, and represent Pestilence, War, Famine and Death.
Returning to Havemeyer, here's one of the street's few trees in front of what must be two of its older buildings, one a multifamily walkup and the other a rare freestanding house. It stands across the street from…
Onomea announces itself with a signboard with a hula-dancing pig on it. It is one of the few restaurants in NYC specializing in Hawaiian cuisine.
Havemeyer Street comes to a temporary end at Metropolitan Avenue, but picks up again a bit further east. The building at left is home to St. Anselm, a popular neighborhood steakhouse.
St. Anselm in Bay Ridge was my parish church (named for a 12th-Century British monk/theologian/philosopher) growing up. I haven't been in, but the exposed brick walls and wood tables is a decor scheme that always attracts me. No idea if owner Joe Carroll was from Bay Ridge or why he chose the name.
When visiting neighborhoods and writing about restaurants like this, I feel like the cat with its nose pressed against the fish store window, since I eat out of delis, fast food joints and get the cheap stuff at Stop & Shop. Who knows, someday…
I've had a lengthy history with the City Reliquary at Metropolitan and Havemeyer (there's a mouthful). It is a unique museum founded by NYC firefighter Dave Herman in 2004. I visited soon after its original incarnation opened in a Grand Street storefront in 2004 (see the FNY page on the original). The museum found a storefront on Met Ave. a couple of years later, and in one of my greatest coups, I was able to mount an exhibition here on New York City lampposts with photographer Bob Mulero, King of NYC Lampposts, in the summer of 2010.
The concept has grown geometrically from its original storefront incarnation, but here's what it originally featured, just to give you an idea…
A pair of "devil's nuts," an aquatic fruit found in the Hudson River. The nuts, named for their two-horned appearance, are edible (though Hudson River devil's nuts aren't) and turn up in some ethnic food shops.

Metalwork salvaged after the Williamsburg Bridge's extensive renovations, begun in the 1980s and still ongoing.

A rope that held the mourning drape on the City Hall balcony following the attacks of 9/11/01. Dave also has a tattered flag that flew at a BQE construction site in the weeks following 9/11/01. Dave himself is an aspiring firefighter.

A stone removed from Fort Greene Park in preparation for the construction of the Prison Ship Martyrs' Monument

A plate numbered 7843 originally on an R-26 subway car that plied the IRT beginning in 1959, and a metal strap from the same car. The R-26 through R-36 series was painted red during their final 15 years in service and were affectionately known as Redbirds; they were retired in 2003.

A number of items Dave found washed up on the shore of Dead Horse Bay, an inlet just west of Floyd Bennett Field at the end of Flatbush Avenue in a region once known as Barren Island, that was renowned for its stench emanating from its equine-rendering glue factories. The collection includes a bottle of rubber cement; a 1954 calendar; a traditional hourglass-shaped Coke bottle; a bottle of Major's Rubber Cement; and a set of false choppers.
The Knitting Factory was founded in 1987 in a former textile mill building, hence the name, on East Houston Street in Manhattan's Lower East Side by Michael Dorf and Louis Spitzer as an art gallery and performance space. Household names in NYC's rock scene at the time such as Sonic Youth and Yo La Tengo played the Factory in its early days. It closed its Manhattan building and moved here in Brooklyn in September 2009. There are also branches in Boise, ID and Spokane, WA though it has closed its Los Angeles and Reno, NV locales.
[WRG id=54320]
One of my favorite NYC streetscapes is at Metropolitan and where Havemeyer Street resumes its northward plunge and the various buildings that are, or have been, associated with the Church of the Annunciation, first built in 1870, come into view. As the website Novelty Theater explains, It was designed by architect Francis J. Himpler, a German immigrant, most of whose other NYC works have been torn down by now. (The AIA Guide to NYC misattributes the building to A.J. Berlenbach, Jr.; Berlenbach did design the parish convent on Havemeyer Street in 1889, as well as the parish school on the NW corner of Havemeyer and N. 5th.)
The former PS 143 on Havemeyer between North 6th and 7th has now eradicated all trace that it was once a public school. I was unable to deduce its current use.
Now edging into North Williams burg's small Italian-American stronghold. We have seen an unusual pizzeria, but here's a more traditional one at Havemeyer between North 7th and 8th. The northernmost section of the street is mainly residential; just this pizza parlor and a barber shop are retail establishments on the block.
The Shrine Church of Our Lady of Mount Carmel, Havemeyer and North 9th Streets, is the center of Italian-American Williamsburg. Every year in the second and third weeks of July, the church hosts the Feast of San Paolino Di Nola and Our Lady of Mount Carmel, which celebrates the return of St. Paulinus, a 4th Century Italian bishop, from captivity; according to legend, the people of his hometown, Nola, met him with lilies.  July 16th is also the feast day of Our Lady of Mt. Carmel. The church was founded in 1887, with the present church completed in 1948.
Today, in true Italian-American fashion (think marble columns on frame houses) the giglio (lily) "evolved" into a flamboyant flower laden 4 ton 65 foot high steeple. A boat snuck it's way in there, too and the structures are carried, with a band and the symbolic Turk on top, through the streets by the best "lifters" in town. The Capo, the man in charge, orders the lifters to do all sorts of maneuvers with the giglio. All the while the crowd cheers and music is played, including the most important song, the Giglio Song (O' Giglio'e Paradiso). Greenpointers
Muchmore's is a coffee bar, regular bar and neighborhood performance venue at  #2 Havemeyer, the north end of the street at North 9th Street.
One of Williamsburg's new glass-fronted residences at the north end of Havemeyer, where it meets North 9th and Withers Streets at Union Avenue.
In Part 3: east on Withers, closer to the Creek
5/22/16