I've spent time both on New Utrecht Avenue and under elevated trains in my Forgotten New York years. I'm absolutely fascinated by streets that run underneath elevated trains, and New York City happens to be the epicenter of "streets under els." Boston has now got rid of most of its el lines; the Orange on Washington Street was rerouted in the 1980s and the Green was rerouted off Causeway Street, which ran past the old Boston Garden "back in the day." In Philadelphia, there are just three major "elled" streets, Market Street and Kensington and Frankford Avenues; while in Chicago, except for the downtown Loop, most of its elevated trains run in their own rights-of-way, with no streets underneath them at all.
Why els? Often, the streets beneath them conceal old, leftover signage and streetlighting schemes. I'm also fascinated with transit and subways and they're an ever-present factor when walking the route of an el.
The previous week in FNY, Sergey Kadinsky traveled the length of East New York's el-shrouded  Livonia Avenue. I've also walked the length of Myrtle Avenue, which used to be nearly completely shadowed by an el at least in Brooklyn, but whose el has now been restricted to Bushwick; I've walked the Bronx' Westchester Avenue which is covered by not one but two separate el lines, and also the borough's Jerome Avenue.  The Bronx' Broadway is also covered by an el, as is Broadway in Brooklyn, whose Fulton Street inherits the Brooklyn Broadway el, which also runs along Jamaica Avenue. Not to be outdone is Liberty Avenue, about a mile south of Jamaica Avenue in Queens. 23rd Street (for a brief stretch) and Roosevelt Avenue in Queens are el-covered too. There are more.
But New Utrecht Avenue always featured "my" el. It was the el I passed under as I rode the B16 bus down 13th Avenue for innumerable trips to my uncle and aunt's apartment or feared visits to my childhood doctor's office on 49th Street. In all those years I was passing under it, or rode the M, W or D trains on it (the letter for the line keeps changing) I had never once walked its entire length. No more. I got that out of the way in September 2016. These pages will relate what I saw.
This isn't my first foray of the year on New Utrecht Avenue. On an earlier FNY page I concentrated on the three blocks of New Utrecht Avenue that are not covered by the el. Then, as on this trip, I took note of the recently renovated BMT New Utrecht Avenue station house. The BMT built station houses for its lines that were located in open cuts. Most of these are along the Sea Beach Line (now the N train), but you do find them here on the West End line and the Brighton line at Prospect Park and Parkside Avenue.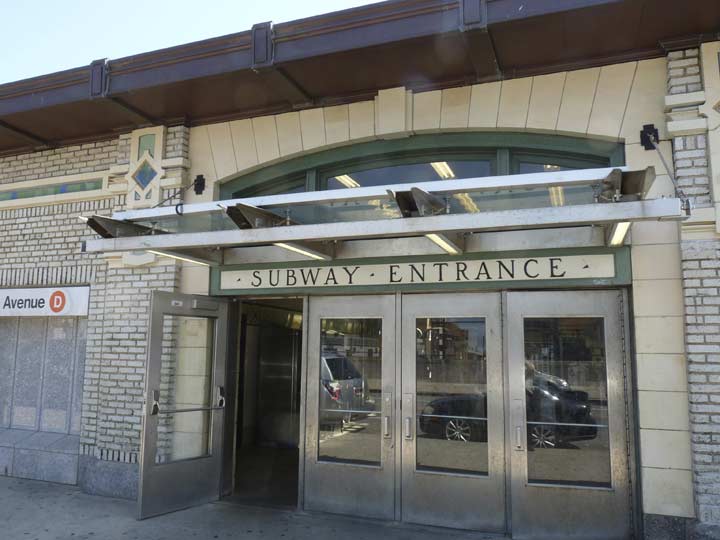 These BMT headhouses unfortunately were considered afterthoughts by the MTA and its predecessor agencies for much of the latter 20th Century. Recent management, though, appreciates what they have in these buildings, constructed in an Arts and Crafts style mostly in the 1910s. Many have been recently been renewed and renovated; the Sea Beach line station platforms and stationhouses are all being redone from 2016-2018, causing tsuris for passengers, but I believe they will be ultimately rewarded with updated and modernized facilities that keep the best elements of the past.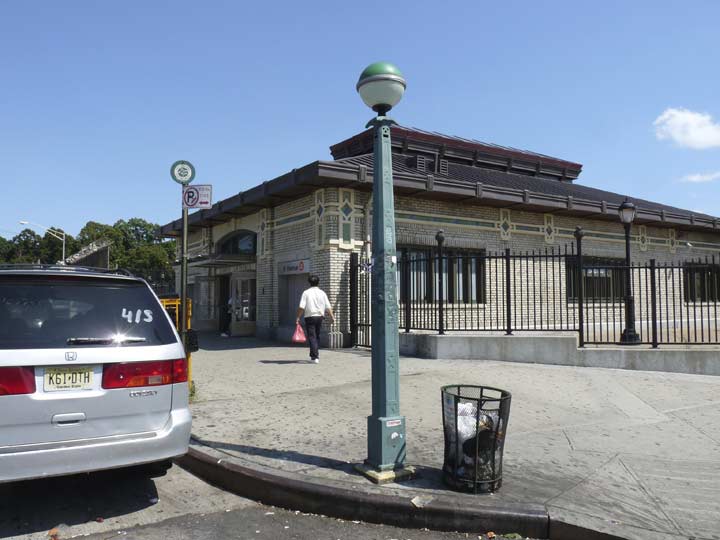 The sidewalks in front of many subway entrances have been equipped with these stanchions featuring lamps that indicate when stations are open. Green indicates open 24/7 while red indicates that the entrance is closed at certain times, mostly at night. There had been a yellow lamp when this system was instituted in the early 1980s to indicate that the entrance was open and the token booth closed; however, MetroCard turnstiles negated their necessity. Another change came about 20 years ago when the lamps, which had been a solid color, were changed to half color, half white to provide more light.
The stanchions on which the lamps are mounted were designed for the IND in the early 1930s, but have since gained use for subway stations for all three original subway divisions (IRT, BMT, IND), which are quickly becoming forgotten by modern generations.
A look at the short stretch of New Utrecht Avenue not covered by an elevated train, and a D train on the elevated stretch down the block.
I'll quote from my earlier New Utrecht Avenue page for some history of this old route:
New Utrecht Avenue runs southeast from about the intersection of 9th Avenue and 39th Street a few miles to 86th Street just past its intersection with 18th Avenue….
New Utrecht (pronounced, in Brooklyn, at least, "YOU-trekt") Avenue was so named because it went to the Town of New Utrecht, founded in the 1600s and one of the six towns that existed in Kings County before all were consolidated into the City of Brooklyn in 1896 and then into New York City in 1898. The town of New Utrecht was named for Utrecht, Netherlands, the 4th largest city in that country. In Dutch, "Utrecht" is derived from two words that mean "old fort," so that "New Utrecht" literally means "New Old Fort."
I was surprised to learn during my research that New Utrecht Avenue existed long before the railroad that ran along it and the elevated train that replaced it ever existed. The road was laid out in the 1830s after some protracted negotiations with Dutch landowners, descendants of original settlers, and attained its full length in the 1850s. It was known in its early years as the Brooklyn, Greenwood and Bath Plank Road, as it originally had a wood roadbed and stretched from the southern edge of the City of Brooklyn at Green-Wood Cemetery and ran to Bath Beach.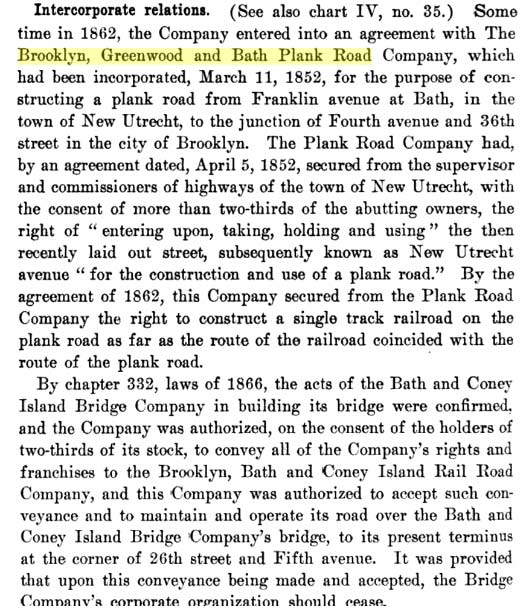 From the Report of the Public Service Commission for the First District of the State of New York, Documentary History of Railroad Companies, dated December 31, 1913, which details the histories of the different surface railroads in New York and environs in the 1800s. Not exactly bedroom reading, but there are crucial details to be found within if you take the time to look through it.
Railroading became part of the New Utrecht Avenue story in 1863, when a steam railroad built by Charles Godfrey Gunther, a former NYC mayor, was built from the entrance to Green-Wood Cemetery to Bath Beach. The line necessitated a transfer at 36th Street (just as today's subways do from the D to the N and R) because steam railroads were forbidden in Brooklyn in that era. A horsecar line completed the run from 5th and 36th to 5th and 25th. The steam line was completed out to Coney Island in 1864, where it met the West End Hotel. After an 1885 reorganization the line became the Brooklyn, Bath and West End Railroad, was electrified by overhead catenary wire in 1893, was acquired by Brooklyn Rapid Transit in 1898, and finally, was replaced by the West End Elevated in November 1916. Unfortunately, Gunther's name never attached itself to subsequent iterations of his railroad the way Andrew Culver's did to what is now the F train in Brooklyn.
Charles Gunther's Railroad [thirdrail.net]
Attached houses along 40th Street between New Utrecht Ave and 10th Avenue. My preference has always been toward these modest brick dwellings; hundreds of miles of NYC blocks are lined with them. At the end of the block, I encountered an abandoned beauty shop, now removed, that was one of the best NYC photos I ever took, in my usually humble opinion. It can be found on the previous New Utrecht page linked previously.
A sign at NUA and 41st Street indicates a public pay phone that is no longer in evidence; or perhaps it is located in the bodega out of view to the right, but I doubt it now.
At 41st Street the West End el curves briefly onto 10th Avenue, a condition that printed maps of NYC, by all makes, resolutely refuse to acknowledge. Only modern online maps such as those made by Google deign to report this fact…
I detoured to Fort Hamilton Parkway and 41st Street, where Borough Park's first Catholic church, St. Catherine of Alexandria, was built beginning in 1902. It's the tallest tower in Borough Park and may be one of the tallest Catholic churches in the borough; I know St. Barbara in Bushwick and Regina Pacis in Bensonhurst are taller, but that's about it.
The church is named for a Christian martyr who lived in Alexandria, founded by Alexander the Great in the 3rd Century BCE, noted worldwide as a center of learning; nevertheless, brutal tortures of Christians were still practiced in the early 4th Century AD and the Roman Emperor Maximian tortured the 18-year-old Christian advocate, and affixed her to a spiked wheel and attempted to pull her apart on it. The wheel broke and Catherine was finally beheaded; centuries later, bizarrely, a variety of fireworks became known as "Catherine wheels." The "Catherine wheel" was used for torture and execution by various municipalities into the 18th Century. Civilization is a veneer over a thick layer of brutality that, occasionally, rises to the surface.
PS 131, in the upper half of the big "X" formed by Ft. Hamilton Parkway and New Utrecht Avenue across Borough Park's street grid, was built in 1902, the same year as St. Catherine of Alexandria. It is a Magnet School for the performing arts. The school, now 114 years old, yielded a treasure trove of artifacts in 2014.
When the Brooklyn, Bath and West End Railroad became a part of Brooklyn Rapid Transit it was converted to electric power taken from trolley wire in 1893 and then, in September 1916, it was placed on the elevated iron structure we know today.
However, station designer Squire Vickers chose two stations that received somewhat deluxe treatment for the period: complete concrete cladding and terra cotta ornamentation, and Guastavino-style interlocking brickwork detail. Only one other station on the West End line has this treatment, the Bay Parkway station; the Ocean Parkway station, shared by the West End and Brighton, is also finished with concrete. There are some IRT stations in the Bronx with concrete finishes, and the entire Queens Boulevard viaduct in Sunnyside is concrete-cladded.
The Universal Theatre was a 2500+ seat vaudeville and motion picture theater designed by John Eberson and opened in 1927 later became the Loew's 46th Street Theatre. Its most overlooked aspect, though, might be its stint as a venue for the top rock acts of the era, including the Grateful Dead, in the 1970s in its incarnation as the 46th Street Rock Palace and later, Bananafish Garden. I detailed the theater in this role on my Alben Square FNY page. Later the old theatre played host to furniture stores Rubinstein & Klein and Regal. Shrouded by scaffolding, the building awaits its next incarnation.
This is not the last Rubinstein and Klein furniture store sign I saw on this walk — more on this later in Part 2.
The overall ornamentation is restrained and sparse, but there are terra cotta urns at the roofline, and banding featuring creatures that are apparently the offspring of angels and mermaids.
Though Borough Park's hallmark, perhaps, is its current concentration of Orthodox Jews, I also saw plenty of evidence of it being a Polish hotbed, including the Bartek Polish-American Deli at NUA and 46th Street.
As I thought, NUA features plenty of old store signage for venues that disappeared long ago such as this sign above a second floor for a paint store a between 46th and 47th Streets, with Sherwin-Williams Paints old "covering the Earth" logo. The company was founded in 1866 by Henry Sherwin and Edward Williams in Cleveland, OH. Currently Sherwin-Williams operated over 4000 paints and hardware stores.
This sign, no doubt, was meant to be seen by passengers on the West End. Older cars in use on the line featured seats that were perpendicular to the windows.
A couple of doors down there's a building whose windows have survived in their current condition since the Truman administration if not earlier, and a sidewalk sign that appears to be from the Super Seventies.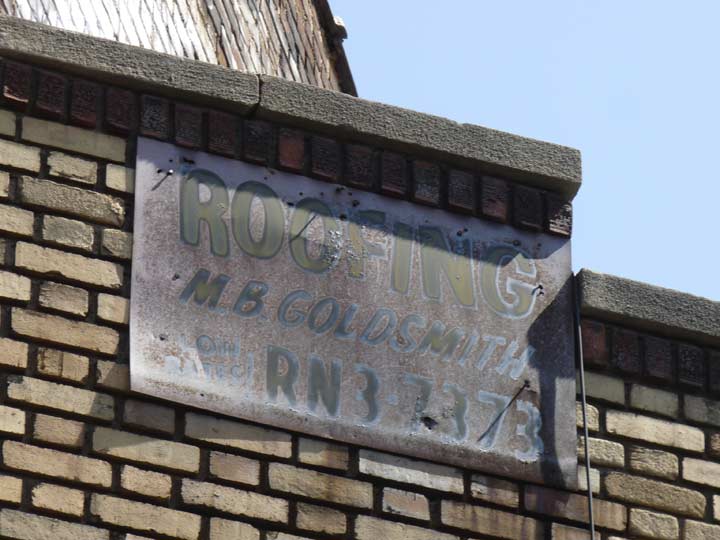 Next door we find this sign with an unusual telephone letter exchange. As a rule, the first two letters of an exchange were the first two letters of a word or a name; for example. my number, SH5-5593, stood for SHore Road and later became 745-5593.
This exchange, however, begins with RN, which would be fairly unpronounceable if it began a word or a name. My go-to list of telephone exchanges lists RN, but the letters apparently stood for nothing…just RN. How the exchange was named is a mystery to me. If you know, drop me a buzz at kevinjudewalsh@gmail.com.
ForgottenFan Andy Sparberg:
To answer your question:  for a few years in the early 1960s, when NY Telephone needed to create new phone exchanges to meet increasing demand, it began using alpha-numeric exchanges in which the two letters were meaningless – that is not the first two letters of a name or a geographic location.   Besides your example, I remember TT5 and XX4 in The Bronx, and LW4 in Manhattan.   These new exchanges were soon eclipsed when all-number exchanges were first used around 1965.   So TT5 became 885; XX4 morphed to 994, and LW4 became 594.   There is an interesting story about the LW4 exchange  It was originally called LX4.  Phone users thought it meant LExington 4, which was the name of a phone exchange.  If you dialed LE4 you got LEhigh 4 instead.  Results – hundreds of wrong number till it was changed to LW4, which covered Midtown West, an area full of office buildings and phones.  In those days 212 was the area code for the entire 5 boroughs – hard to believe today.
Hand-lettered fish market sign on the corner of NUA and 48th Street.
"Appetizing" here is used as a noun:
wikipedia:
An appetizing store, typically in reference to Jewish cuisine, is best understood as a store that sells "the foods one eats with bagels."
"Appetizing" is used as a noun by itself to refer to the type of foods. Appetizing includes both dairy and "parve" (neither dairy nor meat) food items such as lox (smoked salmon), whitefish, and cream cheese spreads. The foods are typically eaten for breakfast or lunch and, based on Jewish kashrut dietary laws, include no meat products (kosher fish products are not considered meat).
The simplest distinction is that an appetizing store is a place that sells fish and dairy products whereas a delicatessen sells meats (but not dairy products if is a kosher deli).
New Utrecht Avenue scythes through Borough Park's street grid, creating a number of triangle-shaped buildings, many of which predate the el. This one has a set of oriel windows, or bays with windows that face in different directions.
We're now in the heart of Borough Park so here's a little history about how it got its name.
Borough Park is thought of today as a quiet residential neighborhood between Dyker Heights and Kensington in the southwestern quadrant of Brooklyn. But, Borough Park used to have a quite different aspect. Sure, it was always pretty quiet, but until the late 1800s it was the province of farms, hay wagons and mooing cows.
Two things happened that got the rural region the impetus to become the bustling community it has become…the construction of a steam railroad that ran from Greenwood Cemetery to Coney Island that bisected the area by Charles Gunther, later NYC Mayor — and the present West End Elevated; and the opening of formerly vacant land to real estate development in 1886 by one Electus B. Litchfield, who called his development "Blythebourne" (from Scottish terms for 'happy' and 'home.') In 1898 Sen. William Reynolds expanded the property and renamed it Borough Park, though the Post Office on 13th Avenue and 57th (since moved to 12th and 51st) bore the name Blythebourne Branch (see below). Electus B. Litchfield was the brother of Edwin Clark Litchfield, who dredged the Gowanus Creek to create the Gowanus Canal and built Prospect Park's Litchfield Mansion. The Litchfield brothers' (whose names all began with "E") story of financing Brooklyn real estate interests in the 1800s makes for for some fascinating reading.
Eastside China, at the "tri-ntersection" of New Utrecht Avenue, 12th Ave and 50th Street, also home to a el station. I liked the font, Souvenir Bold, which was big in the 1970s and 1980s but isn't seen often these days. It was an International Typeface Corp font produced by Photo-Lettering, where I worked from 1982 to 1988.
Some of the buildings along 12th Avenue have received some brick repointing and are looking good. There are also some newly-designed storefronts and more evidence of Borough Park's Poles.
This stretch of New Utrecht Avenue had most of its Dwarf lampposts replaced in the 1980s, but I'm happy that this now-rare curved-mast light has been retained. When modern octagonal-shafted posts first appeared in 1950, they all had curved masts supported by a single bracket as shown here.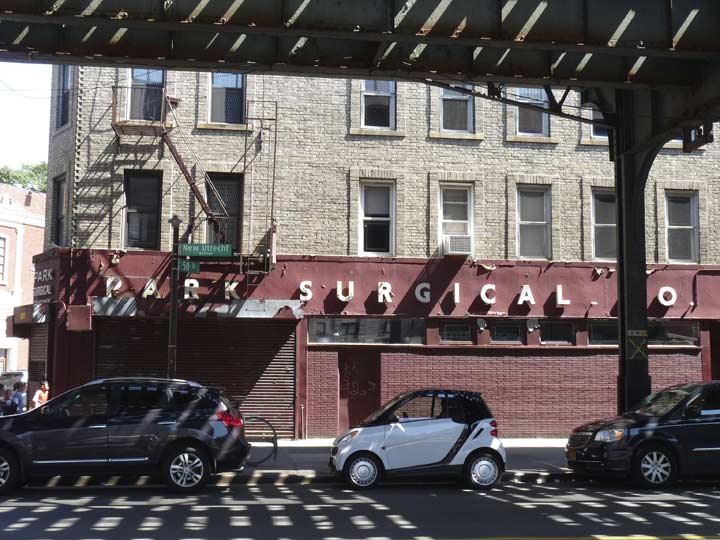 Park Surgical Supplies has been here at the corner of 50th Street and NUA for many decades. It was here when I would visit my aunt, uncle and cousins on 50th Street and we would head down the street looking for "trouble."
NUA between 49th and 50th Street is dominated by yet another extravagantly-ornamented brick and terra cotta building that was likely here while the railroad was still at surface grade.
Next week in Part 2: further on in Borough Park
9/11/16