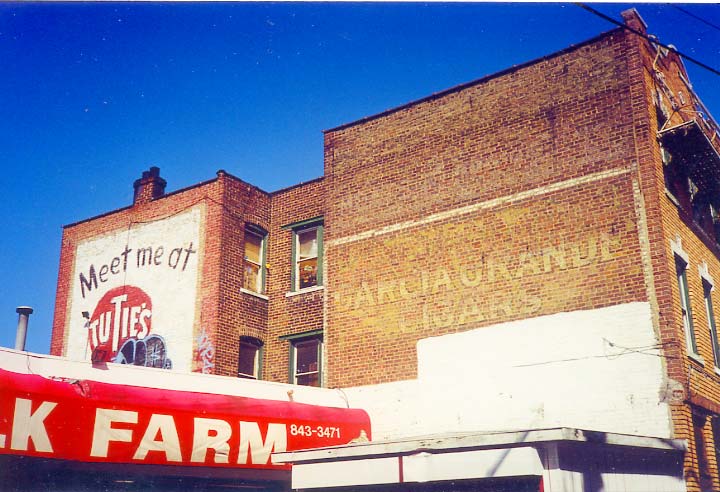 Two for the price of one on Liberty Avenue at 88-17, with ads for a former local tavern, Tutie's, and Garcia Grande Cigars.
Forgotten Fan James Burke remembers Tutie's. He writes:
Tutie's was a bar in Queens, on Liberty Ave. I think. It was unique in that every piece of memorabilia you could think of was in the bar. Hanging from the ceiling, on the walls on the floor, unbelievable. You could bring something in and they would hang it up. For a price, you were allowed to hack out a piece of the bar, don't know how they allowed that & kept the bar standing but they did. Bells & whistles all over the place, especially in the ladies room!

What a place!
and…

As the years rolled by just about everything you could imagine ended up somewhere in the bar at 88-19 Liberty Ave. There was even a toilet seat hanging from the ceiling. If you could name something that wasn't there, you'd get a free drink.

The famous slogan of the bar's owner, Tutie Sommese, was "If you're sick of living and don't know how to die come on down and give Tutie's a try." The Sommese family was one of the oldest in Ozone Park. John Sommese was an embalmer who lived on 94th Street with his wife, Concetta. Other Sommese family members were grocery workers and countermen.

After World War II, Tutie's was very popular with returning servicemen. A generation later their sons returning from Vietnam loved the place just as much when they returned home. The wild atmosphere fed by the tchotchkes really took you away from the world and your problems. [Queens Chronicle]
The Tutie's painted ad is still visible on the side of the building at 88-17 Liberty. It's set far back from the street and must have been originally positioned to be seen from the el. Graffitists have now obscured the Garcia Grande cigar ad.
"Comment…as you see fit."
4/25/17