Fordham, a bustling shopping district in center-west Bronx, was named for a small settlement along the Harlem River begun in 1669 but later devastated by the Revolutionary War. Belmont takes its name from tobacco magnate Jacob Lorillard's estate; the Lorillards owned nearly all of what would become The Bronx Zoo, the NY Botanical Garden, and the neighborhoods of Belmont, Bronx Park South and Norwood. Even the late Bronx historian John McNamara is unclear about the name's origins, but going back to its old English derivation, "ford+ham" is a meadow or small settlement (ham) beside a waterway shallow enough to be waded, or forded, across. Might the Harlem River be shallow there, or ever were?
Belmont is famous for its own Little Italy centered along Arthur Avenue, with its panoply of small mom and pop shops purveying delicacies, and small, intimate restaurants. Oddly enough I have never partaken of the panoply of comestibles found on Arthur Avenue and East 187th, since I'm always on my own and don't prefer to eat alone in proper restaurants. One of these days.
GOOGLE MAP: FORDHAM-BELMONT WALK
I mentioned at the end of Part 1 that I would relate the reason for this particular walk in Fordham and Belmont. I was heading to Pugsley Pizza, which Forgotten Fan Paul Lukas of Uni Watch fame had given a glowing review about in Facebook. I have to say, I wasn't disappointed and was quite satisfied. From my review in SpliceToday:
Located on East 191st between Hoffman Street and Hughes Avenue, tucked off the south side of the street with a large front yard/driveway, and facing the Fordham campus, it's easy to miss if you don't go to Fordham because it's off the main drag, Fordham Road.
You walk inside and it's a pizzeria like no other, at least as far as décor is concerned. It appears to be a Fordham dorm room with kitchen tables, some soft chairs, and somewhat secluded booths with more traditional wood seats and Formica tables. There are hundreds, perhaps over a thousand, photos of Pugsley's staff and patrons, along with other detritus and memorabilia; this seems to be the pizzeria version of the old Waterfront Crabhouse in Queens, which had been owned by a boxing promoter and had thousands of boxing memorabilia and NYC artifacts arranged in the space.

Pugsley's was founded by Sicilian immigrant Salvatore Natale in the early 1980s, a former jazz saxophone who had arrived in the States in 1967. It was originally located on Pugsley Avenue in Castle Hill (and thus has nothing to do with the striped-shirted Addams Family kid played by the late Ken Weatherwax on the TV show). In 1985, Natale purchased what had been a junkyard on East 191st and opened the current shop there…
Some things have changed since I wrote that article. I got a slightly high blood sugar count from the doctor. I swung into action and banned donuts, pastries, cookies and many of the carbs I was eating, including frozen pizza. I decided to restrict myself to two slices of pizza per month and make it the best two slices I can think of. Therefore, DiFara's of Midwood and Best Pizza of Williamsburg will be in the rotation, as well as Pugsley's. But I have to watch out. The slices are gigantic!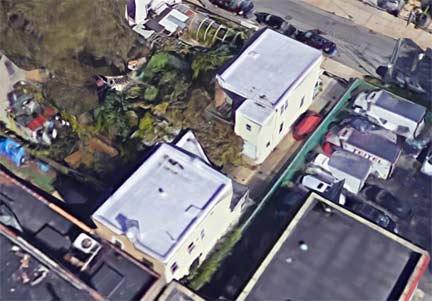 Houses on West 191st between Hughes Avenue and Hoffman Street, just south of the Fordham U. campus. I noticed that the porched house seemed to have a twin in the back…a "backhouse" on the same property. A quick look at the aerial Street View confirmed it. These are more common around town than you'd think; a friend once lived in one on North Henry Street in Greenpoint several years ago.
Some attached, unaltered brick houses along Hoffman Street between East 191st and East Fordham Road. In front of them is a stretch of bluestone sidewalk paving.
Terra cotta building fronts of this type, again Hoffman off of Fordham Road, appeared in great numbers in the 1920s. The buildings behind them may be somewhat older.
Fordham Road, looking west. The tall building with the telescoping roof is One Fordham Plaza, the tri-section of East Fordham Road, Third Avenue, Park and Webster Avenues and a stop on the Metro-North Railroad. One Fordham was constructed in 1985-1986 by Chase Enterprises and is a mixed-use building with offices in the top floors and franchisees alike Starbucks, Party City and Applebees on the street level.
Fordham Road is a major vehicular route and Bronx shopping mecca. It runs from the University Heights Bridge over the Harlem River and roars east to the middle of Bronx Park, where it becomes the major center road of the (Bronx and) Pelham Parkway, which connects to the Hutchinson River Parkway and New England Thruway and itself becomes Shore Road, the major auto route through Pelham Bay Park.
The Blue Goose, a local club frequented by Fordham students in a frame house at Hoffman and East 189th that no doubt looked completely different without all that aluminum siding.
Skipping south to the former Reliable Bronx Italian Bakers on Hoffman between East 187th and the nearest cross street to the south, East 184th.
Here's a map of Belmont from 1927. By then the street names all match what we have now, but this close-up plate shows a neighborhood aspect that Hagstrom or Google maps can de-emphasize. While the streets are on a rough grid, note the sweeping curve made by East 184th Street, East 182nd Street, and Grote Street on the right. When you see something like that on a map, you can be pretty secure in thinking this was an old road chopped up into shorter roads when the overall grid was built and this is no exception.
While today, Kingsbridge Road ends its southeast course at Fordham Road near Bainbridge, these streets were part of the colonial-era Old Kingsbridge Road, which ended its eastern run at today's Bronx Park. A very short section of this eastern run is still in place as a one-block dirt road at Grote Street and Southern Boulevard.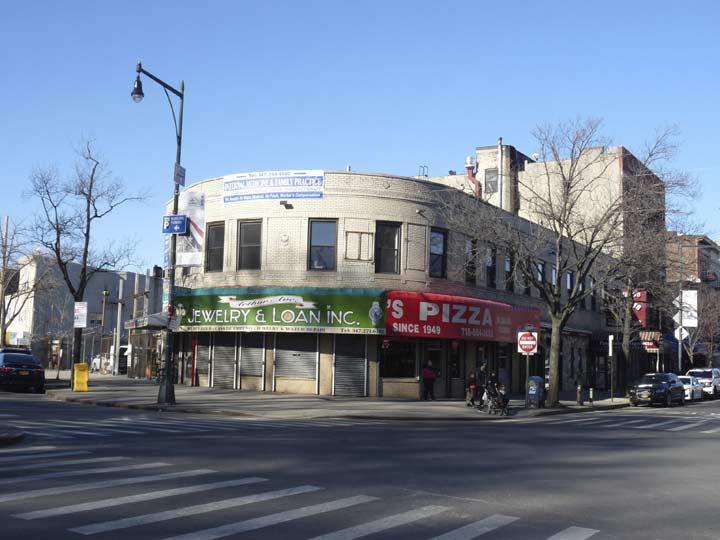 One more of the Bronx's seemingly limitless supply of round-ended buildings, this one at the V-shaped intersection of East 184th and Arthur Avenue.
A now-faded sign highlighting an Italian province (in this case, deriving from a term meaning "long-bearded") on Arthur Avenue. Just a few of these are left — there must have been more at some point.
On the south end of this curving intersection, D'Auria-Murphy Triangle's centerpiece is a statue of Christopher Columbus that was moved here in 1992 from P.S. 45 on Bathgate Avenue and Lorillard Place. It is the work of Attilio Piccirilli (1866-1945) whose world-renowned studios on 142nd Street and Willis Avenue produced the Maine Monument at Columbus Circle, completed in 1925, and the statue of Abraham Lincoln in the Lincoln Memorial.
This park gets its name from the D'Auria-Murphy American Legion Post in the Belmont section of the Bronx. The post was created in 1918, following World War I, and the members planned to name it for the Mayor of New York, John P. Mitchel (1879-1918), at an elaborate installation ceremony. When the mayor failed to appear, the Legionnaires changed the name at the last minute to honor two young men from the neighborhood who had lost their lives in the war, John D'Auria (1889-1918) and Henry J. Murphy (1891-1918). NYC Parks
The Notre Dame Apartments, 660 East 183rd at Cambreleng, must have an ecclesiastical connection of some sort. Crosses and a saint giving a blessing are on the building's pediment. An aerial shot shows a church nave.
The answer is that this used to be the Bronx locale of the Little Sisters of the Poor organization and a home for the aged. The building served its original purpose since its construction in 1903 until 1979, when a new LSP residence opened on Schurz Avenue in Throg(g)s Neck.
Cambreleng has always been one of my favorite Bronx street names, along with Yznaga or maybe Ryawa. Stephen Cambreleng owned property where the street was laid out in the mid to late 1800s.
At East 183rd and Crotona Avenue I found this fading ad for Congressman Paul Fino. I had found another ad for Fino in the Morris Park area before.
US Representative Paul Fino (1913-2009) was elected to the State Senate from 1946-1950 and elected to Congress in 1952, where he served 8 terms, and then the State Supreme Court in 1968.
Crotona Avenue, Park and Parkway are named for Croton, an area in southern Italy where Greek athletes practiced for the ancient Games. The Croton Aqueduct, meanwhile, is named for the upstate Croton River, which may or may not have the same derivation.
Brick apartment–with a squared off edge, for once–with a striking red entrance at Crotona Avenue and Grote Street. Labeled "Thorpe Family Residence" on the door, the building is used for homeless services.
Across the street, Grote Street's curving path (remember it was part of the old part of the colonial-era Kingsbridge Road) creates an oblong park plaza with Garden Street called Whalen Grove; the Parks Department website is silent on the origin of this name but we can assume it was named for a different Whalen than Whalen Park in Norwood and Whalen Street in Riverdale, each named for two different people.
As for Garden Street, it comes in between East 182nd and 183rd, along with Grote, and so never got a number in the 19th Century when Manhattan east-west numbered streets were extended into the Bronx. It is named for South Carolinian attorney Hugh Garden, who was appointed by Confederate sympathizer (it is surmised) NYC Mayor Fernando Wood to what was called a Special Reception Committee.
Some artwork from the kids at PS 51, Crotona Avenue and East 182nd. This is the former St. Martin of Tours parochial school, which closed in 2011. Many architectural touches associated with Catholic schools are still in place, including crucifixes on the brick exterior, ogive-shaped entrances and separate BOYS and GIRLS entrances marked with ecclesiastic blackletter. The building was dedicated in 1925, marked by a cornerstone reading "For God and Country."
A blinking Cyclops light warns traffic that there may be kids crossing the street at the Belmont Playground between Belmont and Crotona Avenues south of East 182nd.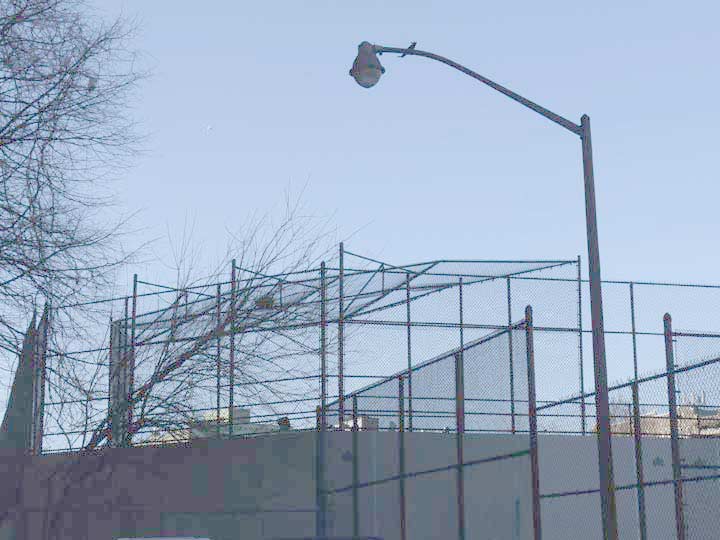 Meanwhile there's something interesting illuminating a driveway between the playground and the Dennis Lane Apartments: a pair of incandescent Westinghouse AK-10 "cuplights" left over from the 1950s.
Some relatively unaltered attached homes on Crotona Ave across from the playground.
Coal chute on brick multifamily building at Crotona and East 181st. The building is probably not heated by coal anymore, but until recently, some NYC public schools still were. How many coal furnaces are still working in NYC?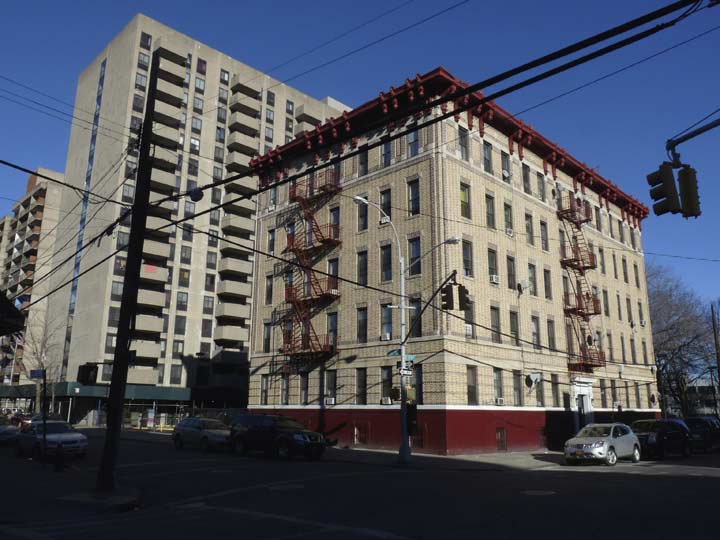 I was angling for the bus home on East 180th, but that's a rather well-traveled route for me so I walked 2 blocks south (counting Oakland Place) and then east on East 179th Street. Here's a handsome buff brick apartment, accented by maroon at top and bottom, at Clinton Avenue.
…seconded by another at Mapes Avenue, which always reminded me of Cliff Mapes, whose Number 7 Mickey Mantle assumed when he was brought back from the minors for good with the Yankees in 1951.
East 179th Street crosses Southern Boulevard and Crotona Parkway. Only in New York City is Southern Boulevard north of Northern Boulevard, but that came about because Northern Boulevard is in the north side of Queens and received its name around 1920, decades after the Bronx's Southern Boulevard did. Like the Grand Concourse, it was a planned boulevard created out of existing streets in the 1870s. Between East 175th Street and Bronx Park, it is accompanied by Crotona Parkway, separated by a pedestrian mall. New York city created the mall to connect Crotona and Bronx Parks in 1888.
The very tall building seen looking north along Southern Boulevard is the Twin Park South East Houses, which provides Section 8 housing for needy applicants.
I've always liked the exterior design of the Lambert Houses at East 180th and Boston Road, constructed in 1973, but the city has found fault with the design:
…the city's Department of Housing Preservation & Development has found many problems with the existing six structures. Inside are long, narrow hallways that are not conducive to fire safety, and outside the monotonous, uniform buildings make for difficult navigation. Moreover, buildings systems and security are outdated, and a dark courtyard in the center of the development is both unappealing and unsafe. [6 Sq Ft]
NYC may raze them and build a new affordable housing complex in their place.
The elevated #2 train is available here, but from here, that would be the long way home for me. Instead, the Q44 bus runs from here to Jamaica through Flushing, where I get off and take the bus or Long Island RR home.
Check out the ForgottenBook, take a look at the gift shop, and as always, "comment…as you see fit."
7/23/17