Part of the appeal of the MTA's Transit Museum Parade of Trains, in which rolling stock dating from 1907-1937 was exhibited at the Brighton Beach station were the plethora of subway advertisements that have been preserved, some of which depicted long-lost products and makes and some still recognizable even today. In subway and magazine advertising, the public was expected to be literate and hence the ads were much wordier than the ones seen today. The hard sell didn't become de rigueur till after the fictional Don Draper days on Madison Avenue.
In the subways, the elevated train gate cars were the oldest and the ads displayed in these cars were logically the oldest. The Museum has done a good job curating the cars to have era-appropriate advertising. I concentrated on these here, but there a few younger ads from the Triplex cars that ran on the BMT (1920s).
Arrow Shirts were produced by the Cluett-Peabody company, which sold both collarless and collared shirts (most notably the Arrow brand); until the 1930s, detachable collars were the norm and were put on separately. The company was instituted in 1851 as Maullin & Blanchard after a series of takeovers and mergers became Cluett, Peabody in 1891. Its flagship headquarters was on River Street in Troy, NY; both my mother and grandmother, who were from Troy, worked in that building in the Fab Forties. The company was acquired in 1985.
The Cluett Building, once home to a NYC office of the company, still stands on West 19th Street.
Unusual use for Ben-Gay ointment — I had always seen it as an application for local muscle or joint pain, but this ad pegs it for chest cold relief! (The small print says it's for pain associated with such colds.) One thing I also did not know is that Ben-Gay lost its hyphen in 1995 and has been spelled Bengay since then. I'm an Icy Hot man, myself. The ointment was developed in 1896 by French doctor Jules Bengué, who pronounced his name the way it's spelled on the box. It can now be purchased in odorless form, but I suspect some of its charm over the years was the strong smell in and of itself.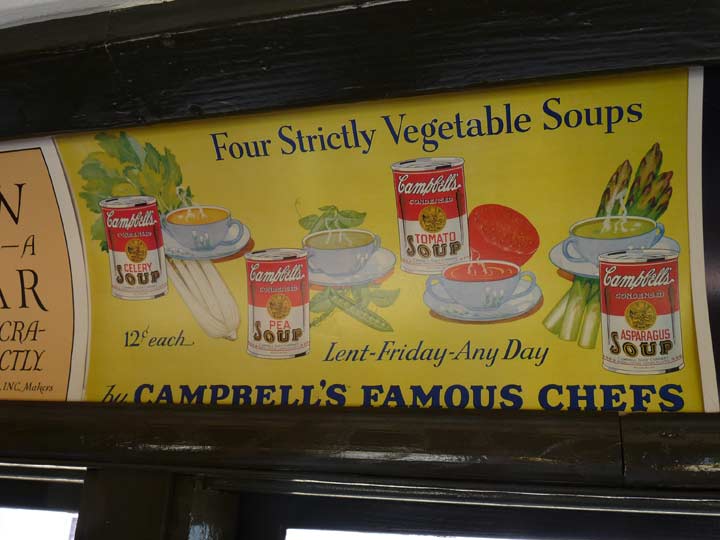 Campbell's Soup is a product that has not significantly changed its red and white can labels in over a century, and its script logo similar to Coca-Cola's has not changed significantly, either. Southern New Jersey fruit merchant Joseph Campbell founded the company in 1869 but it wasn't until 1897, when chemist John T. Dorrance perfected a means of condensing soup and partnered with Campbell, that the company sold its flagship product. Dorrance bought out the Campbells and headed the company until 1930. In 1898 the company adopted the red and white scheme for its soup cans, inspired in part by the colors of the Cornell University football teams. Campbell's became one of the world's largest food producers in the 20th Century and was, ironically or not, immortalized by Andy Warhol in his series of 1960s pop art silkscreens.
Can any commercial enterprise mention Lent in a subway ad these days?
Displayed here with an enamel handrest on a BMT Triplex is an ad for the East Brooklyn Savings Bank. The bank was chartered in 1860 and through mergers, had become Crossland Savings by 1985, which was seized by the Feds in 2003. It's now part of Hong Kong-Shanghai Banking Corp (HSBC).
The "K of C" on the right is a Knights of Columbus hall where an athletic event was taking place.
Information on Glyro is scarce online. It was a preparation for easing the soreness felt after a close shave. I imagine it could have been acquired by Gillette, which sells a number of similar products today. This ad appears to be from the 1920s based on the label design. The fellow in the ad reminds me of Texas senator Ted Cruz.
Heinz products made up a great deal of subway ads in the early days. Merged with food giant Kraft Foods since 2015, Heinz was founded by German immigrant Henry Heinz in 1869, originally producing horseradish, but the company went bankrupt six years later; Heinz founded a new company the following year with tomato ketchup the flagship item as it remains today. The "57 varieties" motif was selected arbitrarily because Heinz liked the way it sounded; actually the company by the 1890s was producing more than 57 food varieties. While ketchup and vinegar are the most popular items on US shelves, Heinz sells food worldwide and in Britain, baked beans is the hottest seller.
The last time "Orange Crush" was widely known about it was the nickname of the Denver Broncos' defense of the 1970s and 1980s. Actually it's an orange-flavored brand of soda still sold under the simple "Crush" moniker, since grape, strawberry, cherry and dozens of others have since been added. The first recipe was instituted by Clayton J. Howel in 1911. The origin of the name is unclear, but my theory goes that it has to do with the drink's interaction with ice cubes.
Once based on Essex Street in the Lower East Side, Schmulka Bernstein's claim to fame was kosher Chinese food.
Sunshine is still a major player in the biscuit and cookie market but its longtime huge factory in Long Island City, Queens has gone on to other things…
The International Design Center of New York, Skillman Avenue and 29th Street in LIC, opened October 10, 1985 in what was originally the Loose-Wiles Biscuit Company Building, constructed in 1908 – known as the "thousand window bakery." The original products were crackers marketed under the Sunshine Biscuits trademark distributed in tins depicting carton characters that are highly prized as collectibles today. Sunshine is now a division of Keebler and produces the popular Cheez-IT brand. Formerly, a huge Loose-Wiles Sunshine Biscuits neon sign occupied the roofline on the south and east sides, easily visible from trains emerging from East River tunnels into Sunnyside Yards. Today, the IDC NY building is home to furniture showrooms and offices of interior designers and decorators.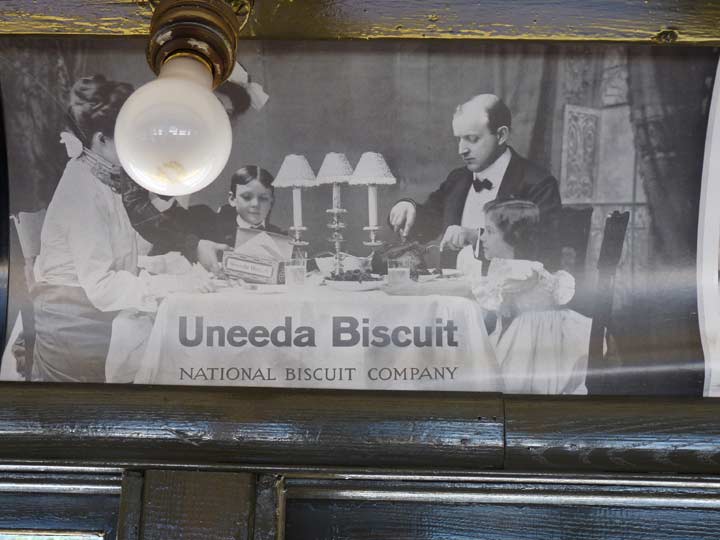 Were it not for the clothing styles, this Uneeda Biscuit ad could pass for a modern one, with sanserif type overprinting black and white photography and minimal copy.
The National Biscuit Company was formed in 1898 by a merger of the midwest American Bakeries and the eastern New York Biscuit Company, while these companies, in turn, had been formed by mergers of much smaller local bakery firms. The next year, 1899, Nabisco, as the firm came to be known, controlled hundreds of bakeries and reported an income of $55 million annually. Nabisco then launched its first national product, a soda cracker, and contracted ad giant N.W. Ayer to devise a name and a campaign, and the era's Don Drapers arrived at the punny Uneeda.
At the same time, cardboard packaging and wax paper wrapping was beginning to catch on, instead of the previous methods of cracker barrels and crates. Bread products could now be moved to store shelves easily and protected from spoilage. Ayer devised ads featuring the Uneeda Boy, clutching a box of Uneeda in various scenarios. Even the streamlined sanserif lettering on the package and the ads pointed toward a mid-20th Century esthetic.
Nabisco also delved into the billboard and painted ad method of advertising, pasting the distinctive Uneeda Biscuit lettering on thousands of buildings. Like Fletcher's Castoria painted ads, many of them have stubbornly held on to this day.
In subsequent years Nabisco devised dozens of popular cracker and cookie brands, such as Oreo in 1912, still the USA's most popular cookie brand. Nabisco merged with Standard Brands in 1981 and was purchased by RJ Reynolds in 1985, creating a snack food monopoly that also included Planters' Nuts and Life Savers candy. Uneeda's sales had decreased and it was far from its early eminence as the star of the brand, and Uneeda was discontinued in 2008.
George Washington invented instant coffee! George Constant Louis Washington (1871-1946), that is.
An emigrant from his native Belgium, he arrived in the New York area in 1897 and dabbled in several technical fields before hitting upon instant coffee manufacture during a sojourn in Central America in 1906 or 1907. He began selling his coffee in 1909 and founded a company to manufacture it in 1910. Based in New York and New Jersey, his company prospered and became an important military supplier during World War I. The company's products were also advertised in New York newspapers and on the radio. The success of his company made Washington wealthy, and he lived in a mansion in Brooklyn and then moved to a country estate in New Jersey in 1927. In that same year, he lost a dispute with the tax authorities. Washington was married and had three children.
Washington's company was sold to American Home Products in 1943, shortly before his death. Though the coffee brand was discontinued by 1961, Washington's name is still used today in the product G. Washington's Seasoning & Broth. wikipedia
John Woodbury founded his company producing personal care products in 1870; company slogan "Skin You Love To Touch" was on the tips of everyone's tongues in the 1930s and 1940s. The company also was among the first to use discreet nudity in its ads.
Check out the ForgottenBook, take a look at the gift shop, and as always, "comment…as you see fit."
7/13/17