I was looking through some photos in my IPhoto collection (I rarely discard any photos from Forgotten NY missions) from the summer of 2011, one of the relatively few times I have explored Eastchester, when I noticed several interesting items clustered around the IRT #5 Dyre Avenue station, the terminal of what is called the Dyre Avenue line on the IRT. Like the A train to the Rockaways, this section of the subways was purchased from a "legitimate" railroad, the NY, Westchester and Boston, a former passenger railway first constructed in the 1910s that was supposed to enable Westchester commuters a faster ride into Manhattan; the line terminated in the south Bronx, where riders would transfer to the IRT subway.
Eventually, the builders wanted to extend it northeast into New England and Boston, hence the name. The line was never a financial success, and shut down in 1937. The Transit Authority, as the MTA was then called, purchased the tracks and converted it into an open cut and elevated shuttle line; the tracks were later given switches to the White Plains Road #2 line. For many years, though, until the days of the MetroCard, it was a true shuttle and passengers paid the conductors on board or handed them transfer tickets. I walked the streets abutting the line a few years ago and reported on it for FNY.
Some items from the cornucopia of Forgottenania here:
At Dyre Avenue the line is bridged over the intersection of Dyre Avenue and Light Street. In this section of the Bronx, Eastchester, a long-ago developer gave some of the side streets names like Light, Dark and Lustre. Many NE Bronx avenues carry the names of long-ago mayors. William Dyre was NYC mayor from 1680-81; in those days, NYC consisted of the lower part of Manhattan to just about City Hall, which would not be built for over a century. It's not to be confused with Manhattan's Dyer Avenue, a West Side feeder road for the Lincoln Tunnel.
Technically these streetlamp fixtures were known as the 3737 series. They were first manufactured in the 1950s and were mostly used for illumination on side streets. I call them "crescent moons" for their shape. They also frequently turned up under elevated train overpasses. While most were removed in the 1960s, a pair can still be found at this remote outpost, though neither has had a working incandescent bulb in ages.
This old-school scrolled fire alarm lamp indicator mast can also be found at Dyre and Light. The city stopped maintaining these about a decade ago, but hasn't bothered to remove them.
Two sides of the same blue and white Bronx sign at the SE corner of Dyre and Light. This was one of the few remaining blue Bronx signs left in place, from the days when NYC street signs were color-coded by borough (approximately 1964-1984). looking at the latest Street View, this sign may have disappeared.
This faded Dyre Avenue sign is at the Bronx-Mount Vernon border, where Dyre becomes South 5th Avenue. I believe this may be another blue Bronx sign but it's so sunbleached that it's hard to tell.
These two painted signs, on Dyre and Light respectively, are still in place but have faded even more or have been graffitied over. One is for a long-lost bar, the other for a long-lost haircutter.
A "swash" Coca-Cola sign on a pizzeria, going back to the early 1980s at least.
While here, I can't not mention Bronx' own Little Red Schoolhouse, PS 15, is at 4010 Dyre Avenue, near the Bronx-Westchester line. The architectural gem was built in 1877, designed by architect Simon Williams and was originally a school in the town of Eastchester in Westchester County before its "capture" by NYC in 1895. It now serves as a community center.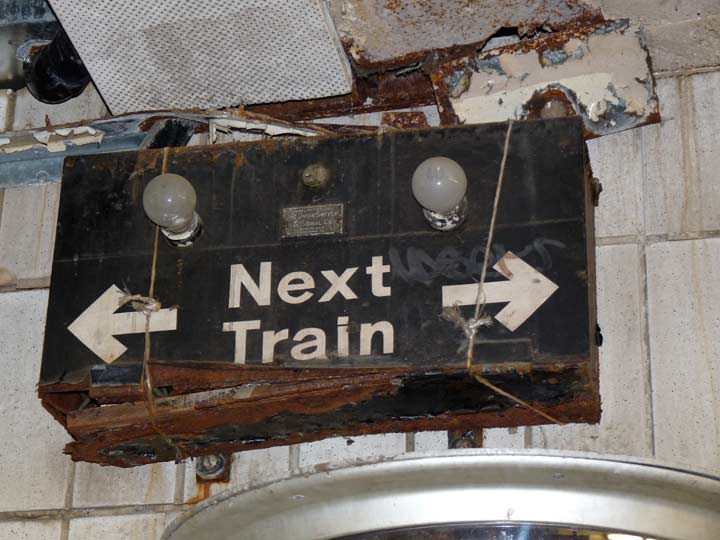 In 2011, the Dyre Avenue station had several ancient gems, like this track indicator light. Beginning in the early 2000s, these began to be supplanted by "countdown clocks" that showed when and what the next train would be.
Well into the 2010s, Dyre Avenue kept its 50-year-old set of incandescent platform lamps, consisting of twins supporting clusters of bulbs in each luminaire. These have all been replaced by T-shaped high intensity twin platform lamps.
Check out the ForgottenBook, take a look at the gift shop, and as always, "comment…as you see fit."
1/24/18