In March 2018, I marched from the Tremont Ave. IND subway station at the Grand Concourse east on its titular avenue all the way to the Bruckner Expressway, where I caught a bus back to Queens. I'd never walked for this long a stretch on the Bronx's lengthiest avenue before, and I'm always ripe for something new. I left out the stretch between the Bruckner and Throg(g)s Neck, as well as the hilly section west of Jerome, but there's plenty of time for that. I think.
The genesis of Tremont's name is similar to that of Boston's Tremont Street: while that city's Tremont was named for three hills on the originally narrow peninsula where Boston grew and prospered, so the Bronx' Tremont was named by its first postmaster for three hills in mid-Bronx: Mount Eden, Mount Hope and Fairmount. The main difference is that Bostonians pronounce it TREM-mont, while Bronxites say TREE-mont.
Like most of New York City's lengthy routes, Tremont Avenue wasn't called Tremont Avenue for its entire length in its early years. The late Bronx historian John McNamara, in his indispensible History in Asphalt, says that east of about Third Avenue, the road was known by many names along different sections of its length, including Morris Street, Walker Avenue, Fort Schuyler Road and Throggs Neck Road. Some of it was briefly part of East 177th Street! By 1900 or so, the part east of Boston Road was a northeastern extension of West Farms Road east to Westechester Square at Westchester Creek. However, by 1920, the full length road was Tremont Avenue, divided into East and West sections by Jerome Avenue. I'm unsure of the reason why East Tremont name took the place of the other sections, but it did leave the East Tremont section about 8 miles long, with the West Tremont side about one!
One of two murals in the Tremont Avenue station, "Uptown New York" by Frank Leslie Hampton.
Uptown New York cleverly brings the view from a Bronx apartment building to the mezzanine of the Tremont Ave subway station. The artist based this mosaic on the view from an actual apartment's rooftop, encompassing neighboring buildings, birds in flight, and the distant skyscrapers of Manhattan. [MTA Arts for Transit]
Sorry for the blurry image — my Lumix does not really function in dimmer light. Original mosaic sign from when the station opened July 1st, 1933.
Classic Moderne design apartment tower on Grand Concourse and East Tremont Avenue. Soon after the Concourse was laid out on a north-south ridge in the southwest Bronx in 1909, it became the bastion of innovative and now classic apartment house design (I've called the Bronx the Borough of Apartments). Dozens of Deco and other designs of the 1920s and 1930s sprung up along the Concourse's length, originally from East 161st to Mosholu Parkway. The buildings fell on hard times when many residents moved to Co-Op City and the suburbs beginning in the Swinging Sixties, but some, at least, have shown signs of revival as they have been spruced up — exteriors, at least.
The Bronx can boast its very own "Flatiron Building" necessitated by the intersection of the Concourse, East Tremont and Monroe Aves. converging to create a small narrow plot that's almost a triangle but not quite. It's one of the older apartment buildings on the Concourse, dating to 1914 (the year Bronx became a county). For a while this was the tallest building in the borough! (The title now belongs either to the Tracey Towers in Mosholu or perhaps the buildings in Co-Op City River Park Towers — shoot me a correction in Comments).
The imposing PS 28, on Anthony and East Tremont Avenues. Like many NYC school buildings, architectural information about it is difficult to find online.
I couldn't help notice that the department of Transportation has switched much of the Bronx as well as Manhattan over to bright white Light Emitting Diode lamps. While Queens and Brooklyn each have different makes, Manhattan/Bronx (and soon, Staten Island, I imagine) are using Cooper/Eaton Archeon Small fixtures. New Bell fixtures used on Bishop Crook and Corvington lamps have LED bulbs, as well as the City Lights lamps (I call them the Harpoons — see Page 155, here).

Ice-age era rock encrustations dominate Julius Richman Park, as it's officially called. With all due respect to Richman (1915-1973) chairman of the Twin Parks Association and the Urban Action Task Force, and Assistant Administrator of the City's Finance Committee, "Julius Richman Park" simply doesn't carry the mojo of the park's old name, Echo Park, so named because sound waves can ricochet and bounce off these incredible reminders of the Ice Age and return to the persons who originated them.
Probably, the Bronx street grid predated dynamite. Had this part of the Bronx been settled at a later date (the early- to mid-1800s), it's quite likely this inconvenient rock escarpment would've simply been blown up so that East Tremont Ave. could proceed on a simple east-west course. Cannon could've been used, but that may have proved impractical. But the busy road merely curves around the escarpment, as does Valentine Ave., which begins its northward trek to Fordham here. The Bronx tries to conform to a grid pattern, but odd colonial trails spider-web off all over the borough, and natural formations like this spoiled the gridmasters' party.
Los Angeles' Echo Park is a bit more famous, as well as a bit hipper.
I don't know who the Echo Park Associates are, but I'm getting to be in the right age bracket.
The retro-Gothic Tremont Baptist Church lords it over the complicated intersection of East Tremont, Valentine and Webster Avenues.
A sign on this East Tremont Avenue building east of Webster Avenue has been placed on an almost completely faded painted ad. I can only make out the word coupons.
Speaking of signs, here's some of my favorites in the Bronx, some 1940s-era old school neon for Frank's Sporting Goods at East Tremont and Park Avenue.
Frank's has been here since 1921, founded by Frank Stein that year, and his son Moses or "Moe," as he is known, is still going strong in 2018 at the age of 89. Frank's began as an Army-Navy surplus store but quickly expanded into active apparel, sporting goods, and yes, crossbows and shotguns, ostensibly to be used for hunting. In a 2010 New York Times article, Moe recounted that a Christmas tree vendor wished to purchase a shotgun to dissuade extortionists; he was murdered the following year. Moe's wife, son, daughter and nephew have all worked with him in the store, which counts fishing licenses among its biggest businesses. Online reviews are spotty, citing high prices. The store boasts three classic neon signs wrapping around the corner and a shingle sign over the sidewalk, emphasizing the work clothes, guns, and tackle.
Bronx's Park Avenue is a northern extension of Manhattan's (much like Broadway and Third Avenue) and its house numbers follow the sequence that started all the way south at East 32nd Street. In the Bronx, Park Avenue is a far cry from the ritzy boulevard between East 46th and 96th Streets with its St. Bartholomew Church, Lever Building, and ritzy penthoused apartments. Here, it's merely a neighborhood street on both sides of the Metro North tracks; when the old NY Central was extended into the Bronx in the 1800s, Park Avenue was laid out alongside it.
The Metro-North, formerly part of the New York Central, runs north along Park Ave. both in Manhattan and the Bronx into Westchester, where it ends at various upstate terminals. Within the Bronx, there are stations at Melrose, Tremont, 183rd St., Fordham, Botanic Gardens, Williamsbridge, Woodlawn and Wakefield. Of these only the Botanic Garden station, serving the popular Bronx Park gardens, is well–known or frequently used. Several blocks east of the Grand Concourse IND Subway, this is a relatively transit-starved area, and the Metro-North might be able to do decent business if it ran frequent local service here at a comparable price to the $2.75 MetroCard swipe, but the MTA isn't that imaginative.
Rarely do I see people as happy to be at the doctor's office as the folks in this mural at Park and Tremont.
The old Fox Crotona Theater, 453 East Tremont Avenue, is now a furniture and mattress store. It was constructed in 1912 for vaudeville audiences (Thomas Lamb, architect) and later played silent movies with the accompaniment of a twelve-piece orchestra and a Moller organ. Though the theater closed in 1959 after years playing talkies, it's still readily recognizable for what it was.
Behind the rock outcroppings at East Tremont and Third Avenues is Tremont Park…
This park was once named Old Borough Hall Park, because Borough Hall stood on this property. George B. Post (1837-1913) designed Bronx Borough Hall with yellow brick and brown terra-cotta trim. Post's most famous accomplishments include the New York Stock Exchange and the now demolished Western Union Building, which stood at Broadway and Dey Street in Manhattan. Bronx Borough Hall was completed in 1897, and Louis F. Haffen, the first Bronx Borough President, was inaugurated in a second floor office in 1898. In 1899, a grand stairway was constructed along the steep slope down to Third Avenue, connecting Borough Hall to the bustling Bronx.
After World War I, Victory Park, a formal garden with paths radiating from a large circular fountain, was created near Borough Hall to celebrate the Allied victory over Germany. Borough Hall served as the borough's administrative headquarters until a new Bronx administration building was constructed along the Grand Concourse near Yankee Stadium in 1935. Government services gradually left the old Borough Hall, and by 1964, the only office left in the building was a marriage license bureau. Despite efforts by the Bronx County Historical Society and others to renovate the hall for civic use, the building was deemed structurally unsafe and demolished on January 12, 1969. NYC Parks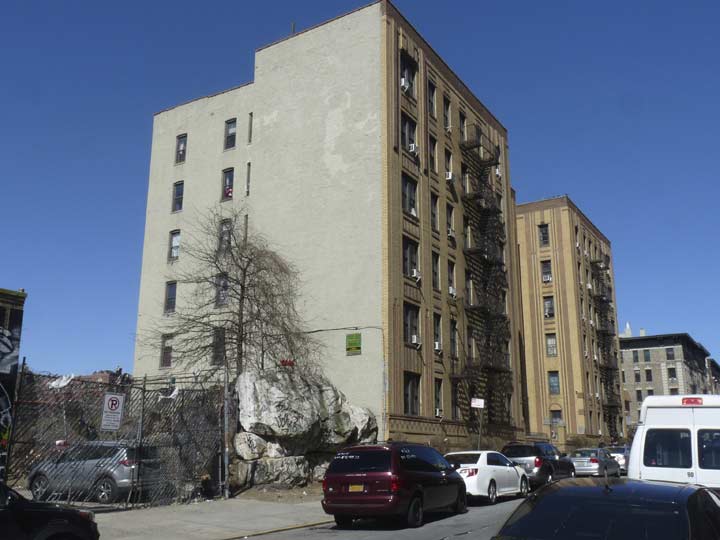 Speaking of rock outcroppings, here's some more next to a Moderne apartment on Monterey Avenue north of East Tremont. The Spanish-sounding name comes from original landowner Samuel Ryer's exploits in the Mexican War.
What I call the Bronx Curve is evident on this bank branch at East Tremont and Arthur Avenues. Often, Bronx streets meet at less or more than right angles, and architects have compensated by building sweeping, curved facades on buildings. You'd be surprised how many there are.
Further north Arthur Avenue , named for President Chester A. Arthur, enters Belmont and is the heart of the area's Little Italy shopping and dining district.
Yet another former theater building, the former Loew's Fairmount, #708 East Tremont, east of Crotona Avenue, opened September 12, 1928 (Joseph Orlando, architect). After Loew's dropped it in the 1950s, it struggled as an independent until 1986; a variety of businesses (recently a Fine Fare supermarket) have occupied the ground floor since.
What was in the upper four floors? Offices?
One of the shrinking number of Puerto-Rican themed shops in NYC, Taíno Mayor, #855 East Tremont between Marmion Avenue and Southern Boulevard.
While customers shop at Taino Mayor, they could enjoy the sounds of songs like "En Mi Viejo San Juan" and "Soñando con Puerto Rico" playing. [Owner Nestor] Rentas says people come from all over looking for Puerto Rico items. His shop sells everything Puerto Rico, including flag earrings, hats, souvenirs from the island, music by boricua and Latino artists and musical instruments.
Rentas is a local Bronx celebrity. He has a popular TV show on Bronxnet, a local community media outlet, named "Mi Pueblo es Tu Pueblo." He says his show is one of the oldest on Bronxnet. [Puerto Rico Sun]
Taíno, meanwhile, was the native language of many Caribbean peoples before the Taíno peoples were wiped out by the Spanish during the colonial period. "Boricua" in Taíno meant "valiant people."
Southern Boulevard is a multi-laned, pedal to the metal route that bruits its way from Mott Haven to Bronx Park. (Only in New York is Southern Boulevard north of Northern Boulevard, but the two routes are in two boroughs across the East River.) Like the Grand Concourse, it did not evolve from existing colonial roads but was designed and engineered and laid out beginning in the early 1870s. In an unusual circumstance, the northern end of the boulevard through Bronx Park was renamed for Bronx historian Dr. Theodore Kazimiroff in 1981, but the city took his name off the boulevard in 2011.
Southern Boulevard doesn't have the Conc's decent press, as its lower reaches feature auto repair, collision shops and tire dealers. Further north, though, it has an improved aspect as it is accompanied by…
…the Crotona Parkway and its associated mall and walkway between East 175th Street and Bronx Park South. Designed as a corridor between Crotona and Bronx Parks, it opened in 1910 — though today its southern end is disconnected from Bronx Park by about one block.
I don't know the story behind this one-story, quoined building at East Tremont Avenue and the Crotona Parkway Mall. It could have been a park maintenance office or a rest room.
This lamp on Honeywell avenue just north of East Tremont Avenue is an example of a post from the dawn of the modern NYC lamppost era, about 1950, when aluminum, 8-sided poles began to appear on the streetscape. In the very early days, such posts had curved masts supported by a thin bracket. The then-Department of Traffic redesigned them in a few years with a heavier mast that didn't need a bracket, and that model, along with the curved cobra neck, is most often seen in NYC streets these days.
However, a handful of "curved masts" as I call them, are or were still to be seen when I began to produce this website in 1999. There are fewer these days, but you can still see them around, as here, and sometimes under elevated trains, where all manner of anomalies are preserved.
This one is a strange case, though. If you check the Google Street View shot from October 2017, this pole isn't there; instead, it's a recent regulation straight mast. I guessed what must have happened. A truck must have hit that pole and toppled it — or it was found somehow defective. The the DOT hastily replaced it with whatever was in the yard, and in this case, it was this rusty specimen from 1950, once again pressed into service. I welcome it back from limbo, however temporarily!
Engine 45, East Tremont between Daly and Vyse, has a plaque with the date of construction, 1931. The 1925-1935 period saw a great many of our present firehouses constructed. The much more recent Ladder 58 is next door.
In the early 20th Century schools were really built like fortresses — at least some were. PS 6X, the West Farms School, East Tremont at Vyse, now serves grades 1-5 and pre-K.
I am unsure Aquinas Apartments for the elderly has anything to do with the St. Thomas Aquinas High School at Grote Street and East 182nd; it's several blocks to the southeast– probably not. Both are named for Thomas Aquinas (1225-1274), the great medieval Italian theologian and philosopher.
The elevated train serving the #2 and #5 trains rises high above Boston Road as this part of the West Farms neighborhood. At the East 180th Street station, the two lines diverge as the #2 travels above White Plains Road to Wakefield, while the #5 travels on the former trackage of the New York, Westchester and Boston Railroad (now the Dyre Avenue branch) to Eastchester.
Boston Road, meanwhile, is in two distinct sections in the Bronx, as the section in Bronx Park was closed to through traffic several years ago. North of the park, it becomes US 1 and you can indeed travel to Boston using it, but there are much faster interstate options these days.
West Farms took its name from farms west of the Bronx River, which served as the Bronx' main geographical dividing line from the colonial era up to the later 1800s. The Bronx became a part of New York City in sections between the years 1874 and 1898: all of the Bronx west of the Bronx River was annexed to the City of New York in 1874, while everything east of the river became part of the City in 1895. Soon after, in 1898, New York City consolidated with the city of Brooklyn and the boroughs of Queens and Staten Island. Though it was already a borough, the Bronx was a part of New York County until 1914 when it became a county in its own right. Today, New York County is coterminous with Manhattan.
West Farms Road, which runs from Gladstone Square at Southern Boulevard and Westchester Avenue in Longwood north to West Farms Square at Boston Road and East Tremont Avenue, is among the oldest roads in the Bronx; it overlay an Indian trail along the river. It is referred to in documents from the 1720s and was known as the Lower Road and the Queen's Road in the colonial era. Until about 1920, East Tremont Avenue from West Farms Square to Wetschester Square was a northeastern section of West Farms Road.
Artwork (perhaps a closer look at the object might reveal the artist) at the Lorraine Hansberry Academy (PS 214) on West Farms Road near East Tremont. It reminds me of a pair of stylized handcuffs.
Hansberry (1930-1965) wrote the play A Raisin in the Sun, which was performed on Broadway and became a motion picture starring Sidney Poitier.
The Bronx Zoo, part of Bronx Park, can be attained by traveling north along Boston Road. Formerly, the IRT had an elevated train spur to the zoo gates.
Crosswalk haiku: These poetic signs were first installed by the Department of Transportation beginning in 2011, with the poems and artwork created by artist/poet John Morse.
Twin Donut never challenged Dunkin' for donut ubiquity, but still, I don't see quite as many of them as I used to see.
Though Bronx Street has been demapped and locked behind a gate, the dead end off East Tremont Avenue still ranks a street sign. There are two streets in The Bronx named for the borough (and unaccompanied by any other word, like Park or River): Bronx Boulevard, in Williamsbridge and Wakefield, and the forgotten and abandoned Bronx Street on East Tremont Avenue just west of the Bronx River.
Elsewhere, Manhattan has Manhattan Avenue (and two former Manhattan Streets), Queens has Queens Boulevard, Queens Plaza, Queens Street and even Queens Walk in Breezy Point; Brooklyn has Brooklyn Avenue and Brooklyn Road; and Staten Island the Staten Island Expressway and the short Staten Island Boulevard in Emerson Hill (though most of its major roads have Richmond in the names).
Ah. But could you imagine a Brooklyn or a Queens Avenue in Manhattan? Would Manhattan deign to have a street named for a different borough in it? Likely not.
East Tremont Ave. crosses a bridge whose walkway is protected by a wire screen. Most motorists never notice that they're passing over the swiftly rushing Bronx River, said by many urban naturalists to be the only true river located in the city, though there are smaller brooks and streams in the Bronx.
Nature (with human assistance such as the Bronx River Alliance) has reclaimed several sections of the Bronx River from the industrialization it had been subjected to beginning in the early-1800s.
The Bronx River Arts Center was founded in 1987 to bring arts programming and environmental experiences to the West Farms neighborhood, which historically has been culturally underserved. The building has received a new painted design, with its BRAC initials wrapping around the side, so amusingly, it looks like the "BRA" Building when you approach it east from Boston Rd.
The IRT elevated rises high over Devoe Avenue north of East Tremont.
Young Park, at the triangle at East Tremont and East 180th, was named for a local World War I hero in 1933.
James Young was designated as Chief Gunners Mate on a naval boat, which and was assigned to thwart attacks by German U-Boats. By 1917, the U-boats were sinking nearly 875,000 tons of British supplies every month, a pace which would have forced the British to surrender by the end of the year. The combined British and American naval forces were able to inflict a great deal of damage on the German submarines through the use of destroyers and hydroplane bombers. After several months at sea, Young was killed in action on October 30, 1917. NYC Parks
East Tremont Avenue, for the next couple of miles, travels alongside the open cut that takes Amtrak north to New England from the Hell Gate Bridge. Here, it forms a major barrier between the neighborhoods, as Parkchester and Westchester Square are sundered from Morris Park by this formidable barrier. Only a few routes are bridged over or tunneled under these busy tracks.
Eat Tremont does have a sidewalk on the railroad side, but it hasn't been repaired or kept up in what looks like decades. This side of the street becomes the territory of auto glass, tire shops, car repair places and gas stations, and the Department of Transportation is not about to repair sidewalks for the benefit of idle shufflers with cameras, in coats that have gone too long between cleanings.
Both White Plains and Unionport Roads are borne across the railroad cut about a block apart on two nearly identical truss bridges.
East of Unionport Road, East Tremont Avenue is the northern side of Parkchester, a large apartment complex (large enough to comprise an entire neighborhood) bounded by White Plains Road, East Tremont Avenue, McGraw Avenue and (part of the way) by Castle Hill Avenue. The complex was built in 1941 by the Metropolitan Life Insurance Company on 110 acres, some of which had been occupied by the New York Catholic Protectorate, a home for poor children. For its time, Parkchester was a pioneer in rental-unit engineering, as it included amenities like gleaming new bathrooms with non-slip bathtub bottoms, double sinks and cabinets in the kitchens — an innovation at the time. The complex boasted a bowling alley, recreation areas, the very first Macy's branch outlet, and three movie theatres in or near it: The Loew's American (still there as a multiplex), the Palace and the Circle.
Met Life provided Parkchester with a rather whimsical style. While the tall seven and twelve-story buildings appear somewhat monolithic when viewed from afar, a walk around the complex reveals the friendly face Parkchester presents: its generous employment of colorful, playful terra-cotta statues and sculpture by renowned sculptor Joseph Kiselewski, executed by the Federal Seaboard Terra Cotta Corporation.

The other major route that gets past the railroad is Bronxdale Avenue, which runs from East Tremont northwest to Bronx Park East at Boston Road. It's one of a number of roads in the borough with "Bronx" in the name; Bronxwood Avenue in Williamsbridge is another. I wish Bronxdale Avenue had held onto its much more colorful older name, Bear Swamp Road; after the Morris Park neighborhood was built up following the demolition of the Morris Park racetrack (see map) the road received a more prosaic moniker. In the colonial era, it ran through a swampy area with wild bears.
Twin steepled St. Raymond's Church, East Tremont and Castle Hill Avenues, is a neighborhood landmark in Westchester Square. The parish was instituted by the Reverend "Dagger" John Hughes in 1842 and after waves of immigration caused the congregation to burgeon rapidly, the present large church building was constructed in 1898. In addition to the adjacent churchyard, the parish runs St. Raymond's Cemetery, in two separate large plots, on Schuylerville along the Hutchinson River Parkway (see below).
Westchester United Methodist Church, 2547 East Tremont near Silver, was organized in 1808 and incorporated on March 8, 1809, making it the oldest church of that denomination in what is now called the Bronx. The society was originally named "Zion Methodist Episcopal Church of the town of Westchester." The first church edifice was erected about 1818 on Walker Avenue (now known as East Tremont Avenue), which was the road leading to West Farms, and the churchyard included a small cemetery. Zion Church was reincorporated on October 26, 1826, but it does not seem to have flourished, as the church corporation was dissolved by reason of non-user. The society was reincorporated a second time on February 7, 1833, under the name of the Methodist Episcopal Church of Zion in the town of Westchester. The first church was destroyed by fire at an unknown time, and the second church was built on the same site.
On May 9, 1910, the roof of the second church was set ablaze when the nearby Morris Park Racetrack caught fire, after which the congregation decided that a brick church would be safer. From 1913 to 1948, the congregation worshiped in the roofed-over basement that was two-thirds below ground; throughout this period, the church was known as "The Eelpot Church" because an eelpot [a trap for catching eels] is two-thirds submerged below water. Finally, in 1948, the present brick church was constructed over the basement. American Guild of Organists
One of the more fascinating aspects is the tombstones embedded in the stone fence. The oldest one dates to 1814.
While Manhattan and Brooklyn have Gold Streets in their downtown areas, Westchester Square has a Silver Street. One of the Bronx' oldest thoroughfares, it connects East Tremont Avenue and the junction of Eastchester and Williamsbridge Roads. The street was laid out by Ezra Cornell (1807-1874), the founder of Cornell University; the Cornell farmhouse formerly stood at Silver and Williamsbridge. Perhaps, sometime after Cornell had left, the property changed hands with silver pieces, hence the name.
Williamsbridge Road begins a lengthy run to the old village along the Bronx River that bears its name here at East Tremont Avenue and Westchester Square. It was a colonial road and Native American footpath before the days of vehicular traffic; its north end ran through property owned by a John Williams who built the first Bronx River bridge, hence the name.
The Bronx probably has more defunct theaters used for new purposes than any other borough. Many have become furniture outlets or storefront churches (see above). The story goes, though, that a magnificently apportioned building between Ponton and Roberts Avenues on East Tremont was built as a theater, but never got to fulfill its builders' ambitions. It's got glazed white brick that quite literally glistens in the afternoon sun, and time hasn't dulled its rich terra cotta figures like the lyre and tregedic mask over its front entrance. Neighbors call it "the white elephant."
Late afternoons in March aren't the greatest time to photograph the Huntington Free Library but it's a key Westchester Square touchstone, and two Forgotten New York tours have visited it; in the first, we were treated to a lecture by the late Bronx historian Bill Twomey ("The Bronx in Bits and Pieces" Parts 1 and 2).
This library was a gift by local resident Peter Van Schaick in 1883 with funding by Southern Pacific railroad magnate Collis Huntington; the library remained unopened for ten years while details about the cost of its upkeep were worked out. The architect was Frederick Withers, who also designed the pleasantly Gothic Jefferson Market Library building in Greenwich Village. The "Free" is a reminder of the days when borrowing books from libraries free of charge was a novelty.
The Library's Reading Room features an engraving and oil painting of Collis Huntington, a large map of Throgs Neck in the 1850s drawn by the late Bronx historian, John McNamara, and a visitors register including some well-known figures, including Booker T. Washington's 1894 visit. Pipes for the reading room's original gas lighting are visible near a book stack, as well as the library's card catalog (an item quickly becoming scarce in most libraries), and vintage typewriters are on display.
The Reading Room, with its large Bronx picture and book collection, remains open by appointment at (718) 829-7770.
Chair in the Square: At Westchester Square, East Tremont and Westchester Avenues (the heart of old Westchester Village) there's always an empty seat in bronze. David Saunders' 8-foot high sculpture, The Seat, was installed in 1987. Under the chair is a dictionary open to an entry on the birds of North America, and dictionary and chair are mounted on a granite boulder showing wild boar.
Westchester Square, even to the present day, appears to be a small town hub, clustering around the triangle formed by Westchester, East Tremont and Lane Avenues. The "town" has recently celebrated its 350th anniversary, having been settled here, as Oostdorp ('east village') by the Dutch in 1654 and taken over by the British with the rest of New Amsterdam in 1664. It became a busy port along Westchester Creek, which hastened its development; by 1693 St. Peter's Episcopal Church was founded. The parish is still in existence. During the Revolution, patriots dismantled a bridge over the creek, delaying British advancement (the present-day bridge carries East Tremont Avenue). Once upon a time the seat of Westchester County, it's been in the Bronx since 1895.
A separate monument in the square to area residents who served in World War I, containing the names of 48 area residents who perished, was sculpted by John Saunders Oakman and dedicated with a speech by area educator Owen Dolan in 1925. After Dolan's speech, by accounts a spirited, energetic one, he sat down and immediately dropped dead of a heart attack. Westchester Square Park was renamed for Dolan the following year.
After crossing under the elevated train over Westchester Avenue, you encounter this small marker on East Tremont Avenue that references a different kind of crossing during the Revolutionary War.
It marks the site of the Battle of Westchester Creek, Oct. 12th, 1776 in which a small group of 25 riflemen kept the British at bay by dismantling the planks of the bridge then spanning the creek.
The patriots then fired on the front line of the 4,000 Redcoats attempting to advance on George Washington's army, then located about four miles away in Kingsbridge. The British were delayed only for a few hours but it was enough to allow Washington to slip away. (Much of the Revolutionary campaign in New York was involved in allowing the bulk of our armies to successfully retreat; this also happened during the Battle of Brooklyn in which 400 troops from Maryland engaged the British).
Westchester Creek was once navigable to this point and beyond, but it was reengineered and redirected underground decades ago.
A short street connecting East Tremont and Westchester Avenues was renamed Little League Place for the field it runs past in 1985. It was once named Tan Place for a) a tannery b) union boss Timothy A. Naughton c) short for Tangent, an angle at which it meets the two longer routes. It's all academic now, anyway.
Rounding East Tremont Avenue's curve east of Westchester Square you are now on what was called Fort Schuyler Road until 1920 or so, named for the former fort at the end of Throg(g)s Neck (area residents spell it with 2 g's, the Department of Transportation one, on expressway and bridge signs). Entering the neighborhood of Middletown, midway between Throg(g)s Neck and Pelham Bay Park, you travel past the high steeple of First Presbyterian Church of Throgs Neck, East Tremont between Ericson Place and Dudley Avenue. The graveyard in the rear contains several names reflected on local street signs.
A sure sign a cemetery is nearby is the plethora of monument and flower businesses that cluster East Tremont Avenue. Crown Monuments, at Puritan Avenue, has classic sidewalk signs and has likely been around for decades.
In Middletown, Puritan, Pilgrim, Plymouth, Mayflower, William Place, and [William] Bradford Avenues recall the Pilgrims' arrival in Massachusetts in 1620.
Two vast cemeteries are associated with St. Raymond's Church in Westchester Square and are operated by the Catholic Diocese of New York. Old St. Raymond's, located roughly between Waterbury Avenue, Bruckner Expressway, the Hutchinson River Parkway and East Tremont Avenue, was originally the "Underhill Farm of Throgg's Neck" purchased by Rev. Michael B. McEvoy who was pastor from 1875 to 1885. Old St. Raymond's Cemetery was started in 1875.
The church purchased additional property in the early 1950s to create New St. Raymond's, between the Hutch, Cross Bronx Expressway, and Randall and Lafayette Avenues. New St. Raymond's is the final resting place of boxer Hewctor "Macho" Camacho, pop's Frankie Lymon, actress Lois Nettleton, salsa's "La Lupe" Yoli and jazz songstress Billie Holliday.
Whittemore Avenue is one of the Bronx's more unusual roadways, as no property whatever borders on it. It runs one block through St. Raymond's Cemetery between East Tremont and Balcom Avenues. Long ago, when it was called Bowne Road, it led to a ferry landing on Westchester Creek.
Fluffy The Clown, otherwise known as Milton Sheppard, runs the New York City Clown Studio at East Tremont Ave. and the Bruckner Expressway, adjacent to one of New York City's prime costume suppliers, Frank Bee Stores, which started as a five and dime decades ago but expanded into the clowning business. Clowning is an art that calls for a lot of skill and the willingness to dress up in crazy outfits and wear face paint, and it stands to reason that academies have sprung up to instruct prospective entertainers.
The Bruckner Expressway (I-95), named for a 1930s Bronx Borough President, bruits its way northeast here, connecting the Major Deegan and East River bridges with Westchester County, becoming the New England Thruway and once in Connecticut, the CT Turnpike.
In the blocks near East Tremont Avenue, a murder of Dwarf Double Mast Deskeys light the roadway.
Old St. Raymond's Cemetery doesn't quite reach the Bruckner and so, several odd stubs of streets dead end at the cemetery's edge, one of which is Revere Avenue.
I could've continued on to Throg(g)s Neck, but it's been a good six miles, and the Bx50 bus goes back to Flushing from here. I haven't been to the Neck's SUNY Maritime College grounds encompassing the old Fort Schuyler since 2005, so a return visit will come sooner or later.
Check out the ForgottenBook, take a look at the gift shop, and as always, "comment…as you see fit."
6/17/18