Prospect Avenue is the spine of Windsor Terrace, running from 3rd and Hamilton Avenues southeast and south to Ocean Parkway. It's named for nearby Prospect Park and its high hills (left by a receding glacier at the end of the last ice age), though Brooklyn's highest point is actually in Green-Wood Cemetery. As a neighborhood, Windsor Terrace occupies a narrow band between the cemetery, which was surveyed in the 1830s and opened in 1838, and Prospect Park, which was conceived by President of the Brooklyn Board of Park Commissioners James Stranahan, designed by Central Park landscape architects Frederick Law Olmsted and Calvert Vaux and opened in 1867.
(The other spine of Windsor Terrace is the Prospect Expressway, connecting the Brooklyn-Queens Expressway and Ocean Parkway, built by traffic czar Robert Moses in the 1950s, though I tend to gloss over it.)
Windsor is the family name of the British Crown and reflects a tendency of real estate developers to "class up" buildings and neighborhoods by giving them British names: hence, nearby Kensington and its Albemarle, Beverly, Westminster, etc. Roads.
On the way to visit friends in Kensington in early September 2018, I ambled down Prospect Avenue and a couple other streets in Windsor Terrace. There are some notable structures to be found…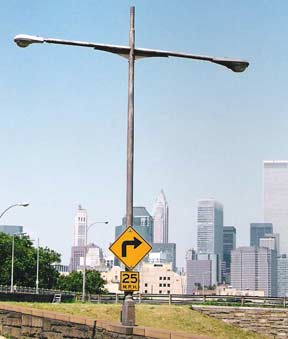 The first thing I noticed? What else? On an expressway exit ramp between 3rd and 4th Avenues is one of the Expressway's last Whitestone-type lampposts (officially Type 41), which once dominated both the Prospect and the BQE. They were T-shaped, with a finned mast. Only a few intact specimens remain at the Manhattan and Brooklyn ends of the Brooklyn Bridge, and a lone complete post, complete with mast, at 3rd Avenue and 17th Street a few blocks away. This one had Cobra masts installed decades ago, and recently got a set of Light Emitting Diode lamps.
The Prospect is your not-so-friendly neighborhood expressway. The dwellings on the south side of Proepct Avenue fell to the wrecking ball, while these attached brick survivors cling together on the north side.
One of these is not like the other, as 2018 esthetics intrude on those of the 1880s. This wing of Park Slope does not have the city's Landmarks Preservation Commission protection.
The French Renaissance Grand Prospect Hall, 263 Prospect Avenue just south of 5th, is familiar to NYC viewers from its ubiquitous commercials: "We make your dreams come true!" It was constructed as a grand banquet hall in 1892 by John Kolle, who hired Ulrich J. Huberty, the architect of Prospect Park's Tennis House and Litchfield Villa. The interior is indeed ornate. William Jennings Bryan, Enrico Caruso, Lena Horne, Fred Astaire and Al Capone were all patrons; the Jack Nicholson vehicle Prizzi's Honor was filmed here. The Hall has been under the ownership of Michael & Alice Halkias since 1982.
I've never been inside, but I was once invited to a wedding here–and the invitation was later rescinded, when the bride explained she had gone over budget and had to pare the guest list! As it happened I was in Park Slope the day of the wedding and went by Prospect Hall in a friend's car and saw her in her gown outside the building! (The newlyweds, who moved to New Hampshire decades ago, later had me over for dinner as a consolation prize.)
Outdoor biergartens are getting to be a "thing", and Prospect Hall's Halkias family has joined the party with an outdoor entry next door to the main Hall during the warm months.
At 283 Prospect, the St. John-St. Matthew-Emaunuel Lutheran Church's website is tight-lipped about the construction date of its church building (as many churches are, regardless of denomination — you're supposed to care about worshiping, not architecture) but an outdoor poster says "since 1859" which sounds a bit early for this building, though you never know.
As Prospect Expressway veers away from Prospect Avenue, there's room for a small park at 6th Avenue. The city has never vouchsafed it a name. In fact they're resolute about it and installed a brown leaf Parks sign that simply says "Park." So there!
There are a number of thin, vertical parks along the Expressway in Windsor Terrace, but they do have names such as Seeley Park and one named for local City Council President in the 50s and 60's Thomas Cuite (pronounced "cute.")
A number of short, one-block streets intersect Prospect Avenue. On the south side of Webster Place, there seems to be a little piece of San Francisco or Seattle here, with a grouping of beautifully painted, porched Queen Anne-style houses.
If you own or know the story behind one of these beautiful buildings, let me know. All are meticulously maintained, at least on the outside. Shouldn't the Landmarks Preservation Commission take a look here?
Another is the more mundane Calder Place. I was hoping it was named for the King of Mobiles, Alexander Calder, but instead it honors another local Representative and Senator, William Musgrave Calder, who during his Senatorial term between 1917 and 1923 sponsored the first daylight-savings law.
Today Arrow is a laundering company, but I remember it as both a shirt company (my mother and grandmother worked for its parent company, Cluett-Peabody, in Troy, NY) and also as a New England-based company–I still have many Arrow street maps in my collection.
A group of colorful bay-windowed dwellings on the north side of Prospect Avenue between 6th and 7th Avenues.
For many Windsor Terrace guys, Sundays mean Holy Name of Jesus Church at Prospect Park West and Prospect Avenue in the mornings, and Farrell's in the afternoon. The Gothic Revival church, and the school behind it, are both massive; the church dates to 1878 and the school to 1923.
Eons, er, decades ago, I attended my cousin Jim's first marriage here, in September 1978.
Because mid-19th century developers desired a Prospect Park association, Prospect Park West extends past the park to 20th Street, even though it doesn't border the Park for a few blocks. It is where 9th Avenue would ordinarily be.
The rectory next to the church on PPW is something to behold, too.
Howard and Fuller Places are another pair of one-block streets intersecting Prospect Avenue, this time between PPW and 10th Avenue. The buildings on both streets are similar, indicating the same developer built both.
Fuller Place's houses are pleasant attached brick buildings, most of which have outdoor porches. Some homeowners have decided to enclose the porches at some time in the past. Fuller Place was featured in the 1994 Geena Davis vehicle Angie, in which she plays a working class Brooklyn woman from Bensonhurst; her boyfriend in the film was a pre-Sopranos James Gandolfini.
Not to be outdone by Angie, the corner house on the south side of Howard facing Windsor Place was featured as the home of Helen Hunt's waitress Carol in the 1997 movie As Good As It Gets, which did a lot better than Angie at the box office. Jack Nicholson starred as Melvin, an angry obsessive-compulsive writer who is humanized by Hunt and a gay artist neighbor, Simon, played by Greg Kinnear. Nicholson and Hunt received Academy Awards (Best Actor and Actress).
When I saw these two on opposite corners at 10th Avenue and Prospect, I thought there were dueling hardware stores in an age when such places were becoming increasingly extinct. Actually someone informed me they had the same owner.
Not only is the Windsor Terrace stretch of 10th Avenue subnamed for fallen firefighter John P. Devaney, he also rates a Boulevard:
A ten-year Fire Department veteran searching a blazing Brooklyn apartment building yesterday became the first New York City firefighter killed in more than a year, the Fire Department said.

Firefighter John P. Devaney was looking for people trapped in the four-story building at 217 Van Brunt Street in the Red Hook section, when the room he was in suddenly "flashed over," everything combustible in it bursting into flames, Fire Commissioner Joseph F. Bruno said.

Mr. Devaney, 36 years old, was found unconscious by other firefighters, his body covered with third-degree burns, Commissioner Bruno said. Efforts to revive him failed, and he was pronounced dead at Long Island College Hospital at 5:15 A.M. [New York Times, 2/4/1989]
I noticed a number of intriguing storefronts such as Jeff Bloch's Amp & Guitar Wellness center at 10th and 17th.
I detoured to 18th Street, which runs along the Prospect Expressway, for a couple of blocks. This dwelling at 18th and Seeley is reminiscent of Holy Name of Jesus Church (see above). Could there be a connection?
Two in a group of handsome attached brick houses with porches on Vanderbilt Street and Prospect Avenue.
Della, an Italian restaurant on Prospect between Vanderbilt Street and Reeve Place, has a sidewalk sign with cursive letters painted directly onto the bricks.
More esoteric sidewalk signs on the southern stretch of Prospect Avenue in Windsor Terrace.
Greenwood Avenue, in the southern Terrace, contains many esoteric 19th century residences. Today, I only had time to peruse a couple of them near Prospect Avenue, including the rustic Episcopalian Church of the Holy Apostles, constructed in 1892. The church also features a vintage signboard with movable letters on a black background.
The subway exit at Prospect Avenue and Greenwood (for the Fort Hamilton Parkway station; F, G) give me a chance to get up close and personal with a Verdeon streetlamp, which has been standard issue in Brooklyn since LED lights were introduced beginning in 2014. Other makes dominate other boroughs, but the Verdeons rule Brooklyn. The Department of Transportation often adds extra streetlamps around subway exit/entrances.
Engine 240/Battalion 48 on Prospect Ave. south of Greenwood is one of Brooklyn's and NYC's more exotic firehouses, with a corner turret with intricately carved stonework. My friend Emily Nonko had the scoop about it in 1912:
Firehouse, Engine Company 28 (now Engine 228) was organized in 1890 in response to the growing population and number of buildings in the Sunset Park area of Brooklyn. First located in rented quarters at 945 4th Avenue, Engine Company 28 formally moved into their newly erected firehouse in December, 1891. The Brooklyn Fire Department was established as a paid department in 1869 until consolidation with the City of New York in 1898. Under the reorganization at that time this house was renamed number 128 and during a later reorganization it became Engine 228, which it has remained until today. This strong Romanesque Revival style building, with stone and brick facade, large, round-arched openings and decorative moldings, provides a distinctive presence on the busy streets of Sunset Park that began to be developed with commercial and residential buildings in the 1890s. The existence of this firehouse continues to provide a strong civic presence in this section of Brooklyn. [Brownstoner]
One of those late 19th century dwellings in the area I was referring to. This one is next door to the firehouse. It's been resided over the years, but the original skeleton shows through.
Crossing the Prospect Expresway at Ocean Parkway over a pedestrian bridge, I wound up in Kensington, and passed the still-active Kensington Stables at East 8th Street and Caton Place. I got some photos, but I thought I would show some photos from a few years ago when some of the Dobbins were in the street ready for a Prospect Park outing.
Kensington Stables, at Caton Place and East Eighth Street, is the last stable remaining at an intersection that was once home to several such enterprises. In their heyday, at the beginning of the 20th century, hundreds of horses were stabled there. But the Depression and the automobile transformed horseback riding from a necessity into a hobby, one soon overtaken by other leisure activities.
No one remembers exactly when the changes started to take place — around the 1930's or 40's, old-timers suggest. The first stable to disappear was converted into a roller-skating rink, which later became a warehouse. The second was converted into a bowling alley, which later gave way to a giant church, the Calvary Cathedral of Praise. A third stable, known as the Little Gray Barn, was torn down [in 2003] and is being replaced by condominiums. [The now-defunct Village Voice]
Kensington is named for a western borough of London; there are many British-sounding place names in the area, mostly by design since in the mid-1800s, when the region was developed, a patina of sophistication was desired. There were scattered farms around until the 1850s when the Coney Island Plank Road (Coney Island Avenue) was built and some dwellings began to concentrate at Coney Island and Church Avenues, as well as the northern end of the area near Ft. Hamilton Parkway. As early as 1851, the street pattern began to appear.
Kensington's borders are generally accepted to be Ft. Hamilton Parkway/Ocean Parkway/Caton Avenue on the north, 18th Avenue on the south, 36th Street and Dahill Road on the west and Coney Island Avenue on the east, though some demographers fudge a little, saying separate areas called Dahill (defined by a triangle formed from FHP, Dahill Road and 36th Street) and Albemarle (the northern extent from FHP south to Church Avenue) are subsections.
I like Kermit Place, which runs for two blocks between Ocean Parkway and Coney Island Avenue, for its narrowness, the handsome attached houses, and the odd little bend it takes near Coney Island Avenue.
It was named before the suicide of Theodore Roosevelt's son Kermit in 1943, but perhaps it had been influenced by the renaming of Avenue Q for his brother, Quentin Roosevelt, who died on a flying mission in World War I. Maps show Kermit Place's former name as Henry Street.
That's the end of my peregrinations for the day, I was due at Marlborough Road for a gathering.
Please help contribute to a new Forgotten NY website
Check out the ForgottenBook, take a look at the gift shop, and as always, "comment…as you see fit."
11/4/18