A few years ago I did a feature on Manhattan between the Manhattan and Brooklyn Bridges (I call it BEMBO), but as always, there's more to see and there are details I missed. This time of year I also begin to scout areas that would make decent Forgotten NY tours in the spring and summer. BEMBO is a curious area, full of crannies and nooks of interest. Had I been writing Forgotten New York in the 1960s, there would have been a lot more to talk about, as maybe half of this neighborhood has been razed to build housing projects, schools, and the NYPD headquarters. I was able to show some of these lost streets in a FNY post in January 2019.
Getting off the F train at East Broadway at Canal (Straus Square) I meandered west. I discussed the Mesivtha Tiferes Jerusalem Yeshiva just the other day, so I won't repeat myself here; it's a handsome building in buff and brown brick, and has a venerable history.
East Broadway, looking west, looking toward the Manhattan Bridge overpass, and behind it, the Municipal Building and Woolworth Building, which from this vantage look like twin spires of the same building. In the left background is #4 World Trade Center and on the right, of course, is #1 World Trade Center. In the foreground left is the relatively new 109 East Broadway, the site of a devastating fire in 2010. The building exhibits the latest trend in residential architecture, featuring a boxy design with colored metal panels and flat windows. Why do so many new apartment buildings looks like this? They're the cheapest to build.
In FNY's Comments section, and remarks from friends on facebook, twitter and in person, many dismiss new architecture outright, saying nothing built today matches the past. I judge each building on its merits, and part of me is happy to live in a dynamic city that can accommodate new designs. I like a city that has both a Jenga tower and a St. Patrick's Cathedral.
Until about 1830, East Broadway was originally named for Harman Rutgers, brewer and member of the locally prominent Rutgers family (Henry Rutgers and Catherine Rutgers are also remembered this way).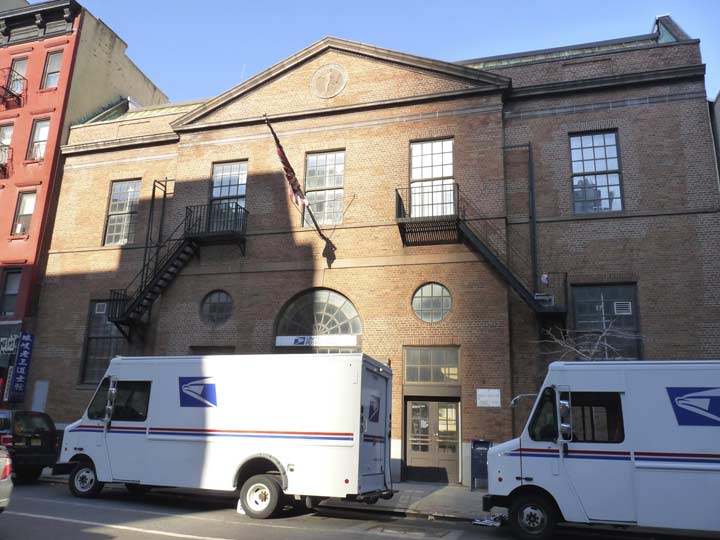 No good way to get a picture of the Knickerbocker Post Office, 128 East Broadway near Pitt Street because of … all the mail trucks parked in front of it.
Washington Irving (1783-1859), who met his namesake George Washington while a young boy, was popular both in the States and in Europe for his essays and fiction, and was the creator of Ichabod Crane, Rip van Winkle, and the tricornered Father Knickerbocker, NYC's mascot. "Knickerbocker," which is fun to say, refers to NYC's early Dutch settlers and appears frequently in NYC lore, including its NBA basketball team.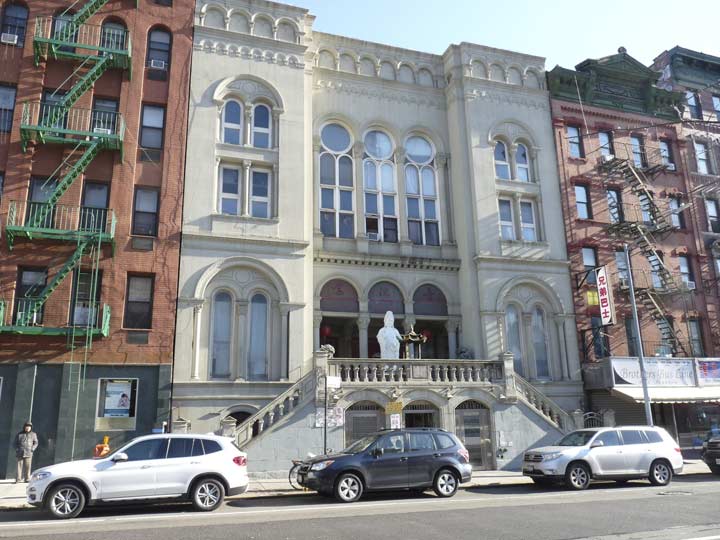 The Sung Tak Buddhist Association at 13 Pike Street was once the Pike Street Synagogue, a Classic Revival building from 1903 that housed the Congregation Sons of Israel Kalwarie, Poland. Entertainer Eddie Cantor was bar mitzvahed here in 1905. The tripartite façade, which has an arched portico reached by twin lateral staircases, reflects Romanesque and classical features.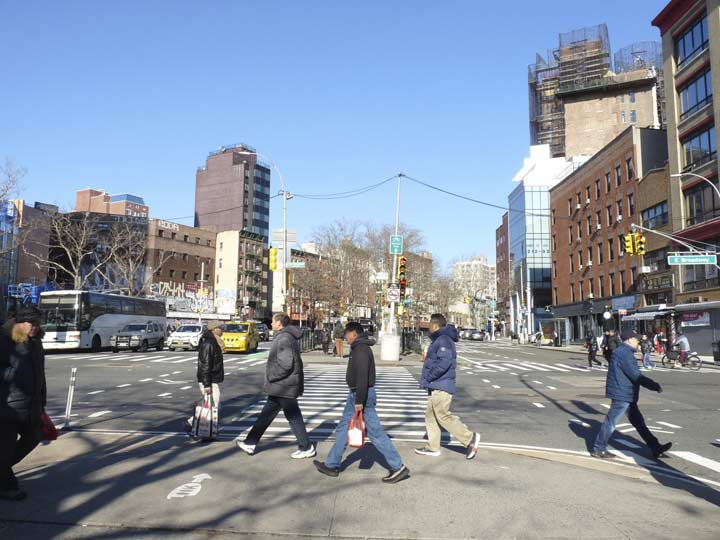 Looking north on Pike Street, which was named for explorer Zebulon Pike, soldier and explorer (1779-1813) of Pike's Peak fame. Along with Allen Street, which begins a block north, the road was widened several decades ago and now sports a modern bicycle path. You can walk in a straight line all the way from here to the Harlem River, as Pike becomes Allen and Allen becomes 1st Avenue.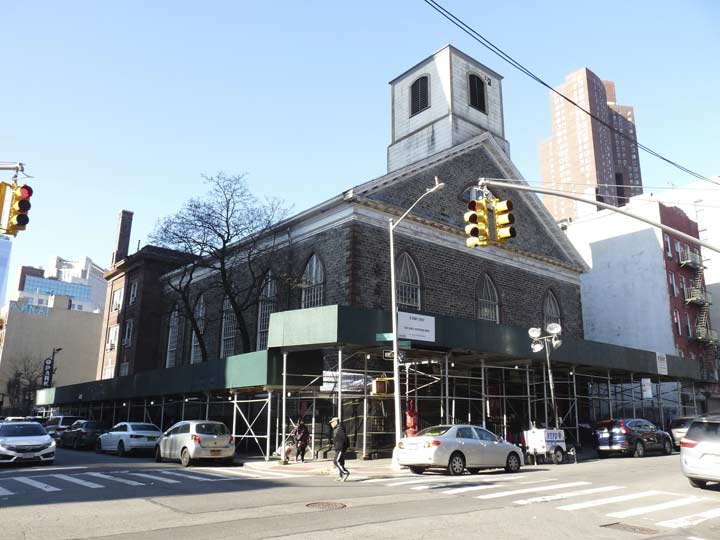 Turning left on Market Street, I encountered one of the oldest churches in Manhattan at Henry Street, the old Market Street Reformed Church, which was built in 1819. The windows are made up of multiple panels—35 over 35 over 35. This is now the First Chinese Presbyterian Church, which shared the building with the Sea and Land Church until 1972.
The brick and stone Georgian-Gothic church was constructed two centuries ago as the Market Street reformed Church on land owned by Henry Rutgers, and after changing congregations a few times over the years, it's now the First Chinese Presbyterian Church. It's in the top five oldest extant church buildings in New York City, the oldest being St. Paul's Chapel on Broadway and Vesey St.
Every time I'm in the area, I check on Mechanics Alley, which runs on the west side of the Manhattan Bridge anchorage for 2 blocks between Madison and Henry Streets. Though it has obtained a more narrow sense, the word "mechanic" originally meant an artisan, builder or craftsman, not necessarily a machinist. No property fronts on the narrow lane, but trucks nonetheless employ it despite its narrowness to avoid heavier traffic on streets like Market.
I did a pretty comprehensive post on Mechanics Alley and its history a few years ago in FNY.
Market Street contains a number of historic and classic buildings along its short stretch between East Broadway and South Street. Here's #40 market on the corner of Madison, which still has its original entrance woodwork as well as the street identification brownstone plaques. The Market Street side looks as if it has had some ad hoc repairs done sometime in the past.
375 Pearl Street, otherwise known as the Verizon Building, a.k.a. the Intergate Center, looms at the west end of Monroe Street. Many call it the ugliest building in Manhattan, though I've seen far worse. In 2016 it was renovated and received a new bank of windows.
This shabby brick building at 51 Market St. was constructed in 1824 by merchant William Clark. Its original elegant doorway, with Ionic columns, a fanlight and ornamentation, has survived nearly two centuries. A close look at the basement windows shows them to be surrounded with brownstone work with squiggly lines, known in the architecture world as "Gibbs surrounds." A fourth floor, which studiously copied the original three, was added after the Civil War. The stoop and railings, however, are not original as they were replaced in 2010. The door is festooned with graffiti, and though the house has Landmark status, its condition appears deteriorated.
Amid the Chinese-language signs on Market and Madison, at the edge of Chinatown, is this neon sign for a long-gone liquor store.
At #47 Market Street is a venerable brick building that conveniently lists the date of construction, 1886, at the roofline.
Faces peer out from the front of this Madison Street apartment. Many of these buildings, and those on paralleling Monroe and Henry Streets, were built in the 1880s, when such embellishments were found on just about every building, commercial or residential.
The undulating exterior of #8 Spruce Street, officially New York By Gehry, named for architect Frank Gehry, is the architect's signature NYC building. Like it or not, it's instantly recognizable from all over lower Manhattan. After its completion in 2011, it was NYC's tallest residential building for a couple of years, but has since been surpassed by buildings like 432 Park.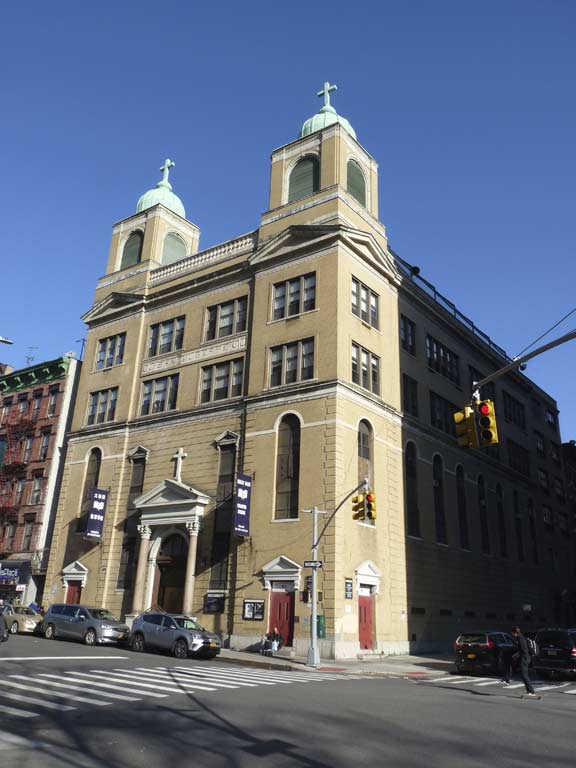 The Roman Catholic parish of St. Joseph ("San Giuseppe") was established by the Missionaries of St. Charles, an order of priests and brothers founded by Blessed John Baptist Scalabrini in 1887 to serve the needs of Italian immigrants. The present church was designed by Matthew W. Del Gaudio and opened in 1924. Shortly after the founding of the parish, the Scalabrinians were joined by the Apostles of the Sacred Heart of Jesus, who helped open St. Joseph School in 1926.
Today, St. Joseph Church is a national parish designated as an Italian and Chinese parish. The parish continues the mission of the Church of St. Joachim, located at 26 Roosevelt Street until the 1960s, which was founded by the Missionaries of St. Charles who arrived in New York City in 1889. Immediately after, Mother Cabrini was welcomed by the same church as she arrived in the United States. American Guild of Organists, NYC Chapter
Speaking of the Scalabrinians, in January 2018 I visited their former bailiwick, St. Charles Seminary in Todt Hill, Staten Island, which had been the estate of architect Ernest Flagg.
Catherine Street classics, near Madison Street.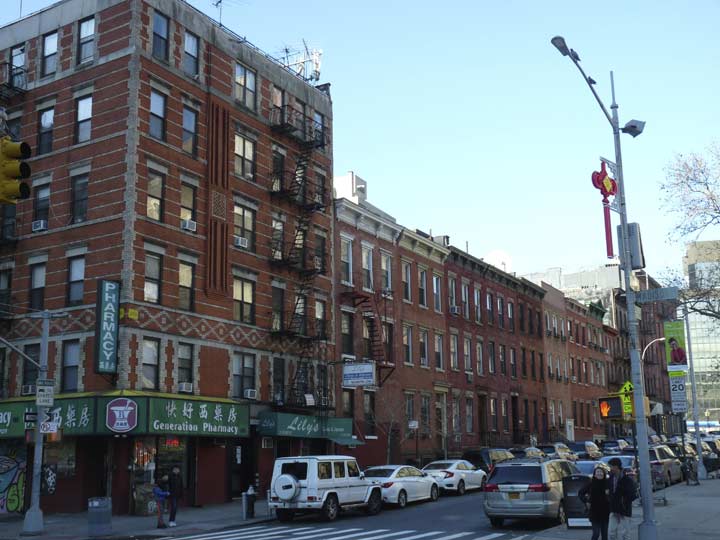 Madison and Oliver Streets. Al Smith (1873-1944), a four-time NYS governor and failed presidential candidate, was born on Oliver, a still-existing street between the Brooklyn and Manhattan Bridges, neither of which had opened when he was born. He was one of NYC's most popular politicians in history.
On a walk up the Lower East Side in January 2013, I encountered an anachronistic building that I either hadn't seen or hadn't noticed before, on Madison Street a few doors away from St. James Place. It's a tiny two-story dormered building — however, it's not too small that it doesn't have two separate doors and two separate house numbers, 47 and 49. I've always been curious about anachronisms and survivors, being something of an anachronism myself, so I looked it up. Expecting a difficult or fruitless search, I found something by the historian David Freeland, who rote about it in 2009 in the now-defunct New York Press:
For years the house has been something of a mystery, but one glimpse into its colorful history is revealed through a small advertisement from the Spirit of the Times newspaper, as reprinted in the Boston Herald of March 2, 1853: "Rat Killing, and other sports, every Monday evening. A good supply of rats kept constantly on hand for gentlemen wishing to try their dogs, with the use of the pit gratis, at J. Marriott's Sportsman's Hall, 49 Madison Street."
Rat baiting, setting rats against rats, or dogs against rats, was a popular betting sport in the 19th Century in the days before the ASPCA. The building where another former rat baiting establishment was run by Kit Burns, the Captain Joseph Rose House, still stands at 273 Water Street in the Seaport area.
Freeland goes on:
By the late 1850s, the house at 49 Madison Street had been taken over by English-born Harry Jennings, who ran it as a combination saloon and rat-fighting pit until his conviction on a robbery charge sent him to prison in Massachusetts. But later, after returning to New York, Jennings settled into a kind of respectability, winning fame as a dog trainer and, eventually, the city's leading rat exterminator. By the time of his death, in 1891, Jennings' clients included Delmonico's Restaurant and such luxury hotels as Gilsey House and the original Plaza.
Apparently, there's a comeback in everybody.
The dark shadows of January intrude on the intersection of James and Madison Streets, one of the few intersections in NYC where both street names make up a US President's first and second name. I'm sure it wasn't planned that way, though.
We can see St. James Church, the second oldest building associated with the Roman Catholic Church in NYC. (Old St. Patrick's Cathedral, Mott and Prince Streets, built in 1810, precedes it.) The fieldstone, Doric-columned Greek Revival building was begun in 1835 and completed in 1837; and though it is thought to be a design of famed architect Minard Lefever, there is no evidence to support the claim. A domed cupola above the sanctuary was removed decades ago. This was the boyhood parish of Al Smith, and New Bowery, which connects Pearl Street and Chatham Square, was renamed for it in 1947.
The massive Chatham Green development, located along St. James Place between Madison Street and Chatham Square, opened in 1960, was one of the projects that eliminated much of the ancient street grid in lower Manhattan, as well as the last remnants of the Five Points slum. But on those streets were located dark, noisome and cold tenements, and Chatham Green was constructed by the City in an effort to make middle-income peoples' lives better. As we know, that effort has had mixed results.
Chatham Green went condo several years ago, with hefty prices, somewhat belying its original purposes.
This triangular-shaped building comes to a point at St. James Place and Madison Street. As I have noted, St. lames Place, laid out in the mid-1850s, was originally called New Bowery, but the designation must have been fluid at one time, as the chiseled street sign on the building simply has "Bowery."
One Police Plaza, along Madison Street and Park Row (both closed to regular traffic) opened in 1973, is the headquarters of the NY Police Department; it took over from the old domed HQ, now a condo conversion at Centre and Broome Streets. It was designed by Gruzen and Partners in a Brutalist style and sits near the assorted city and state court buildings at Foley Square.
The NYC Municipal Building was constructed in 1914 from plans by McKim, Mead & White; it now houses only a fraction of the city offices that oversee the functioning of the metropolis. Particularly attractive is the row of freestanding columns, the extensive sculpture work and the lofty colonnaded tower topped by Adolph Weinman's 25-fot high gilt statue of Civic Fame.
I have happy memories of the building since on October 23, 2006 I spent a half hour with Brian Lehrer on WNYC-radio discussing Forgotten NY the Book, and temporarily, my Amazon sales jumped into the 500s (by contrast, 12 years later, I'm in the 300,000s usually).
The sculptures on the north arch include allegorical representations of Progress, Civic Duty, Guidance, Executive Power, Civic Pride and Prudence. Between the windows on the second floor are symbols of various city departments. Note the collection of plaques, among which is the "triple X" emblem of Amsterdam, Holland. Chambers Street once passed through the building and once went all the way to Chatham Square but the NYC Police Dept complex was built over its path in the 1960s. —Gerard Wolfe
The fortress-like, business-themed Murray Bergtraum High School was built at Madison Street and Robert F. Wagner Senior Place, adjacent to Brooklyn Bridge off-ramps, in 1976. It's named for a former president of the NYC Board of Ed., between 1969 and 1971. Noted alumni include entertainers John Leguizamo and Damon Wayans.
Rose Street, once chockablock with tenements, is a curved street running under the Brooklyn Bridge connecting Gold and Madison Streets. It was named for late 18th-early 19th Century merchant and distiller Captain Joseph Rose, whose house still stands nearby on Water Street. I discussed Rose Street at length on this FNY page.
Though I continued into the Seaport area, it's a busy weekend and I'll wrap things up for now.
Please help contribute to a new Forgotten NY website
Check out the ForgottenBook, take a look at the gift shop, and as always, "comment…as you see fit."
1/6/19