Years ago, soon after beginning Forgotten NY, I compiled a far-from-comprehensive list of lost streets in lower Manhattan. I had a lot of fun doing it, though I'm not as thorough as Gil Tauber of Oldstreets.com. I had despaired of ever seeing photographs of these streets, most of which were alleys of little note that the photographers of the period took little interest in. However, a recent development got me in the ballgame once again — the NYC Municipal Archives tax photo series that was uploaded in late 2018. This was an effort to take a picture of every street in NYC. While the streets themselves were not the focus of the program, they do show up incidentally in the pictures, including lost elevated trains, former lamppost styles, etc. It is really a treasure trove of NYC—were I around at the time, I would likely have gotten myself involved with the project. Photography wasn't as easy then as now, with digital cameras enabling you to take thousands of shots in one outing. On this page, I'll show you a few of these really forgotten streets.
Batavia Street was a short street that ran for two blocks between Roosevelt (see below) and James Streets, a block north of Cherry. Of the streets I just mentioned, only a short piece of James Street still exists. The others were wiped out by the construction of the Al Smith Houses in 1948. Smith (1873-1944), a four-time NYS governor and failed presidential candidate, was born on Oliver Street, a still-existing street between the Brooklyn and Manhattan Bridges, neither of which had opened when he was born. He was one of NYC's most popular politicians in history.
Batavia Street seems to be named for a former province in the Netherlands; there is also a town in upstate NY State named Batavia. It's also the former name of Jakarta, Indonesia, which was part of the Dutch West Indies. NYC streets had names associated with the Netherlands as a matter of course, as the Dutch settled NYC and dominated it until the British takeover in 1664.
The modest brick walkups seen here were the bread and butter of NYC residential housing for people of modest means in the 19th Century. Al Smith was born in one such building.
The signs you see in these photos are the block and lot numbers, as recorded in the Municipal Archives.
Demapped since 1962, Birmingham Street ran along the Manhattan Bridge anchorage between Madison (seen here) and Henry Streets. It was too insignificant to appear on all but the most detailed maps. The building seen here is long gone and the space is now occupied by a parking lot.
Caroline Street was a one-block laneway running between Duane and Jay Streets in the Washington Market district in what was then called the Lower West Side. In the late 1960s, acres and acres of these streets were wiped off the map so that the original World Trade Center complex could be constructed.
All but a short once-block stretch of Cliff Street between John and Fulton Street was eliminated in stages in the 1950s and 1960s. The stretch seen here has been replaced by the Southbridge Towers houses. Cliff Street ran to just north of the Brooklyn Bridge, where it dead-ended north of a short street called Hague (see below).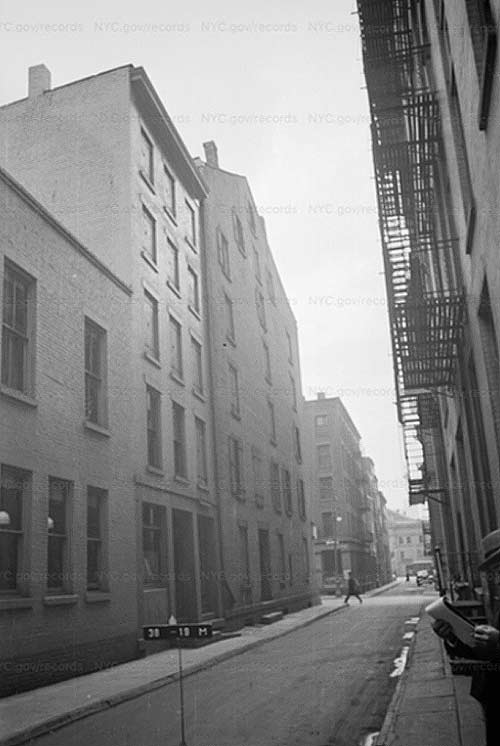 There used to be a rabbit warren of short, two-block streets running between Water and South Streets. Most of them have utterly disappeared as they have given way to office towers. DePeyster Street was one of these, running between Water and South just north of Pine. The lane was eliminated around 1970. Its space is now occupied by the Wall Street Plaza office building and the glassy Continental Center.
Abraham DePeyster (1657-1728) was a Dutch colonial 17th-Century New York mayor, serving from 1691-1694, and then as New York governor from 1700-1701. His portrait statue can now be found near Foley Square.
Dutch Street, a short passage between John and Fulton east of Nassau, actually still exists. It's been almost completely hidden by a construction shed for the last decade, so it's very hard to see. Here's a 1940 view. Other photos in the Archives show it to have had quite a few bars and taverns, which are no longer there today.
The street turns up on maps as early as 1776 and was first named around 1789. The Old Dutch Church stood nearby on William between Ann and Fulton from 1769-1875 and the street's name may derive from it, according to Sanna Feirstein's Naming New York.
Ferry Street formerly ran between Gold and Pearl north of Beekman. Peck Slip, which is still there, is an eastern extension of it. It was eliminated in the late 1960s to make way for the Southbridge Towers. Here is a view of it as it meets Cliff Street. Both streets, as well as this brownstone office building, are gone.
Fletcher Street is one of the few narrow alleyways running between Pearl and South Streets, south of John, that remains in place today, though it's now surrounded by high, glassy towers. Until recently it had a remaining Belgian-blocked stretch between Front and South Streets, but that section is now under a construction canopy and will likely look quite different when the construction is finished.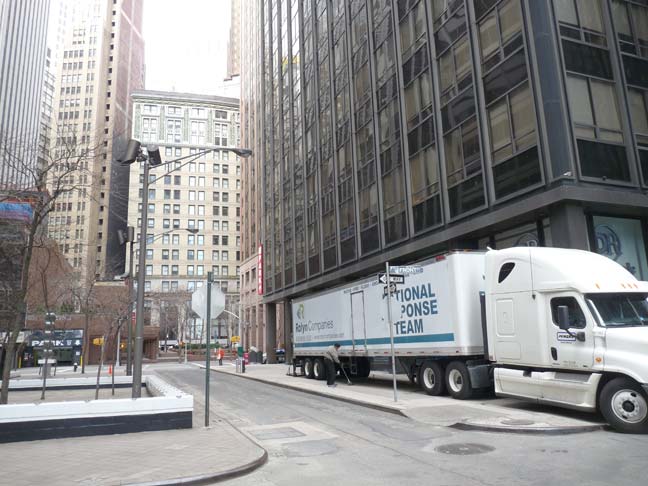 Gouverneur Lane, in 1940 and in 2013. Quite a bit, except the narrowness of this short street between Water and South Street, has changed, as four office towers, 95 and 111 Wall Street, and 77 Water and One Financial Square, have all replaced the old brick buildings with window shutters since the 1970s.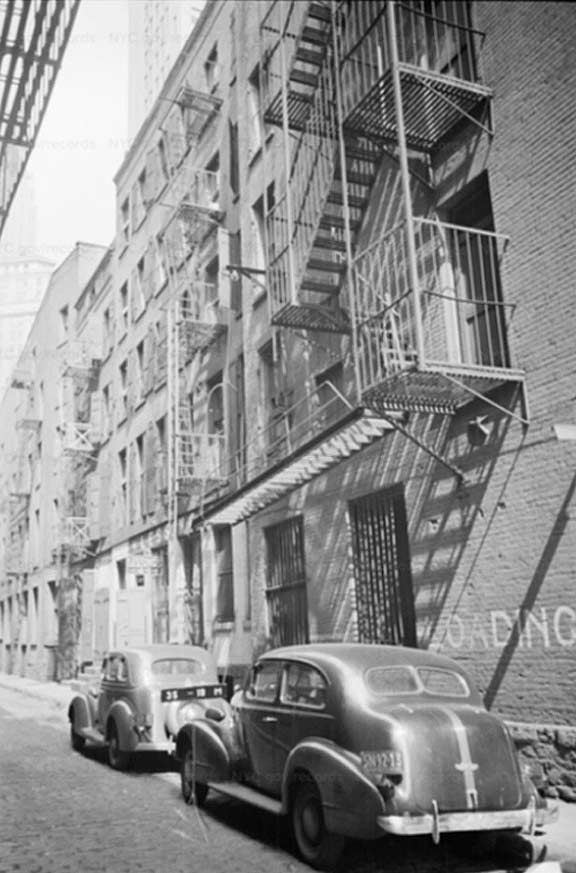 Jones Lane accompanied Gouverneur Lane between Water and South, but it had given way to the 95 and 111 Wall Street office towers by the early 1970s.
Hague Street ran between Pearl Street and Cliff, which came to an unusual dead end just north of the Brooklyn Bridge. In our picture we're looking toward Cliff Street with the Bridge looming at the end of the block. Murray Bergtraum High School and the Verizon Tower (Intergate Manhattan) had taken its place by the 1970s, while the street itself had been gone from maps by 1960.
The Brooklyn Bridge arch allowing Cliff Street to run under it is, of course, still there, but is inaccessible as its surrounding streets have been closed for security purposes.
Jacob Street was another small street eliminated in the 1960s in favor of Southbridge Towers. It ran from Ferry to Frankfort, between Cliff and Gold Streets.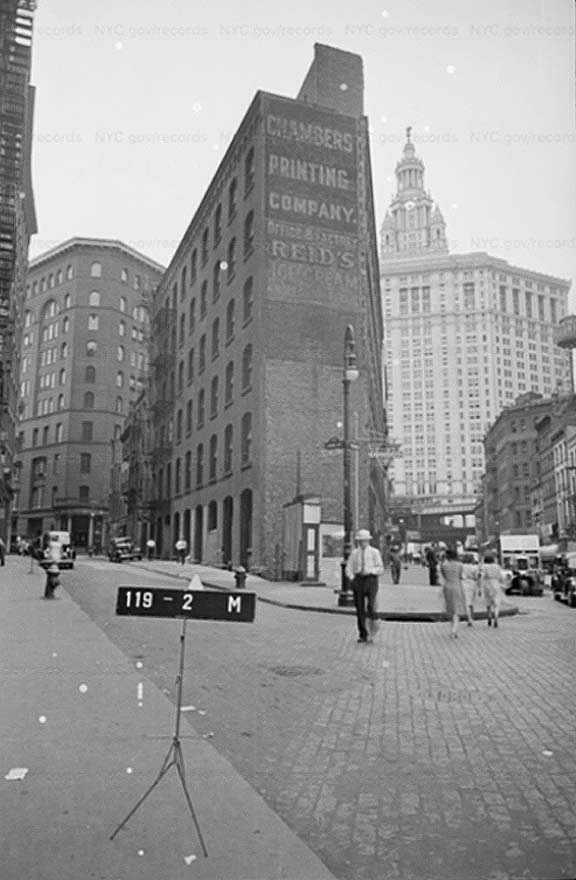 In 1856, the city extended Chambers Street as New Chambers east from Park Row to James Street, and at around the same time, built a street connecting Pearl Street with the Bowery at Chatham Square. The former died out, the latter did not and survives today as St. James Place, having been renamed for Al Smith's boyhood parish in 1947.
New Chambers cut across the prevailing warren of small streets that have since all been eliminated. Its presence made for a number of oddly-angled intersections; the same thing survives today in Greenwich Village where 7th Avenue was extended south to accommodate the IRT subway in the 19-teens.
No trace of New Chambers remains today; its roadbed is now occupied by Police Plaza and the Al Smith Houses. The one surviving constant is the Municipal Building, which turns up in many of the archival photos lording over the territory.
Oak Street ran from the junction of New Chambers and Roosevelt Streets northeast to the surviving Catherine Street. It was wiped out in 1948 as the whole neighborhood was condemned to make way for the Al Smith Houses.
I've discovered what could be the stub end of Roosevelt Street under the Brooklyn Bridge ramps at South Street. The street once extended from Park Row at Baxter southeast to South Street. It's been completely obliterated beginning in the 1940s and its space is now occupied by the Chatham Green and Al Smith Houses.
Roosevelt Street has nothing to do with Teddy or FDR; the Roosevelts were a prominent NYC family from the late colonial era and owned property in lower Manhattan, and a street was laid out in those early days and named for the family.
In the above photo, we're looking at a building on the corner of Roosevelt and Pearl Streets in 1940. At the time Pearl Street had an elevated train running over it. The el split in two at Chatham Square, becoming the 2nd and 3rd Avenue Els. Nothing in the photo remains except Pearl Street itself and of course, the Municipal Building.
Rose Street exists today, albeit in a form completely unlike 1940's. No buildings currently front on it as it merely connects Gold and Madison Streets under the Brooklyn Bridge and its approach ramps. Before the ramps were built, though, several properties called it home. You can see they are built along the curve that exists on Rose Street to this day.
On the right is a high-pressure fire hydrant, once common in Manhattan and older parts of Brooklyn. Most were removed around 2000.
Scammel Street, most likely named for Revolutionary War hero Colonel Alexander Scammell, ran from the junction of Grand Street and East Broadway southeast to South Street near Corlears Hook, where the shoreline of Manhattan curves north. In this photo, we see the intersection of Scammel and Henry and the St. Augustine's Episcopal Chapel, built in 1829 as the All Saints Free Chapel.
PS 134 and the Vladeck Houses occupy its former location today.
Vandewater Street ran from Frankfort Street northeast to where Pearl and New Chambers intersected. The arch it used to get beneath the Brooklyn Bridge is still there, though now inaccessible. After it was closed around 1970 much of Murray Bergtraum High School was built atop its old path.
Please help contribute to a new Forgotten NY website
Check out the ForgottenBook, take a look at the gift shop, and as always, "comment…as you see fit."
1/2/19