Flushing's boom began in the 1980s, when the relatively sleepy intersection, Roosevelt Avenue and Main Street and the surrounding streets were revitalized with an influx of immigrants from East Asia. The first wave of development, though, began in 1928 when the IRT Flushing Line made it its easternmost outpost. The neighborhood's cozy Victorians were doomed, as one after the other were razed in favor of high-rise apartment buildings. It took a few decades for the smalltown flavor to completely disappear; some of it remains in places like Waldheim, which itself is quickly disappearing.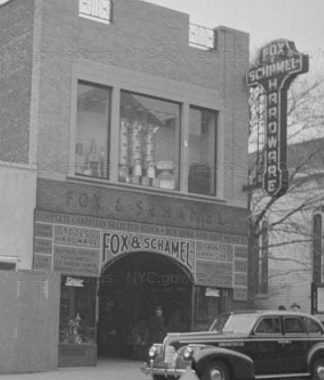 The stretch along Roosevelt Avenue and Union Street is illustrative. Big boxes like Macy's and Duane Reade now dominate the south side, while a mishmash of bargain stores and fast food joints are along the north. Years ago, I noticed a painted ad for Fox & Schamel Hardware at a building at 136-41 Roosevelt. I was riffling through the Municipal Archives 1940s tax photos today (I do it so you don't have to) and lo and behold, there was Fox and Schamel on Roosevelt. If you look closely you can see church windows next door on the right. This was the First United Methodist Church of Flushing, which today is at 38-24 149th Street a few blocks away.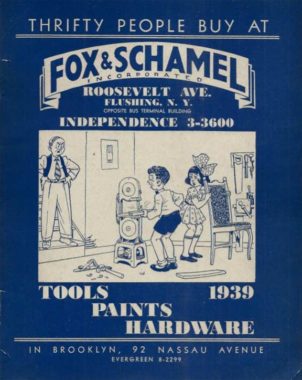 Fox & Schamel had two locations in NYC, one here and another one in Greenpoint at #92 Nassau Avenue; one of their catalogs is available on Ebay.
While a look through those Municipal Archives pictures linked above will demonstrate the near-total change that has come over Roosevelt Avenue — and other streets in Flushing — the old painted Fox & Schamel ad has also disappeared. My image is from 2012 and, while the building and ad still exist, neighborhood youth have done their ineluctable work and covered it in street art. Sick transit, Gloria!
Check out the ForgottenBook, take a look at the gift shop, and as always, "comment…as you see fit."
1/23/19