On a Sunday in January 2019, I decided to walk up and down the east-west streets of the northwest region of Greenwich Village, noting that I hadn't yet taken a close look at them. I began at the 14th Street A/C/E train at 8th Avenue, found Gansevoort, and then zig zagged my way through everything between Gansevoort and West 10th, leaving out West 11th and 12th for the most part because I had already walked down those streets. Instead of one large, interminable post, I have decided to do a Forgotten Slice for each street, so the first one dealt with today will be Gansevoort.
GOOGLE MAP: (NORTH)WEST VILLAGE
While Jane Street, a block away, was not named for a woman, Bethune Street was! The street was named for Johanna Bethune, a philanthropist widow who deeded the land on which the street was built to NYC. With fellow widow Mrs. Alexander Hamilton, she funded the former NY Orphan Asylum in 1806 at Barrow and West 4th Street — which was originally named Asylum Street in its honor. When the asylum was demolished in 1833, Asylum Street became West 4th Street and thousands of NYC visitors have been confused ever since.
You can tell I'm kind of fascinated with 463 West Street, the old Bell Labs HQ whose various buildings take up an entire block, between Washington, West, Bank and Bethune Streets. This complex was built between 1880 and 1900 and was originally the home of Western Electric and later, Bell Laboratories. The vacuum tube, radar, sound movies, and the digital computer were all developed here between 1912 and 1937, and the first TV transmission (a speech by Herbert Hoover) occurred here in October 1927. In July 1922, radio station WEAF (named for Earth, Air and Fire) began broadcasting here; it later became WNBC and, at AM frequency 660, broadcast until October 1988; WFAN has been on 660 since then. The complex, renamed Westbeth for two of the streets it borders, was converted to housing in 1969, with an assist from architect Richard Meier, to provide needed living and studio space for artists who could not afford spiraling rents.
Renowned photographer Diane Arbus, who chose unusual subjects, committed suicide here, July 28, 1971. Other residents have included jazz pianist Gil Evans and actors Paul Benjamin, choreographer Merce Cunningham, Moses Gunn and Fast and Furious' Vin Diesel.
The building has also been home to the New School for Drama, the Martha Graham Studio for Contemporary Dance, and for 40 years the Congregation Beit Simchat Torah, the first synagogue for LGBT worshipers. There are occasional concerts –in 1997 your webmaster saw Ray Davies here on the Kink Kaptain's autobiographical Storyteller tour.
If the structure in the foreground looks like it could have been an elevated train… it was. A section of the West Side Freight Elevated, built in 1934, actually ran through the eastern section of the building along Washington Street, ending service in 1980. It's the only extant section of the railroad that won't become an elevated park. A photo outside Automatic Slims, a hotspot at Washington and Bank, depicts the RR with a freight locomotive plying the route.
A question I have is, Bell Labs stood for a good 30 years before the elevated line was built. What form did it take along Washington Street in those years? How was the railroad built there? Whose idea was it to run it through the building?
A 2011 Landmarks report provides the answer:
"The West Side Improvement projects seriously affected Bell Labs' plant. After the New York Central Railroad received an easement along Washington Street in November 1931 for its elevated freight railway, Voorhees, Gmelin & Walker was responsible for alterations to Bell Labs' portion, through Section H and atop Section G, constructed between October 1931 and April 1934 at an estimated cost of $100,000. Noise from the elevated freight railway, as well as the elevated highway constructed above West Street, became a problem for electronics work here."
The walls of the old lab feature some interesting pendant lamps, most of which now shine with white LED bulbs. Most of the old glass paned lanterns have been left alone, but here and there, a more contemporary fixture has taken their place.
Because of a quirk in geography — Greenwich Village east-west streets are angled differently between Bank and West 12th Streets, and Bethune fills a slight gap — it's the shortest east-wet Village street, running just two full blocks, and short stub between Greenwich and Hudson Streets. #25-27, shown here, are part of a row that the Landmarks Preservation Commission (page 381) calls one of the best preserved rows of Greek Revival. The buildings were constructed in 1836. Check the doorways, which have retained original or near-original characteristics.
#99 Bank Street, which also faces Bethune, Hudson and Greenwich Streets, was constructed in 1890 as a loft building but saw a complete renovation to residential in 1968. It's one of the few buildings in NYC that occupies an entire block. Check the roofline, it angles slightly to accommodate a slight jog in Greenwich Streets, which gently zigs and zags to accommodate the original Hudson River shore line.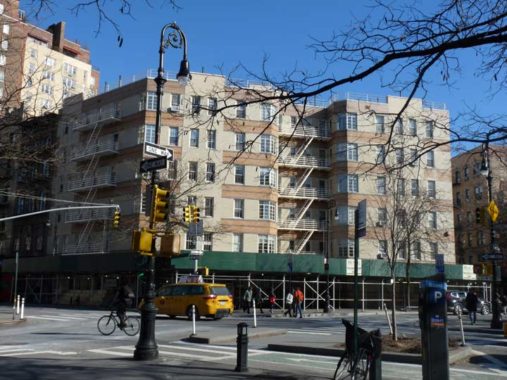 Looking across Abingdon Square at Bethune and hudson Streets to #1-9 8th Avenue (a.k.a. 75 Bank Street), and Art Deco classic built in 1938 on the site of the old Abingdon Hotel. Lauren Bacall (1924-2014) looked as sophisticated and mature at age 17 (when she lived in an apartment here in 1940 with her mother) as she did later in her modeling and film career. She spent her final years at the Dakota Apartments on West 72nd Street and Central Park West. That was the building where John Lennon and Yoko Ono lived for many years; that couple also lived on Bank Street.
The triangle formed by Hudson and West 12th Streets and 8th Avenue is named Abingdon Square. The square is named for the Earl of Abingdon, the son-in- law of Sir Peter Warren, a Royal Navy officer who owned much of the territory in the Village before the Revolutionary War, including the triangle of property now occupied by the square. The square's statue, dedicated in 1921 for its centennial, was sculpted by Philip Martiny. A former major east-west road in lower Manhattan, predating the grid, was called Abingdon Road.
The statue depicts a World War I "doughboy," as do many WWI memorial statues around town do, and was a gift from the Jefferson Democratic Club. Martiny sculpted a second such memorial nearby at 9th Avenue and West 28th Street that used the same model!
Check out the ForgottenBook, take a look at the gift shop, and as always, "comment…as you see fit."
1/22/19