On a Sunday in January 2019, I decided to walk up and down the east-west streets of the northwest region of Greenwich Village, noting that I hadn't yet taken a close look at them. I began at the 14th Street A/C/E train at 8th Avenue, found Gansevoort, and then zig zagged my way through everything between Gansevoort and West 10th, leaving out West 11th and 12th for the most part because I had already walked down those streets. Instead of one large, interminable post, I have decided to do a Forgotten Slice for each street, so the first one dealt with today will be Gansevoort.
GOOGLE MAP: (NORTH)WEST VILLAGE
Horatio Street is unusual in that its namesake, Revolutionary War General Horatio Gates (1727-1806), is here remembered by his first name, not his surname. However, that is covered in Brooklyn and Queens by Gates Avenue, which runs from Fort Greene all the way into Ridgewood. Gates led American troops to a major victory at the Battle of Saratoga, defeating the British general John Burgoyne. However, he later joined a cabal to oust George Washington as commander in chief.
The massive building at #521 West Street at Horatio was constructed in 1897 and designed by architect Lansing Holden for the Manhattan Refrigerating Company. Refrigeration and cold storage was a relatively new technology in the 1890s, and the building was constructed close by Manhattan's wholesale meat markets, many of which lasted in the area until the early 2000s; only a handful remain today. Herman Melville worked at an address on West Street across Horatio when he was a Customs agent for the Port of New York.
Handsome apartment building at 799 Washington Street at Horatio. Though it falls within the Greenwich Village landmarked district, it goes undescribed in the LPC report.
#71-77 Horatio just east of Washington. These tidy brick townhouses are among the oldest houses on Horatio Street and were built from 1835-36 by William Halsey.
A mystery at #80 Horatio. What's behind the gates? (heh…Horatio Gates!) The side windows are ivied in the warm months. The place is a B&B as it turns out.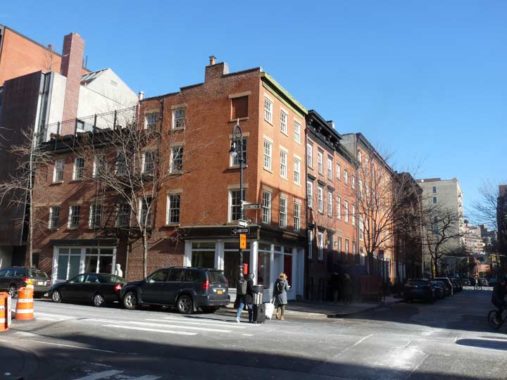 59 Horatio, a handsome 3-story brick residential building with 6 over 6 windows, is right on the corner of Greenwich Street. The building has made a comeback from 1940, when it was abandoned and boarded up.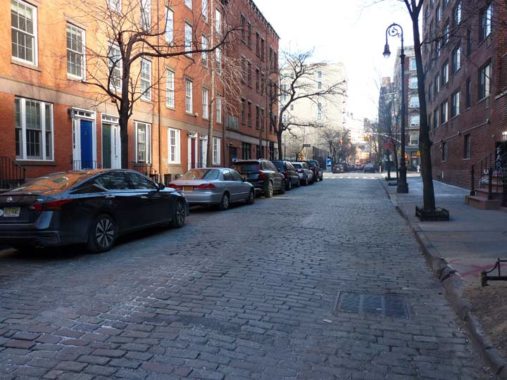 Like many West Village streets, Horatio Street still has its Belgian block pavement of old, here between Greenwich and Hudson, but there seems no overall scheme, it's just serendipitous. Like the rest of Greenwich Village, the street has been popular with artists, authors and musicians. According to NYC Songlines, John Cheever, Todd Rundgren and Jackson Pollock have all lived on this block. As you can see on Street View, the bricks are spectacular when the sun hits them just right.
I was curious about a number of buildings on the north side of the street, #45-49, especially those exquisite doorways with the tiny windows, but the LPC report does not include them.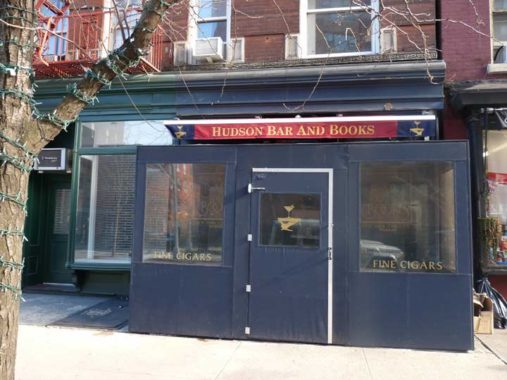 Hudson Bar and Books, 636 Hudson just off Horatio, is one of eight cigar bars in NYC, where smoking is permitted at an indoor commercial establishment. Founded in 1990 it seems to be part of a local British-themed corner of the Village…
I couldn't help but notice Myers of Keswick next door, 634 Hudson, founded by Peter Myers, an immigrant from Keswick, England in 1985 after he noticed so many British expatriates living in NYC. It's their place to buy — and Yanks' place to try — comestibles and goods from the old country. Looking in the window, I remembered Weetabix from a Robyn Hitchcock lyric, and discovered that what we call "salad dressing" the Brits use the more prosaic "salad cream."
A couple of blocks away on Greenwich Avenue, there's Tea and Sympathy and A Salt and Battery (fish and chips) which I keep meaning to visit.
The Hudson is a handsome apartment building on the SW corner of Hudson Street and #50 Horatio, constructed in 1907.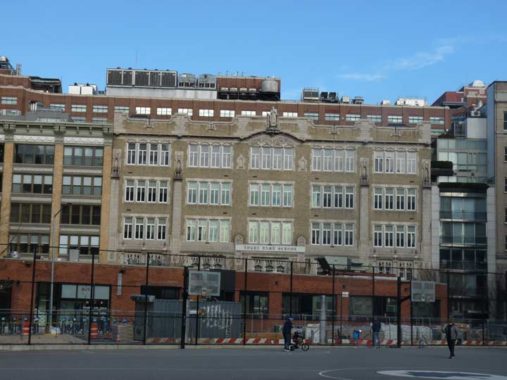 The Notre Dame Academy, a Catholic high school for girls, can be seen across Corporal John A. Seravalli Playground. The school, on West 13th Street west of 8th Avenue,was founded by the Sisters of St. Ursula of France when the arrived in the USA in 1912; the original school was uptown on West 142nd street. The school, affectionately called "chez nous" or "our house," moved to this building at 327 West 13th Street in 2002 into what resembles a C.B.J. Snyder public school building (someone help me out with this in Comments).
48 Horatio Street hides its former identity as a firehouse well — it served in that capacity (Perry Hose Company No. 23) from when it was built in 1856 to the end of the 19th Century. You can picture the horses bringing the fire wagon out through that extra-wide door in front. The company was named for Commodore Matthew C. Perry, who served in the War of 1812 and the Mexican War. Tom Miller, the Daytonian in Manhattan, has more information than you probably need!
This apartment building, #26-28 Horatio, the "Greenwich V," has some of the biggest window lintels I've ever seen. The 6-story walkup was built in 1904.
Peak Village at West 4th Street and Horatio…"Fellow Barber" on the corner at #5 Horatio, next to a psychic. The Greek Revival row was built from 1847-1848. I've gone to two barbers over the last 20 years in Queens. "Just give me what you gave me last time."