A little inside baseball before I begin — this is the first longform post I am doing after the Forgotten New York revamp, and I'm going to have to get used to the new WordPress "dashboard," the module where I type all my posts. WordPress can't leave well enough alone and moved everything around, so I'll need to gradually reacquaint myself with where everything I used happens to be. Now, when I use WordPress, it has so many different controls, I think it's like using Lieutenant Sulu's console to order a ham sandwich, it's so overstuffed. I learn software, but not quickly. When i began using WordPress in 2011, it took about two months for me to really get used to it and I was getting pretty frustrated. Back in 1992, I taught myself the publishing program, QuarkXPress, as well as Adobe Photoshop and Illustrator, and learned enough to land jobs as a mechanical artist, burnishing my resume as a proofreader and copy editor. I'm well out of practice with QuarkXPress and InDesign now, though.
In December I scouted around Manhattan between the Manhattan and Brooklyn Bridges, but after that I wandered into the Seaport. I haven't been there much since Hurricane Sandy struck in October 2012 and especially, since the Seaport's redevelopment plans were announced that involved tearing down the Pier 17 building and putting new retail/housing/restaurants there. I'd go to the Pier 17 food mall if I wanted something affordable for lunch, and would go to the same place for tuna salad and fries, cost me less than $10. A new food court is supposed to open in the historic Tin Building, but I think the old $10 lunches are out.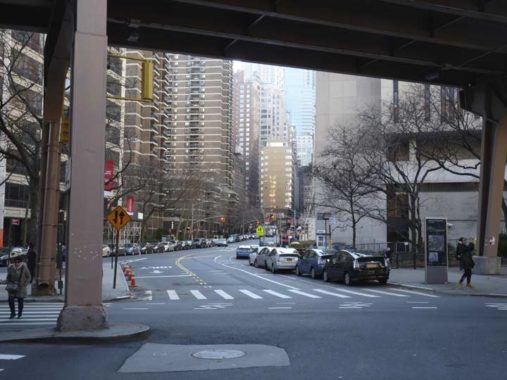 Here is Gold Street at Frankfort, under one of the ramps connecting the Brooklyn Bridge to the FDR Drive. I've always had a fascination for this lower Manhattan route, since it twists and turns a bit, no doubt to get around hills or creeks that have since disappeared. Back in 2006, I walked much of it, but its lower reaches are now mostly invisible as they are hidden under street and sidewalk scaffolding that is seemingly permanent. Interestingly "Gold" doesn't refer to the precious metal, but to the Dutch word for the yellow celandine flower, which is gouwe in Dutch, and the Netherlanders called the area Gouwenberg, which over time evolved to simply Gold after the 1664 British takeover.
North of Fulton Street, Gold Street shucks off its scaffolding, gains some lanes, and becomes less interesting. Traffic follows it under the Brooklyn Bridge to Madison Street and St. James Place.
Frankfort Street, meanwhile, is named for Frankfurt, Germany, the home town of 17th Century rebel Jacob Leisler, the only NY Governor to meet his end on a noose. It also means the street has something in common with tube-shaped lunch meat.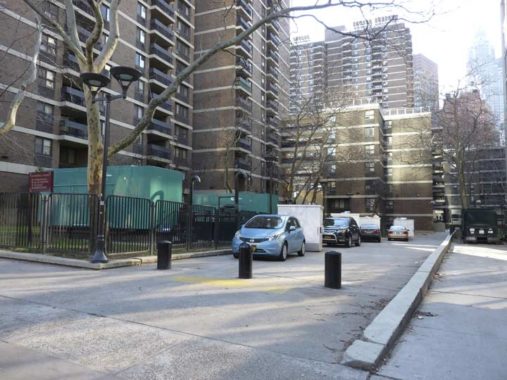 Why show this driveway on Frankfort Street between Gold and Pearl Streets, between the NYC Housing Preservation and Development headquarters on Gold Street and the west end of the Southbridge Towers housing development? It's the north end of Cliff Street, which today runs only from Fulton to Beekman Streets, but used to run all the way to the Brooklyn Bridge. Check out the NYC Municipal Archives for photos of buildings along the entire length of Cliff Street in 1940.
Sadly, the Bridge Cafe at Dover and Water Streets, which billed itself as NYC's oldest continuously-operating business that served drinks, closed after Hurricane Sandy damaged it on October 2012, and it's never reopened. Though a neon sign in the shape of a bridge shines in the window like a candle burning to let travelers know they're welcome, there's currently no sign of any restoration at present. I looked inside, and found a motorcycle parked amidst where the tables and chairs used to be. The last time any reopening was mentioned was in 2016.
The cafe was built on the water's edge, as Water Street marked the original shoreline. It was originally listed as a "grocery and wine and porter bottler"; in that era, groceries sold wines and spirits and were issued liquor licenses. Here's a look at the building in 1940, when the Bridge was called McCormick's.
A couple of doors away from the Bridge Cafe at 273 Water Street is the Captain Joseph Rose House, originally built between 1773 and 1781 and rebuilt in 1998. It's the 3rd-oldest building in Manhattan after St. Paul's Chapel on Broadway and the Morris-Jumel Mansion on Edgecombe and 162nd in East Harlem. Capt. Rose, a mahogany merchant, moved out in 1791 and was an apothecary and shoe store by 1812.

Things turned south after 1812, though, as Water Street became the province of cheap hotels and brothels. It became a dance house populated by what the local rags called "the most depraved and infamous population on the entire New York Island." By 1868 it was the site of Kit Burns' Dog-Pit or, to its patrons, Sportsman's Hall. Burns, a member of the Dead Rabbits gang, held bareknuckle boxing matches and ratfighting and dogfighting matches here. These dogs, mostly terriers, were sometimes starved for several days beforehand. Burns had two of his favorite dogs stuffed and mounted over the bar. The first, a black and tan colored terrier named Jack, reportedly set an American record by killing 100 rats in 6 minutes and 40 seconds. The other dog, Hunky, was a champion fighting dog "that expired after his last great victory." The building, shortly after, became a shelter for "fallen women."
Nearby Rose Street was named for the owner.


Water Street, looking south through the landmarked Seaport District. The street's Belgian blocks have been carefully maintained, unlike other parts of the district as we will see a bit later. The tall building seen in the distance is One Seaport Plaza, or the Prudential-Bache Building, a 1984 skyscraper.
I was attracted to #270 Water, across the street from the Rose House, since some of the painted sign (the readable portion says "Williams," likely a former proprietor). Here's the description from the Seaport Landmarks Preservation Commission report:
Bear in mind, this page won't be a comprehensive look at the Seaport. I didn't photograph every historic building, as it wasn't my aim on this walk. That kind of study would have taken me a lot longer, as would this page. I'm mentioning it now in case you don't see your favorite particular spot mentioned here. I will say that an indispensable, though not completely comprehensive, guide to the area is Ellen Fletcher's Walking Around in South Street, published by the South Street Seaport Museum; contact the Museum at (212) 748-8600 or visit the Seaport website.
This building was constructed in 1808 for flour merchant David Lydig. He had gone into business on Peck Slip in 1789 and owned a fleet of Hudson River sloops that delivered flour to his South Street wharf. Bakers were attracted to the block with a handy flour merchant nearby. Anticipating the completion of the Erie Canal, which would enable flour to be delivered from western farmlands at a cheaper rate, he sold his sloops at a profit and retired.
Way up in the Morris Park section of the Bronx, the subject of a SpliceToday post, there's a Lydig Avenue named for the family of merchants that included Philip and his son, David, who ran a mill in the West Farms section. David's son Philip sold much of the property now home to Bronx Park.
The restaurant on the ground floor had been Mexican Radio, named for a 1982 Wall of Voodoo hit, but now it's the Cowgirl SeaHorse.
Merchant Jasper Ward had speculatively purchased this property in 1800 while the East River still occupied the site, and built on it after it was landfilled and became the corner of 151 South Street and Peck Slip. Once part of a row of three buildings, it largely resembles its original appearance. The adjoining building on Peck Slip was built in 1807 for flour merchant David Lydig (see above).
Peck Slip, looking west from South Street. The street owes its great width to the fact that it once featured a short canal, or slip, in which boats were docked. The slip was built in 1755 by merchant Benjamin Peck. It was filled in by 1817. Many lower Manhattan streets were once slips in which ships were berthed, and carry the name "slip" to this day.
At the very end of the street, we see #8 Spruce Street, formerly the tallest residential building in NYC, since surpassed. It's now known as New York By Gehry, after its architect, Frank Gehry; it's his first major building in NYC after many years. The tower contains only rental units (898 in total), something of a rarity in New York's Financial District. It contains a public elementary school, which the Department of Education owns, and is made of reinforced concrete. It is 76 stories and 870 feet high.
I like the building, even though many Forgotten NY fans don't seem to like anything built later than 1950. I say that in jest, not in anger. I do like that Manhattan is dynamic, but so many of the new towers going up in places that never had them before like Hudson Yards and Hunter's Point are plain glass boxes. #8 Spruce is new and different.
Unfortunately, Peck Slip used to be a vast plain of Belgian blocks, one of my favorite "plains" of Belgian blocks in the city. However, the city has paved over the center of the slip with asphalt, leaving just thin strips of bricks on both sides, and placed bollards and planters around the central section. This appears to be the prelude to an ambitious plan to position a public park down the center of the slip, but it wouldn't surprise me if it stays as is for awhile.
The Department of Transportation has always been uncomfortable with traditional Belgian-blocked streets. If you look at the Municipal Archives photos linked above, you notice that a great many more streets used to be block-paved; well into the 1980s I was noticing even main route still had them in spots. However, vehicle axles and bicycles don't play well with them. In recent months, the city has "tamed" the formerly huge Belgian blocked plaza at Gansevoort Street and 9th Avenue in the Meatpacking but putting elevated curbs around it, and in Brooklyn, DUMBO's brick streets and exposed former railroad tracks are under fire and their days may be numbered.
The Paris Café occupies the ground floor of a 5-story brick building at 119 South Street and Peck Slip. The handsome structure was built in 1873 and was purchased 10 years later by liquor merchant Henry Mayer and converted to a hotel and a boardinghouse. Some of the frequent guests were inventor Thomas Alva Edison, sharpshooter Annie Oakley, gourmand "Diamond Jim" Brady, and Teddy Roosevelt when he was police commissioner. Meyer opened the Paris Café in 1883 and while the hotel is long gone, the Paris is still going strong. It's one of the last survivors of the old Seaport restaurant district that formerly boasted Sloppy Louie's and Carmine's. I have only been in once, with ForgottenFan Lisa Jarrett, who used to work around the corner at a coffee place on Water Street; regretfully, I did not get any photos, but they are easily found. It looked like this in 1940.
The Fulton Fish Market, NYC's primary seafood wholesale market, moved to Hunts Point in the Bronx in 2005, after a tenure here of over 170 years. Old pictures of South Street show sloops, square-riggers, clipper ships and many other classes of vessels docked right next to the street, which formerly abutted the East River. Today, at the Seaport's Pier 17, you can board sailing ships like the Wavertree (built in 1885) the Peking (1911) and the lightship Ambrose, and even train for sailing on the Pioneer (1885), Lettie G. Howard (1893) and W.O. Decker (1930).
I was usually in the Seaport area during the day, when the Seaport catered to the tourist trade when the mall along Fulton Street opened in 1983. Fulton Street and Pier 17 catered almost exclusively to the tourist trade, and still does especially in the summer. But before 2005, I could walk around the area during the day and breathe in the heady aroma of raw fish. Overnights, South Street was full of trucks and wholesale merchants, where restaurants and fish markets all over town would come and purchase fish which would be prepared in restaurants and sold to the public. I never witnessed it but it was a chaotic, bustling scene, totally New York City in the vibe department. The market is now way up in the Bronx.
The restaurant Fish Market, named for you know what, attempts to reclaim the old market atmosphere. It appears to be a dive bar, but has some Malaysian delicacies on the menu. The awning on South Street used to feature a number of signs of fish wholesalers, and the signage here is clearly imitative.
Around the corner, #40 Peck Slip is one of a trio of buildings on the south side of the street that were constructed as warehouses for merchant brothers William and John Mott, and according to the LPC report, they go back as far as 1813, but heavily altered since then, with fourth floors built in the 1870s.
This row, 220-226 Front, between Beekman and Peck Slip, is even older, with this stretch of brick buildings going back to around 1800. When the property was purchased by the builders, it was purely on speculation as Front Street was still in the East River and had yet to be built on landfill. The row is occupied by Jack's Coffee, Van Leeuwen Ice Cream ("Gilded Age" was a previous tenant) and Jeremy's Ale House, where the bras are hung over the bar and the patrons are hung over. (I remember winding up here after a Seaport tour I gave despite having a splitting toothache; nevertheless, I found the fish and chips quite good.)
225 Front, currently Barbalu, an Italian restaurant, shows traces of its fish wholesaler past as the word "salmon" is clearly visible. Many area buildings bear such traces.
A look west on Front Street toward historic Schermerhorn Row on Fulton Street. Most New Yorkers reflexively pronounce this "Skimmerhorn" but the pronunciation makes no sense to me, unless it's an accurate rendering of the original Dutch pronunciation. Beyond it you can see the odd-looking eastern wall of 161 Front Street, a Fairfield Inn hotel. To me it looks like the renovated exterior of 2 Columbus Circle uptown, the Museum of Arts and Design. Several more boring glassy towers have sprung up downtown the past couple of decades.
133 Beekman or 208 Front Street is actually one of the newer buildings in the Seaport. It was constructed as a loft in 1914.
Formerly Carmine's Seafood, 140 Beekman (at Front) was constructed in 1824, the same year that Beekman Street itself was built. The old Carmine's is now occupied by the V Bar. The ground floor has undergone considerable renovation but the upper floors still look they way they did when first built.
146-148 Beekman boasts the same painted sign for Meyer & Johnson fish wholesalers that it did in 1940, and probably awhile before that. "Finnan haddie" is smoked haddock, originally produced near Findon, Scotland. The delicacypops up in the lyrics of the Cole Porter classic "My Heart Belongs to Daddy," popularized by Mary Martin, Eartha Kitt and Marilyn Monroe, among many others.
Here's what the block looked like in 1940. A clothing boutique occupies the ground floor these days, and a flower shop is at 142 Beekman, next door.
19 Fulton Street at Front was newly constructed for the Fulton Street mall, opening in 1983. Yet it tries to copy the design of the James Bogardus cast iron front building, way over on Manhattan's Lower West Side, now part of Independence Plaza. When blocks of buildings there were razed or relocated in the 1970s and 1980s to make way for the rental towers, The Bogardus Building, designed by the father of cast iron architecture, was dismantled and put in storage to be rebuilt elsewhere. However the dismantled pieces were stolen and never recovered. Hence, the city made a relatively close carbon copy and built it here.
So, this is the first longform page I have done under my new template, which was built by Adam Kizer of Villing & Company, who did an outstanding job with it. This will be FNY's template for hopefully the next ten years and beyond, and I hope you'll enjoy it.
Check out the ForgottenBook, take a look at the gift shop, and as always, "comment…as you see fit."
1/13/19