The MTA has recently been on a renovation kick, giving selected stations a refreshed look, with the addition of illuminated maps, service alteration boards (important these days, since there's always a few on any given day) and the addition of phone chargers and wifi stations. The selected stations have been the BMT stations along the 4th Avenue Line in Brooklyn (such as 53rd Street) and elevated stations on the Astoria Line (which are actually quite radical, since thick see-through panes vouchsafe waiters on the platforms views of the surrounding streets). Each station has also picked up new artwork.
A number of IND stations have also been given "the treatment" including some local stations on the IND 8th Avenue Line, and some IRT stations on the 7th Avenue line. In each case, the original "look and feel" of the stations when they were first built between 1915-1935 has been pretty much preserved.
I come to the two local stations on the IND 6th Avenue Line (where the F train stops) at 14th Street and 23rd Street. As you are riding northbound, you notice that the 14th and 23rd Street local platforms are on opposite sides. I don't know why this arrangement came about, but it's part of the overall complexity of the landscape. The express tracks carrying B and D trains are on a lower level, while a completely separate subway line, the PATH train, runs in between the local platforms and also has a station at 23rd Street that is accessible from the MTA 23rd Street station — but without a transfer.
The MTA hasn't done too much with the original 1930s IND tiling, which is attractive in its simplicity. The are new benches and lean-tos as well as countdown clocks that tell you how long you will be waiting. The roofline girders have gotten a darker color scheme.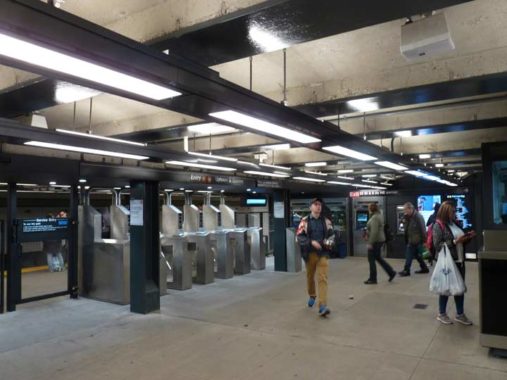 The most remarkable thing about these station remakes, I think, is an added spaciousness. Clutter has been mostly eliminated and there's seemingly more floor space than before.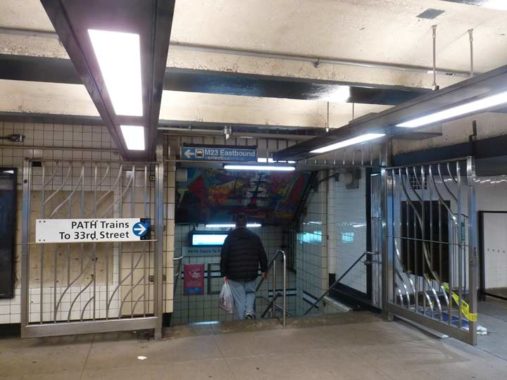 This is the PATH train entrance. Back in 2012 FNY did a complete survey of PATH train stations in New York City, which are administered by the Port Authority of New York and New Jersey. As stated previously the fare is the same as for MTA subways, but there are no free transfers between the two systems.
The new station's hallmarks of course are mosaic portraits of Weimaraner dogs Flo and Topper by their human, artist William Wegman, whose career began in the 1970s with original Weimaraner Man Ray:
Man Ray, known in the art world and beyond for his endearing deadpan presence, became a central figure in Wegman's photographs and videotapes. When Man Ray died in 1982 he was named "Man of the Year" by the Village Voice. It was not until 1986 that Wegman got a new dog, Fay Ray, and another collaboration began marked by Wegman's extensive use of the Polaroid 20 x 24 camera. With the birth of Fay's litter in 1989, Wegman's cast of grew to include Fay's offspring — Battina, Crooky and Chundo — and later, their offspring: Battina's son Chip in 1995, Chip's son Bobbin in 1999 and Candy and Bobbin's daughter Penny in 2004. Out of Wegman's involvement with this cast of characters grew a series of childrens' books inspired by the dogs' various acting abilities: Cinderella, Little Red Riding Hood, ABC, Mother Goose, Farm Days, My Town, Surprise Party and Chip Wants a Dog. Wegman has also published a number of books for adults including Man's Best Friend, Fashion Photographs, William Wegman 20 x 24, The New York Times Bestseller Puppies, Fay, William Wegman: Paintings and the upcoming Being Human, edited by William Ewing and published by Thames and Hudson fall 2017.
German mosaic fabricator Mayer of Munich produced the mosaic works from Wegman's photographs.
No matter how long you have to wait for the train, Flo and Topper will be with you.
Check out the ForgottenBook, take a look at the gift shop, and as always, "comment…as you see fit."
4/9/19