GOOGLE MAP: WALKING THE NEW K FROM SUNNYSIDE TO GREENPOINT
On August 28, 2019, I did something I had never done before: I stood in the center of the Kosciuszko Bridge roadbed. The second span of the bridge was opening that day, following the first span opening in the spring of 2017. I was wedged amid a group of hardhats who had built the bridge, which actually came in at budget or below and two years early — a rarity in New York City, in which construction projects typically go over budget and are completed years late. Governor Andrew Cuomo spoke, as he had in 2017, touting NYC's ongoing slew of construction projects that include the LaGuardia Airport rebuild, revisions to Penn Station, and the construction of Moynihan Train Hall, an extension of Penn.
10 days later, on Saturday, September 7, I did something I had never done before: I walked across the Kosciuszko Bridge. I had never had the opportunity on the old bridge that bore the name, because while it had walkways when originally opened in 1939, they were quickly eliminated. Just as well since the bridge's steep ramps would have made any walking or bicycling on it arduous.
The crossing of Newtown Creek between Meeker Avenue and Laurel Hill Boulevard at Calvary Cemetery has now been accomplished by five separate bridges. I talked about these crossings, the first three of which were called Penny Bridge (after its original toll) on this FNY page. When the second cable-stayed span opened in 2019, it featured a walkway/bike path, which enables pedestrian/bicycle crossings for the first time in decades.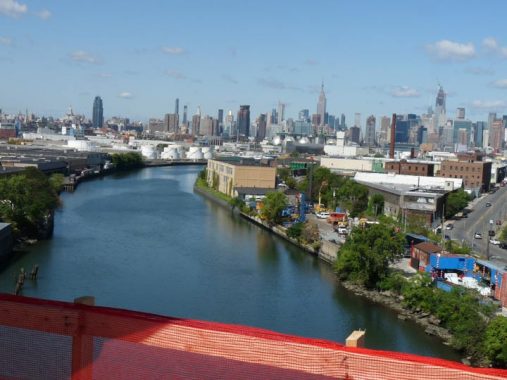 Today the Manhattan skyline showed up "severely clear," as pilots say, over the noisome and noxious Newtown Creek, the dividing line of Brooklyn and Queens from the East River as far east as Metropolitan Avenue. I have crossed it numerous times on various bridges (including the time I tripped on a curb, banged my noggin and required stitches in the spring of 2011 on the Metropolitan Avenue Bridge) but I haven't seen it quite from this elevated a view. I have also sailed up the creek on various vessels, including the fireboat John J. Harvey in 2004.
The first European to catch sight of Newtown Creek was Dutch explorer, trader and cartographer Henry Christiaensen in about 1613. He was searching for advantageous points where the local Native American population, the Mispat Indians, could bring pelts. As time went on the area of Long Island north of what eventually became Calvary Cemetery was settled by the Dutch; south of the cemetery was settled by New Englanders from the former Plymouth Colony. That's where we get the names of Newtown Creek's tributaries, Dutch and English Kills.
Newtown Creek remained in a more or less rural character until about 1860. After that, heavy industry, sewage treatment plants and oil spills made Newtown Creek a dead waterway. Nature is hardy, however, and some fish, crabs, and water birds as well as the aforementioned turtles can be found here. Newtown Creek has gotten rather cleaner over the past decade but it remains quite toxic.
My affinity for cable-stayed bridges has been stated previously and I'm glad NYC finally has large ones, both there and the new Goethals Bridge crossing the Arthur Kill to New Jersey. However, I do think they look better from afar than from up close, when crossing them.
The architecture of the early 21st Century is austere and unembellished. The lamppost deigns on the New Kosciuszko are about the sparest imaginable, just a cylindrical shaft with a LED lamp at the apex. Compare what you see on the Brooklyn Bridge for example, for comparisons of 1870s esthetics vs. 2010s.
Remember, I have not been on the bridge at night. That is when it really shines (literally) with purple light reflecting on the bare white concrete shafts. I am hoping that the colors can be changed to match holidays, which is done with the apex of the Empire State Building.
Can the New K become an emblem of Queens, as the Unisphere has become? My bet is no, but I wouldn't count it out.
There are some structures that can jostle for supremacy for being the emblems of Brooklyn. Eight of them are in Greenpoint, the Newtown Creek Wastewater Treatment Plant's 8 "digester eggs" on Greenpoint Avenue, better known as the "shit tits," which are lit blue at night, have become an actual tourist destination, as well as a backdrop for TV drama settings.
The Newtown Pentacle's Mitch Waxman entered one of the eggs on tour, and came back out.
I zoomed in tight on another candidate, originally the Williamsburg Bank Tower, now known as One Hanson Place after it was converted to pricey condominiums.
The 34-story, 512-foot tall tower, which can be seen from western Queens, southern Brooklyn, and eastern Manhattan as well as the Bronx (from the Whitestone Bridge) was built from 1927-1928 by architects Halsey, McCormack and Helmer. The firm's Robert Helmer wrote at the time that he was seeking to build a "cathedral dedicated to the furtherance of thrift and prosperity." It was constructed in a style architectural experts call Byzantine Romanesque, with Art Deco touches, and has one of the largest 4-faced clocks in the USA. For most of its existence it was home to offices of the Williamsburg(h) Savings Bank, but also a large collection of dentists and oral surgeons (I have had 3 done in the building) for which I've nicknamed it The House of Pain.
The vaulted marble banking hall on the ground floor with 63-foot vaulted ceilings, 40-foot windows and elaborate mosaics is a must-see experience for every New Yorker. The hall is open to the public during the cold months when it is occupied by the Brooklyn Flea, the upscale rummage sale. A couple of good images of the banking hall can be seen at Skylight NYC One Hanson, which developed the building's apartments.
For decades it was the tallest building on Long Island, but has been surpassed numerous times since 1989 when the Citigroup Tower was completed in Long Island City.
When you are descending the pedestrian path into Brooklyn, smoke and steel dust wafts upward. Look down and you see steam shovels and sifting equipment belonging to Empire Recycling Services and Brooklyn C&D Transfer busily working on recycling metallic detritus.
This is part of the charm of the New K. I have mentioned it earlier, but by sheer positioning, the New K is a working class bridge, spanning the communities of Greenpoint and Laurel Hill (West Maspeth), both heavily industrial, with a sprinkling of residential and the presence of Holy Calvary Cemetery, Queens' oldest large burial ground.
A protective fence, of course, lines the pedestrian-bike path. However, unlike other pedestrian crossings that have chicken wire/cyclone fences that serve as barrier not only to jumpers but to convenient photography, here vertical bars allow camera to shoot through them. In this shot, I made sure to include the bars, but I didn't have to if I didn't want to. Mitch Waxman of the Newtown Pentacle says he lobbied at various civic meetings for the fences to be constructed in this manner, which also echoes the vertically barred fences at Calvary Cemetery.
Looking southwest toward the heart of Brooklyn, which has undergone quite a transformation in recent years as various residential towers (which is a fairly new concept, as office towers used to be this tall, not condos) have sprung up on the streets adjoining the Fulton Mall strip, which thankfully has not lost much of its traditional tackiness, though more leaches out all the time.
The Brooklyn entrance-exit of the K Bridge bike/pedestrian path is at the modest junction of Meeker Avenue and Van Dam Street. Meeker cuts diagonally across the Greenpoint and East Williamsburg street grid. It has been on maps since the 1800s, but seemed tailor-made as a conduit when the Brooklyn-Queens Expressway was run through the region in the 1950s, connecting to the 1939 Kosciuszko Bridge. Attorney Samuel Meeker was the first president of the Williamsburg(h) Savings Bank, prompting the city of Brooklyn (before the 1898 merger) to name a prominent route for him. The avenue was likely laid out to connect with the Penny Bridge across Newtown Creek, which the K Bridge replaced.
The Van Dams were a prominent Dutch family in the colonial era, and Rip Van Dam (a name I wish I could adopt) as New Netherland colonial governor from 1731-1732, and a defender of press freedom proponent John Peter Zenger.
Van Dam Street stops its northern progress at Norman Avenue south of Newtown Creek. but north of the Creek, Queens' Van Dam Street is a vital truck traffic route from Greenpoint Avenue north to Queens Boulevard. Were the two ever meant to be connected? I've found no documentation about that.
Looking northwest on Meeker Avenue, which continues up to Gardner Avenue creekside. This is the only section of Meeker Avenue left unshrouded by the BQE, and is home to a number of home furnishings wholesalers.
Looking east on Thomas Street toward the New K Bridge, in the heart of the recycling district.
Stewart Avenue and Cherry Street. This area, relatively unreachable by many on foot and with no subways in the immediate vicinity, is slated to become an ambitious public park, Under the K, under the K Bridge approach that will be completed by 2021.
Looking through the Under the K park plot toward the new towers of Hunters Point, just across Newtown Creek.
Anthony Street between Varick and Porter Avenues. Much of Greenpoint south of the New K Bridge is a no-man's industrial zone, and the area is not slated to lose this character and gentrify, even with the presence of Under the K Park.
The angled telephone street lamp mast can also be found attached to octagonal poles. It's found mostly in industrial areas to get the masts above tall trucks. Cobra neck masts, the more usual fixtures, and apparently incompatible with telephone poles, as I've never seen a cobra attached to a telephone pole.
Already, the area can boast a small refurbished park, the Sgt. William Dougherty Playground, between Vandervoort, Porter, Cherry and Anthony. It was enlarged from a much smaller space in 2018. The "playground honors neighborhood resident Sergeant William T. Dougherty (d. 1944), a United States Marine of the 155th Infantry, 27th Division who fought and died in the World War II (1939-1945) Battle of Saipan" according to NYC Parks*. the playground was built in 1924 and was named for Dougherty in 1948.
*Parks is apparently incorrect; see Joe Fliel in Comments.

Beadel Street, between Vandervoort and Porter, is an attached brick building revelation and I'm surprised it isn't a Landmarked district. It's one block of the tidiest, neatest, well-maintained brownstone and brick buildings you could ever hope to see, a respite in this land of tractor trailers. The gallery also includes a row on Vandervoort at Division Place likely built by the same developer.
Mitch Waxman of Newtown Pentacle:
Moses Beadel was a Wallabout coffin ship patriot, his son and grand sons were also named Moses Beadel… They farmed, not so successfully, but got involved with the rendering game and became largish manufacturers (for the early 1900's) of tallow for candles. Like all the old families, they had huge upland holdings.
His grand daughters married well, and carried deeds for most of the former "Arnheim" into the marriage as their dowry. The new in-laws were named Cooper, and that's how Peter Cooper ended up owning the vast tracks of land on Furman Island, which is where the Cooper Houses are, which is where his factory was. Nearby, Martin Kalbfleisch had established a very large chemical factory nearby the modern corner of Vandervoort and Metropolitan not far from the south west side of the Met Avenue Bridge.
I am fascinated by large, stolid, brick factory buildings such as this one, 470 Morgan Avenue at Division Place. The 1929 Belcher Hyde atlas of the area identifies it as the "Richard Young Co. Factory #1." The name appears in a 1920s trade publication, Shoe & Leather Reporter.
You never know what you'll find walking around in Brooklyn. I noticed this wood sign at #25 Division Place for Epner Technology. A Google search told me it was a company that produced platings, or coatings, for electronic equipment and also coated things like statuettes … like the famed Academy Award Oscar figurine, a business that Epner landed in 2016. Epner has been in business since 1916 and its chair, David Epner, was well into his 80s in 2019.
The name "Debevoise" tends to pop up all over Brooklyn and Queens, such as this 4-block street in Greenpoint. 31st Street in Astoria, where the N/W train rumbles, was once called Debevoise Avenue. There was once a Debevoise Place in downtown Brooklyn, near LIU. In Brooklyn Heights, Sarah DeBevoise attracted a number of suitors and the road they strolled on is now called Love Lane.
Pirate Studios is a British-based premier music rehearsal space with studios here on Division Place at Debevoise Avenue.
The large white tank seen at the end of Richardson Street from Kingsland Avenue is part of the vast National Grid energy supplier complex located east of Vandervoort Avenue. The company has seen to Brooklyn's power needs since its first incarnation as Brooklyn Union Gas and then Keyspan.
At Kingsland Avenue and Frost Street a road curves southwest to meet Bushwick and Maspeth Avenues. This is today called Woodpoint Road; old directories call it "Old Woodpoint Road." It's a busy connecting road these days with new apartments and condos springing up along its length. "Bushwick" comes from an old Dutch term meaning "town of the woods" originally spelled Boswijk, and this was the road that connected Bushwick and Greenpoint, meandering generally north and then northwest from today's Bushwick-Maspeth junction to the East River near Eagle street in Greenpoint. As early as 1661, long before the present street grid was mapped out, it was known as "Road to the Woods" or "Road to Woodpoint." This is its only surviving section.
A pair of plastic and vinyl signs for a Chinese restaurant survives at #100 Kingsland at Frost. I don't know whether it's still open.
The configuration of this building at #246 Frost, east of Kingsland, made me believe it may have been a firehouse. This 1940 photo from the Municipal Archives disproves that notion, though the wide doorway may have accessed a stable at one time.
The helpful Joe Fliel has the answer in Comments:
That was originally the firehouse of Engine 29 of the BFD. It was constructed in 1890. A short chronology:
Engine 29 BFD organized new firehouse 246 Frost Street 1890
Engine 29 BFD became Engine 29 FDNY 1898
Engine 29 became Engine 129 1899
Engine 129 became Engine 229 1913
Engine 229 new firehouse 75 Richardson Street w/Division 11 1915
By the time that tax photo was taken, the firehouse at 249 Frost was vacant for 25 years, E-229 moving into its new digs at 75 Richardson St. in 1915 (see below for photo).
It's not as storied as nearby Bamonte's, but Frost Italian Restaurant has been a Greenpoint/East Willie mainstay for over 50 years.
Opinions vary about Element 88, a new development at Leonard and Frost in the shadow of the BQE. I think the Frank Lloyd Wrong design looks like a set of stacked school buses, but others disagree.
"It's all a honeycomb concrete structure design," says developer Sergey Rybak, noting the unique shape of the property. "It's a pretty amazing feat [while] using concrete as a building material."
Corcoran sales agent Andrew Appell from Team Fernandez, concurs.
"What makes it unique is the fact that concrete was used as a superstructure with these cantilevered forms so there are no actual columns in the units. Couple this with the 12-foot ceilings, 10-foot doors, glass walls and the interiors are very open and spacious. There's a really calming, subdued vibe inside." [Appliances Connection]
This new apartment building on Frost a few doors down is more my speed, though some don't like the new trend of what look like snap-on vinyl exterior panels.
Kalman Dolgin is a familiar name in NYC real estate, mainly because of painted ads like this one at Leonard and Richardson that have appeared on various buildings the past few decades.
Quonset huts, prefabricated corrugated buildings made of galvanized steel with a semicircular roof, pop up in various locales around north Brooklyn and other boroughs. They first appeared during World War I and were named for Quonset Point in Rhode Island where they were first built. The design was not new: it was based on the older British Nissen hut from World War I, named for inventor Major Peter Nissen.
Another metal building, The Shanty, is catercorner on Leonard and Richardson, the home of the New York Distilling Company which produces rye and gin in a self-contained distillery on the premises.
Since I admittedly have the culinary tastes of a child, I have never enjoyed liquor of any type, as it all tastes bitter to me.
We have seemingly lost the ability to design handsome firehouses, but the editions from the early 20th Century, such as Engine 229/Ladder 146, next door on Richardson, are something to behold. As always with firehouses, architectural details are hard to find.
Pete's Candy Store, #709 Lorimer off Richardson, is a bar/concert venue/performance space located in a former candy store: you can tell by the Coca-Cola "privilege signs" obtained for free by the long-ago owner: Coca Cola paid for the signs and installed them outside. Its monthly "Quizz-Off" trivia contest is notoriously tough. For awhile, I participated in Astoria's Q.E.D's monthly spelling bees while they were holding them and went 0-for-5, with a couple of second place finishes. Ouch!
I wanted to get all the angles to show the Russian Orthodox Cathedral of the Transfiguration at Driggs Avenue and North 12th Street at the edge of McCarren Park.
If it's attention you want, you can do worse than surround your building with domes, and that's exactly what Louis Allmendinger did in the mid-19-teens when he was designing the Russian Orthodox Cathedral of the Transfiguration at Driggs Avenue and North 12th. The church has five onion domes, four arranged around the central dome in a Greek cross. The church claims it to be the one and only representative of Byzantine Revival architecture in New York (though there are other onion domes scattered around town). The church offers services in English and Slavonic. Allmendinger, a prolific and all-purpose architect, also designed the utilitarian last edition of the Gustave Mathews Flats on Grand Avenue on the Maspeth-Elmhurst border.
The cathedral has some interesting plaques, with info about St. Vladimir, with news you can use: Russia was converted to Christianity in 988.
Many churches are dedicated to the Transfiguration of Jesus, an episode in three Gospels (excepting John) in which Jesus is revealed in His full glory as God, appearing in radiant light with two Biblical figures, Moses and Elijah (Elias in the Douay Bible).
Another beautiful brick factory building, this one at Driggs Avenue and North 11th Street. It's apparently now residential and the awning sign over the entrance is labeled "Northpoint," yet there's no reference to it at all in the online real estate pages. A look at the 1929 atlas reveals it to be a factory for Louis Leavitt Paints. According to the Paint, Oil and Drug Review in February 1920, Leavitt was accused of bacon hoarding, but was found not guilty in a jury trial. Here's a 1940 photo of the building: it once had extensive painted signs describing the paint products made within.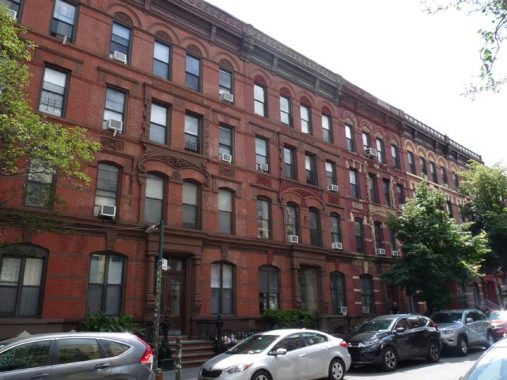 Bedford Avenue runs from Manhattan Avenue in Greenpoint to Emmons Avenue in Sheepshead Bay and is the longest avenue in Brooklyn (leaving out expressways), edging out Flatbush Avenue by less than a mile. I have walked its length in stages. In Williamsburg, it's thought of as the linchpin of its business corridor, with shops, bars etc. However, it's residential as well, as these handsome brick buildings between North 10th and 11th attest.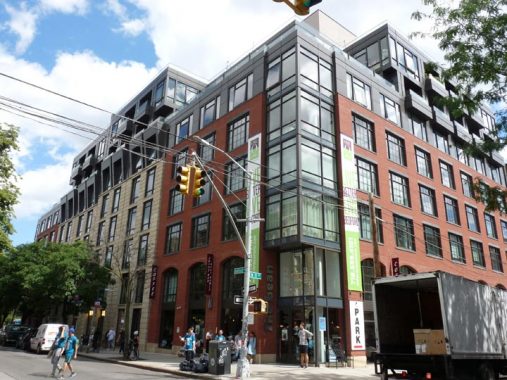 New residential buildings have appeared in Williamsburg since it was rezoned in 2005. The tallest examples are along the Kent Avenue waterfront, but some new ones try to echo the architecture of the past with modern flourishes.
The Turkey's Nest, Bedford Avenue and North 12 Street, has been a constant in Williamsburg through its industrial, bohemian, and upscale eras. Some years ago, I staggered in and ran into a high school mate, Ken P.
At this coed softball game in McCarren Park, some women were wearing 1940-era women's uniforms as depicted in the film A League of Their Own.
My New Kosciuszko Bridge walk came to an end at the Norman Nassau Avenue station of the G train. The triangle-shaped building is #1 Bedford, where the avenue begins is southward run.
Check out the ForgottenBook, take a look at the gift shop, and as always, "comment…as you see fit."
9/23/19