In May 2019 I traveled down to JFK Airport with my friend Joanna to take a look at the new TWA Hotel, which opened this year in the same futuristic building designed by Finnish architect Eero Saarinen and opened as the Trans World Airlines Terminal in 1962. My own very first plane ride, to California, was on TWA that same year, but it came in February, before the building opened. Nevertheless I do recall the building, as I took a trip there with my Cub Scout den in 1965. I plan on using some more of the photos I obtained on a page of my own — perhaps as part of a page about Saarinen's buildings in NYC. Till then, here's a short piece by FNY correspondent Sergey Kadinsky, who has also recently visited, discussing the terminal's and JFK Airport's history — and his family's first arrival in America. –ed.
by SERGEY KADINSKY
Forgotten NY correspondent
On the 5,000-acre expanse of JFK International Airport there are few historical items to connect visitors back to the early years of commercial aviation when flying was regarded as glamorous in contrast to the high-security and tightly-spaced experience of this century. One former terminal stands out to remind us of a time when passengers looked forward to flying: TWA Hotel, which envelops the old terminal designed by Eero Saarinen.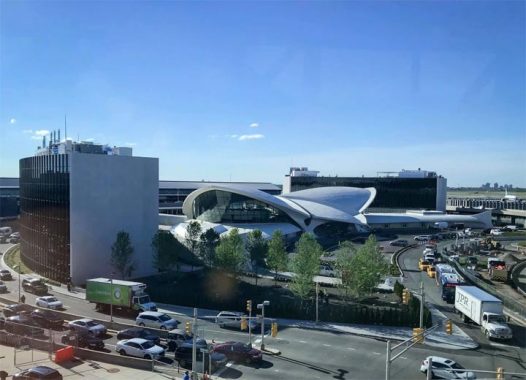 For many New Yorkers this building evokes images of celebrities walking off the plane at JFK Airport, a Mad Men period when all passengers dressed like professionals and had a wide array of alcoholic drinks aboard their flights, and the option to smoke. For my family, this terminal was our Ellis Island. It was here on August 31, 1992 that we had our first glimpse of American modernist architecture. You can imagine how impressed we were!
On my most recent visit to the TWA Hotel, I took the Airtrain from Jamaica which flew above the congested Van Wyck Expressway on a concrete viaduct. This elevated train of the 21st century is a far cry from the noisy elevated lines built a hundred years ago above Jamaica Avenue and Roosevelt Avenue, among other examples. For the TWA Hotel, I got off at Terminal 5 station that connects to the JetBlue terminal via a lengthy walkway. I then descended to the ground level, took an elevator, and entered an apparent time warp to 1962.
A one-way ride on the AirTrain will soon rise to an incredible $7.75 from its current $5.00. -ed.
I walked out to the elevator to see a desk with items from 1962 that includes a globe with countries no longer in existence such as USSR (my birthplace). The man in the photo observing the globe is Pan Am founder Juan Trippe, the archrival to TWA executive Howard Hughes. Theirs was truly a commercial dogfight for supremacy in the sky.
The seemingly endless red-carpeted hallway brought me back to 1992, when my brother and I ran down the aisle of the airplane and this hallway for the honor of being the first to touch American soil. He was nearly 4 and I was 8 years old. Behind us were our parents and grandparents, what some may call a "chain migration."
The terminal's construction began in 1959, costing $523 million. The airport of that time resembled the layout of Disney's Epcot Center and the 1964 World's Fair in Flushing Meadows, with each airline having a uniquely designed terminal on a circular road. Each terminal served as a visual billboard and trademark of its respective airline, designed by internationally renowned architects.
Borrowing on the name used for the office buildings surrounding Grand Central Terminal, this airport plan was known as Terminal City. I could go into detail on the terminals no longer with us, and the Three Chapels, but there are already plenty of websites, blogs, and books on this topic. Besides, we're here to appreciate the last of these classics, the one that is still standing.
Architect Robert A.M. Stern described this sculptural wonder as the "Grand Central of the jet age." As is the case with the iconic train terminal and its Great Hall, there's a clock in the center that serves as an ideal meeting spot before smartphones made it easier to find someone. Unfortunately in the year that my family landed here, TWA filed for Chapter 11 restructuring for the first time. When the city designated the terminal a landmark in 1994, TWA expressed its opposition on grounds that an expansion was necessary for the airline's survival. It died anyway in 2001.
In the space between the TWA terminal, its two hotel buildings, and the Jet Blue terminal is a restored 1958 Lockheed Constellation "Connie" that has been repurposed as a lounge. The tarmac around it features painted lanes and landing lights. It offers the opportunity to sit inside an airplane without having to book a flight.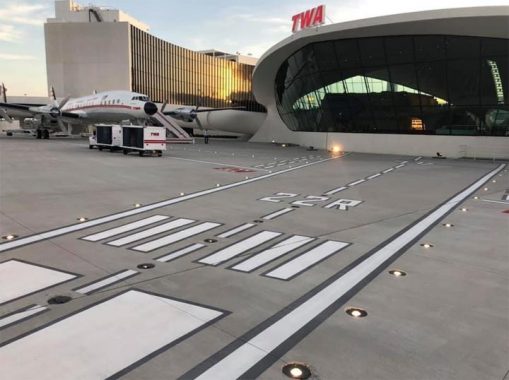 In the space between the TWA terminal, its two hotel buildings, and the Jet Blue terminal is a restored 1958 Lockheed Constellation "Connie" that has been repurposed as a lounge. The tarmac around it features painted lanes and landing lights. It offers the opportunity to sit inside an airplane without having to book a flight.
Beyond the Terminal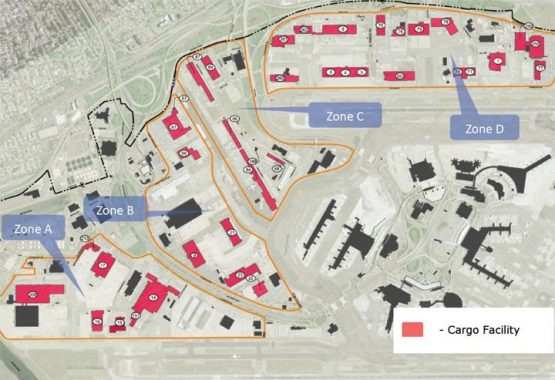 Most of the traveling public knows the passenger terminals of JFK Airport built around the circular tangle of ramps and parking garages. Around the airport's periphery is the set of cargo terminals for imports and exports that totals 1.4 million tons annually. Being a postwar airport, it is nowhere near a freight railroad, and everything here is brought by truck. The map above comes from the city's Economic Development Corporation for a 2013 study seeking to streamline the cargo operations.
In this high-security neighborhood, the street signs have their own design akin to the internal roads of LaGuardia Airport. One in particular, Old Rockaway Boulevard reminds travelers of the pre-airport period when the Idlewild marsh contained bungalows, fishing shacks, and a golf course, accessed by this road. Lost communities erased by the airport's footprint include East Hamilton Beach, and Richmond Hill Circle (Bergen Landing). The latter was a collection of homes lining a mile-long basin carved into the wetland.
This one is for Bob Mulero. Unfortunately none of the airport's 1960s gumball-hanging-from-pole lampposts remain, but on the Van Wyck Expressway are light fixtures carrying the flags of nations befitting of the city's role as the UN host and immigration hub. One can argue that in its present role as a hotel lobby, the TWA Flight Center is hardly forgotten. Its landmark designation ensures that it will stand here for generations to come. But for some immigrant families, this terminal served as the Cold War successor to Castle Clinton and Ellis Island- it was our portal into America.
If you've enjoyed this bit on the city's aviation history, be sure to read about Kevin's 2001 visit to the ruins of Flushing Airport. Nothing of it remains today. There's also his 2003 essay on Floyd Bennett Field.
Sergey also has a recent piece in Hidden Waters Blog about Harbor Haven, the community replaced by JFK.
Sergey Kadinsky is the author of Hidden Waters of New York City: A History and Guide to 101 Forgotten Lakes, Ponds, Creeks, and Streams in the Five Boroughs (2016, Countryman Press) and the webmaster of Hidden Waters Blog. 
Check out the ForgottenBook, take a look at the gift shop, and as always, "comment…as you see fit."
10/5/19