Sometimes my most productive walks are when I'm scouting Forgotten NY tours. I'm especially attuned to my surroundings and noticing anything I can talk about on the tour that will stand out, something totally unique no one else thought of. In October 2019 FNY did its first tour of the Sugar Hill area in uptown Manhattan, and we also crossed over High Bridge into the Bronx.
Sugar Hill, so named because it represented the "sweet" life to aspiring African-Americans who lived uptown, aspired to Sugar Hill's then-luxury buildings and spacious apartments, and were then inspired by the Harlem Renaissance, a literary, philosophical and musical movement of the early 20th Century. Musicians Duke Ellington (who took the A train to get there), Cab Calloway, Paul Robeson, Billy Strayhorn and Count Basie called the neighborhood home, as well as civil rights activists W. E. B. Du Bois, Walter White, Roy Wilkins and the Rev. Adam Clayton Powell Sr; literary giants such as Langston Hughes and Ralph Ellison; and jurist Thurgood Marshall.
Sugar Hill proper is between West 145th and 155th Streets and Amsterdam and Edgecombe Avenue (the avenue is s-called because it runs along the cliff overlooking the Harlem River known as Coogan's Bluff, "comb" derived from an old English term signifying hill.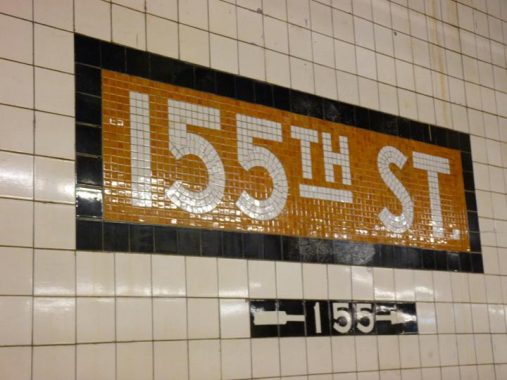 I got off the C train at the IND 155th Street station or rather, one of them. One aspect of the IND I hadn't thought of before is that there are two 155th Street local stations, both of them offshoots of the 8th Avenue Subway trunk line that extends north along Central Park West and Frederick Douglass Boulevard. North of 145th the trunk line splits in two, one heading to Inwood and the other, eventually to Norwood in the Bronx along the Grand Concourse. One serves the C train at 155th and St. Nicholas Avenues while the other one serves D and during the week, B trains at Douglass Boulevard.
The C train 155th St, along with partner stations 145th and 163rd are the only IND stations in NYC I can think of with yellow (gold) ID plaques that have black borders. The other 155th Street IND station reverses the order. I imagine there are probably more.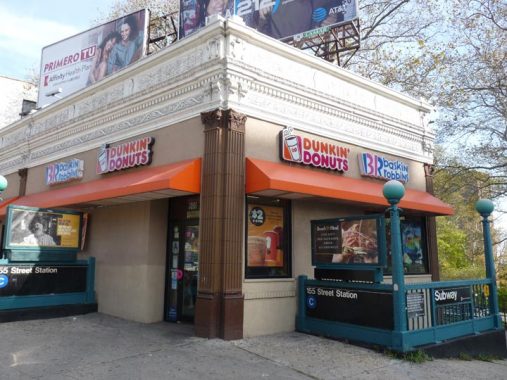 Appropriately for Christmas week I'll discuss St. Nicholas Avenue first. The avenue cuts a mighty swath athwart Manhattan's northern grid and is in fact a modern day remnant of precolonial roads that were perhaps first forged by Native Americans. The building on the NE corner of West 155th, #900, seems too fancy to hold a mere Dunkin' Donuts, but the NYC Municipal Archives from 1940 show that it once accommodated a mere cigar store. I wonder what the original purpose was, with its interesting carvings and pilasters.
The Harlem River Driveway extends from West 155th Street northeast, funneling traffic to and from the Harlem River Drive proper.
Recognizing the long-standing popularity of horse racing among New Yorkers, the city built a "Harlem River Speedway" along the west bank of the Harlem River in Manhattan. The 95-foot-wide dirt roadway stretched two and one-half miles from West 155th Street north to West 208th Street. Presaging the automobile parkways of the 20th century, the speedway was flanked by trees and pedestrian walkways. When it was not being used as a racetrack, the Harlem River Speedway was used as an exercise track. NYC Roads
When the Harlem River Drive was constructed beginning in the 1930s, it obliterated the old Speedway, except for a short section between what is now the Ralph Rangel Houses (Ralph Rangel, a community worker and tenant association president, was the brother of US Representative Charles Rangel) and West 155th. The extant portion was renamed the Harlem River Driveway.
In 2017 the Driveway was subnamed for New York Giants/San Francisco Giants/New York Mets titan Willie Mays, who played in the Polo Grounds (see below) in 1951, 1952, and 1954-1957, missing the 1953 season during military service. Mays's son Michael resides in the area and was present at the sign unveiling ceremony.
I've written about this extraordinary piece of infrastructure before and I note it every time I pass it. It's a combination horse trough, streetlamp and weathervane, the Hooper Fountain, an amazing Swiss Army Knife of a stanchion.
The fountain was a gift from civil engineer/newspaperman/entrepreneur John Hooper. In his will, made public upon his death in 1889, he appropriated funds for the construction of two public fountains that had to include horse troughs as well as drinking fountains. Both fountains were built in 1894: this one, designed by George Martin Huss at Maher Circle, and another in Brooklyn at Flatbush and 6th Avenues in Park Slope that disappeared long ago.
The unusual design features a trough topped by an Ionic column with a human-scale drinking fountain appended, while the column is topped by a spherical lantern topped by a weathervane.
After motorized traffic began to overtake the equine variety in the early 1920s the trough became an anachronism, and there were efforts made to have it moved to a bridle path. But here it remained, decade after decade, with no upkeep and gradually deteriorating. Vandals finished it off in 1981. However, it was renovated, brick by brick, and restored to its old spot in the mid-1990s.
Brutalism is a school of architecture that proposes to determine how intimidating a designer can make a building look. 898 St. Nicholas Avenue, Sugar Hill Project, leavens the seriousness somewhat by hosting the Sugar Hill Children's Museum of Art & Storytelling.
There were four different parks called the Polo Grounds from 1876 through 1963. The first one was at 5th Avenue and 10th Street just north of Central Park and was built for polo, but converted to baseball in 1880 for the New York Metropolitans – the first New York Mets. The last three, including the stadium home to the first Metropolitans, the Giants from 1891 through 1957, and the Yankees from 1913 to 1922, was located here. The NY football Giants played here from 1925 to 1955, and the NY Titans, later the Jets, were here from 1960-1963. The last game played here was between the Jets and the Buffalo Bills on December 14, 1963.
The Polo Grounds Houses, shown here, were built shortly after the wrecking ball erased the final Polo Grounds in 1964.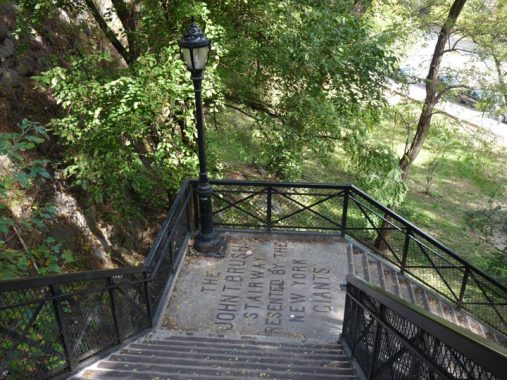 Coogan's Bluff is the cliff leading down to the Harlem River from Edgecombe Avenue. It used to overlook the Polo Grounds, the ballpark home of the New York Giants, and in different eras, a temporary home for both the New York Yankees and New York Mets. It is named for local real estate mogul and one-time Manhattan borough president James J. Coogan (1845-1913) and the rise was called "Coogan's Bluff" as early as 1895. Coogan's Bluff also became the name of a 1968 Clint Eastwood film about an Arizona lawman in NYC, the inspiration for the Dennis Weaver McCloud TV series.
A last remnant of the presence of the Polo Grounds, besides a plaque in the Polo Grounds Houses, is the John Tomlinson Brush Staircase, named for a former Giants' owner, installed by the Giants during the 1913 season allowing fans up and down the steep Coogan's Bluff.
In 2011, the New York City Parks and Recreation Department launched a $950,000 restoration project. Major League Baseball gave $50,000 to the project, along with other old Polo Grounds tenants — the San Francisco Giants, the New York Football Giants, the Yankees, the Mets, and the New York Jets.
555 Edgecombe Avenue at West 160th Street, which contained apartments formerly tenanted by Broadway and Hollywood's Paul Robeson, jazz/pop greats Count Basie and Lena Horne, first African American Supreme Court justice Thurgood Marshall, and presently, the keeper of one of NYC's great musical traditions.
Marjorie Eliot has held parlor jazz concerts every Sunday since 1992 on Sundays from 4-6 PM, Apartment 3F, in tribute to her late son, Philip. Marjorie greets each guest at the door and there are no reservations required. She is joined by a talented crew of players whom she handpicks and pays out of pocket. Donations are voluntary.
There are two streets named "Jumel" in Sugar Hill, a Terrace and a Place. Both are named for Stephen and Eliza Jumel. Jumel Terrace runs two blocks from West 160th north to West 162nd. It still preserves its Belgian block pavement from decades ago. A second street named for the Jumels,  Jumel Place, can be found a few blocks north between West 167th and Edgecombe Avenue near Amsterdam. The terrace, as well as West 160th and West 162nd Streets, is home to several picturesque Romanesque Revival houses built in 1896.

Located off Jumel Terrace north of West 160th with a staircase going down to St. Nicholas Avenue, this was once the carriageway to the Morris-Jumel Mansion (below), but since 1882 it has been home to about 40 nearly identical clapboard wood-frame houses, meticulously maintained by their owners. It was developed by James Ray and built by architect Gilbert Morrison. Earlier chroniclers mistook them for servants' quarters, but they were originally middle class residences, and present prices on the terrace are around $1M if you want to purchase one.
The highlight of Roger Morris Park, between West 160th-162nd Streets between Jumel Terrace and Edgecombe Avenue, is Manhattan's oldest remaining residential building.
The Morris-Jumel Mansion was built around 1760 by a British colonel, Roger Morris, who was married to Mary Philipse: some say Mary had previously turned down a proposal from George Washington. Morris' estate, Mount Morris, covered a vast amount of Harlem acreage, some of which would become Mount Morris Park, now Marcus Garvey Park. During the war, Morris, a loyalist, was forced to vacate the mansion and return to England; it then became a headquarters for Washington in the autumn of 1776. While President in 1790, Washington had a formal dinner in the mansion with John Adams, John Quincy Adams, Thomas Jefferson and Alexander Hamilton.
After passing through several owners, the mansion was purchased in 1810 by a wealthy French emigrant, Stephen Jumel, and his wife Eliza. They redecorated the house in the French Empire style it retains today and imported furniture; a bed purportedly owned by Napoleon can be found in the Mansion. 
After Jumel's death in 1832, Eliza married former Vice-President Aaron Burr, who is probably better remembered today for killing Alexander Hamilton in a duel in 1804. Their marriage was stormy and brief, and after their divorce in 1834, Eliza occupied the Mansion until her death in 1865 (she is entombed in nearby Uptown Trinity Cemetery). Some say her spirit is in the house. Personally I don't believe in the supernatural and if there are "spirits" they can be explained in a scientific way we haven't yet discovered. At the same time, I've never detected the presence of "spirits" anywhere, and for the same scientific reason, some may be more attuned to whatever phenomenon it is than others.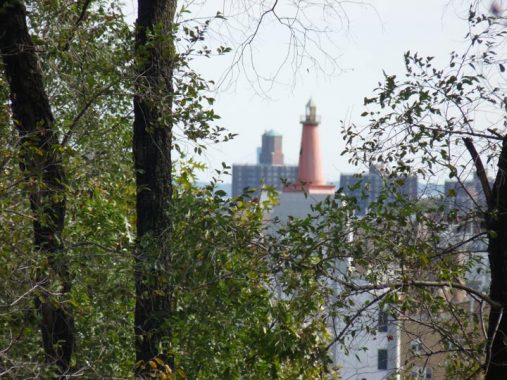 From the mansion grounds you can glimpse a lighthouse. It's not a lighthouse strictly speaking; the H.W. Wilson publishers occupied this Bronx building for decades and placed the company symbol, a lighthouse, on the roof of their office building on Sedgwick Avenue.
There is a slab on the grounds that looks like a tombstone. This is actually one of the mile markers on the Post Road, which incorporated some of the Kingsbridge Road uptown before Manhattan's street grid was constructed. Measuring from City Hall (today's Park Row was part of the road) this was the 11-mile marker. The plaque was placed in 1912 by what was the City History Club. Further uptown the 12-mile marker can be found embedded in the Isham Park fence in Inwood.
Also on the grounds is a working sundial. These devices were used to tell time in large part before mechanical clocks were invented. They work simply: hours are arranged in a circle, as on regular analog clocks, while the sun strikes the gnomon (the triangle that sticks up) and casts a shadow that strikes at or near the hour, indicating the approximate time. For example the time was around 1 PM, and the shadow was at the "XII" as sundials don't know about Daylight Savings Time.
Further north on Edgecombe Avenue above West 163rd is a minimum-security "correctional facility" known since 2010 as the Edgecombe Residential Treatment Facility, located in the old Mother Cabrini Memorial Hospital. If you look closely, you can spot a caduceus above a door on 163rd Street. Caduceus photo: Bob Mulero.
This was a beautiful October day with the fall leaves in full splendor in High Bridge Park. The park runs along the Harlem River from West 155th and Edgecombe Avenue all the way north to Fort George Hill and Dyckman Streets, and despite the efforts of entertainer Bette Midler, who has been trying to rehabilitate it along with the NYC Parks Department for several years, it stubbornly remains one of NYC's more dangerous parks in spots.
The park was assembled in pieces for nearly 100 years, as the city acquired various properties along the river; the last chunk was acquired in 1967. It was, of course, named for The High Bridge, which spans the Harlem River across to the Bronx, the oldest extant bridge in New York City. Other than Central and Riverside Parks, it's the biggest park in Manhattan in area.
Built by architect John Jervis a couple of decades after the  High Bridge itself (1866-1872) this tall masonry tower was used as a 47,000-gallon storage tank and as a water pressure equalizing structure. It has a winding spiral staircase inside whose climb, while a little winding if you're not in terrific shape, rewards you with spectacular views of the surrounding Washington Heights, Harlem and Morrisania neighborhoods. The bridge was built as a conduit for water entering Manhattan from the upstate Croton Aqueduct.
This daunting, three-flight staircase leads from High Bridge Park down to the plaza on the Manhattan end of High Bridge. If you're out of shape, a daily climb up these steps will have you back in form.
I won't do a full High Bridge history and review here — I did that back in 2015 (has it been over 4 years already?) shortly after High Bridge reopened that year for the first time since 1960. The bridge is a pleasure to walk — unlike, say, the Brooklyn Bridge, which is dominated by whizzing bicyclists who give no quarter to strollers enjoying the view.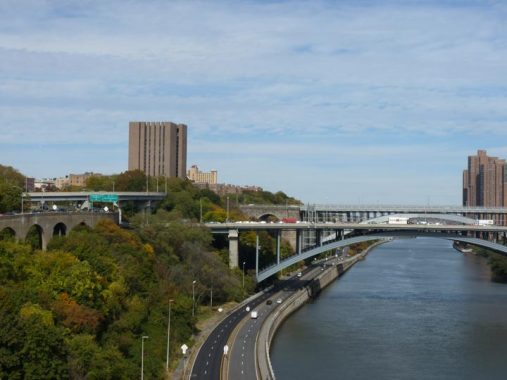 Speaking of views here's a north view of the Harlem River with the Alexander Hamilton Bridge, which connects the George Washington Bridge with the Cross-Bronx Expressway in the foreground, and behind it the Washington Bridge (confused yet?) which also connects the CBE with West 181st Street. The Harlem River Drive runs alongside the river.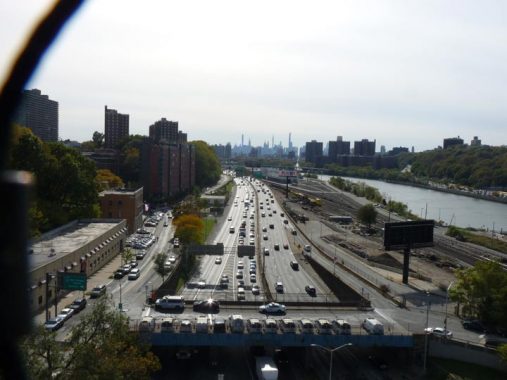 Looking south, the needlenose "supertall" towers arrayed along West 57th Street can be seen at the horizon.
Edging south along University Avenue (MLK Boulevard) I noticed some unusual residences. What are the doorway handprints all about? University Avenue is named for a school a few miles to the north that is no longer there — the Bronx Campus of New York University, where you will find the Hall of Fame for Great Americans. The campus became Bronx Community College several decades ago.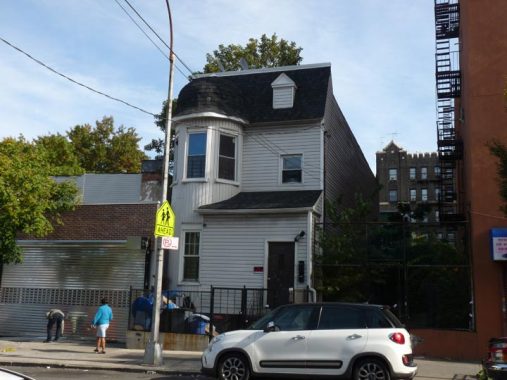 Buildings along Ogden Avenue hint at past glories; for example, here's #1046, south of West 165th. Here's what it looked like in 1940. As you can see, most detail has been leached away in 80 years.
Similarly here's #1006 (left) and 1004, and what they looked like in 1940. That year, there was still a liquor store at #1006 and who knows, this might be the same one.
This "block" of apartments/stores extends a full block west along West 164th to Summit Avenue.
Returning to Manhattan on the Macomb's Dam Bridge, just west of Yankee Stadium. There's a brotherhood of bridges spanning the Harlem between Manhattan and the Bronx. The 3rd Avenue, Madison Avenue, East 145th, Macombs Dam, and University Heights (originally Broadway) Bridge were all designed by Alfred Pancoast Boller and all share a certain thematic style, with spidery ironwork and stone gatehouses on each end. All opened between 1895 and 1910.
Farmer Robert Macomb opened the first drawbridge on this site in 1813, but annoyed neighbors by damming the Harlem River in the East 160s. After some years they tore down Macomb's bridge and replaced it with a wooden swing span. Finally, the City commissioned Boller to build this iron swing bridge in the late 1890s. For someone who ticked off his neighbors so much, Macomb is remembered by this bridge, Macombs Place in Harlem, and Macombs Road in Morris Heights.
The bridge, which I photographed in better light a few years ago, contains a number of older elements that make it fun for urban infrastructure enthusiasts: heavily scrolled ironwork on the lamps; gatehouses that at one time must have housed safety or traffic enforcement agents; and its original 1894 plaque, when it was called "Central Bridge."
Once over the Macombs Dam Bridge I was soon back where I started.
Check out the ForgottenBook, take a look at the gift shop, and as always, "comment…as you see fit."
12/22/19