A couple of years ago (as of January 2020) a short stretch of Henry Hudson Parkway between Riverside Drive / Staff Street and the Henry Hudson Bridge over the Harlem River — basically the stretch that runs through Inwood Hill Park — obtained a new set of retro Woodie lamps, harking back to the original Woodie lamps installed along all of NYC and environs' parkways when they were constructed in the 1930s.
These Woodies have carried a number of light fixtures over the years from early versions of sodium, to incandescent, to mercury and new sodiums. However, in my own experience, I've only witnessed one variety in action, in which both the shaft and the brackets were wooden. At first, it would seem that the HHP Woodies are a new design. That's partially true, but they do honor earlier designs, as well.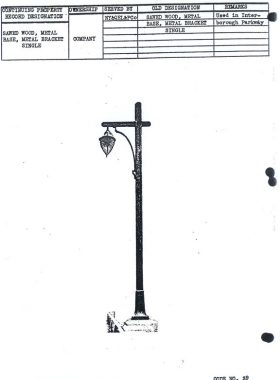 Consulting my 1934 directory of NYC street lighting, I found a couple of older Woodie designs that indeed featured a curved metal bracket instead of the familiar wood version. These, in single and twin versions, once lit the Interboro Parkway, a very early parkway (built 1928-1932) connecting East New York with the Grand Central Parkway in Kew Gardens. It's wider now and was renamed the Jackie Robinson Parkway over a decade ago.
The new HHP Woodies are a bit different since they lack the top finial, making the posts look like a reverse L instead of a T. But clearly, they're an homage.
Check out the ForgottenBook, take a look at the gift shop, and as always, "comment…as you see fit."
1/14/20