A short while ago I wrote a piece that showed you all the streets that carry presidential names in NYC, whether or not they were actually named for presidents. This was an extrapolation from an article I wrote for StreetEasy about six such American presidents; I wanted to list all of them, as they were scattered all over the five boroughs and gave me a chance to write about NYC locales I had no other excuse to write about! Another opportunity has arisen, as on this page I'll concentrate on just one president, the first one, George Washington.
Manhattan
Washington Street (Tribeca, Greenwich Village)
The ghost of George Washington is all over New York City. There he is taking the oath of office at Federal Hall at Wall and Nassau Streets…he's bidding farewell to his charges at Fraunces Tavern…he's on horseback in Union Square and at the Williamsburg Bridge…two of him at Washington Square Arch…wearing his Masonic apron in Flushing Meadows-Corona Park. There are eight thoroughfares, two bridges and two parks named for him in Manhattan; three roads apiece in Staten Island and Brooklyn, and one in the Bronx (Queens, which is mostly numbers, doesn't).
Washington Street first appears on maps about 1797, when it faced the Hudson River. Greenwich Street preceded it by a few decades, as the Road to Greenwich (Village) and it, too, originally hugged the coast and even has retained a few zigs and zags to let us know that it once did.
Time hasn't been kind to the southern reaches of the street named for the father of our country, as multiple construction, destruction, and construction again has sundered it to pieces beginning in the 1950s, when first the Brooklyn Battery Tunnel, then the World Trade Center, and then the Independence Plaza housing complex were built in succession. Yet, bits of Washington Street are still holding firm in some areas, and a piece of it only recently was built over.
Though Washington Street runs continuously north of Hubert Street, it only runs intermittently south of that. For our first piece of Washington we look in the heart of the housing complex known as Independence Plaza, completed in 1975, which replaced most of the old Washington Market area. For over 190 years, from the 1770s through the 1960s, this was the heart of Manhattan's produce market; goods loaded off the docks at the Hudson River would be trundled over the Belgian-blocked streets by horse and cart, later by truck, to dozens of busy wholesalers who crowded the blocks from Fulton north to Hubert and from the river to Greenwich. The original market occupied a the block formed by Washington Street, West, Fulton and Vesey. Beginning in the late 1960s, as the World Trade Center came closer to being, NYC's wholesale produce market relocated to Hunts Point in the Bronx (where, 30 years later, the Fulton Fish Market also decamped). When these institutions left Manhattan they took some of the borough's character with them.
For more of Manhattan's Washington Street, see this FNY page.
Washington Place, Greenwich Village
Though plenty of streets throughout NYC are interrupted at some point — most of Queens' numbered streets are — this isn't as frequent an occurrence in NYC. I imagine the most blatant examples are 6th and 7th Avenues, which have had lengthy interruptions for Central Park since the 1850s, and both have actually ben renamed north of the park, to Lenox Avenue and Adam Clayton Powell Boulevard respectively.
Washington Place is one of those longstanding "interrupted streets." Unusually, its street numbering runs east to west from Broadway to Washington Square East, and then again from Washington Square West to Sheridan Square, where it meets West 4th and Grove.
Washington Place is named for the square through which it "passes" (see below). Some maps over the years have labeled the western "section" as West Washington Place, but my rule of thumb is what the Department of Transportation has on its street signs, and they don't have a "West" on the signs.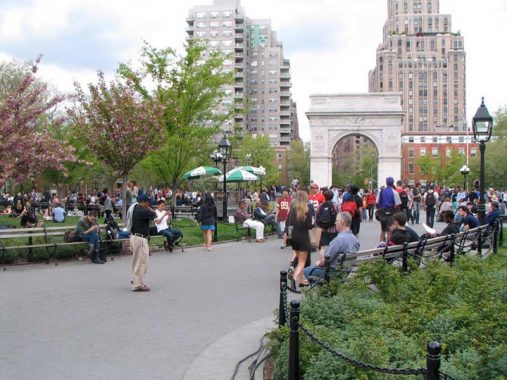 Washington Square, Greenwich Village
The history of this particular spot in NYC is long and varied; it was first a marshy area surrounding Minetta Brook, which ran from Midtown southwest to the Hudson River), then a cemetery (1797; a tombstone dated 1799 was actually found during the excavation process during renovations from 2002-2011) a parade ground for military marching drills (1826); and finally, a public park (1827).
Looking north past the fountain (which was installed in 1872, replacing an earlier one from 1852), to Stanford White's memorial George Washington Arch (1892) and One Fifth Avenue, a hotel built in 1926, with a restaurant called One Fifth on the ground floor I would frequent in the 1980s.
If roads czar Robert Moses had got his wish, the circle around the fountain, which was once used to turn 5th Avenue buses and was open to motor traffic when the Queen of Avenues was one-way, and the fountain would be moved to make way for a connector road between 5th Avenue and LaGuardia Place. Locals fought Moses tooth and nail (as they did against his proposed Lower Manhattan Expressway on Broome Street) and after a lot of vitriol, the Master Builder backed down. However, the fountain was moved anyway between 2007-2011.
Decades ago, Washington Square took over the names of MacDougal Street, Waverly Place, Wooster Street and West 4th, which became Washington Squares North, West, East and South respectively. This change was made pretty early, soon after the park's borders were set.
Fort Washington Avenue, Washington Heights
This is one of the major north-south routes in Washington Heights, running from Broadway and West 159th to Fort Tryon Park at West 190th, running past NY Presbyterian Hospital, the uptown Port Authority Bus Terminal, and approach roads to the George Washington Bridge. Fort Washington Avenue, Washington Heights, the neighborhood, and the bridge itself were named for the Revolutionary-era fort constructed by the patriots but then captured by Hessian and British troops in November 1776. The fort was located in today's Bennett Park at West 183rd, which is the highest point on Manhattan Island.
Washington Mews (Greenwich Village)
Washington Mews is a through alley between 5th Avenue and University Place just north of Washington Square, and is lined with charming two-story cottages that were, at least on the south side, formerly stables used by the well-to-do residents of Washington Square North, the doings of which were described in 19th Century novels by Henry James. It is the only street in NYC called a "mews" though there are many mewses in London. It is marked by an old-style serifed street sign. The dwellings on the south side were constructed from 1850-1880 while the ones on the north side, in the 20th Century. Much more info can be found in the Greenwich Village Landmarked District Report, beginning on page 50.
The term "mews" is unusual: it derives from a French word meaning "to moult" and mewses were originally used in the 1300s to place cages confining falcons and hawks (used by royalty for sport) while they shed their feathers. Only later were the alleys used to house carriages.
Just around the corner, at #3 Washington Square North and University Place, was the studio where the great painter Edward Hopper lived and worked from 1913 until his death in 1967.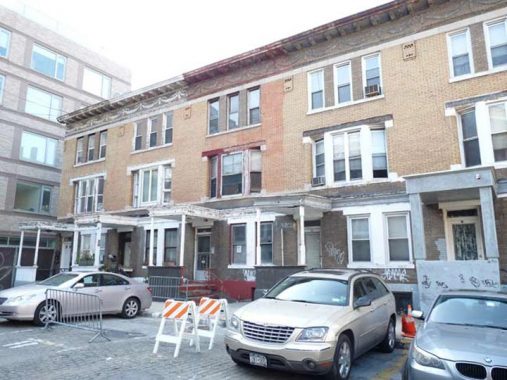 Washington Terrace (Washington Heights)
Washington Terrace is a somewhat ramshackle dead end on West 186th Street between Audubon and Amsterdam Avenues lined on both sides with 3-story brick buildings that appear to have seen better days, though all are occupied and no doubt the residents keep up the interiors as best they can.
Most such alleys in upper Manhattan and the Bronx were real-estate developments. The land was purchased in 1898 by Bayonne builder Daniel J. Murphy, who built 18 modest brick dwellings with exterior porches that were completed by 1900. Murphy had to foreclose on his properties after that, but continued to live at #18 Washington Terrace. (Since so many other streets in NYC are named 'Washington' you wonder why it wasn't called 'Murphy Terrace' but we can imagine he was of a patriotic bent.) In the 1980s five of the homes were abandoned and the terrace became an eyesore, but it seems to have stabilized since then.
Brooklyn
Washington Street (DUMBO)
Washington Street in Brooklyn used to be a lot longer than it is today; it formerly ran from the intersection of Court and Montague Streets north to the East River. In the mid-1950s, its southern section was closed to create Parks Cadman Plaza, and the section that remained open south of Prospect Street at the Brooklyn Bridge approach was renamed Cadman Plaza East.
A short section remains through the heart of DUMBO, offering spectacular views of the Manhattan Bridge looking north.
You'll be amazed to see what the demolished sections of Washington Street looked like in the NYC Municipal Archives.
Washington Avenue (Clinton Hill, Prospect Heights)
I attended high school in the 1970s at Cathedral Prep at Washington and Atlantic Avenues. Washington Avenue slices through the heart of Clinton Hill from the Brooklyn Navy Yard south to Flsybush avenue at Lincoln Road, just a block east of Prospect Park.
In the 1970s, Clinton Hill was a forlorn neighborhood full of rundown mansions and cheap boarding houses, but when the neighborhood was built in the 1800s it was among one of the city of Brooklyn's more exclusive areas. Gentrification over the past 20 years has returned it to that status. My old high school, built to resemble a medieval castle complete with moat, has become pricey co-ops.
Washington Plaza, Williamsburg
At Roebling Street between South 4th and 5th is Washington Plaza, or Continental Army Plaza, first designed in 1903, the year the Williamsburg Bridge opened. The centerpiece of the plaza is  Henry Shrady's 1906 equestrian statue of George Washington that depicts him at Valley Forge: cold and weary, yet determined. Shrady later created other major public monuments including the Grant Memorial at the foot of the Capital Grounds in Washington, D.C., and the Robert E. Lee equestrian statue in Charlottesville, Virginia. The Works Progress Administration renovated the plaza in 1936 to roughly the form it is seen in today.
Washington Park, Fort Greene
Walt Whitman, editing the Brooklyn Daily Eagle from 1846 to 1848, pressed for a public park in area south of the Navy Yard, and in 1847, Washington Park, named for the President, began development on the site of the Revolutionary-era Fort Greene. Whitman lived nearby, at 99 Ryerson Street in a building that still standing, and it's not surprising he wanted a park near his home.
Washington Park was designed by Frederick Law Olmsted and Calvert Vaux, the architects who went on to develop Central and Prospect Parks. It was officially opened in 1850; in1897 the park was renamed for Fort Greene; the area surrounding it by then had become a handsome residential neighborhood. The two-block stretch of Cumberland Street lining Fort Greene Park's eastern side is, oddly, still called Washington Park. This is the only case in NYC of a thoroughfare named "Park" that doesn't border a park of the same name. There are quite a number of these in London, England.
Bronx
Washington Avenue, Melrose, Morrisania, Mount Hope, Fordham
The Bronx's Washington Avenue runs in a relatively straight route from Third Avenue at the old Bronx Borough Courthouse north to East Fordham Road at Fordham University. In the 19th Century, its lower end was renamed Elton Avenue.
Queens
Washington Avenue, Long Island City
It's odd that Queens now has no routes at all named for the first President, but before Queens' streets were numbered in the 1920s, it had several — and there were so many streets in the borough with duplicate names that Charles Powell of the Topographic Bureau initiated the idea of giving Queens a numbered house and street numbering system that would largely eliminate duplicate street names.
Many of Queens' subway and el stations carry the former names of the street. These were originally placed on signs when the line was built, or the names changed, so people who were more used to the names than the numbers would know where the station was. Queens began changing its named, and occasionally numbered, streets to a uniform number system in the 1910s and grandfathered it in throughout the 1920s and into the 1930s. The names are now kept for tradition's sake more than anything else. In LIC, the west end of 36th Avenue was Washington Avenue.
However, 36th Avenue lost its Washington Avenue sign when the Astoria Line platforms were rebuilt in 2018-2019.
Staten Island
Washington Avenue, Willowbrook
Staten Island's "Washington" routes are tucked away where you wouldn't expect them. Washington Avenue is in Willowbrook, running a few blocks between Sunset and Walcott Avenues, a couple of blocks east of main drag Forest Hill Road. Other Presidents are represented in the area including Fillmore, Buchanan and Roosevelt (which Roosevelt is unclear).
Washington Place, Port Richmond
Meanwhile, Washington Place is a dead end, running for a block and a half from Anderson Avenue to just past Albion Place. At the end of the block is a parking lot bordering busy Post Avenue.
Check out the ForgottenBook, take a look at the gift shop, and as always, "comment…as you see fit."
2/27/20