with SERGEY KADINSKY
Forgotten NY correspondent
I imagine that you weren't aware that there's a neighborhood called Mapleton in Brooklyn. It's barely there anymore, as the larger neighborhoods of Bensonhurst and Borough Park absorbed it. Today Mapleton can be considered to be confined to the area between 57th and 65th Streets, 17th Avenue and Dahill Road. Today its good citizens say they're in Borough Park, and the only tangible remnant of Mapleton is the Brooklyn Public Library Mapleton branch at 17th Avenue and 60th Street (which shuttered temporarily in early 2020 for needed repairs).
Mapleton Park was developed beginning in 1908 by William Sugarman of the Alco Building Company near the Sea Beach Railroad, then a steam surface railroad; the railroad was placed in an open cut and electrified in 1915, and the surrounding area developed rapidly. Mapleton first lost the "Park" and then fell out of favor completely.
It's been quite awhile since I've walked around in these parts, but when I lived in Bay Ridge I cycled through fairly frequently. Since much of the area is occupied by Orthodox and Hasidic Jews, I've asked Sergey Kadinsky for area insight. I'll mark his comments with "SK."
GOOGLE MAP: MAPLETON TO KENSINGTON
I took the N train to 20th Avenue, a station I've never exited from before. Like 8th Avenue, it's one of a number of Sea Beach Line stations that have been completely overhauled after years of decrepitude and neglect. The work took over three years and lots of service disruptions, but finally, people who ride the N train in these parts have stations they can take pride in.
The MTA left the overall "look and feel" of these stations largely intact. The platforms are weather-protected with arches connected by columns and still look pretty much the same way they did when built in 1915.
However: the original station walls were apparently deemed to be too far gone to rehabilitate. Therefore the MTA simply built a new wall in front of the old ones, leaving periodic openings for arched columns. The MTA did newly paint the originals in most cases, but they missed a spot here and you can really tell the difference.
Unlike much of the new art in the rehabbed Sea Beach stations, the new work at 20th Avenue are pretty abstract. They're by David Storey and are collectively called Sea City Spin. According to MTA Arts and Design, "the pieces create vignettes that weave together references of backyard windows, sidewalk market displays and juxtapose nature with the urban environment." The artist David Storey, by the way, isn't the British playwright also called David Storey.
As you know I'm quite a fan of the "just the basics please" tiled interiors of the BMT surface and open cut stations in south Brooklyn. I just don't think they get their due compared to the Heins and LaFarge IRT exterior station houses. Their protege, Squire Vickers, is less well-known; he designed IRT, BMT and IND stations up to 1940, and came up with the original Machine Age IND streamlined designs.
He also designed the station houses for open cut and grade BMT stations on the Brighton (B,Q) West End (D) and Sea Beach (N) lines, as well, and now that they're being rehabilitated I've come to respect and appreciate their designs with beige tiles and green/gold geometric shapes. To me these stations, most of which are on the Sea Beach, are worthy of NYC Landmarks status.
The Society di Amici is definitely not run by Quakers. Mapleton is on the cusp of several ethnic enclaves: remaining Italian-Americans in Bensonhurst, Orthodox and Hasidic Jews in Borough Park, and even fairly recent Chinese and Russian immigrants.
Franklin D. Roosevelt High School, 20th Avenue and 58th Street, was constructed in 1965 and counts among its alumni NBA player Vinny Johnson (who won two championships with the Detroit Pistons) and Liuetenant Colonel Alexander Vindman, who had a prominent role in 2019's presidential impeachment hearings. The only time I have been inside was in 1976, when I attended a "Senior Sing" my cousin, Michel, was participating in. I remember one of the songs was Alice Cooper's "Welcome to My Nightmare."
Across 20th Avenue from FDR High, Nick's Moving & Storage has a prominent painted sign.
While Green-Wood and perhaps Evergreens get all the Brooklyn cemetery publicity, there's another one smack in the center of the borough that's fairly unnoticed, except if you are looking out the window of the F train en route to Coney Island or toward Manhattan. Washington Cemetery has been in Kings County since the mid-1850s, and while it has a primarily Jewish clientele today, that wasn't always the case; cemetery founder James Arlington Bennett is interred within. He was also an educator and ran for Vice-President in 1840 on a ticket with Joseph Smith, author of the Book of Mormon and founder of the Church of Latter-Day Saints.
The 100-acre cemetery is divided into five separate numbered cemeteries divided by 20th and 21st Avenue, Bay Parkway, McDonald Avenue and Ocean Parkway. Cemetery #1 is east of McDonald Avenue and #2-5 are between McDonald and 19th Avenue. The main entrance is on Bay Parkway near McDonald Avenue. The crowded cemetery sold its last plot in 2008.
The cemetery sprawls on an irregular plot against the Bensonhurst and Midwood street grids, which were built out after the cemetery was already in place.
You won't find a lot of big names here, but Jerry Sterner (1938-2001), author of the play "Other People's Money" is here; his headstone reads "Finally, a plot."
The monument to Daniel Roshal and Ida Volpe is typical of the post-1972 Soviet Jewish immigration wave that followed the custom of engraving images of their loved ones along with poems in their memory written by family members. Notice how the post-Soviet burials are all lined up here. Prior to their deaths, this path was much wider, able to accommodate hearses, but as cemetery space was running out, the roads were narrowed into paths to allow for more burials. –S.K.
The footstone monuments for Ida and Louis Dorman avoid any imagery, either out of deference to the Orthodox custom of avoiding "graven images" or perhaps for budgetary considerations. The railings here separate plots designated for families and burial societies. –S.K.
Eva and Morris Frankel died in the early 20th century. Their family plot appears to have a dozen burials within it. Often a tree stump monument symbolizes a young life cut short. Other common symbols at Jewish cemeteries include the lion of Judah, symbol of the largest surviving Israelite tribe. Descendants of Levi are also still with us. Benjamin merged with Judah in antiquity and the rest of the tribes were dispersed by the Assyrians, their whereabouts unknown. Star Trek's Mr. Spock's famous Vulcan salute originates from the priestly blessing bestowed at Jewish services. On monuments they symbolize the kohanim caste, descendants of Aaron. For more on Jewish monuments, visit Kevin's 2004 page on Mount Zion Cemtery in Queens. –S.K.
Near 20th Avenue with Public School 121 in the background are the monuments for Grigori and Meri Bekker. It's a trilingual message with their Hebrew names and remembrances from their family members in Russian. Yakov Gurevich's wife is alive at the time of Kevin's visit, but likely her remains will be buried alongside her husband indicated by the blank space on his monument. Immigration divides families as parents and children end up being buried across the ocean from each other. Vera Gorilovskaya's monument notes her father Misha, who was buried in Kiev, while Enya Kleiman's stone mentions her father Abram who was killed in combat fighting the Nazis. I can relate to her pain. My maternal great-grandfather Levi Brodsky was shot by the enemy while digging a defensive ditch outside Stalingrad. His burial site is unknown to my family. –S.K.
Heading for the F train at Church Avenue, I turned left at 53rd Street. For four decades, since the 1980s at least, Borough Park's stock of modest two-family-two-floor homes have been replaced with larger houses, as bigger families have moved in. Here's a sampler of what the new buildings look like.
Two blocks to the north of Washington Cemetery is a sizable mansion-synagogue on 53rd Street, Zera Kodesh D'Ropshitz, representing hasidim from the Polish town of Ropczyce. Their rebbe (leading rabbi) Chaim Rubin, the Ropshitzer Rebbe carries a title that goes back to the late 18th century.
The rectangular sign above the entrance was likely installed for the December 2019 wedding in the Rebbe's family. My friend Yitzchok Shteierman who lives nearby offers the transation: "Rejoice in the Lord and be glad, you righteous; sing, all you who are upright in heart!" from Psalm 32:11. A Hasidic wedding is austere in its devotion and ecstatic in celebration at the same time. Here are a few scenes from that wedding. –S.K.
You will find the unusually named Roroc Court at 18th Avenue and 53rd Street. The name is likely a portmanteau word created by combining two of the developers' names.
Meanwhile, the auto accessories place on the northeast corner, with a painting featuring what computers looked like around 1990, has an unusual peaked triangular edge. The reason for this is simple…
…as the Long Island Rail Road Bay Ridge branch, currently leased for freight to the NY & Atlantic RR, slices through the intersection at an angle; indeed, the entire intersection is bridged across the open cut.
At 52nd Street and 18th Avenue is Glatt A La Carte, a catering service. Glatt is Yiddish for "smooth" referring to the strict kosher standard involving the smoothness of the lungs of the slaughtered animal. We are what we eat, and so the animal's organs must be clean. Behind the caterer is the Borough Park synagogue of Spinka hasidim, led by Rebbe Meir Eleazer Weisz. His ancestral namesake town is today known as Săpânța in northern Romania. Branches of the Spinka hasidic community also live in Williamsburg, Kiryas Joel, England, Belgium, and Israel. –S.K.
I have always had a fascination with Old New Utrecht Road, not least because of its odd juxtaposition of "old" and "new." "Old" because it's very old…it predated the current street grid…and "new" because of New Utrecht, the former Kings County town, which honors Utrecht, Netherlands. This is one of two Brooklyn roads that honor that city. I've walked New Utrecht Avenue for FNY, and covered Old New Utrecht Road pretty early on.
The old road currently exists in two pieces, a slanting, four block stretch from 48th to 52nd between 17th and 18th Avenues, and a one-block remnant at 14th Avenue but in the 19th Century it was continuous and together with what became 18th Avenue was one of Brooklyn's main routes to Gravesend Bay in the colonial era.
This stretch of the road was maintained likely because existing homes were there when the street grid was laid out and built in the late 1800s and early 1900s. Still, new construction has sprung up on ONUR, some of which pays homage to the past, and some conforming to modern styles.
I could be wrong about this — old timers correct me in Comments — but when I was a kid, riding past in the B11 bus down 50th Street and later riding through on my bicycle, I had the impression that at least some sections of ONUR were unpaved. Its sidewalk-free blocks remain testament to its rural past, though the road is regularly paved these days.
In these photos taken on 48th Street between 16th and 17th Avenues, you can see examples of Borough Park's former housing stock: modest two-story houses, some with stucco'ed exteriors, and glass panels showing the house numbers. They're quickly being replaced by much larger, more extravagant dwellings.
16th Avenue is Hasidic Borough Park's second main commercial avenue, second only to 13th Avenue. Several businesses have painted signs that have been there for decades and are now fading. However, these businesses have a longstanding clientele that is generational in some cases, and feel no need to replace the signage; people know where they are, and what they can buy there.
For most of history, the majority of humanity was illiterate, relying on illustrations and the spoken word for information. The People of the Book have this nickname for a reason with nearly universal literacy and a focus on education since the beginning. Seforim is the Hebrew term for holy books, as seen in this shop on 16th Avenue. In an age of smartphones and instant information, the print publishing industry remains strong among Orthodox Jews, who do not use electronic devices on their Sabbath and holidays. On those days, they rely on print media.
Above the awning for Seforim World is a hand-painted sign for this store whose colors have faded over the decades. This shop takes pride in its collection of out-of-print books and antiques. –S.K.
At 4414 16th Avenue, the name Wm. Levy appears in a cartouche at the roofline. It's possible that Levy owned the plumbing & heating supplies store seen in this 1940 Municipal Archives tax photo.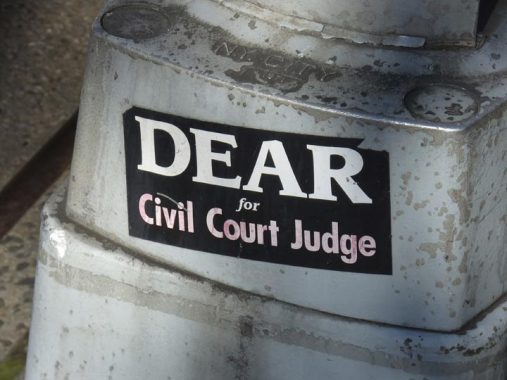 Noach Dear (b. 1953) was elected Civil Court Judge for NYS in 2008, and has served on the NYS Supreme Court since 2015. He was a Democratic NY City Councilman from Borough Park from 1983-2001. He lost to Anthony Weiner in a Democratic primary for Charles Schumer's House seat after Schumer was elected senator, then ran as a Republican, losing to Weiner in the general election. Dear thereupon narrowly lost a State Senate election to Kevin Parker in 2002.
At 4313 16th Avenue you can get your haircut and shoes shined in the same place, though I'm not sure about simultaneously.
I keep meaning to book a tour for Torah Animal World at 16th Avenue and 41st Street. It made the Village Voice list of NYC's Strangest Museums in 2015. The dream of Rabbi Shaul Shimon Deutsch was to present every beast mentioned in the Torah as a neighborhood learning venue. Operating a zoo was too costly and labor intensive, so he decided to present the beasts in stuffed versions. Elephants, ostriches, rhinos, bisons and lions are in the exhibit; lions, now confined to Africa, could be found in the Holy Land in antiquity. Some now extinct animals are represented: the egg of an elephant bird from Madagascar, as well as a tusked musk deer, now found only in Siberia.
Though over one million pass through the doors annually, admission is still by appointment only. It's $10 and you can call 877-752-6286 to set one up; groups are welcome. There is also a location in Fallsburg in the Catskills. Open Sunday through Thursday from 9 to 9.
At 40th Street and 16th Avenue, there's a contrast between old and new Borough Park housing stocks.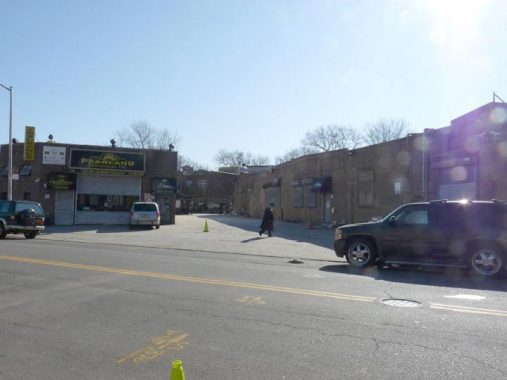 When observing street scenes for Forgotten NY, I have a keen eye about property lines and odd building angles. They often have a story to tell about former roads and rail lines. The slanted building on 39th Street between 14th and 15th Avenues is no exception to this. Pardon the bad image, but the sun was directly above the shot.
I've circled that slanted building in red on this 1929 Belcher Hyde map. You can see that Old New Utrecht Road formerly passed through here. By 1929 it was all but demapped but sections of it were used as driveways as is the frequent case with old Brooklyn roads. You just have to know where to look for them. More on ONUR a bit later.
A pair of truly massive former warehouse and factory facilities on 14th Avenue. The first, at 38th Street, is the former home of the Phoenix Hermetic Company, but now serves as the Sukkah Center.
Phoenix-Hermetic is still in business today as Phoenix Closures. According to its website,
Phoenix-Hermetic pioneered in closure design, capping machinery, cap sealing, metal forming and lithography. Innovations included the development of the modern continuous thread (CT) cap in 1922. In an effort to better describe the business, the company changed its name in 1932 to The Phoenix Metal Cap Company.
Meanwhile, Sukkah Center…
For one week each autumn Jews leave the comfort of their homes and eat their meals in sukkahs, booth-like tents that commemorate the Exodus when Jews lived as nomads during their 40 years in the desert. The commandment to dwell in tents originates from Leviticus 23:42. Known to Christian translators as the Feast of Tabernacles. Although Jews are also encouraged to sleep in sukkahs, in colder and rainy climates it is not a requirement. Our health comes first. A sukkah vendor sells the leaf and bamboo covering that proivdes enough covering to be called a roof while still allowing one to see stars and feel the elements. Jewish apartment dwellers use their synagogue sukkah to observe this commandment.–S.K.
The massive loft at 14th Avenue and 37th Street is home to a mini-mall, Brooklyn Square.
What's behind that locked gate on 14th Avenue between 37th and 38th Streets? Nothing much of interest these days, but this place marks the former route of two separate railways: a surface freight line called the South Brooklyn Railroad, which extended from the waterfront on a separate right of way along 37th Street and then down the middle of McDonald Avenue to the Coney Island. It was last used in 1978 and the tracks were ripped up over a decade later, though you can still see one here on 14th Avenue.
Above the surface freight line ran the Culver Line elevated, which branched off Brooklyn's 5th Avenue El (demolished in 1940) and then ran on elevated tracks along 37th Street and then south along McDonald Avenue to the Coney Island terminal. When the 5th Avenue El was razed, this section was orphaned and ran as the Culver Shuttle (as the Culver section on McDonald was connected to the IND Church Avenue station in the 1950s) until 1975. The el structure stood in place until 1985.
From modest beginnings… Church Avenue, one of the main drags through Kensington, Flatbush and into Brownsville, officially begins at Old New Utrecht Road and 36th Street, though a short paved section runs west to 37th Street to permit B35 buses (and until 1956, trollies) access to it. It's another colonial-era route named for the Flatbush Reformed Dutch Church at Flatbush Avenue, a congregation that goes back to the 1650s.
In polyglot Kensington, the flag of Bangladesh, as well as some Bengali script, are shown on this Church Avenue auto repair shop. As a rule, the red dot on the flag is usually off center a bit to the left, so it will center when the flag is fluttering in the wind. The green represents the country' verdancy, while the dot represents both sunrise and the blood shed during Bangladesh's war of independence in 1971.
Whenever I'm in this part of Kensington, I duck down one-block Story Street to see if the ancient pair of 1964-era vinyl street signs, shown on FNY's Church Avenue page, are still surviving. Sorry to say, they've finally been replaced by a pair of standard green and whites.
I also ducked into Buzz-a-Rama for a look. Buzz-a-Rama bills itself as the world capital of slot car racing. The mecca has been operated by Frank "Buzz" Perri, now nearing 85, since 1965. For those unaware, slot cars are guided by miniature 12 volt D.C. motors set in the underside of model cars along a central groove in the track in which they run. Racing buffs, young and old, bring in their own cars, or rent them here, and rent space by the hour. It's open on weekends.
Finishing at the Church Avenue F train at Sterling National Bank, most recently an Astoria Bank branch.
Astoria Federal Savings was chartered as Central Permanent Building & Loan Association in 1888, and became Astoria Federal in 1936, which seems about right for the date this branch at McDonald and Church Avenues was built. This branch was formerly the Greater NY Savings Bank, purchased by Astoria in 1996.
It's streamlined, as buildings started to be in that era, but architects were still able to add touches like the beaver, a symbol of thrift as well as of New York State (let's not forget the bank's namesake, John Jacob Astor, the USA's first millionaire, made a smash as a fur trader and initially, as a dealer of musical instruments).
Check out the ForgottenBook, take a look at the gift shop, and as always, "comment…as you see fit."
3/1/20