I had the occasion to delve into the wilderness of southern Brooklyn recently, into Midwood and Marine Park, a realm I used to invade frequently on bike rides from Bay Ridge. Passage was relatively simple because the subway and elevated lines plumbing the district are now running both south and northbound again; service each way was impossible for a few years due to extensive renovations underway on F, D and Q stations that took place over the past decade.
I chose the F train and got off at Kings Highway, the mother road of Brooklyn, the road named for its borough that is in turn named for King Charles II of England, one of the only relics of British nomenclature remaining in New York City. At the easternmost district of the busy Kings Highway shopping strip at Ocean Avenue, Kings Highway assumes some of Avenue P's busy traffic and expands into an eight-lane behemoth along which trucks and buses rumble along before halting at the elevated train at E. 98th Street in Brownsville, its traffic then distributed to Howard Ave. and Tapscott Street. The aboriginal Native American trail that became Kings Highway was expanded in the 1920s, at the dawn of the Auto Age.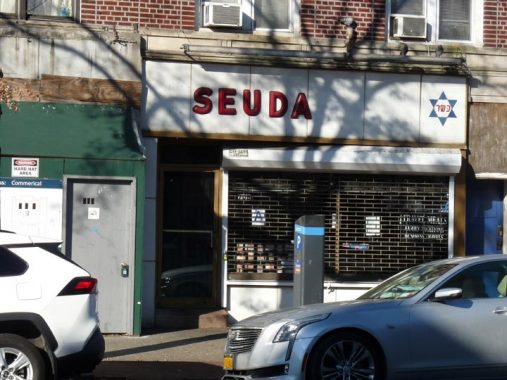 Proceeding quickly east on Kings Highway, I found this old school plastic lettered sign for Seuda, a kosher caterer at #705, between East 7th and 8th. This was a Saturday hence the gate in the down position.
This is THE place to sample kosher Syrian Jewish fare in Brooklyn. Primarily a catering business, they offer their appetizers ('mazza,' or mezze) in convenient take out form, including mouthwatering kibbeh (in various forms, including traditional kibbeh with tart cherries), lahmabagine, and other specialties. The lahmabagine are the best I ever tasted, and many others would concur: they are sweet, pungent, and crispy. Many pickled veggies, dairy calsones (a Sephardic dish reflecting Italian influences), bazergan (bulger and tamarind salad), Syrian potato salad, stuffed grape leaves, edje (Syrian omelet patties), many mechshe (Stuffed vegetables, with meat or rice stuffing), and different sambusak round out the experience. I wholeheartedly recommend to anyone who wants the best in Syrian Jewish food. [Yelp review, from above link]
Two doors down is Cinema Kings Highway, built as the Jewel Theatre in 1936. For the past three decades it had been running XXX films but has recently been put up for sale.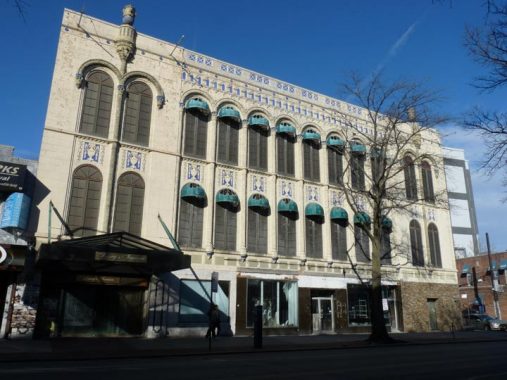 The recently closed (if you believe yelp.com) King's Terrace caterers at East 9th Street.
The neoclassical building at 815 Kings Highway is perhaps the grandest terra cotta structure built on Kings Highway in the 1920s. A 1928 article in the New York Times announced the arrival of a "New Brooklyn Amusement Building" with a banquet hall, catering, and a dance hall, boasting over 100 feet of frontage on Kings Highway. Designed by architect A.J. Limberg, the majestic structure has retained many of its original details including arched windows, colorful spandrels, and an ornate cornice. Today the King Terrace Banquet Hall is operated by Meisner's Catering and remains a popular setting for weddings, bar mitzvahs and other lavish events. [Kings Highway BID]
Here at 1801 Kings Highway are a pair of signs "of a certain age" for Star Beepers, which is actually still in business here, although I imagine they've largely moved on from the beeper business.
In the era before portable wireless phones were widespread, pagers or beepers sent a signal to a device in your pocket, and you then phoned the sender. Actually pagers are still in wide use in restaurants like Shake Shack or Cheesecake Factory in which you are given a pager that lights up and emits a noise when your order is ready, whereupon you pick it up and return the device.
My attention was not directed to Kings Highway today but to a pair of colonial Dutch households that have seen a lot of history. I turned onto Ave. P and at E. 22nd, and saw one of Brooklyn's most fascinating houses: a well-preserved Dutch homestead. It was constructed by 1766 (the oldest inscription found within bears that date) by Abraham and Henry Wyckoff, descendants of Pieter Claesen Wyckoff, who built the much older Pieter Claesen Wyckoff House on today's Clarendon Road in East Flatbush in 1652. After the Brits took over New Netherland and surrounding territories in 1664, they had no quarrels with the established Dutch settlers, since Stuyvesant surrendered without much fuss when the British armada showed up in the harbor.
By the 1770s the peaceable era had been long sundered by Colonists' insistence upon independence and red-coated British troops were marching up Brooklyn's mother road, which by 1705 has assumed the meet and proper name of the King's Highway, that King being the Restoration monarch Charles II, for whom Kings County was named, and subsequently its Highway. Hessian officers that had occupied the house cavalierly scratched their names into two windowpanes that have been preserved. In 1835 the house was sold into the Bennett family, which held it until 1983. It remains today as a private residence—it has never become a museum, as did the Claesen Wyckoff house did after it nearly succumbed to the ravages of age and disrepair. I wish I could get a tour of the house and see the Hessians' scratches, but they are preserved on a sign outside the house.
Even today, with a wide lawn and a side garage building that you can envision as a barn, the Wyckoff-Bennett House evokes Brooklyn's rural past when all this acreage was farmland and Kings Highway was one of the few roads. I do wish they would fix that picket fence, though.
The playing field in Marine Park between Fillmore Avenue and Avenue U is one of Brooklyn's largest open green spaces outside of Prospect Park. In the warm months, cricketers occupy it for their matches.
Until a few years ago, the vast, 800-acre Marine Park south of Ave. U was mostly "wilderness," but trails are now maintained and residents of Gerritsen Beach and the surrounding neighborhood, also called Marine Park, can enjoy a shoreline nature milieu. The park surrounds Gerritsen Creek, an arm of Jamaica Bay. The creek was a freshwater stream that once extended about twice as far inland, all the way up to Kings Highway. The creek had been converted to a storm drain by the early-1920s. The creek's fresh water, however, supports a wide range of plant and animal life. However, it never supported a plesiosaur; that was merely a joke.
A speculative building boom occurred around Gerritsen Creek in 1900 when developers expressed interest in turning Jamaica Bay into a deepwater port enabling large ships to enter a proposed harbor. Fearing that the relatively untouched marshland around the edges of the bay would be compromised, local landowners Frederick Pratt and Alfred Treadway White offered 150 acres to the city for use as a park in 1917. Jamaica Bay, however, never became an important port.
Any improvements to the 150-acre tract were slow to occur and it wasn't until 1937, when land purchases and fill increased the park's area that the region became an official park and was given its name. Gradual improvements, like baseball fields and recreational facilities were gradually added over the years.
In 1939 the Pratt-White athletic field, north of Ave. U, was dedicated in tribute to the two fathers of Marine Park. A 210-acre golf course opened in 1963. Nature trails established along Gerritsen Creek, on the west side of Burnett Street, in 1984-85, invite parkgoers to observe a wealth of flora and fauna. Ongoing improvements at the end of the 20th century include the reconstruction of basketball, tennis, and bocce courts; of baseball fields; and of Lenape Playground at Avenue U.
Ironically, much of Marine Park's existing natural quality rests with Parks czar Robert Moses, who resisted calls to overdevelop it. NYC's largest football stadium, to be named for Notre Dame coach Knute Rockne, was once supposed to rise here. As is, the park's vast oval lawn stands as a tribute to Rockne, in lieu of a stadium.
In 1974, the Gateway National Recreation Area, a national park, was established. Over 13,000 acres of city parkland in Brooklyn, Queens and Staten Island were transferred to the National Park Service in this major reassignment of jurisdiction over the city's parks, beaches, and wetlands. 1024 acres of the new Gateway National Park came from Marine Park.
The park's Carmine Carro Recreational Center, accessible from Fillmore Avenue, opened in 2013; the name honors the longtime president of the Marine Park Civic Association. It resembles a shuttlecraft from a much larger orbiting mother ship.
Tudor-style homes on Fillmore Avenue. Some, but not all, of the houses in Marine Park were built by a young developer named Fred C. Trump.
I was in Marine Park, though, to celebrate the 300th birthday of the Hendrick I. Lott House, 1940 E. 36th Street between Fillmore Avenue and Avenue S. A celebration sponsored by the nonprofit Friends of the Lott House vouchsafed me a rare opportunity to see within the house, and there was a special outdoor lecture by Thomas Campanella, author of the recent Brooklyn: The Once and Future City.
Johannes Lott built a small house on his Flatlands property about 1720 on land first settled by Dutchman Hugh Aerens as far back as 1636. In the 1700s, Gerritsen Creek still flowed nearby. Johannes bequeathed the house to his son, also named Johannes, who became a colonel in the Kings County militia and fought in the French and Indian War. His son, Hendrick I. Lott, inherited the small house and farm and built a much larger addition in 1800 for his bride Mary. The house remained in the Lott and Suydam families until 1989, when Ella Suydam, great-great-great-great-granddaughter of Johannes Lott, passed away. The farm was sold off when the city began to lay out streets in Flatlands and subdivide property in the mid-1920s.
The Lott name continues to appear all over the Brooklyn map, in present streets and vestigial ones, from Lott Avenue in Brownsville to Lott Place in Flatlands to Lott Street in Flatbush to Lotts Lane, a former colonial highway connecting New Utrecht and Flatbush that today is marked only by a slanted driveway at Dahill Road and 41st Street.
In 2000, a small trap door was discovered in the house in the ceiling of a closet. The trap door led to three worn steps leading to a boarded-up door, and in the two cramped, dusty rooms behind the door, there was an amazing discovery beneath the floorboards: corncobs, a cloth pouch tied with hemp, an animal's pelvic bone, and an oyster shell. The corncobs were arranged in a specific pattern. It was evidence of African rituals among the Lotts' slaves. Though records show the Lotts were among Flatlands' largest slave-owning family, they also show that the Lotts freed their slaves two decades before slavery was outlawed in New York State in 1827. The Lott House may even have been a way station in the Underground Railroad in 1844, though many buildings have made such a claim.
Currently, Friends of the Lott House are embarking on a restoration project that will take a few years to complete. Ultimately the house will serve as a museum encompassing Eastern Brooklyn and its people.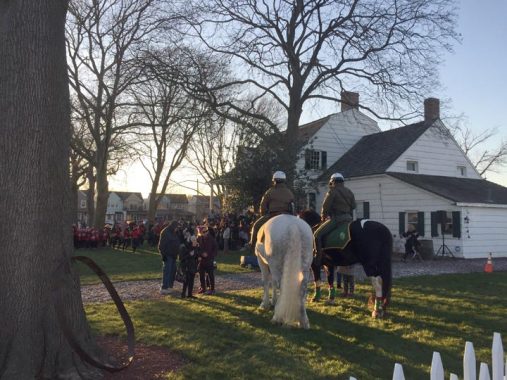 The shadows were getting long. I headed to Avenue U and the bus back to the subway back to the railroad for my Little Neck hovel, an area with its own mysterious past to be celebrated.
Check out the ForgottenBook, take a look at the gift shop, and as always, "comment…as you see fit."
2/2/20