One of the things to remember about NYC's only commercial taxidermist, Cypress Hills Taxidermy, is that it isn't in Cypress Hills: at least, not any more. For may years as I had walked or cycled on Jamaica Avenue in Cypress Hills in Brooklyn, just west of the undefended Queens border, I had gone past a storefront labeled "taxidermist" (as seen on this FNY page) but hadn't the time or nerve to enter.
A few years ago I noticed the storefront was no longer in the same place, but an online search revealed that the shop had moved to Middle Village, at Metropolitan Avenue and 71st Street, across the street from All-Faiths Cemetery. It had retained the name, Cypress Hills Taxidermy, however.
Taxidermy, from Greek for "arrangement of skin" and taxicab have the same Indo-European root, tag-, "to touch, to handle." Taxidermy, or the arrangement, stuffing and mounting of animal skins, has been around since the mid-18th Century and reached an apotheosis in the Victorian era, when stuffed beasts populated the most fashionable homes. Every taxa, er, species, of animal was represented from the smallest hummingbird to the fiercest grizzly or Bengal, and my cousins in Park Slope even had a mounted moose head in the basement they inherited from a previous tenant. Norman Bates, film fiend, was a taxidermist.
John Youngaitis, NYC's last taxidermist, put the Jamaica Avenue joint up for sale in 2011, a pity since his shop was a sight to behold. Fear not, though, Youngaitis is still in business here. On previous visits to Middle Village, I'd been frustrated since it had always been closed when I was by.
This time I was in luck. The gates were up, and Youngaitis was actually just arriving when I happened by. John graciously permitted me to take a few photos in the front parlor of the shop; the business end is behind a curtain at the rear of the shop. I hadn't seen so many stuffed beasts since I visited Teddy Roosevelt's house, Sagamore Hill in Oyster Bay.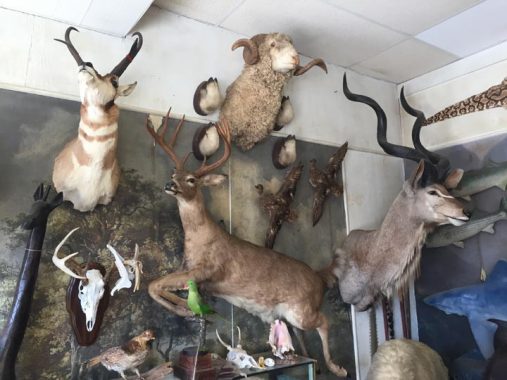 A wall full of impressively horned deer and sheep.
Black bear is North America's, and the world's, most common bear species. Most of their range is in Canada, but also includes the New York metropolitan area.
Arctic fox, mountain goat, and falcon species.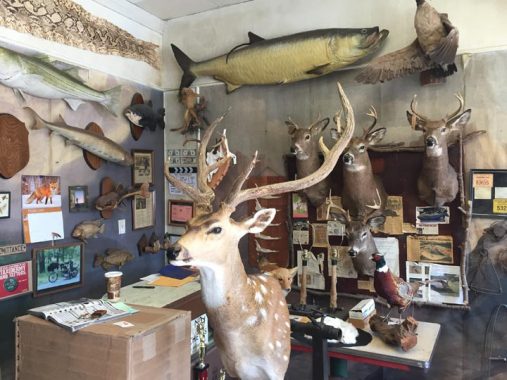 Youngaitis told me he currently mounts only game beasts, not pet animals (as he used to do), but the range of species is wide including wild birds and game fish.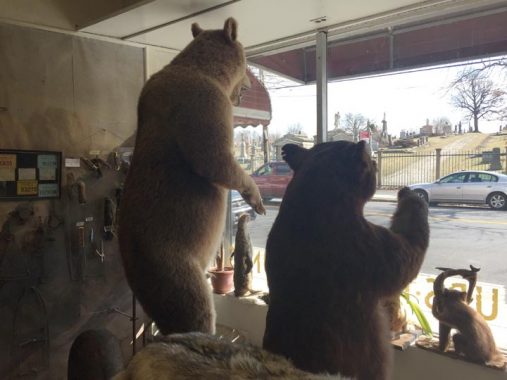 Facing the front window is a (fortunately) stuffed version of the Alaskan brown bear, which with the polar bear is the largest bear in the world. A real brown bear would make quick work of me with teeth and claws.
More about Cypress Hills Taxidermy from Atlas Obscura and Queens Eagle.
Cypress Hills Taxidermy isn't a museum (though John does welcome visitors) but Torah Animal World is!
Check out the ForgottenBook, take a look at the gift shop, and as always, "comment…as you see fit."
3/12/20