Before the Great Infection, I spent a number of Saturdays (and some Sundays too) crisscrossing Manhattan via its numbered streets. Over the years, I've done this quite a few times and I was amazed at how much stuff I missed and how much material I knew about and posted here and there, but never really formalized or categorized. Eventually I might make these "crosstown" posts their own separate category. I've already posted much of 11th, 12th, 13th, and 14th (twice) and before I get tired of this, I might just do every one of NYC's numbered crosstown streets, since I had so much fun finding things I never knew about and revisiting things that I did. Today, I'll concentrate on 20th Street, which I walked from east to west.
A word about the Great Infection. So far I'm more concerned about what it's done to my investments (which are modest to begin with) but today, I was admonished to stay indoors after my Facebook photo posts of meandering around Woodside and Sunnyside were seen. Just to be on the safe side, I'll have to confine myself close to home the next few weeks, whether or not I get ill. I hope everything's back to normal—healthily and financially—before too much longer!
Some people mistake Peter Cooper Village for Stuyvesant Town, since the two developments both feature high-rise brick apartment buildings, but the two projects are separate, divided each from the other by East 20th Street, which extends east to the Franklin D. Roosevelt Drive at the East River perimeter.
Both were built at the same time (late 1940s into the 1950s) by the Metropolitan Life Insurance company to house, at least at first, returning World War II veterans. The massive dual complex occupies 80 acres on what was once 18 square city blocks containing tenements and apartment buildings, as well as Manhattan's former Gashouse District. In all, 600 buildings were razed and over 10,000 residents were forced to move out to make way for what remains Manhattan's largest housing complex. It's a city within a city and contains restaurants, banks, shops and medical facilities, as well as a "central park." MetLife sold Stuyvesant Town and PCV to Tishman Speyer Properties in 2006, but they defaulted and the complex went into receivership.
In December 2015, the property was sold to Blackstone Group LP and Ivanhoé Cambridge, the real-estate arm of pension-fund giant Caisse de dépôt et placement du Québec for about $5.3 billion.
The complex was named for Peter Cooper (1791-1883) , the industrialist-inventor who conceived of the transatlantic cable, the steam railroad engine, and Jell-O. He established Cooper Union, the architecture, art, and engineering school still going strong in Cooper Square, Manhattan. He is buried in Green-Wood Cemetery.
The Hou Feng Laundry, 350 East 20th, features an impossibly old rusted shingle sign. Who knows how long it's been there!
The Slovak-American Holy Trinity Lutheran Church was founded in 1902, but this building at #334 was built in 1964.
PS 40, East 20th Street just east of 2nd Avenue was designed by, who else, famed NYC schools architect Charles B.J. Snyder. The stylized limestone beasts resemble aliens.
I had always thought that Augustus Saint-Gaudens (1848-1907), the great sculptor whose works include the statue of Peter Cooper at the school he founded, Cooper Union; the Standing Lincoln in Lincoln Park, Chicago; the Colonel Robert Gould Shaw Memorial in Boston Common (Shaw, a sometime Staten Islander, led a company of African American soldiers on the Union side in the Civil War) was an Irishman. I was wrong: though born in Dublin to an Irish mother and a father from southern France, he emigrated with his parents to the USA at 6 months of age and was, in fact, educated at PS 40, in a previous building.
The school is co-named Salk School of Science for polio vaccine inventor Dr. Jonas Salk, though he did not attend PS 40.
#304 East 20th is a handsome brick apartment building labeled "True North." Manhattan does not point true north, but rather north-northeast. In this case, True North is a brand name associated with Pan Am Equities.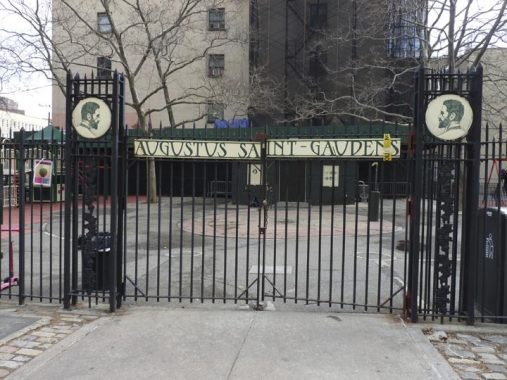 In addition, the city playground at 2nd Avenue and East 20th is also named for Saint-Gaudens and not only that, it features decorative details inspired by the artist that are fully explained by these well-done plaques.
Partially hidden by adjoining scaffolding is a former stables at #208 East 20th between 2nd and 3rd Avenues, identified by a sculpture of ole Dobbin next to the front entrance.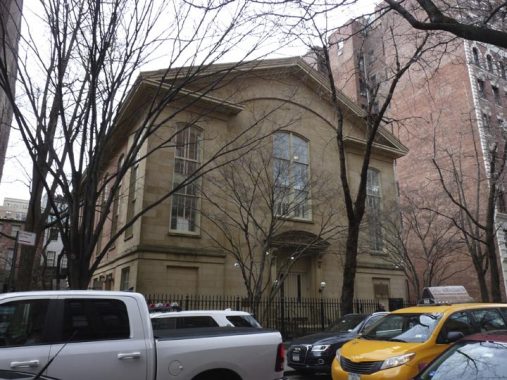 One of the oldest buildings on 20th Street (though not the oldest as we'll see) is the Brotherhood Synagogue at #144 East 20th just west of 3rd Avenue. It was built in 1859 as a Quaker (Society of Friends) meetinghouse [King & Kellum, arch.] in an Anglo-Italianate design with Renaissance touches. After the Friends moved into their present meetinghouse in Stuyvesant Square the Brotherhood Synagogue moved in in 1975. It had shared the Greek-themed Village Community Church on West 13th Street until the Protestant and Jewish congregations disagreed about the 1973 Yom Kippur War in Israel.
The building was designated a NYC Landmark in 1965.
Midway between 3rd and Park Avenue South, East 20th Street becomes Gramercy Park South for a block. Mere commoners are not permitted into Gramercy Park, a small parcel of a private park between East 20th and 21st Streets and 3rd Avenue and Park Avenue South. You must be a keyholder at any of the buildings surrounding the park to enter it (and some selected buildings in the area, as well; there are 400 keys in all, the same number of people on Mrs. Caroline Astor's famous list of who's who in little old New York of decades ago).
The park is ringed with fantastical architecture. At 34 Gramercy Park East at East 20th, here's what originally was The Gramercy Park Hotel but is now the Gramercy Apartments, a Queen Anne brick and terra cotta building designed by George da Cunha and built in 1883. Representation of Native Americans, lions and eagles mix in the ornamentation. It is the former home of actors Jimmy Cagney and wicked witch Margaret Hamilton.
Edwin Booth (1833-1893) is the only actor to be memorialized with a bronze portrait in New York City. Beginning in the mid-1800s, Booth became renowned as a celebrated portrayer of Shakespearean roles, notably Hamlet (in which role he is shown in this Gramercy Park statue). He was an innovator in a more natural acting style, as opposed to the harsher bombastic style that was popular then.
When Edwin Booth learned that his fanatically pro-Confederate actor brother, John Wilkes Booth, had murdered Abraham Lincoln, he went into temporary retirement. He later opened the Edwin Booth Theater on 6th Ave. and West 23rd St.
The Players Club (see below), an acting society at 16 Gramercy Park South Booth founded in an 1847 townhouse he purchased in 1888, bestowed the portrait, sculpted by Edmond Quinn, to Gramercy Park in 1918.
The Stuyvesant Fish House, at Irving Place and Gramercy Park South, is the second "Stuyvesant Fish" house in the general area: there's another one on Stuyvesant Street, a few blocks away. The one on Stuyvesant Street was lived in by Nicholas Fish, married to Elizabeth Stuyvesant, hence the hyphen: Stuyvesant-Fish House. This one was lived in by family scion Stuyvesant Fish, hence no hyphen. Got it? It was built in 1845 and lived in by Fish until 1900, and it was later occupied by famed publicist Benjamin Sonnenberg beginning in 1931.
Irving Place, like nearby Madison Avenue, is named for a historical figure. Unlike Madison, though, the person Irving Place is named for was still among the living at the time, and was at the height of his literary career. Washington Irving (1783-1859), who met his namesake George Washington while a young boy, was popular both in the States and in Europe for his essays and fiction, and was the creator of Ichabod Crane, Rip van Winkle, and the tricornered Father Knickerbocker, NYC's mascot.
Union Square, Irving Place and Gramercy Park, as well as Lexington Avenue, the northern extension of Irving Place north of the park, were laid out and begun by developer Samuel Bulkley Ruggles beginning in 1831. They all were originally part of his property.
The Players Club building at #16 Gramercy Park South (left) goes back to 1845 but it assumed its present appearance in 1889 when Stanford White of the McKim, Mead and White firm remodeled it. It hosts the actors' social club founded by Edwin Booth, The Players. Members have included Mark Twain, Thomas Nash, Booth Tarkington, Winston Churchill, General William T. Sherman, Lawrence Olivier, Tony Randall, Christopher Reeve and James Earl Jones. Women were not allowed membership until 1989!
Two of the building's distinctive touches are the pair of large wrought-iron lamps by the entrance. The striped steampipe is temporary, I hope.
Samuel Tilden, NYS Governor and almost US President (in a familiar scenario, he won the popular vote but lost in the Electoral College) lived at 15 Gramercy Park South, in a Gothic Revival building now home to the National Arts Club. The building was completed in 1884 by the firm of Vaux and Radford, the Vaux (pronounced "vawx" in the British, not French, manner) was Calvert Vaux, who had partnered with Frederick Law Olmsted to design both Central and Prospect Parks. Tilden called for rolling steel doors installed behind the windows and a tunnel to East 19th Street, fearing rioting.
Look for bas-reliefs of literary and creative figures William Shakespeare, Ben Franklin, John Milton, Johann Wolfgang von Goethe, and Dante Alighieri on the facade. But who's that over the front entrance?
Crossing Park Avenue South going west, it was hard to get a good picture of this entrance at #42 East 20th because of the huge vehicles parked in front of it. There are two arched entrances like this on the building, but I chose the entrance to the Gramercy Tavern, one of the many restaurants around town founded by Danny Meyer (of Shake Shack fame). This one has several more "$"s in the Zagat guide.
As for who N. S. Meyer was, I turned once again to The Indispensable Walter Grutchfield:

Nathan Meyer's New York business, under the name, N. S. Meyer, at 79 5th Ave. in 1906 is described as "Army and Navy Equipment" in its initial listing in the Manhattan telephone directory. N. S. Meyer were in business in New York from 1906 to 2000. This letterhead for N. S. Meyer dates from 1920, when they were located at 103 5th Ave. They were in this building on E. 20th St. the last thirty years, i. e., from 1971 to 2000. In 2000, according to The TMCA News, they were taken over by Vanguard, another military goods supplier.
Though the Teddy Roosevelt Birthplace (see below) is a complete representation of a former East 20th Street rowhouse that comprised the original stock of houses built in the mid-1800s along the block, 34 East 20th is the real deal — at least the portion in the rear. The eyelash place in the front is a building addition.
Theodore Roosevelt (1858-1919) was the first U.S. President born in New York City, and his boyhood home, at 28 East 20th has been appropriately preserved, or rather, its site has. The building is a National Historic Site and five rooms have been appointed with period furnishings, much of it courtesy of the Roosevelt family, and a small museum contains some of TR's papers, documents and diaries.
This house was built in 1923 as a faithful reconstruction of Roosevelt's home between 1858 and 1872. After the original house was demolished in 1916, the Women's Roosevelt Memorial Association rebuilt it using architectural details from an identical house next door, which has since disappeared. It's open to the public: call (212) 260-1616 for hours.
Samuel Lord (1803-1889) was a British foundry worker from Yorkshire who came to the USA with dreams of entrepreneurship, opening a drapery-dry goods shop on Catherine Street in what is now the Lower East Side in 1824, and after struggling for over a decade, he sent for his wife and children to join him. At about the same time his brother-in-law, George Washington Taylor, became a partner and investor.
Lord and Taylor opened a larger store near the docks at Grand and Chrystie Streets in 1854, at a time when Grand was among the city's busiest shopping streets—it was close to the east side docks along South Street, making importing goods a simple matter. The business became wildly successful, both men were millionaires by the early-1860s, and were then able to retire and return to England. The store moved to E. 20th Street and Broadway in 1902 and then to 5th Avenue and W. 38th Street in 1914, where it continued a 150-year run of success, until the end of 2018.
The store's third location was in this French Second Empire building, on the southwest corner of 901 Broadway and East 20th Street. L&T was here from 1873-1914 in one of NYC's larger cast iron front buildings.
Broadway between Union and Greeley Squares is home to a number of architectural treasures, some now covered by NYC's ubiquitous construction netting and sidewalk sheds. McKim, Mead and White were known for larger, more elaborate buildings, but the architects built the compact Warren Building at 905-907 Broadway at the NW corner of East 20th. The building is festooned with ornamentation as was the wont in 1897, and chamfered (slanted) corners.
There are buildings near his birthplace that predate Roosevelt's time here that he undoubtedly walked past as a young man. One of them is #5 East 20th, a building constructed about 1850 with additions in 1865 and 1893. It looks untouched, except for the sidewalk sign, since the 1890s, and I've always had a fascination for tidy brick buildings.
The property was an open lot until about 1850 when William V. Brady built a two-story stable, which was converted to residential use during the ensuing decade. Owner Eugene Higgins built a rear addition between 1860 and 1865, and Higgins contracted to build a third floor in 1893. Over the years, ground floor tenants have included a "Japanese fancy goods" purveyor, Proctor's Furnishings, a restaurant owned by John Bohling, and a semiconductors seller. The Hudson Company, the current tenant, sells high-end hardwood floors.
Another striped temporary smokestack billowing vapor. It's a quintessential NYC scene, this one on East 20th Street at 5th Avenue.
I didn't realize it at the time, since the ground floor had been corrupted and "modernized" while I was working there, but 150 5th Avenue at W. 20th Street is perhaps the most architecturally arresting building in which I've been employed. The Romanesque Revival masterpiece was designed by architect Edward H. Kendall and constructed from 1888-1890 for the Methodist Book Concern (the "MBC" can still be seen at the roofline) and Missionary Society. At the time, this stretch of 5th Ave. was filled with religious publishing companies, and it would continue to harbor publishing for over a century.
The Methodist Book Concern turned out religious tomes and periodicals such as The Christian Advocate and Sunday School Journal. After a few decades, the MBC moved to Nashville, TN in 1939, but maintained a retail office at 150 5th until 1962. The three top floors had been added in 1909, providing medieval-style battlements and the trigram MBC. The building later was home to a laundry workers' union health center and Ideax, a camera manufacturer. The original ground floor designs had been replaced with a boxier look by the time I arrived in early 1981 at a surviving printing firm, Lexigraphics. Thankfully, a 2001 reconstruction restored them. Scaffolding, of course, obscures the building in 2020.
This is likely the oldest building on 20th Street east of the slightly older General Theological Seminary complex on 9th Avenue: the former Episcopal Church of the Holy Communion, which was known for several years as the Limelight.
It was one of a flock of Limelights run by impresario Peter Gatien in the 1980s and 1990s; other Limelights had been opened in Hollywood, FL; Atlanta, Chicago; and London. The club was famed for presenting techno, industrial and glam rock, and for its drug-drenched "club kid" culture. It operated as a disco from 1983 to the late-1990s. (In the 80s I preferred the nearby Danceteria on 21st, which presented a lot of new wave acts.)
The church laid its cornerstone in 1844, with the great Richard Upjohn the architect, when 6th Avenue was a path known as West Road and still ran through pastures and farms. After over 130 years as a church, services gave way to an Odyssey House drug rehab center, but Odyssey then sold to Gatien in 1982. Gatien's had legal trouble over the years for flouting tax and immigration laws; murder and other crimes ever-present with drugs also were a part of the Limelight scene. Gatien sold to a developer in 2001, who ran the Limelight as The Avalon for four years.
Today the building hosts Limelight Fitness and Grimaldi's Pizza, two venues that seem to cancel each other out.
Another one of my workplaces: briefly in the building in the rear, 37 West 20th, in 2011-2012.
Who was Hugh O'Neill, and why is his name on this building high above 6th Ave. and West 20th Street? Circa 1900, Hugh O'Neill owned the building, and the store on the ground floor. Formerly it was part of the so-called Ladies Mile strip along 6th Avenue in the 20s, featuring department and dry-goods stores. O'Neill was known as "The Fighting Irishman of 6th Avenue." Today, offices occupy the upper floors, with franchisees lining 6th Avenue.
From the air, the building has a L-shape because it wraps around the Third Shearith Israel Cemetery on West 21st Street.
In the 1990s, Ladies Mile rebounded after this stretch of 6th Avenue had sunk into decrepitude in the 1970s, as new stores like Bed, Bath and Beyond occupied the older emporium buildings. The Hugh O'Neill building even regained its former gilded pair of domes.
Although 121 West 20th resembles the O'Neill Building, it was constructed separately.
Could this building at 150 West 20th always have been a parking garage? Well it was in 1940 when the archival photo was taken.
Adjoining it is a rare midblock park, Chelsea Green, the subject of an FNY page by Sergey Kadinsky in 2019.
The Moderne Kensington House apartment house at 200 7th Avenue at West 20th was built in 1938 and designed by architect Emery Roth, who also designed many other iconic residential building around town. Kensington House was converted to co-ops in 1987.
The NYPD 10th Precinct, 230 West 20th between 7th and 8th, is the setting of the precinct in the iconic 1948 film The Naked City.
243 West 20th is formerly home to FDNY Hook & Ladder 12 firehouse; in the 1970s it was the Women's Liberation Center. Originally home to Vol. Engine 50 Liberty from around the mid 1850s, 243 became home to Ladder 12 on September 1, 1865 where they stayed until February 1967. Here's more of NYC's former firehouses.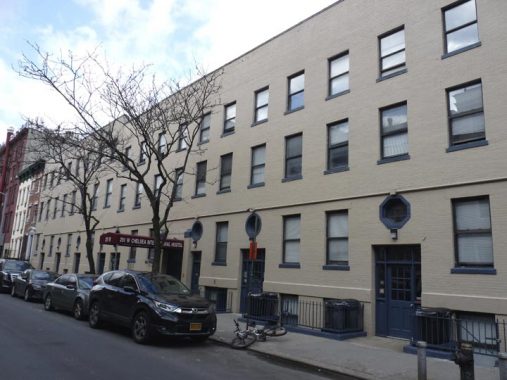 "A hostel is a form of low-cost, short-term shared sociable lodging where guests can rent a bed, usually a bunk bed in a dormitory, with shared use of a lounge and sometimes a kitchen." The Chelsea International Hostel, 251 West 20th Street, has been here since 1993.
I had walked both 22nd and 20th Streets today, so at this point I was ready for the A train at 8th Avenue. I'll have to cover West 20th between 8th and 11th Avenues another time, or add onto this page.
Check out the ForgottenBook, take a look at the gift shop, and as always, "comment…as you see fit."
3/15/20