In Corona, there's a street that runs between two railroads that's named for a racetrack.
National Street, running diagonally in the Corona street grid, is the community's main shopping strip, along with 104th Street north of Roosevelt Avenue. In the 1850s, the area had a distinctively rural character, but even then, it had caught the eye of developers who laid out streets. The National Race Course was built in the burgeoning small town, then known as West Flushing, in 1854 and was in business until 1869. The first baseball game for which admission was charged was played there in 1858, and in 1867 the trotter "Dexter" broke the world's trotting record for a 1-mile course.
Here's n excerpt from a Dripps map of Brooklyn and Queens from 1852. This was made before the racetrack was built, but the track was located just west of the road I have marked "National St." Several roads that are heavily trafficked today were in existence, as dirt paths used by horses and wagons.
In 1871, developer Benjamin Hitchcock opened a Flushing and Northside Railroad station where the racecourse had been at what was by then called National Avenue, and by 1872, residents voted to change the name of West Flushing to Corona, Latin for "crown," in an effort to mark it the king of Queens County towns and give the area a distinct identity.
National Street did, though, go through a few names before the present name was settled on; there was a stint as Grand Avenue, and in 1915, it was called Louona Street (see this map) at a time when all the streets in Corona bore names instead of numbers. "Louona" is a name that crops up relatively frequently in Corona, but I can't find a derivation or namesake. By 1927 it seems that "National Street" had been settled on.
I recently walked National Street from its south end at Corona Avenue north to the 103rd-Corona Plaza station. The LIRR Port Washington branch runs through Corona west to east, accompanied by 45th Avenue on the south, 44th Avenue on the north. I am unsure when the line was placed on an embankment, creating grade separation but cutting off the north and south ends of Corona except at undefended crossings such as National Street. There used to be an LIRR Corona station just west of National Street that was eliminated in the 1930s and shows no trace today.
On 43rd Avenue on both sides of National we find some very old buildings that all the aluminum siding in the world can't quite hide their true ages; a giveaway would be the slanted roof and dormer windows, hallmarks of "French Second Empire" construction quite popular on these shores in the 1870s and 1880s.
I liked this sign in bold maroon and subtly serifed lettering. Spanish is the main language in Corona, which boasts immigrants from several Central and South American countries, and is the go-to place in NYC for sampling cuisines from those countries both in restaurants along Roosevelt and 37th Avenues and also in trucks, food stands and pushcarts.
National is a short street, yet the faiths of several continents can be found along its few blocks. The minaret of the Masjid Alfalah dominates the view between 42nd and 43rd Avenues. As is true for a number of faiths, the website for the mosque is unhelpful regarding the building. In general, though, minarets, or prayer towers, seem to have first arrived in the Middle East in the 7th Century and were homages, or imitations, of church steeples in Syria, or Babylonian or Assyrian ziggurats that were still standing at the time. The oldest minaret in the world can be found in Tunisia at the Great Mosque of Kairouan, built in 836.
Right next door to the mosque can be found a Jehovah's Witnesses Kingdom Hall.
Maurice Connolly (1881-1935) was Queens Borough President from 1911-1928, and made his home in Corona in this house on 42nd Avenue west of National Street for part of that time. Connolly was the youngest and longest serving Queens borough president but fell from power due to a major scandal.
His resignation as borough president in April 1928 occurred during an investigation of a sewer graft scandal. In October 1928 he was convicted of conspiracy to defraud the city, and was sentenced to one year in prison and fined $500. Following an unsuccessful appeal, he served the prison sentence in 1930-31.
The Union Evangelical Church, now the Dawn of Hope Church at National and 102nd Streets, was built in 1870 and was the first church in Corona. The land for the church was donated by Charles Leverich, a wealthy area landowner, who also became instrumental in the church's success.
Though I like it that the Department of Transportation returned to Highway Gothic after several years with Clearview, I wish they would go back to all capitals on the signs. I've also complained that it uses the condensed version too much. Not so here in which the regular HWG is employed. I don't think its a trend, though.
Surprisingly, National Street intersects only one north-south street, 102nd, creating an X-shaped intersection and two triangular plazas, Veterans Square and American Triangle. Both are rare shady areas on sun-drenched National Street, which gets rather hot during the warm months. The triangular sign was apparently placed by the Seventh-Day Adventist Church of Corona.
I had never heard of the grocery chain LIDL, but with good reason: the German-based company recently opened its first store on 37th Street near the Steinway piano factory in north Astoria. LIDL has a large billboard ad on the Roosevelt Avenue el. It's apparently pronounced the same way the late Mets and Yankees pitcher Corey Lidle pronounced his name.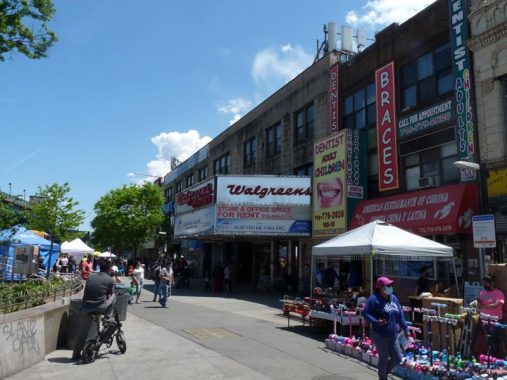 The Plaza at 103rd Street and Roosevelt Avenue , at the north end of National Street, was the only movie theater left in Corona. It was owned by Loew's until 1952, when it became an independent movie house. Today, the auditorium floor is occupied by a Walgreen's and other stores. The theater itself was open until 2005.
As always, "comment…as you see fit." I earn a small payment when you click on any ad on the site.
5/26/21