During this period of fear if not panic over the coronavirus that is sickening parts of the world (in March 2020) many non-New Yorkers would be surprised to know that NYC has a neighborhood as well as an avenue called Corona. Fittingly, I decided to undertake a walk of Corona Avenue itself, which I had never before done in one day. The road is approximately three miles long, extending from the heart of Elmhurst to Flushing Meadows-Corona Park, and runs over land that has been settled by Europeans since the 1600s, at least in parts.
If you look at today's map, Corona Avenue presents a surprising appearance — it doesn't run in a straight line but rather runs northeast, southeast, northeast, and southeast again so that from the air, it looks like a wide, splayed-out letter "M." I'm unsure about the reasons why Corona Avenue twists and turns like this but in general, the reason old roads do this is to evade swampy or hilly ground, and that may be indeed the case with Corona Avenue.
This is pretty much the oldest map I have of Queens that shows the roads, a Dripps map made in 1852. (You can find an online version you can zoom in to your heart's content here.) I have circled Corona Avenue's 1852 path in red and added a couple of present-day street names. Note Horse Brook, on the right.
Corona Avenue, then mostly unnamed, took exactly the same route it does today. Indeed while Manhattan and Brooklyn have erased most of their colonial-era routes, Queens has preserved much of its own, disguising them with newer names or even numbers. As we'll see, the west end of Corona Avenue is the oldest as it's in the heart of Newtown, once a separate town founded by Dutch settlers in 1652 following their ouster from Maspeth by Native Americans. (Documents describing the founding of Newtown and its early years can be found at the Newtown Historical Society website.) Newtown evolved into today's Elmhurst. Corona Avenue, at its western end, was called Dutch Lane.
This Bromley map from 1909 shows the surrounding Newtown and Corona areas filled in, with more of a street grid added, though there are still undeveloped spots. By then Corona Avenue was known by a number of names: Union Avenue, Grand Avenue (though not today's), Newtown avenue and, east of today's 104th Street, Corona Avenue.
When the Queens Topographic Bureau changed most of Queens to numbered streets, it also standardized some names: for example, Jackson Avenue, Broadway (Flushing) and North Hempstead Turnpike were combined into Northern Boulevard about 1920, and similarly, Corona Avenue took over as the name for the entire road.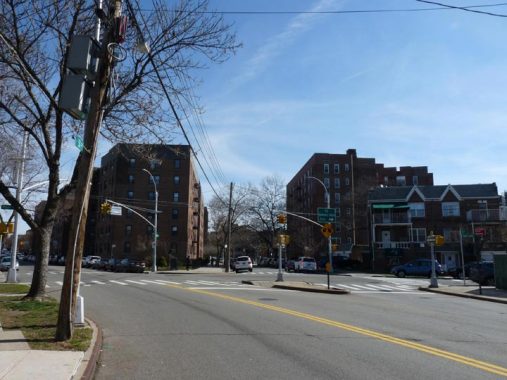 Corona Avenue (on the left) begins on 51st Avenue where it meets Poyer and Van Loon Streets in Elmhurst, one of a surfeit of Dutch "Van" streets found in the borough.
The cemetery serving congregants of the 1848 St. James Church is rather large and can be found along Corona Avenue directly behind the church. The 1735 church had a burying ground to its rear as well, but that has been lost to time. This, however, isn't the oldest remaining cemetery in Newtown…
On Broadway between 51st and Corona Avenues is the Reformed Dutch Church of Newtown, built in 1831, enlarged in 1851 with stained glass added in 1874. It replaced an older structure built in 1733. On the Corona Avenue side is an ancient graveyard with some Dutch stones. Some are quite old, going back to the first days of the congregation; the older stones are brownstone with uneven tops, and the lettering in most cases is much more readable than younger marble stones, which deteriorated faster.
Peter Remsen's (1777-1836) memorial contains a still-readable eulogy. The Remsen family settled extensively in Kings and Queens counties, and there's still a surviving small Remsen family cemetery in Forest Hills.
Houss of worship ar lined up one after the other on western Corona Avenue. The Korean Evangelical Church of New York occupies two buildings on the south side of Corona Avenue between 87th and 88th Streets, and also hosts Indonesian and Bengali Christian congregations.
Meanwhile the Latino Evangelical Christ is the Light church adjoins the Korean church to its immediate east.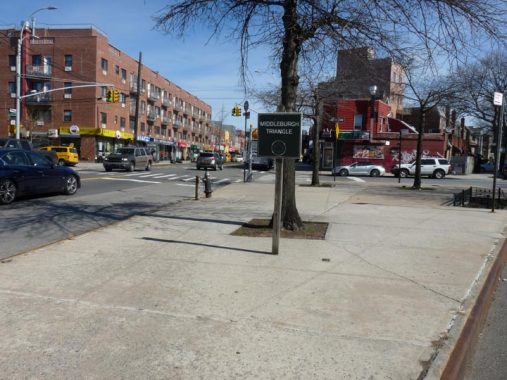 The triangle where 48th Street separates from Corona Avenue except for the Middleburgh Triangle sign. When Newtown was originally settled in 1652 it was called Middleburgh, as it was between settlements in Maspeth and Jamaica. After the Brits took control of New Netherland in 1664, they called it Newtown in a nod to Maspeth's older status.
Newtown High School, which preserves the old name, isn't on Corona Avenue but is well in sight on 90th Street. One of the most distinctive buildings in Queens is the 169-foot tall, five-spire-tower. It was designed in a Flemish Renaissance style by C.B. J. Snyder and completed in 1921 — the prolific school architect's perhaps greatest school building. Newtown High's first graduating class in 1894 was one student; today over 4000 students attend.
A look north on 90th Street from Corona Avenue reveals the spire of St. Bartholomew Roman Catholic Church, built in 1910. St. Bartholomew, one of the original 12 Apostles, is the least known — there are no Bible stories associated with him and he isn't quoted at all — though it is known he was an associate of a fellow Apostle, St. Philip. Any stories about him come from apocrypha and Christian tradition, according to which he was martyred by being flayed while still alive.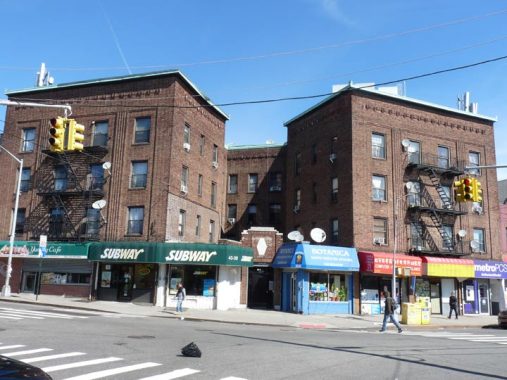 The unusual configuration of this apartment house is because of Corona Avenue's abrupt turn southeast at 91st Place, which bridges over the Long Island Rail Road out of the photo on the left.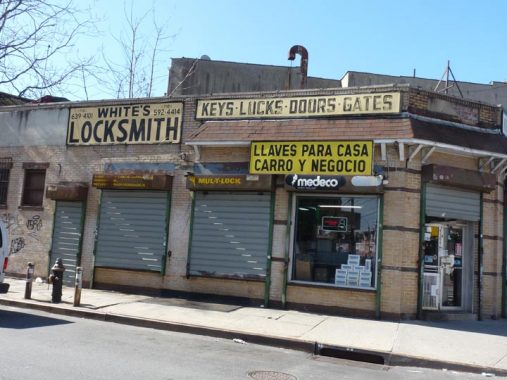 Old school painted signage at White's Locksmith on Corona Avenue and 91st Place.
If you look closely you can see a multicolored "paints" sign in the center building at Corona Avenue and 91st Place. This is a remnant of a Pittsburgh Paints sign. They're still in business, but with more subdued signage.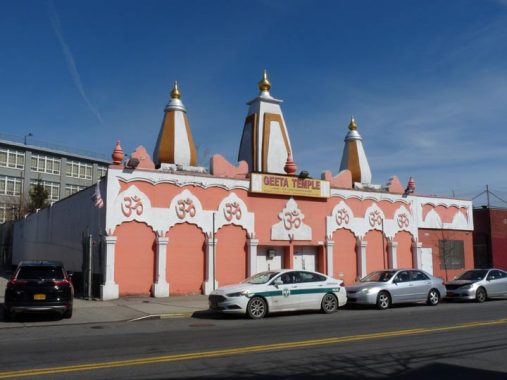 Speaking of houses of worship here's the triple towered Geeta Hindu Temple at 92-09 Corona Avenue. It was founded by Swami Jagdishwara Nanad Ji Maharaj in 1979. The Bhagavad Gita, written approximately 300BC, is a scripture, part of the Hindu epic story Mahabharata.
Behind the temple to the left is the former Durkee Spice Factory, now the Elmhurst Educational Campus.
It's a bit over the top but that's what wedding planners like Betty's Total Events are for, at 94-33 Corona, in a former private home. It was a lot plainer in 1940.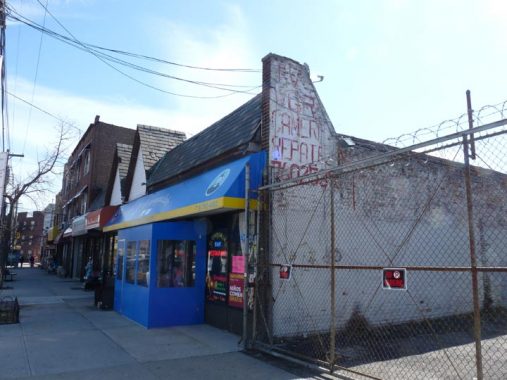 Remember VCRs? I still have one, though I'm at a loss on how to connect it to my older model flat screen TV. I could have used the camera repair, as my Panasonic Lumix failed halfway through the walk (I completed shooting with my IPhone 6, though it doesn't zoom well. Photo Tech on 36th Street it is, next week).
This bakery with a large mural (including a NY Mets logo) is named for Argentina's Rio de la Plata.
At Junction Boulevard it's time for Corona Avenue to make a sharp turn northeast, creating some unusually-shaped buildings, one of which houses the Italian restaurant Il Triangolo, named for its shape.
Trolley lines ran on both Corona Avenue and Junction Boulevard. One remaining trolley wire pole seen across Corona Avenue on the corner is painted light blue and white, the colors of the Argentine flag. Junction Boulevard's name is conjectural, but it may be named for trolley lines that came together here.
Corona
Once past Junction Boulevard, Corona Avenue enters its namesake neighborhood. On this FNY page, FNY correspondent and Newtown Historical Society President Christina Wilkinson gives you the history of what was originally called "West Flushing" when developed by Benjamin Hitchcock in the 1870s, and then renamed Corona (the "crown jewel" of Queens) in 1872.
At Alstyne Avenue, Corona Avenue makes yet another jog northeast and indeed, will make a couple more before finally turning southeast at National Street, a direction it maintains, with a couple of more jogs, before ending at the Long Island (Horace Harding) Expressway.
Alstyne is one of a number of grid-defying streets in Corona that have kept their names rather than being numbered. It's an odd street that begins at 94th Street just off Corona, then crosses it here, and then parallels it after Corona's southeast turn. Despite being on mostly flat ground (though the 1852 Dripps map implies hills that have since been decreased or leveled) different sections of Corona have a very odd street layout defined, of course, by Corona Avenue's zigzagged nature. Southeast of here, a group of named strets seem to wind around a central point within Flushing Meadows Park. These streets have names like Penrod, Granger, Waldron, and Queens' only "X" street, Xenia.
You can see Corona's former street names on this 1915 Belcher Hyde map. I've said it before, but I wish that while Corona does preserve some older names, that a way could have been found to keep them elsewhere in the borough.
National Street issues north from Corona Avenue. You can see the trestle of the Long Island Rail Road in the distance; Corona was a stop on the line until 1930. Periodically there are calls to revive the Corona and Elmhurst staions, which had been the only two stations on the Port Washington branch between Woodside and Citifield (and most of the time, Flushing Main Street) but these calls come to nothing.
National Street is a main business street of southern Corona. It takes its name from the former National Racetrack, which was in Corona between 1854 and 1869 that also hosted the first baseball game in Queens to which an admission fee was charged. The LIRR runs through its former grounds today.
National Street has also been called Grand Avenue and Louona Avenue in the past. The name "Louona" also crops up on a former firehouse on 32nd Avenue. Perhaps Louona was the wife or a relative of Benjamin Hitchcock; otherwise, its origin stumps me.
Here, Corona Avenue reaches its northernmost turn; its direction is generally southeast from here.
Though we have already seen Il Triangolo on Junction Boulevard, Corona's premier Italian restaurant, Park Side (the park being Flushing Meadows) is here on Corona Avenue and 51st Avenue. Though the majority of Corona's residents are Hispanic, hailing from a variety of countries in the Caribbean Sea and Central and South America, there is a lively Italian enclave in its heart, centered around St. Leo's Church and Leo's Latticini (where more than one FNY Tour has been received warmly) on 104th Street, as well as the Benfaremo Lemon Ice King (below).
During the summer, many enjoy their ice while watching bocce games in what locals refer to as "Spaghetti Park." The moniker pays homage to the Italians who remain a small but tight-knit part of the community. The official name of this park is William F. Moore Memorial Park, named after a local resident who lost his life in WWI. Before being dedicated to Moore's memory, the park had been named the Corona Heights Triangle. Memorials of all kinds have been placed in the park over the years, signifying just how important the intersection of 108th Street and Corona Avenue is to the community.

The park itself is the site of some forgotten history: the Victory Memorial Fountain, aka the Corona Heights War Memorial, by sculptor James Novelli, was installed here in 1927. A description of the memorial can be found in a biography of the artist, Novelli: A Forgotten Sculptor, by author Josephine Murphy: "The fountain consisted of a large circular granite water basin in the center of which stood a ten-foot high cylindrical granite monument supporting bronze panels which were separated by Doric columns." The bronze panels listed the names of the sons of Corona lost in WWI. Unfortunately, the fountain fell victim to decay and vandalism over the years, and a decision was made to remove it rather than restore it when the park was redesigned. A second Novelli victory memorial statue was recently recovered and restored on 65th Place and the BQE in Woodside.
If Lions Club meetings are held nearby you may see signs mounted on local lampposts, like this one on 108th Street at Moore Park.
The Lions Club is a similar service organization founded by Melvin Jones in Chicago in 1917. The Lions presently have over one million members worldwide. Its charter states its goals:
Organize, charter and supervise service clubs to be known as Lions clubs.
Coordinate the activities and standardize the administration of Lions clubs.
Create and foster a spirit of understanding among the peoples of the world.
Promote the principles of good government and good citizenship.
Take an active interest in the civic, cultural, social and moral welfare of the community.
Unite the clubs in the bonds of friendship, good fellowship and mutual understanding.
Provide a forum for the open discussion of all matters of public interest; provided, however, that partisan politics andsectarian religion shall not be debated by club members.
Encourage service-minded people to serve their community without personal financial reward, and to encourage efficiency and promote high ethical standards in commerce, industry, professions, public works and private endeavors.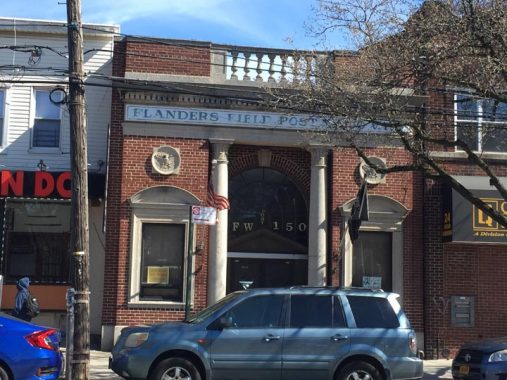 This Veterans of Foreign Wars hall on 108th Street opposite the park pays tribute to "Flanders Field." Flanders is a region in Belgium where the WWI Second Battle of Ypres (pronounced roughly "eep") took place in 1915; it was the place where German armies first used chemical attacks of chlorine gas on French and Canadian forces.
The experiences of Canadian doctor Lieutenant-Colonel John McCrae prompted him to write one of the more evocative poetic works that arose from the war, "In Flanders Fields":
In Flanders fields the poppies blow
Between the crosses, row on row,
That mark our place; and in the sky
The larks, still bravely singing, fly
Scarce heard amid the guns below.
We are the Dead. Short days ago
We lived, felt dawn, saw sunset glow,
Loved and were loved, and now we lie
In Flanders fields.
Take up our quarrel with the foe:
To you from failing hands we throw
The torch; be yours to hold it high.
If ye break faith with us who die
We shall not sleep, though poppies grow
In Flanders fields.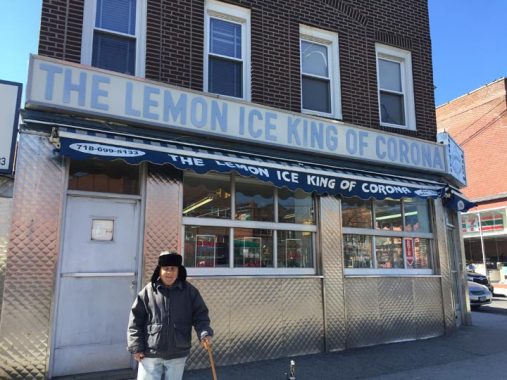 I used to bicycle all over Queens when I first moved to Flushing; in 1993, those were more carefree days (now I pretty much stick to the Joe Michaels bike path along Cross Island Parkway, the Douglaston peninsula, and Fort Totten.) When bicycling through Flushing Meadows-Corona Park to get to Queens' western sections, I'd be pretty dry on the way home, and if I was nearby I would always stop for a lemon ice here at Lemon Ice King (though they have dozens of flavors, I would always get lemon and still do). Of course all the lemon ice did was make me thirstier!
The Benfaremo family began their flavored ice empire at 108th and 52nd, where both meet Corona Avenue, in 1944. Longstanding tradition means no napkins or spoons…you just squeeze the ice out of the paper cups into your mouth.
Corona Avenue and 108th Street make an "X." Both streets are two-way, which was a difficult intersection for traffic engineers, and thus, westbound Corona Avenue traffic was diverted onto 108th, cutting off a section of the avenue which is now used for parking.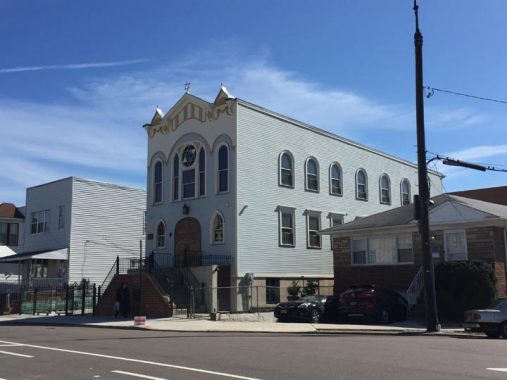 Tiefereth Israel, 54th avenue just off Corona, is the lone remaining synagogue in Corona. The congregation constructed its synagogue building in 1911, a wooden Gothic and Moorish revival structure designed by Crescent L. Varrone, and modeled after the narrow tenement synagogues built on Manhattan's Lower East Side. "Tiferet" or "tiefereth" means glory or splendor in Hebrew.
The synagogue was repurchased by a company that included Bukharan Jews, who are concentrated in nearby Forest Hills, and it was restored in 2010. Cosmetics entrepreneur Estee Lauder worshiped here in the early 20th Century. In a stable behind the house, her uncle, a chemist, mixed experimental face creams which Estée sold in Manhattan beauty salons. Over time, Estée managed to develop her one-woman cosmetics enterprise into a multi-billion dollar empire.
When her career was just starting out Madonna used the synagogue as a rehearsal space in 1979-1980.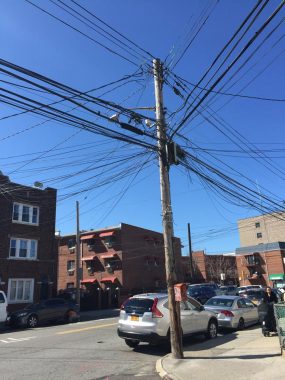 There are a lot of heavily-used telephone poles in Corona, laden with telephone, electric and cable TV wires in Corona. This one, at 55th Avenue and Corona Avenue, is one of the busiest I've seen.
Corona Avenue ends its southeast progress at Flushing Meadows-Corona Park, and the immense New York State World's Fair Pavilion, which has undergone various refurbishments are repairs since its 50-year anniversary in 2014, comes into view. I've always been rather fascinated by the park signage.
The pavilion once featured a floor map of New York State.
Check out the ForgottenBook, take a look at the gift shop, and as always, "comment…as you see fit."
3/8/20