Historic Richmondtown, or Richmond Town (both ways seem correct) sits near the geographic center of Staten Island, far from any major parkways or expressways, but at the confluence of three major roads: Richmond Road, which points east toward the ferry to Manhattan; Arthur Kill Road, whcih gets you west to Tottenville; and Richmond Hill Road, which climbs up and down the hills of LaTourette Park and golf course to New Springville and the Staten Island Mall.
Richmondtown's collection of colonial-era buildings from all over Staten Island has been one of my favorite parts of town for years. Yet, it hadn't been since a July 4 celebration in 2008 since I had spent any time there! Since I was a kid, I had been riding the buses in Staten Island yet, until this website was founded in 1999, I hadn't considered Richmondtown as a destination at all; I knew it as the place where the S74 bus made a left turn on the way to Tottenville. (These days, the S74 goes to an asphalt field called Bricktown Mall.)
Just across Center Street from the visitor center is the Staten Island Historical Society Museum, opened in 1838, a year after the Courthouse, as the Richmond County Clerk's and Surrogates' Office. The second floor of the building was added in 1858, and there was a final addition in 1912; the museum moved in in 1935 after the building had been abandoned for several years. Today it hosts three floors of changing and permanent exhibits, including some very old and valuable maps. Exhibits in the past have featured a photographic essay by Vincent Verdi on the Rossville A.M.E. Zion Church in Sandy Ground was featured, together with a collection of photographs taken in Staten Island between 1875 to 1915 by Isaac Almstaedt.
Richmond Road
What follows are several of the historic Richmondtown structures along Richmond Road, an ancient route dating to the colonial era.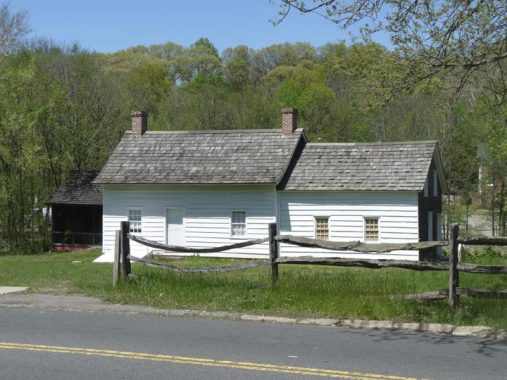 The Kreuser-Finley House was built in 1790 in Egbertville, a half mile east of Richmondtown, with additions in 1820 and 1850. It has been also been used as a cooper (barrelmaker). Egbertville was once home to Irish immigrants and was known as Tipperary Corners. The house was once in the way of a proposed Willowbrook Parkway extension, but fortunately it had been acquired by the Staten Island Historical Society in 1955, which too pains to move it; the parkway extension was never built.
Britton Cottage was originally built in New Dorp (at the foot of New Dorp Lane at Raritan Bay) in 1670, making it Richmond Town's oldest dwelling. It was gradually added to over the centuries and was owned by botanist Nathaniel Britton between 1895 and 1915, though the first Brittons were living there by 1695. The center section with the fieldstone wall is the oldest section.
Tucked behind Britton Cottage, along Richmond Creek, are a couple of additional historic buildings.
The Basketmaker's House, originally known as Morgan Cottage, was built around 1815 as a farmer's house; it has been recast as a producer of baskets to hold harvested oysters and fruits. It was originally located in New Springville to the northwest. Members of the prolific Decker family, who lived all over the island over several centuries, have owned the house. Make sure to sneak around to the back of the house to see the porch, which faces Richmond Creek.
Behind the Kreuser Finley House is Dunn's Mill, a reconstruction of a 19th-Century mill built at Richmond Creek by John Dunn. Richmond Creek begins as a trickle in the William Pouch Boy Scout Camp in the Todt Hill woodlands and flows southwest through Richmondtown and Lighthouse Hill, interrupting lots of the street grid, before gaining width and emptying into the Arthur Kill in the planned Fresh Kills Park.
A millstone used for grinding grain can be seen at the mill.
Immigrant from Germany John Schweibert worked in, and later owned, a carriage factory. He built this house on the south side of Richmond Road in 1910.
This unfinished brick wall, just east of the Schweibert House, was built in 1970 on the foundation of one of Staten Island's first carriage factories, built by Isaac Marsh in 1858. After Marsh's death it was taken over by John Schweibert (see above).
The Dutch Colonial dwelling, Guyon-Lake-Tysen House, was built in New Dorp by Joseph Guyon in about 1740. (You can find his name inscribed in one of the walls.) This was once the seat of a 112-acre estate in Oakwood, southwest of Richmondtown, that included granaries and cider houses; it passed through the Lake and Tysen families and was then donated to Richmondtown and moved here to Richmond Road in 1962. Of all Richmond Town's ancient houses, this is the one where both tourgoers and guides have felt the presence of spirits, as cabinet doors have been thrown open with no logical explanation, unaccounted-for footsteps have been heard upstairs, and faces have been seen peering out the windows of the building before the doors have been unlocked. Perhaps some of the families' members are unhappy that their house has been moved down the road. I don't believe in spooks, myself.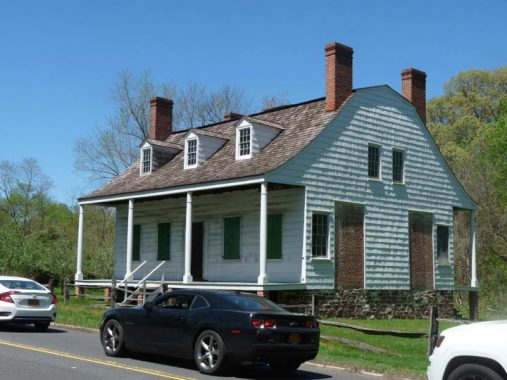 At St. Patrick's Place and Richmond Road is this Federal-style mansion built in Greenridge, west of Richmondtown, by merchant Jacob Crocheron in 1819 and moved here in the 1960s.
Arthur Kill Road
Arthur Kill Road, one of the longest roads in Staten Island (could be behind only Hylan Boulevard, Amboy Road and Richmond Avenue) runs along the body of water that gave it its name. It is not named for the murderer of any Arthurs, but is an English approximation of the Dutch "achter kill" or, "the other creek." The Kill Van Kull, presumably, was the first creek.
Like other buildings native to Richmondtown, the original nature of the Voorlezer House was unsuspected until careful research was done by Staten Island borough historian Loring McMillen in the 1930s. It was built in about 1769 by the Reformed Dutch Church and functioned as a church, school and home for the lay minister/teacher (voorlezer, meaning approximately "to read in front of" in Dutch) until 1701. The ensuing centuries found it being used as a private residence (the Rezeau family lived there for over a century), storefront and lunch counter until 1939, when it was restored by the Staten Island Historical Society. It is now a National Historic Landmark and is recognized as the United States' oldest schoolhouse. This page shows the Voorlezer House in the early 20th Century when it was used as a commercial building. It was restored to what historians believe to be an appearance closer to the original in the 1940s.
Set on a hill at Arthur Kill Road and Clarke Avenue is the official residence, or parsonage, of the minister of the now-demolished Reformed Dutch Church from its opening in 1855 to 1875. It has also been the home of Staten Island historian Henry Steinmeyer, and for a time was restoration's restaurant. This is the only structure in Richmondtown that is visibly in need of repair.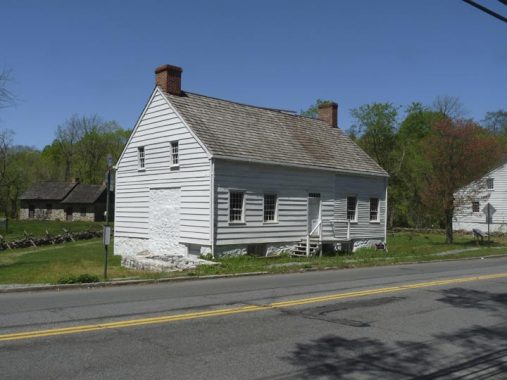 Adjoining the Voorlezer House on Arthur Kill Road is the Boehm House, built in Greenridge, a mile west of Richmondtown, about 1750; it was the home of educator Henry Boehm for many years in the mid-19th Century. It was moved to Richmondtown in 1965.
In the field between the Boehm House and Christopher House (see below) you will find an anchor, a cannon and a millstone complete with iron turning screw. I don't know why these artifacts were placed here. The floor in Comments is open if you know the reason.
The Christopher House is set back a couple of football fields' length from Arthur Kill Road, behind the Boehm House. This fieldstone farmhouse owned by Joseph Christopher dates to 1720, with a second section added in 1730, and was moved here in pieces and reassembled from Willowbrook from 1974-1978. A local Committee of Safety met at this house during the American Revolution.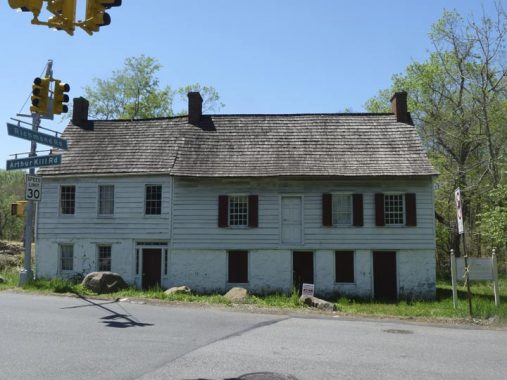 The Treasure House sits prominently at the west end of Richmond Rod, where it meets Arthur Kill and Richmond Hill Roads. The house was built here in 1700 and was enlarged between 1740 and 1860. In Frank Sinatra's "That's Life" he sings: "I've been a pauper, a piper, a pirate, a poet, a pawn and a king" and this building has housed saddlemakers, tanners, shoemakers, bakers, and has been a post office. During the Revolution, the story goes, British troops hid away a cache of sovereigns worth about $7000. However, no documentation exists to prove the tradition. The house was the original home of Holtermann's Bakery, which moved west to Arthur Kill Road and Miles Avenue several decades ago.
Richmond Creek cuts across from east to west and effectively separates St. Andrew's Episopal Church (see below) from the rest of Richmondtown. Richmond Hill Road is bridged across the creek by Staten Island's oldest stone bridge This simple structure was paid for by the Rev. David Moore, rector of nearby St. Andrews' Church, at the cost of $130 in 1845, and has carried foot, equine, carriage, and now busy auto traffic ever since. It's the oldest arch bridge on the island.
One flaw in Richmondtown's overall design is that pedestrians have no other recourse crossing the creek to get to St. Andrew's, and the road is narrow with no sidewalks or shoulders. A complete reconstruction would be necessary to solve this problem.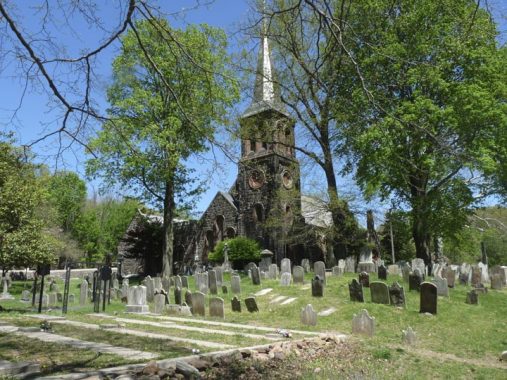 The Episcopal Church of St. Andrew was granted a charter by the British Queen Anne in 1712 after its inception three years earlier; that charter remains in the possession of the church today. The church barracked British troops during the Revolutionary War, and traces of their fortifications can be detected on Fort Hill to the rear of the church. The present church is a Romanesque structure built in 1872. The churchyard contains dozens of stones dating back to the early 1700s, recognizable by the winged angel carvings at their tops; names recognizable from Staten Island street maps. Family members of Mother Elizabeth Bayley Seton (who later joined the Catholic Church and became America's first canonized saint in 1975) are interred here. The church is officially not a part of Richmondtown Restoration, but it's the perfect place for quiet contemplation once you get away from busy Richmond Hill Road.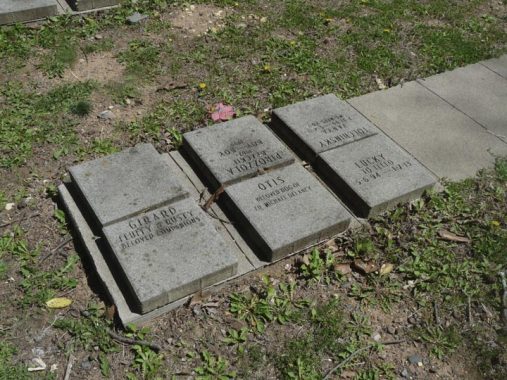 New York City's only pet cemetery is located within the St. Andrew's Church cemetery. Unlike the Stephen King novel, they never come back.
Old Mill Road stretches from Richmond Hill Road north of the church all the way through Brookfield Park north of the church toward the New Springville/Staten Island Mall area. There are several color coded trails that will have you hiking around for hours if you wish. When I first visited in 2000 or so, the trail was weed-choked and difficult to navigate, but the Parks Department, around 2012, did a masterful job reclamating it and now it's very easily walkable. I did it myself in 2013, recounted on this FNY page which gives shorter versions of Richmondtown's highlights.
Richmondtown is missing a few things, at least out in the open, since I first started visiting it. A pair of poles with small yellow and black street signs are gone, as is a milestone on Center Place and an antique mailbox to the rear of the courthouse. Could these artifacts have been moved to the restoration's museum? I hope so.