It's time for another entry in FNY's Cross Streets of NYC series! I have been walking Manhattan's numbered streets from east to west or vice versa so compulsively, I've decided to create a new FNY category to hold them. Over the years, I've done this quite a few times and I was amazed at how much stuff I missed and how much material I knew about and posted here and there, but never really formalized or categorized. There's a separate universe in each NYC numbered cross street.
While I've been doing the series with numbered streets, I'll make an exception here with Spring Street, one of the major east-west streets that cut through SoHo and Little Italy from Canal north to Houston. Spring Street runs from West Street, where it comes just shy of touching Canal, east to the Bowery. I have already covered Prince Street, one block to the north, and Houston itself. I wandered east on Spring in February 2021 between snowstorms.
Spring, along with West, is one of the relatively few non-numbered Manhattan streets south of Central Park named for a geographical feature, not a person. Before Manhattan was built up beginning in the 1700s, it was forested and filled with natural ponds, creeks, rivulets and springs. In the 1800s, cartographer and urban planner Egbert Viele produced a map of Manhattan's natural waterways overlaid on the current street grid. Most, if not all, have long ago been drained or diverted into the sewer system. Spring Street is named for one of these natural springs that was located in the position of the present West Broadway.
Spring Street is one of the relatively few local stops on the 8th Avenue IND south of Columbus Circle (when you build so many express stops, it's not really express, is it?) and serves C and E locals. The station opened in September 1932; the 8th Avenue was the first IND line to open and effectively spelled doom for the 9th Avenue El, which went out of business in 1940. The shade of blue used on the name tablets is one of my favorite shades in the IND panoply.
Compared to locales like London, UK or Abu Dhabi, Saudi Arabia, New York City is rather staid, architecturally speaking, but there are some modern gems to be found along Hudson River Park and the routes that border it, such as this Department of Sanitation salt shed at West and Spring Streets. It's part of DSNY's gi-normous complex and by far is its most novel element. Designed by Dattner Architects with WXY Architecture + Urban Design and opened in 2016, it's supposed to be reminiscent of a very large salt grain. It can store 5000 tons of salt, in a region that can have as much as 6 feet or snow or less than 6 inches over the course of a winter. An additional glass and steel complex was also built for New York's Strongest on the other side of Spring Street.
One of the big, brass doors leading to a ventilation room to the Holland Tunnel, the first vehicular tunnel to cross the Hudson River, designed by Clifford Holland and Ole Singstad and completed in 1927. "Four ventilation buildings, two on each side of the Hudson River, house 84 immense fans that provide a change of air every 90 seconds, keeping air quality well within established safety limits."
They weren't kidding when they called this glassy condominium building at #330 Spring Street at Washington the "Urban Glass House." It's the last completed project by famed architect Philip Johnson (1906-2005) and the name honors his previous Glass House, his personal residence in New Canaan, Connecticut.
#325 Spring Street fills an entire rectangular block between Spring, West Houston, Washington and Greenwich Streets and has been home to several trucking businesses, including United Parcel Service, since 1949.
Personally, I've always treasured the building for its bulky, Machine-Age-inspired lamppost masts, which likely originally carried Westinghouse AK-10 "cuplight" incandescent lamps.
I've been in the Ear (Inn) at #326 Spring a number of times, but have never been thrown out on my ear.
The Ear Inn is located in a house built by tobacco trader James Brown, who, according to legend was the black man pictured in Emanuel Leutze's picture of Washington Crossing the Delaware. By the 1850s the place was a brewery in which drinks were served to local stevedores and dock workers; it has more or less filled that function for the next 150 years and counting.
In the 1890s Irish immigrant Thomas Cloke purchased 324 and 326 Spring Street and set up a liquor distributorship. Cloke and his brother Patrick bottled corn whisky in the basement and brewed beer in the back yard. He also set up a public house where food and drinks were served to passengers and crew of ships docking nearby on the Hudson River. Cloke's sign hung above 326 Spring for nearly four decades.
When the 18th Amendment was passed, outlawing the sale of liquor in 1919, Cloke leased the business to a John Rolandi, who ostensibly ran the place as a restaurant, with a speakeasy in the back room behind a curtain. When the Holland Tunnel was built in the mid-1920s, 326 Spring did a handsome trade serving lunch, and other ingestibles, to construction workers.
They have an excellent hamburger. The neon sign dates to the 1940s; in the 1970s, owner Rip Hayman, rather than deal with the red tape required by the Landmarks Preservation Commission to alter the exterior, painted out half the "b" in "BAR" and presto, the Ear. Here's #326 Spring in 1940.
I always enjoy when I can find chiseled street signs on buildings, likely the original method that streets were signed (before they were mounted on lampposts). A great deal of the time the signs manifest streets' former names. However, both Greenwich and Spring have kept their original names from the late 18th or early 19th century.
A pair of defunct bars face off across Spring Street at Renwick, and both McGovern's and the Emerald Inn still have nonfunctioning, but classic, neon signs. In 1985, the Emerald Inn served as the Terminal Bar (with the late great John Heard bartending) in Scorsese's "After Hours" in which an office jockey played by Griffin Dunne has a night he'll never forget in Soho.
Renwick Street runs for just one block, between Canal and Spring east of Greenwich. Formerly a somewhat sleepy side alley, developers have descended on it over the past dozen years or so, building several new condo buildings. Traces of the past can still be seen here and there, though.
Just as the NYC Transit Museum is located in a disused subway station (the former Court Street shuttle station in Brooklyn) the NYC Fire Museum is located in a former firehouse, Engine 30, built in 1904. The museum has actually been around a long time and its roots go back to 1870, and it has occupied many locales before settling here in 1987.
Displays illustrate the evolution of firefighting from the bucket brigades of Peter Stuyvesant's New Amsterdam through the colorful history of volunteer firefighters to modern firefighting techniques and equipment. The Museum houses a special memorial to the 343 members of the FDNY who made the Supreme Sacrifice on 9/11 and features a number of firefighting artifacts recovered from the World Trade Center site. A video room and a mock apartment with an artificial smoke machine and black-lighted fire hazards are used in the museum's fire education program for school children ages K through 12.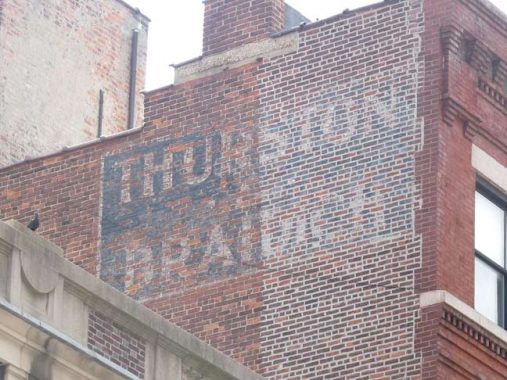 According to Eating in Translation, Thurston & Braidich, whose faded ad can be seen at 286 Spring Street near Greenwich next to what is now the Fire Department of New York Museum, was an importer of coffee beans and gum plants from Mexico and Middle Eastern countries. The main office was at the still-standing 27 Cliff Street just south of Fulton.
Because part of the brickwork has been repointed, the right side of the ad is a little difficult to discern.
#150 Varick, at the NE corner of Spring, is one of many tremendously large loft buildings constructed along Varick from the 1920s through the 1940s. Here, half of Varick is taken up by Holland Tunnel approach lanes. This isn't a Landmarked district and thus, I don't know much about it other than the 10-story building has been home to warehousinhg, manufacturing, and recently, residences. For years it was home to Club Shelter, a music/dance venue puported to be the loudest in the city. Must have had reinforced walls.
This part of town was once known as the Printing District, but in recent years has been refashioned into Hudson Square, a media and communications hub.
The Dominick, #246 Spring Street at Varick, is a huge glass condo box rising 46 stories, dwarfing everything else nearby. Formerly Trump SoHo, it was completed in 2008 and renamed in 2017. Glass boxes epitomize upscale residential construction in the early 20th Century, not in a good way, but it's a matter of taste.

West of 6th Avenue between Broome and Spring (two blocks) there's an unusual public plaza with a narrow street on its west side — also named 6th Avenue. This is the former Clark Street. When 6th Avenue was extended south in 1928 to accommodate the 8th Avenue IND, it went just barely to the east of Clark, which was retained in a physical sense, but its identity was stripped and it became an extra western lane of 6th Avenue for two blocks. The space between 6th Avenue and 6th Avenue (formerly Clark) is now occupied by an open space formerly called SoHo Square but now referred to as Spring Street Park.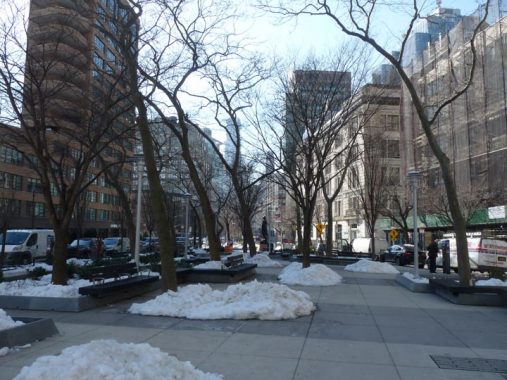 Spring Street Park is is centerpieced by a statue depicting General José Gervasio Artigas, a leader in Uruguay's struggle for independence. In the early 1800's, he raised an army to free Uruguay from Spain. In 1814, however, troops from Argentina captured Montevideo, Uruguay's chief city. In 1815, Artigas gained control of Montevideo for Uruguay. For a short time that year, he governed most of Uruguay and parts of Argentina. Portuguese troops from Brazil captured Montevideo in 1817, and Artigas fled to Paraguay in 1820. Uruguay did not gain its independence until 1828.
I hadn't been on this stretch for a couple of years and as the Brits say, I was gob-smacked by the change that had come over the building at the NE corner of 6th and Spring Street, the God's Love We Deliver Building, named for the charity organization (subnamed the David Geffen Building because the showbiz mogul made a substantial donation). The 1951 former Transit Authority machine shop seems to have been reconstructed by the Society For Putting Things On Top Of Other Things. The new building, which opened in 2015, was named for another mogul, fashion's Michael Kors. An entrance for northbound C/E trains can be found on the ground floor.
There are still some "medallions of the hemisphere" as I call them, located on 6th Avenue in SoHo and the Village, and also a couple of blocks uptown south of Central Park. They were installed beginning around 1960 to honor members of the Organization of American States in North, Central and South America. Many were removed around 1992 when large stretches of 6th Avenue had their lampposts replaced, and I don't know where the old medallions have gone, though rumors of their whereabouts persist.
The Butterick Building at the NW corner of 6th Avenue and Spring was built in 1903, before 6th Avenue was built south; then, this was the NW corner of Spring and McDougal. Butterick is a sewing pattern company founded in 1863 by Ebenezer Butterick in an era when people sewed their own clothing according to patterns, which were to clothing as blueprints are to buildings. The 15-story tower was designed by Hogan & Slattery. The building was the HQ of Butterick's publishing company; at one time Butterick's fashion magazines, containing fashion tips as well as patterns, were some of the most-read periodicals in the USA. The company's Delineator was a precursor of more recent magazines such as Woman's Day. Butterick moved uptown to 2 Penn Plaza in 2001.

In the 1960s, SoHo ("south of Houston Street") beat back a Robert Moses proposal to build an expressway over Broome Street that would have connected the Manhattan Bridge to the Holland Tunnel, and since then, things have been on an upswing, with fashionable restaurants and galleries lining West Broadway, Spring and the rest of the area's streets. Best of all, most of its magnificent cast-iron fronts have been mostly preserved; now many of them contain expensive apartments.
#195 Spring, on the NW corner of Sullivan, is a Renaissance Revival building from 1902, built as a "new law" tenement permitting light and a new innovation, bathrooms with flush toilets. The restaurant Bombay Bread Bar is on the ground floor.
Dominating Dominick: The former Trump SoHo fills up the sky looking west on Spring from about Thompson.
#192 Spring, between Thompson and Sullivan, is dominated by its large arched doorway and circular 2nd floor window. It's an "old law" tenement constructed in 1891.
Next door, #188 and #190 Spring are a pair of Federal-style townhouses built as long ago as 1825. Both have been altered since but not enough to hide their original attributes.
Crossing Thompson Street, the massive granite-blocked hardware store at #173-175 Spring, next door to the pizzeria, is actually a part of NYC transit history as it was constructed in 1901 (or 1885 depending on the source) as an electrical substation for the 6th Avenue El, which in SoHo ran up West Broadway before a brief turn west on West 3rd then up 6th.
Bricktopia: east of West Broadway Spring Street you enter the SoHO Castiron landmarked district, but here we are met with a grouping of brick residential/commercial buildings along the south side of Spring that were all constructed around 1820. #162 is on the corner, a.k.a. #401 West Broadway.
Half is better than none: #152 Spring, on the right, is a building constructed in 1819-1820 by a George Wragg, who also built the adjoining brick buildings seen above. Guidebooks, and even the Landmarks designation report, call it a "building that has been cut in half" but the reliable Tom Miller, the Daytonian in Manhattan, demurs, saying the gable roof did in fact have another half that was shared by #154, which was the building on the right; #154 was razed in 1911 with the present 4-story building taking its place. Like many older buildings in south Manhattan, it has a colorful history; it was once home to the sororal organization "Ancient Order of the Grand and Cordial Daughters of Ruth."
#146 Spring, just off Wooster, boasts an original doorway and top floor dormers. There had been a building on the corner, #144; here's what it looked like.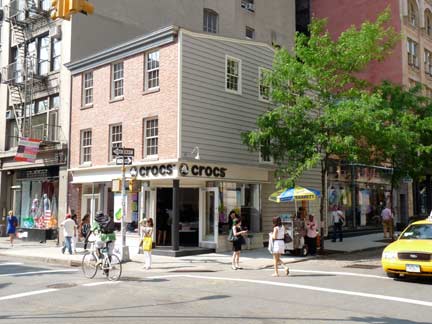 It's arguable that 143 Spring Street, the 3-story Federal-style building at the corner of Wooster, is the oldest building in SoHo, as records show it was built in 1818, a year in which James Monroe was president, Mary Shelley wrote Frankenstein; or, the Modern Prometheus, the modern design of the US flag was established, Brooks Brothers opened its first store, the 49th parallel was established as the USA's midwest northern boundary, the Christmas favorite "Silent Night " was composed, and Karl Marx and Frederick Douglass were born.
I'm wrong about this being the oldest building in SoHo! How often does that happen? See below, 107 Spring.
This photo is from a few years ago; in February, there was an intrusive shadow on the building. Thankfully, ugly-shoe store Crocs has moved out.
Cast-iron buildings were first developed by James Bogardus in the 1850s and were commonly built in various NYC neighborhoods for 30 years or so after that. The actual buildings could be brick or frame, with the castiron fronts meant for insulation and protection from the elements. Here's a representative building of the genre at #115 Spring, constructed in 1878.
I had been under the impression that #143 Spring, at Wooster, was SoHo's oldest remaining building…but instead, it's #107 Spring at Mercer, constructed about 1808. It's been renovated so many times that its age looks indeterminate. In 1940 it appeared about the same.
Castiron buildings are especially impressive on corners. #101 Spring, at Mercer, was built in 1871.
Incidentally, the Covid Pandemic has reduced foot traffic in SoHo to what it was in the spooky era of the 1960s and 70s, before the condo and retail boom, when only light manufacturing was down here. These streets are normally thronged; hopefully the crowds will return soon.
Broadway, looking south from Spring. Not much happening in February 2021.
In an odd coincidence this building on the NW corner of Spring and Crosby is numbered the same for both buildings: #75-77 Spring, and #75-77 Crosby. The ground floor is a retail outlet of the Museum of Modern Art. The 9-story Romanesque building went up in 1898.
#67-73 Spring, east of Crosby, is so big I could only get part of it in the photo. It's a massive brick, terra cotta and cast-iron Queen Anne factory and loft building constructed in 1890.
This building with 7 Corinthian columns at #60 Spring Street at Cleveland Place (a short northern extension of Centre Street) just screams "bank" and indeed it was designed by Cass Gilbert and constructed in 1924 as the East River Savings Bank. Today, it's a condo called just "Spring" and contains a drugstore on the bottom floor. This building falls outside several area Landmarked districts.
Looking south on Cleveland Place from Spring Street. It's hard to fathom it these days, but NYPD Police HQ, constructed from 1905-1909, was empty and abandoned for about a decade from 1973-1983 after the new NYPD HQ in the Foley Square area was built. The building with its distinctive dome, now a NYC Landmark, was converted to luxury housing in 1984.
While not all Beaux-Arts buildings were public buildings, Beaux-Arts structures embody the philosophy popular in the early 20th century that our public buildings, and even our public utilities, should be beautiful; and so they are covered with ornamentation and even some archaic elements that modern-day architects would find wasteful and hardly cost-effective.
This distinctive entrance to the #6 Lexington Avenue Line Spring Street station, one of the Original 28 that opened in 1904, was built into the side of #60 Spring.
A peculiar attribute of NYC's liquor stores is that many of them retain decades-old signage, neon or otherwise. The lettering is bold and the color scheme is basic, and the proprietors know enough to let these signs do their jobs and not interfere with them, or add to them with meaningless clutter. This store, #52 Spring, can be found just west of Mulberry.
Spring Lounge, at the SW corner of Mulberry and Spring Street, has been around since the speakeasy days of the 1920s, at first surreptitiously dispensing beer in growlers. It has operated under a variety of names since then such as Chappy's and Wilson's 10:30, but has been the Spring Lounge since the 1970s. It attracts interesting neighborhood denizens. "You find this place, get on the sauce and suddenly one quick beer turns into 11 or 12…"
The Judson Health Center, providing care for neighborhood residents, is affiliated with Judson Memorial Church on Washington Square South. It was founded in 1921 and moved into this handsome brick building on #34 Spring, east of Mulberry, in 1950, and keeps its signage inconspicuous. The building was originally the New York Dispensary, built in 1912, a medical clinic that fulfilled the same purpose as the Northern Dispensary in Greenwich Village. And more or less what the Judson does today.
The old man loved rice pudding. Me, not as much. But if he were still around, I'd steer him to Rice to Riches at #37 Spring between Mott and Mulberry. He could get the plain style he liked, or sample from a panoply of flavors. I liked the unusual curved signage and oval front window.
Pizza people: is this Lombardi's, at #32 Spring at the SW corner of Mott, America's first pizzeria? Yes and no. In 1905 Italian immigrant Gennaro Lombardi operated a grocery opened by Filippo Milone in 1897 at #53 1/2 Spring across the street and sold what are called "tomato pies" to area immigrant workers. Eventually, Lombardi took over the business, and pizza evolved to the tomato, crust and cheese treat known today. The original shop closed in 1984 and was revived in 1994 at the present location by Gennaro Lombardi III.
In Britain, gin is known as "mothers' ruin" as it was widely imbibed over more expensive drinks beginning in the 18th century. It can literally be called "mothers' ruin" because when overused, it impedes women's ability to fertilize eggs. The cocktail bar at #18 Spring has a bulletin board with the day's specials and also has a substantial food menu.
Brilliant red and yellow signage with mostly Chinese characters (translation please) decorates the Eastern USA Taoist Association Center at #16 Spring.
Taoism at a Glance [BBC]
Till a few years ago, #11 Spring Street at the NE corner of Spring and Elizabeth was one of the most heavily-graffitied buildings in the city, as hundreds of street artists were allowed to make their various marks here. It was turned into expensive apartment units beginning in 2007.
The building 's renaissance comes after years of mystifying passersby. It was known to people in the neighborhood simply as the "candle building," because of the constant dim light that came from single candles that burned in its windows. An artist who designed theater sets, John Simpson, owned the building between 1974 and 2003. NY Sun
Spring Street lurches to a halt at the Bowery (or begins: its house numbering runs east to west) where high rise condo buildings are now quickly outpacing the walkup buildings that formerly hosted flophouses and cheap hostels.
The Germania Bank Building, at Bowery and Spring, was constructed in 1896 and beginning in 1966, was the longtime home of photographer Jay Maisel and his family, who occupied the entire building's 72 rooms. Maisel tolerated the graffitists and street artists who scrawled on the building's exterior. Maisel had purchased the building for a little over $100K in 1966, and sold it in 2015 for $55 million.
As always, "comment…as you see fit." I earn a small payment when you click on any ad on the site.
5/23/21