FOR reasons that will become apparent, I always had something of an affinity for Market Street, which sidles up to the Manhattan Bridge's south side and runs for a few blocks from Division to South Streets amid a rapidly expanding Chinatown. When laid out it was known as George Street, but it was changed after the American Revolution as NYC barred place names associated with the Crown; thus Queen Street became Pearl, etc. Not all, though, as Prince Street in SoHo and Fort George uptown attest (King Street is named for Congressman and ambassador Rufus King, whose mansion in Jamaica is now a museum).
Market Street widens considerably between Cherry and Market Street as it becomes Market Slip. Like other Manhattan downtown "slips" it is wide because it was formerly a watercourse allowing ships to dock. The dock here, at George/Market Street, was the site of Catherine Market, a large produce market that is long vanished but donated its name to George Street to eradicate any British leftover influence. This is perhaps the most boring section of the street but it does allow for views of both the Manhattan and Brooklyn Bridges. The New York Post was formerly headquartered in the large loft at South Street and Market Slip.
Market Streets in Philadelphia, Newark, and San Francisco are quite lengthy and major traffic and transportation routes; but Manhattan's Market Street makes do with five blocks that are character-filled to say the least.
That said, I'll begin from the north end of Market Street and work down.
The short piece of Market Street between Division Street and East Broadway also once had a different name: Florence Place, between about 1913 and 1960. I was shuffling around here in 2001 when I noticed a modern Florence Place street sign. There are a number of uncertainties regarding where Florence Place began and ended, which I mention on this FNY page.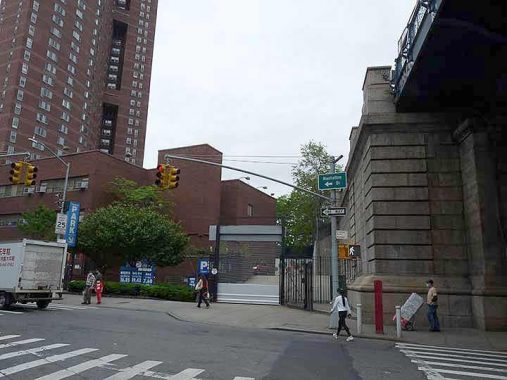 Market Street used to extend a bit north of Division Street to meet the east end of Bayard Street, an intersection that was lost in 1960 as the massive Confucius Plaza apartment were built, some of which can be seen at left. In fact this is where the original house numbering of Bayard Street began; thus the truncated Bayard Street's house numbering begins at the Bowery at #43.
Until the early 1940s, an elevated train that originated at Battery Park covered Division Street. Engineers designing the Manhattan Bridge, which opened in 1909, had to allow clearance for it. That el split into the 2nd and 3rd Avenue Els at Chatham Square; the last of the 3rd Avenue El, in the Bronx, was razed in 1973.
How did Florence Place receive its name in 1913? It likely came from the Florence Theatre, which was that anomaly: a theater directly under a major bridge, as it was constructed on East Broadway in 1911 as a mainstay of live performances in the Yiddish language, As Chinatown expanded it became the New Canton Theatre in 1942 and presented Peking Theatre, a lively form combining music, mime, dance, and acrobatics into its performance. The theater's name was again changed to the Sun Sing Theatre in 1950, which sowed Cantonese films, with subtitles in English and without. This state of affairs lasted until 1993 when the theater closed after 82 years.
Today the busy East Broadway Mall is sited under the bridge in place of the theater.
A new building at the corner of East Broadway and Market Street looks out of place, but in a non-landmarked district this can happen.
On the east side of Market Street south of East Broadway is Sophie Irene Loeb Playground, named for the journalist, teacher and social welfare advocate (1876-1929). After a schoolteaching careeer in McKeesport, Pennsylvania, she  In 1924, she became president of the Child Welfare Committee of America and in 1927, she was invited to work with the social service section of the League of Nations in Geneva to frame an international code for the care of dependent and afflicted children.
There has been a playground on this wedge of territory for quite awhile as it was opened by NYC Parks in 1924 and named for Mrs. Loeb in 1933. Passing by for the first time, I was surprised to find a pedestrian passage under the Manhattan Bridge, filled with outdoor markets…
no images were found
…that empties out onto the forlorn southernmost block of Forsyth Street, which gets livelier uptown as it forms the eastern end of Sara D. Roosevelt Park.
Till the wall was whitewashed several years ago, this classic Fletcher's Castoria ad could be seen at #13 Market Street across the street from the playground.
One of the oldest churches in Manhattan at Henry and Market Streets, the Market Street Reformed Church, was built in 1819. The windows are made up of multiple panels—35 over 35 over 35. This is now the First Chinese Presbyterian Church, which shared the building with the Sea and Land Church until 1972.
The brick and stone Georgian-Gothic church was constructed two centuries ago as the Market Street Reformed Church on land owned by Henry Rutgers and after changing congregations a few times over the years, it's now the First Chinese Presbyterian Church. It's in the top five oldest extant church buildings in New York City, the oldest being St. Paul's Chapel on Broadway and Vesey St.
The two blocks of Market Street ooze with character as there is nary a building constructed after 1920 found there. #41 features an ancient neon liquor store sign that called attention to a store that vacated decades ago.
Can this be a vintage 1960 sign for Cicciaro's Pizza at #47 Market Street? No: a television show is being shot in the area and there are some seemingly old storefront signs that have been installed for cinema verité purposes. A "tell" is that Italian for "restaurant" is ristorante.
In Comments: fill me in on what show is being shot, I forgot.
Turning attention to the building next door, #49, it's a fairly nondescript brick building, with space for rent on the ground floor and what lloks like a residence on the second.
And a sculpted horse's head above that. It's a well-rendered horse's head, with the prominent veins that in-shape steeds have. That marks this building as a former stable…
…as this photo from the 1940 Municipal vaults shows. By then it had become an automobile garage with two floors above it, and the horse's head in place. In the intervening years, most of the building's detail has been lopped off but by some miracle, not the horse's head.
no images were found
Next door, though, at #51 Market, is an example of the magic of leaving things as they were built…for two centuries! This shabby brick building was constructed in 1824 by merchant William Clark. Its original elegant doorway, with Ionic columns, a fanlight and ornamentation, has survived nearly two centuries (and will be 200 years old in 2024). A close look at the basement windows shows them to be surrounded with brownstone work with squiggly lines, known in the architecture world as "Gibbs surrounds." A fourth floor, which studiously copied the original three, was added after the Civil War. The stoop and railings, however, are not original as they were replaced in 2010. The door is festooned with graffiti, and though the house has Landmark status, its condition appears deteriorated.
I should do a piece on Chinatown sidewalk signage, since it's brief and to-the-point with block serif lettering, I speak as a former typographer who tires to inculcate it in FNY when I can.
As always, "comment…as you see fit." I earn a small payment when you click on any ad on the site.
5/22/22