By SERGEY KADINSKY
Forgotten New York correspondent
THROUGHOUT this city there are examples of interagency cooperation as one public authority hands over its property to another. In the Bronx, the route of the Croton Aqueduct serves as a linear park. In Chelsea, a demapped street was developed as a school, then as a sanitation garage, and now serves as a park. The latest such example relates to the Third Water Tunnel, the city's largest but least visible public work of the past half century.
Sandwiched by two landmarked townhouses, the shaft at #31 East Fourth Street has a long history as a cultural center that later became a garage, which was then demolished for the tunnel shaft. On my visit to this site in early June 2022, the .223-acre park was open to the public but not yet given an official name.
A class from a nearby high school asked me why this park has few trees and so much paved space. That's because of the infrastructure beneath the park, should the Department of Environmental Protection need access to the tunnel in an emergency, its trucks wouldn't have to remove trees or play equipment. The result is a "passive recreational space" that allows mostly for sitting and admiring the architecture.
In the back of this park is a horizontal pair of doors that open to a ladder that descends into the depth of the nation's largest urban aqueduct. It was open to authorized personnel and I did not risk my freedom by trespassing down this hole. The back wall of this park hides views of Stable Court, a private alley which I will discuss later.
On the left side of the park is a gate leading to an even smaller park- the backyard garden of the Merchant's House Museum, which was acquired by the Parks Department in 1966, shortly after it was designed as a city landmark. At the time when it was a private residence, its refuse was kept in the backyard and picked up using Stable Court.
The Merchant's House is one of two townhouses from 1832 on this block of East 4th Street from a time when wealthy merchants settled here. Among them was Seabury Tredwell. His youngest daughter Gertrude never married and lived in this home until her death at age 90 in 1933. At that point this block had seen better days, but Gertrude's relative George Chapman was determined to preserve the home. He purchased it and transformed it into a museum. The side wall is marked with graffiti but surely deserves a mural relating to the history of this site.
Perhaps it could depict the Liederkranz Hall that stood on the site of this park between the 1850s and 1919. Initially a residence and then a dance school, it hosted a German-American cultural society, whose name translates as "wreath of songs." Tom "Daytonian in Manhattan" Miller has its detailed story. After Liederkranz moved uptown in 1882, it became Everett Hall, a social hall used by community organizations, labor groups, and elected officials. With the decline of the neighborhood, Everett Hall was sold in 1919 and transformed into a garage.
A photo of the garage from the museum's archive shows the former Everett Hall reduced to two floors, as it is framed by the two landmarked townhouses from the 1830s. A year later, the garage was demolished in favor of a high-rise. The construction damaged the museum, closing it for two years. Instead of a tower, the site served as a parking lot and was then acquired by the city for its water tunnel shaft. The use of this site for construction came with the stipulation that upon completion it will become a park.
Across the street from the new park is a pair of tenements (34 & 36 E. 4th Street) with ornate eagles in the cornices and heraldry below the top floor. We don't design buildings like this anymore. Across from them is the Merchant House's twin, the Skidmore House, privately owned and landmarked. It was saved from demolition by neglect when the city sued its owner in 2004, resulting in a happy ending. Again, the Daytonian has the story.
To illustrate the difficulty of constructing a high-rise next to a 19th century walk-up, see 356 Bowery which is propped up by beams to keep it from collapsing. That's how the Merchant's House was preserved after Everett Hall was demolished.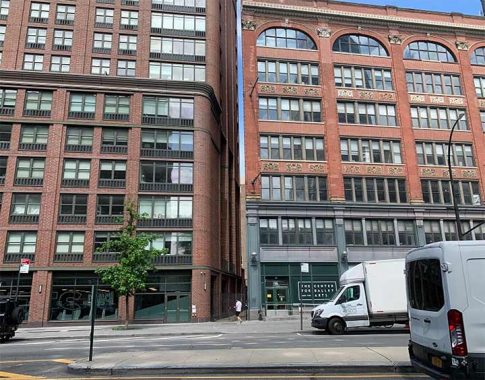 On the corner of E. 4th Street and Bowery is Two Cooper Square, an upscale highrise with a rooftop pool whose brick exterior respects its historical neighbors. Prior to its completion in 2009, this corner hosted a parking lot. Further back in time, there were small buildings here before the 1960s. Between this new high-rise and NYU's Center for Ballet Arts (with its brick arches) is Stable Court, an alley that appears on maps as far back as 1852.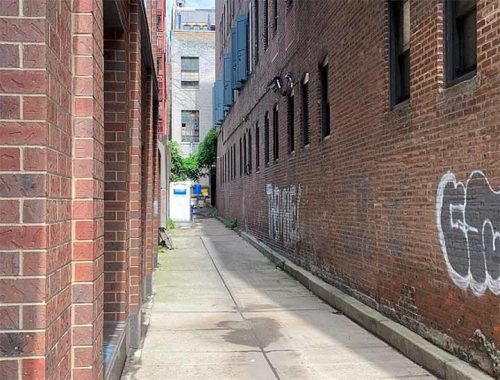 The alley is used for parking and storage, but with imagination the owner could open it to the public as an outdoor eatery or arts venue, similar to how nearby Extra Place was transformed from a dump to a destination. SoHo and NoHo have other examples of alleys that Kevin documented in the past.
On this 1852 map, I marked Stable Court, the new park, and highlighted the Merchant's House. But there was another park on this block at the time, Vauxhall Gardens, a private "pleasure garden" operated by John Jacob Astor that entertained wealthy local residents. The property included Astor's private reference library. As the neighborhood became more developed, the garden closed in 1859 as the library later became The Public Theater. Coming full circle, the building was landmarked in 1965 and acquired by the Parks Department, apparently an "indoor park" that hosts the popular nonprofit theater.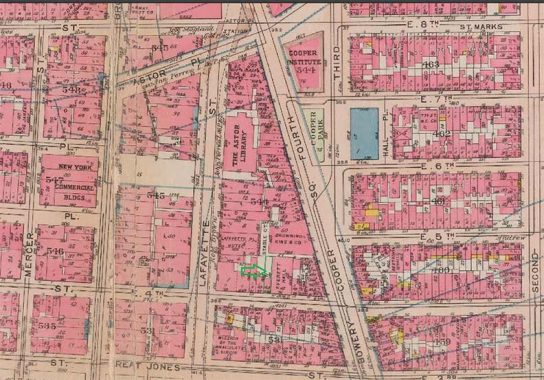 On this 1911 G. W. Bromley map, we see Stable Court marked and I added an arrow for Merchant's House. A neighborhood once pockmarked with churches and social halls is now densely developed with tenements and workplaces. A block between 4th and 5th Streets that connects Bowery with Third Avenue and Fourth Avenue is designated as Cooper Square. The grid-defying road is an ancient Native trail that became the colonial postal route to Boston and then shrouded by the Third Avenue El between 1878 and 1955.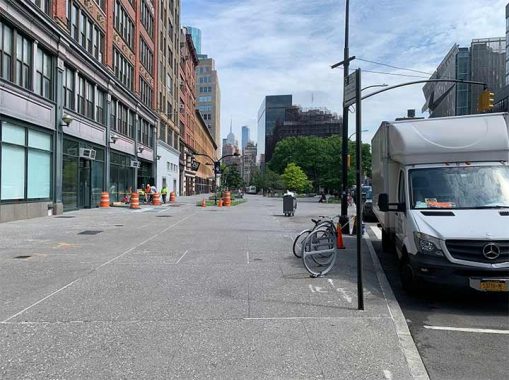 The split of Third and Fourth avenues at Cooper Square was pedestrianized in 2015, complementing the older Cooper Triangle across the street that faces the Cooper Union. In its mission to improve pedestrian safety and traffic flow, the DOT strives to eliminate bowtie intersections and that's how this new plaza emerged. Looking north towards the King of All Buildings, we can imagine Lenape carrying beaver pelts downtown to the Dutch traders, or British redcoats marching north on this site in pursuit of the patriots. This plaza lies atop the old native trail.
The senior home across Cooper Square from Stable Alley is a nondescript modernist tower, but on its fence is a plaque noting its past as 27 Cooper Square, where poets Allen Ginsberg, Amiri Baraka, and Frank O'Hara, saxophonist Archie Shepp, and artist Elizabeth Murray, used to gather. East Village remains a hub of creative activity that breaks boundaries in literature, visual arts, and music.
New York is the world's second home, with every ethnicity represented. East Village hosted waves of German, Jewish, and Puerto Rican newcomers. In 2022, its Ukrainian community has been the focus of attention as a result of their homeland being invaded by Russia. Kevin wrote about the one-block Taras Shevchenko Place in the past, but on that block is the Ukrainian Museum, which proudly declares that Ukrianains are not Russians. They have a culture of their own on display here.
The new park on East 4th Street is one of three downtown spaces that will become parks once the tunnel construction wraps up. The other future parks are on the corner of Grand and Lafayette Streets in Little Italy, and on the corner of Houston and Hudson Streets in the West Village.
Sergey Kadinsky is the author of Hidden Waters of New York City: A History and Guide to 101 Forgotten Lakes, Ponds, Creeks, and Streams in the Five Boroughs (2016, Countryman Press), adjunct history professor at Touro University and the webmaster of Hidden Waters Blog.
As always, "comment…as you see fit." I earn a small payment when you click on any ad on the site.
6/7/22