MAIDEN Lane is one of the oldest routes in Manhattan, following a curved path from Broadway at Cortlandt Street east to South Street. On a ferry trip from Hunters Point to Wall Street in July 2022, I wound up on Maiden Lane for part of the ensuing walk to South Street Seaport and it was then I remembered that I had shot an entire sequence there in June 2019, much of which I hadn't yet published here, so now's a good time as any.
While many streets in lower Manhattan have changed their names since this map was produced in 1776, the Maiden Lane name has stuck. After the British evacuated in 1783, plenty of streets associated with Royal rule were renamed and thus, Crown Street became Liberty, one Queen Street became Cedar and another one became Pearl, King Street became Pine, and streets like Prince (the downtown Prince) and King George Street are now buried under Brooklyn Bridge ramps. NYC has weeded out most of its odder street names, but Maiden Lane persists.
The story goes that the street received its name because it was built atop a stream, since redirected into the sewer system, in which women washed clothes in the Dutch colonial era, when the path beside it was called Maagde Paetje. That's the story given in my sources, but I'd have to say that these theories are conjectural, unless there's an official record somewhere.
This isn't the only Maiden Lane in NYC. There is one existing in Tottenville, Staten Island, while another in Maspeth, Queens was renamed Mazeau Street several decades ago. Meanwhile, there are several scattered around New Jersey, including short lanes in Jersey City and Newark.
In 2019 as in 2022, I walked on Maiden Lane from east to west. I have always thought the Continental Center, originally built for an insurance company at South Street and Maiden Lane, looks like it's in a mood, with an impenetrable glassy face and sharp angles you could cut yourself on. The octagonally shaped building opened in 1983, the same year as the South Street Seaport.
I like the symmetrical look of Wall Street Plaza, whose address is officially #88 Pine Street but also fronts on Front Street and Maiden Lane. I'm not around here often and I thought it was a new building, but it's almost 50 years old as it was completed in 1973.
Across Maiden Lane from Wall Street plaza is #160 Front, the oldest building in the immediate area (some sources say 1917), which was once an office building of some type but is now residences. StreetEasy has a look at one of the apartments.
There are massive buildings in Manhattan that are rarely talked about, such as #80 Pine Street, which takes up the entire block defined by Maiden Lane and Water, Pine and Pearl Streets. The 497-foot skyscraper was designed by the prolific Emery Roth & Sons and opened in 1960. The main tenant is law firm Cahill Gordon & Reindel.
Gold Street, issuing north from Maiden Lane. Gold Street does the Twist as a narrow, curving route north to Fulton, where it gains lanes and becomes a major auto route leading to Madison Street past the Brooklyn Bridge, a gateway to the Lower East Side. It's just a trickle here, though, and the past few years has been a challenge to photograph as its office buildings are under constant repair and sheds cover the street.
When the Dutch arrived in the early 1600s they found a field in this general area that was filled with yellow celandine flowers, which they called the gouwe and subsequently the new settlement the Gouwenberg. The British, with their penchant for taking Dutch names and re-molding them for English-speaking ears, simply re-named it Golden Hill – which became the site of a battle between the redcoats and patriots in 1770. After a period in which the street was called Rutgers Hill, for patriot and Tammany politician Henry Rutgers (who owned vast land holdings in Manhattan), it eventually reverted to simply Gold Street. Fittingly the Federal Reserve Bank of New York (lots of gold there) is a block away, at 33 Liberty Street.
Who says Tribeca has all the castiron front buildings? Here's one at #90-94 Maiden Lane at Gold Street, a commercial building completed in 1871. The building's facade was commissioned by Roosevelt & Son, a leading plate glass and mirror importer. Theodore Roosevelt Sr., father of U.S. President Theodore Roosevelt, was one of the company's principals.
Sculptor Louise Nevelson resided at #222 East 7th Street in the East Village, which received a bottom to top makeover some years ago. Nevelson's 1978 installation, Shadows and Flags, can be found at Louise Nevelson Plaza, Maiden Lane and Liberty and William Streets in the Financial District.
Jim Brady's, which closed during the Pandemic, was located at #75 Maiden Lane at Nevelson Plaza.
Railroad magnate Jim Brady (1856-1917) was perhaps the world's greatest gourmand of all time. Brady had made his Gilded Age fortune on railroads, working his way up from bellhop and messenger, but he's remembered today for his diet. According to legend, a typical Brady breakfast would consist of eggs, pancakes, pork chops, cornbread, fried potatoes, hominy, muffins, and a gallon of orange juice. After a midmorning break with a few dozen clams or oysters, it was time for lunch: two lobsters, deviled crabs, clams, oysters and a few cuts of beef, finishing with several whole fruit pies.
There would be a mid-afternoon snack of shrimp, lobster and lemon soda, followed by visits to restaurants like his favorite, Rector's on Broadway, where he would settle in for a main course of two whole ducks, several lobsters, another steak, two servings of terrapin, but not before an appetizer of seafood and turtle soup. Dessert included a 2-lb. box of candy. In the course of a day, the voracious entrepreneur would consume members of most major vertebrate classes, the fishes, reptiles, birds and mammals, as well as many invertebrate and plant classes. He seems to have left out the amphibia, though he must have had frogs' legs somewhere along the way. Brady also owned the first automobile to run on NYC streets in 1895. A feature film on Diamond Jim was made in 1935, with Preston Sturges in the director's chair and Edward Arnold in the title role (which he reprised in the Lillian Russell biopic by Irving Cummings starring Alice Faye, which followed in 1940). Despite his admiration for singer Lillian Russell, Brady remained a confirmed bachelor his entire life.
Wedged between Liberty and Nassau Streets and Maiden Lane is the Federal Bank Reserve of NY Building [York & Sawyer, archs], completed in 1924 and consisting of Indiana limestone and Ohio sandstone. Five stories are below street level with subterranean vaults, containing the gold reserves of many nations, resting on bedrock. There is more monetary worth stored here (over $90B) than in Fort Knox, Kentucky. The bank is the foremost in the dozen that make up the Federal Reserve System.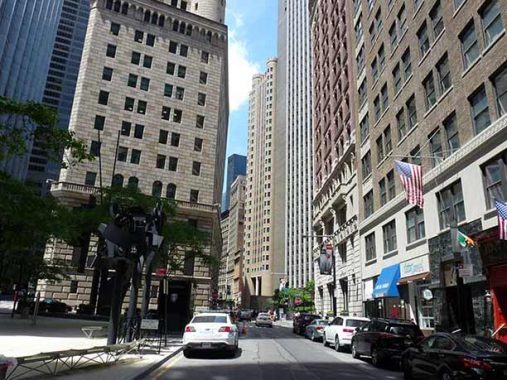 A look west on Maiden Lane from Nevelson Plaza, where the bend in the road marks the curve of the brook over which it is built.
The lion and the unicorn appear in heraldic coats of arms and symbolize England and Scotland the United Kingdom. So, what are they doing on this corner clock above the third floor at #84 William Street at Maiden Lane, a.k.a The Howell, a building containing expensive apartments? The building was constructed in 1907 for the offices of the Royal Life Insurance Company, based across the pond.
#59 Maiden Lane, Home Insurance Plaza (1966) is a regulation office skyscraper set back from Maiden Lane and William Street, so its developers vouchsafed an open public plaza there. To me, more interesting is the plaque marking the location of #57 Maiden Lane, which is where Thomas Jefferson, then Secretary of State, made his residence in 1790 for just 3 months when the US Capitol was in New York. The building survived until 1929, and the plaque was placed on its successor and then the one after that.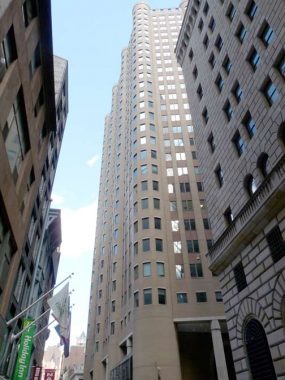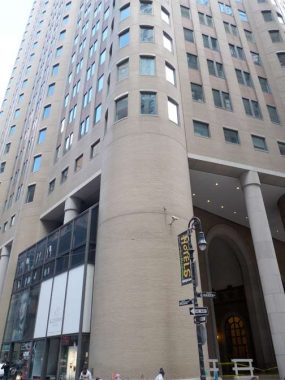 NW corner Nassau Street and Maiden Lane: 33 Maiden Lane, partially designed by Philip Johnson as a massive office castle in 1986 with corner "tubes." The Federal Reserve Bank (see above) owns the building.
Though there are still plenty of office towers to be found, Maiden Lane changes character completely west of Nassau Street, as low rise, older buildings and shop storefronts can be found. Nassau Street has long catered to the Wall Street crowd with lunch counters, small retail, smoke shops depicted here and even strip joints in the past. Unfortunately the Blimpie on the corner of John and Nassau shut down during the Pandemic.
Maiden Lane looking west from Nassau Street. Note how #15 Maiden Lane, center right, has a gently curving facade to conform with the street bend. It is home to New York Legislative Service, Inc., "established in 1932 as the only research group to exclusively focus on the legislative intent and purpose of historical and current legislation of New York State. "
Liberty Place, is one of Manhattan's few surviving alleys, running between Maiden Lane and Liberty Street west of Nassau Street. The modern building at the NE corner of Maiden Lane at Liberty Place was the site of the Little Green Street Burial Ground of the Society of Friends (Quakers). The Friends erected a meeting house and accompanying 'churchyard' here in 1700, but had to move in 1826. The remains were reinterred uptown on Houston Street in the 1820s, but were displaced again as population advanced uptown. The final reinterment was to the obscure Quaker Cemetery in Park Slope, which was engulfed by Prospect Park when it was built in the 1870s — but the cemetery is still there.
I have a lot to say about Liberty Place on this FNY page. Like many NYC alleys, it's often obscured by construction sheds.
At #14 Maiden Lane, on the south side of the street, a ghost sign appears beneath an awning for an establishment called Surrey's.
Meanwhile, at #6 Maiden Lane, a very old and narrow building, there's a sidewalk overhang for Maiden Lane Liquors. Liquor stores often feature very old neon, painted, wood or vinyl signs.
Deli Delite, #3 Maiden Lane, had been shuttered for nearly a decade when I passed it in 2019. It has finally been replaced by a pizzeria.
One of Manhattan's most unique monuments gets stepped on thousands of times daily. William Barthman first set up a jewelry shop in the Financial District in 1884, and added a sidewalk clock on the corner of Broadway and Maiden Lane in 1899. The clock was designed by Barthman and an employee, Frank Homm. When Homm died in 1917, no one knew how to maintain its singular design, and the clock was replaced with a more customary model in 1925 that's been in place ever since.
The Barthman Clock has been attacked by vandals and trodden on for years, but it keeps on ticking with the help of an electric motor. An organization known as the Maiden Lane Historical Society set up a plaque in 1928 at Barthman's depicting what Broadway and Maiden Lane looked like that year. In 1946, the NYPD estimated that 51,000 people stepped on the clock every day.
After moving up Broadway a few years ago, the jeweler now has an address in Brooklyn. But it made an arrangement with the current building to maintain the Barthman Clock, even though the unusual timepiece doesn't have Landmarks Preservation Commission protection. The clock was not telling correct time in July 2022.
#1 Maiden Lane is named for the now-over 125 year old Bathman's Jewelers. I'm not sure what came first, the jeweler or the building. Since Barthman's moved out, a junk shop for tourists has moved in.
This corner plaque, tarnished since I took its photo, marks the location of the jeweler. An organization known as the Maiden Lane Historical Society set up a plaque in 1928 at Barthman's depicting what Broadway and Maiden Lane looked like that year.
As always, "comment…as you see fit." I earn a small payment when you click on any ad on the site.
10/30/22