I am quite familiar with the blocks and side streets on the west side of Manhattan in the Penn Station area. I served two separate stints in this part of town, the first from 1988-1991, when I worked in a tiny type shop called ANY Phototype, which specialized in foreign language typesetting, though it did have accounts like Circus Magazine, which at the time was all heavy metal and pop metal; most of the other work was typeset in Russian, and I handled all the rest and checked the work character for character, since I was, and am, familiar with no language but English.
I returned to the Penn Station area between 2000 and 2004, when I was a copywriter for Macy's. I worked in the home goods, furniture and bedding departments. Macy's has a sale going on of some kind pretty much every day of the year, but the sales are heavily restricted by one exception or the other, all of which has to go on the bottoms of the ads in what Macy's called a floorline. For example, a 20% off coupon is good only in certain departments, and some brands (usually the most popular ones) are exempt from the sale. All of this information went in 6-point type in the floorlines, which occasionally got so big that they took up a quarter of the ads. This all made my teeth hurt on occasion, and since I was working at 7th Avenue and West 34th Street, one of the busiest crossroads in the city, it all grated on my somewhat diffident and solitary nature. I felt the need to get away from it all.
While I was at Macy's, I took rather lengthy lunches and photographed in Manhattan voluminously. My Bridges of Central Park series was photographed almost exclusively on my Macy's lunch hour. I would take the train down to Greenwich Village, rummage around there for over an hour, or I would strike off east, now and then making it all the way to 1st or 2nd Avenues. Sometimes, the subway would take me to downtown Brooklyn (I did my Red Hook Lane page on Macy's lunch hour). I don't regret working in Long Island, as I have since 2006, but I no longer have the opportunity for Forgottening that I did while working in New York City.
I'll be occasionally revisiting the blocks just south of Penn Station in Slices, since I am a habitual nostalgist. Without nostalgia, there woud be no Forgotten NY, after all. This is the neighborhood where it all began, anyway. While I was working at ANY Phototype, I became a student at the Center For the Media Arts, which used to be on West 26th between 7th and 8th Avenues, and it was there I used an Apple computer for the first time, most importantly learning QuarkXPress, which with its cousin Adobe InDesign was the main engine of my work life from 1992 all the way to 2009, as I worked in newspaper and magazine composition and layout all those years. Familiarity with computer typesetting led me to believe, in 1998, that I could combine my obsession with the infrastructure of NYC with page layout. Forgotten NY, which you are reading now, is really due to my stint at CMA. After I finished my courses at CMA, I joined the staff as a typesetter and occasional instructor. The school ran out of money, though, and after a merger with Mercy College fell through, the school closed in 1993. The building's still there, though, on West 26th and who knows, maybe it'll have a plaque someday.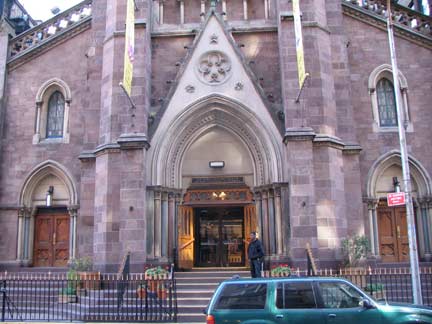 When escaping, ah, emerging from work and on the way to the train I would often hear the bells of St. John The Baptist Church on West 30th Street just west of 7th Avenue. There are occasionally spectacular churches hidden off on side streets in Manhattan. The Roman Catholic parish was organized in 1840 for a mainly German congregation, and the present French Gothic edifice was consecrated on June 23, 1872. In early 1997 the building suffered a fire that took out the original organ, choir gallery and several stained glass windows.
The five bells that you can hear on the hour during the day swing as they ring and were cast by the St. Louis foundry, J.G. Stuckstede & Brothers.
The imposing parish rectory can be seen just north of the church.
I don't know the history behind it but West 30th Street is a music mecca, with a lot of shops retailing and repairing musical instruments, such as Rogue Music (since 1983),30th Street Guitars (1997), the Recording and Rehearsal Arts Building (251-255, recognizable by the G Clef above the door), featuring the NYC Guitar School, Gotham Guitar Works, and Armen's Musical Instruments Repair Shop.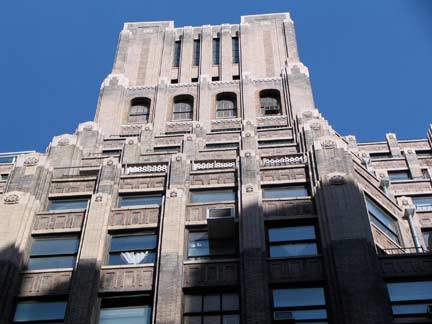 Stepped-back top floors of 251 West 30th. In 1916 a law was passed mandating stepped-back roofs in the dawn of the skyscraper era, as straight vertical towers were darkening streets. (The glass boxes of the International Style are straight up and down, so how do they get around the rule? Fill me in.)
Forgotten Fan Alex Carlson: The modern skyscrapers get around the law because it was amended in the 1950's with the plaza bonus. If land is set aside for public use such as a plaza, then the building can go straight up. Mies van der Rohe's Seagram Building on Park Ave was either the first to use this rule, or was responsible for the creation of the rule, I'm not really sure.
241 West 30th — its wide picture window looks into the waiting room at American Dental Centers.
240 West 30th is the oldest building on the block other than St. Joseph's. It was constructed in 1894 as Fire Patrol #1, later #3, in operation from 1895-2006. There are many secrets here: a 2-story stable in the rear housed horses that pulled fire engines; check the ornamental pediments and windows, different on every floor. It was constructed by the NY Board of Fire Underwriters and is a survivor of a time before all of NYC's firehouses were under the supervision of the FDNY.
242 West 30th dates to 1927 and its grand arched doorway features a working clock and twin hounds (foxes?) guarding the entrance.
A slice of Hopperesque NYC at 265 West 30th, the home of DP Cigars. There's a fiefdom in the West 20s and 30s of handmade cigar shops, and this is one of the handful that are remaining.
Update: DP is a new addition but there is indeed a cluster of cigar manufacturers in the vicinity.
Photographed October 2010; page completed November 11, 2010