Continuing on West 30th after FNY's survey between 7th and 8th Avenues, I had previously also chronicled the four corners of West 30th and 8th Avenue, where there's an ancient wall dog ad for the Hotel Irvin, with rooms starting at $2.50 a night. There's also the home of NYC Human Resources Administration and Department of Social Services, which is a place your webmaster hopes that I never have the opportunity to visit. Like many other of NYC's side streets I hope to chronicle, there's a mix of the feted and ignored, where boldfaced names alit however fleetingly, and buildings left unchanged for decades, and probably will remain unchanged until the next development nabob gets his hands on the site.
French Hospital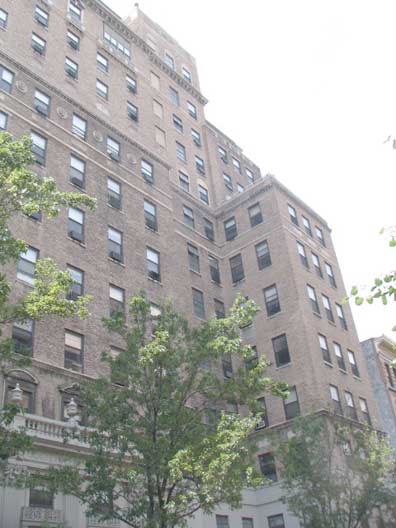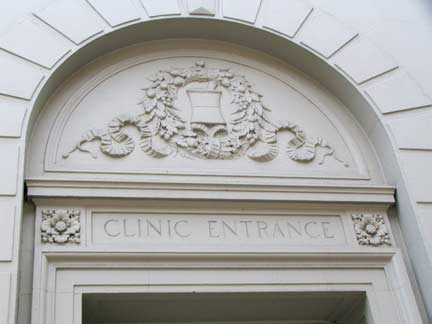 At 330 West 30th is a large building with the phrase "Société Française de Bienfaisance (French Benelovent Society)" carved over the front entrance, and two doors marked "clinic entrance" with the vessel-with-the-pestle motif marking medical facilities. From 1929 to 1978 this was French Hospital, where Babe Ruth was treated for nasopharyngeal cancer in 1946-47; Ruth passed away the following year. Don Corleone was taken to French Hospital after he was shot in Mario Puzo's The Godfather. These days, 330 West 30th is the French Apartments.
So much of West 30th on this block looks frozen in time, especially as you get toward 9th Avenue. The exteriors of these buildings have likely not changed in decades. They still have their original corbel molds, and the building upper left still boasts window shutters and front door. Modern times have, however, begun to intrude.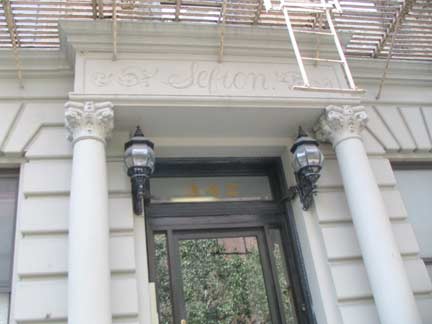 Above: Sefton Apartments at 342 West 30
You know what, I had both pairs of legs lined up perfectly, but the guy moved a split second before I clicked the camera
The Morgan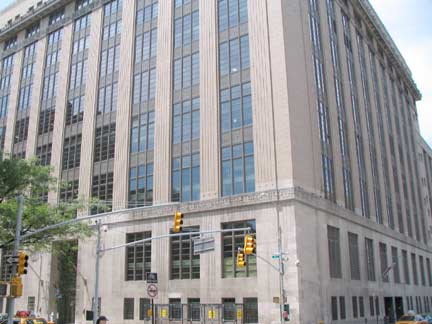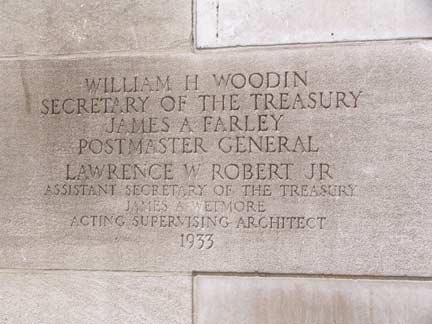 The giant Morgan Postal Facility, constructed in 1933, serving Manhattan's main post office, the James Farley Building, at 8th Avenue between 31st and 33rd Street, dominates the SW corner of West 30th and 9th Avenue. Most postal operations have shifted out of the Farley here as preparations are underway to transform the Farley into the new Moynihan Station, serving Amtrak, New Jersey Transit, and Long Island Rail Road.
Looked at in any number of ways, the Morgan plant — named for Edward M. Morgan, the postmaster of New York from 1907 to 1917 — is a staggering example of federal logistics and enough to make one finally let go of one's conception of the Postal Service as a third-tier operation mainly concerned with the avoidance of barking dogs. The plant itself is preposterously large: At 2.2 million square feet, it takes up an entire city block. It handles up to 12 million pieces of New York City's mail every day. NYTimes

Long before the Morgan Processing and Distribution Center was built, this was the site of a depot for the Hudson River Railroad, a precursor of our Metro-North. President-Elect Abraham Lincoln arrived in NYC for a visit in the runup to the inaguration on March 4th, 1861, traveling from Springfield, IL by train beginning February 11th with stops in Indianapolis, Cincinnati, Columbus, Pittsburgh, Buffalo, Rochester, Syracuse, Albany, Poughkeepsie, Peekskill and then New York on February 19th.
Tragically, Lincoln's next visit came after his assassination as his funeral train also left for Springfield from the depot.
Page completed November 18, 2010