I lived in Bay Ridge, Brooklyn until age 35 and took a lot of bus rides to surrounding neighborhoods, with parents and then, after turning 17, without. (Just kidding. I was biking around the borough as early as age 10). One of the favored routes was the B16, which went from Shore Road to Prospect Park and stopped across the street from my home.
Between 1959 and 1964, the entire south side of Fort Hamilton Parkway, the roadway the B16 traveled on, was destroyed to make way for the Gowanus Expressway. Robert Moses and his surveyors spared my apartment building, but barely. The odd thing was that the demolitions began in 1960 and you had block after empty block for a couple of years before the actual excavations began. The construction of the Verrazano Bridge, and the expressway that was its approach ramp, was well-chronicled by my father, a camera and tape recording buff (Unfortunately my Verrazano Narrows Bridge page has not yet been moved to WordPress, but here's the Classic edition).
The B16 went through Borough Park, a vast grid of streets between Bay Ridge and Prospect Park. Until age 8 or so, I would make sure to grab a seat by the window, taking what would be on my personal coat of arms if I ever created one: a pencil, spoon, and one of those tiny light bulbs that comes in flashlights. My father would let me use the burnt out ones. With those, I would imitate, or build miniatures of, the various lampposts that the bus passed by, and when I got home, I would fill tablets with renderings of what I had seen. I remember what poles were where before they were all replaced in a great modernizing purge around 1962 or 1963, and after the poles were changed to more or less standard octagonal poles, I can still tell you which ones carried the GE M-400 lamps and which ones carried my favorites (because they were a little rarer) the Westinghouse Silverliners. The two makes battled for supremacy on NYC streets between 1960 and about 1972, when brighter soldium vapor lamps took over. (No, I will not detail what poles carried which). I can even describe for you the strange lamp masts that were on telephone poles before the purge occurred — there were a number of different styles.
After about age 8, my mother suggested it wouldn't be a good idea to keep carrying the pencil, spoon and lightbulb on public transit anymore, but I continued to fill tablets with lamp renderings into high school. I am too clumsy and fumbling to ever be a good artist, but I can still do recognizable facsimiles of the various poles around town.
The B16, though, held charms other than lamppost viewing which, after all, could be done on any bus line. The bus went past a favorite visiting spot, the apartment where my aunt Mary and her family lived. I continued to visit about once a month until I moved out of Bay Ridge. My aunt would often defeat me at Scrabble, but she was quite lucky and always got the Js and Vs.
I have taken pains to not concentrate on demographics in FNY, but it's inescapable that Borough Park is mostly Orthodox Jewish with a large concentration of Hasidim, with the iconic dress of black coats, fur hats, prayer shawls, long sleeved dresses for the women, with sidelocked boys, and signs featuring Hebrew characters. You would think my aunt's  Irish Catholic family would have been isolated in Borough Park, but my Aunt and late Uncle Jim were garrulous sorts, and had as many friends among the Orthodox as they had with the Irish and Italian Catholics that also dotted (sparsely) the landscape.
The B16 was also the route to House of Horrors, ie. Dr. Levine's office on 49th Street, where I would be poked, prodded, and shot with all manner of needles. I was a sickly child, and visits were frequent, until my teens when I changed to my father's doctor, whose office was two blocks away from me.
For the most part, though, the B16 held other attractions for me. We would ride sometimes only as far as 37th Street, to watch the bocce matches that happened under the Culver shuttle elevated line on a mostly unused section of South Brooklyn railroad track. (The Culver ended service in 1975, and the el was finally torn down 10 years later — the city was completely broke in the Super 70s and could not afford to raze the subway and el lines that had been put out of service). Most times, though, the ride ended a block from Prospect Park, and we were usually good for an hour's walk. If it was super cold, though, a parent would just re-pay the fare, and we'd ride back. And, it was again an opportunity for discovery since this time I was seeing the other side of the streets!
I have done an entire page on 13th Avenue before (Borough Park's bus route street and shopping drag) but this time, I wandered off 13th a bit and saw more of the neighborhood not seen outside the bus windows. The neighborhood is vast, and will have to be revisited on a future page. To get to Borough Park I took the N train to Fort Hamilton Parkway and went to the south side of the platform, where I could exit on 11th Avenue…
To make a long story short, Borough Park had its beginnings in a small hamlet called Blythebourne, an area of cottages built by developer Electus Litchfield in 1887. A short time thereafter another developer, William Reynolds, built more speculative housing in the area, which was served by the Brooklyn, Bath and Coney Island West End Line steam railroad, which had been developed by future Mayor C. Godfrey Gunther in the 1860s. The line began at Green-Wood Cemetery and ran through were mostly farms and fields to the wealthy seaside resorts at Coney Island, long before it became The People's Riviera. As early as 1904-1905, Jews from eastern Europe were immigrating to Borough Park, and various European persecutions over the years added to their number.
The Sea Beach Railroad, named for the Sea Beach Palace Hotel which was its terminal beginning in 1879, also cut through the region (it and the West End met at Bath Junction, q.v. below, at 14th Avenue and 62nd Street. The Sea Beach, originally a steam line, was electrified and placed in an open cut as part of the Brooklyn Rapid Transit/IRT Dual Contracts program in 1913, and it is this line I used to arrive today in Borough Park. The terms "Brooklyn-Manhattan Transit" and "Sea Beach" have long passed out of the vernacular, but they're still remembered by subway foam_, er, ah, buffs, like your webmaster. Residents simply call it the N train. Later, the West End was placed on an elevated line over New Utrecht Avenue in 1917.
As you can see, handsome station buildings were placed at stops along the line, with tiled interiors, hanging incandescent lamps, and distinctive terra cotta tilework with a diamond motif. After a period of deterioration in the 1960s and 1970s these stations are again regularly maintained.
I will be showing a couple of Borough Park's beautiful synagogues on this page, but showing the cream of the crop will be done on a future page. This one stands at 11th Avenue and 56th Street. There are freestanding buildings in classic styles, and some in private homes.
When I see Hebrew characters on a storefront or sign, not speaking either language, I never know if it's in the Hebrew language or in Yiddish. Which one is this, on 53rd Street?
There has been a  lot of noise about forcing Asian shopkeepers in Flushing and Sunset Park to include American translations in their signage, but non-Hebrew speakers in the area seem to have no problems with these signs.
This is one of those private residence synagogues I was referring to, in a handsome, dormered brick building on 12th Avenue and 53rd Street.
In the 2000s Borough Park enjoyed a population boom, and the attached brick buildings of the early 20th Century were torn down in favor of multifamily structures, or, in this case, out of character additions on 12th Avenue.
These attached bayed residences on 54th Street remain gloriously unaltered except for bars on the ground floor windows.  Even the original roof corbelling is still in place.
The Dann Building, 54th and New Utrecht Avenue, is handsome but somewhat nondescript except for some exquisite lettering over the door. The font reminds me of the unique one used on Dannon Yogurt labels, with ovoid shapes and curved ascenders and stems. I'm sure the connection is coincidental, as the yogurt brand was first developed in Spain and is now based in France. The date of construction is helpfully chiseled above the entrance.
I've always been partial to this dwarf double-mast lamppost at New Utrecht Avenue and 54th Street.
I headed off down 13th Avenue which, in proximity to the West End El, is festooned with magnificent Beuax-Arts architecture like this apartment/storefronts on 53rd Street. This is close to the original settlement at Blythebourne, and was developed a little earlier.
Click on the above Gallery to see some of 13th Avenue's hand-lettered building signs. This is one thoroughfare without a single McDonald's (the closest is at Fort Hamilton Parkway and 37th Street) or Starbucks, as the avenue is dominated by locally-owned mom and pop shops.
This building, at 12th and 52nd, came along a bit later, as we see the repeated motifs in stone and terra cotta that mark Art Deco, a style originating in the mid-1920s and dominant till the outset of World War II.
On the opposite side of 13th at 52nd (or 53rd) there was a long-time drugstore called Heyman's Pharmacy. I have a bizarre memory of the store because an interior painting  reminded this Catholic boy of a story I had heard of the flaying of St. Bartholomew. Looking back on it now, I'm sure a Jewish drugstore would not depict a scene in which a man was tortured and martyred by having his skin cut off, but immersed in Catholic lore as I was, that's what the picture looked like to me.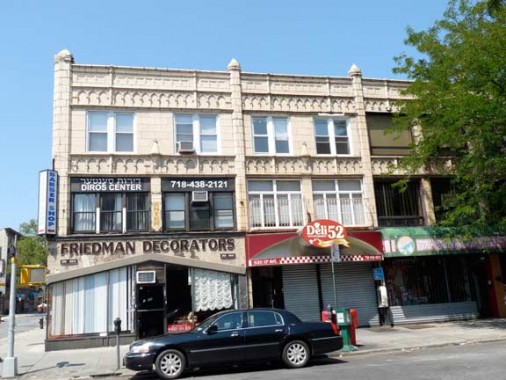 13th Avenue and 52nd, northeast corner. These terra cotta exteriors are typical of storefront/apartment strips built in the 1920s.
The Borough Park Club at 13th Avenue and 50th Streets, shown here in 1905 or so, was purchased in the mid-20th Century by Yeshiva Etz Chaim, which completely renovated the building, removing the circular porch and building two-story wings in both sides of the peaked roof in the center. The grassy lawn was replaced by concrete and an iron fence. (That is the academy here I remember from my youth). That structure, in turn, was razed in the 1980s and replaced by Salomon Plaza, a nondsecript row of stores.  
1303 50th Street. My aunt Mary has lived in this building for 55 years and is finally moving out to live with cousin Michel at age 86. This looks like a relatively unostentatious structure until you look over the door, where you see a Beaux Arts touch: two cherubs, two stylized dolphins and a central seashell. Perhaps the builder had a maritime connection.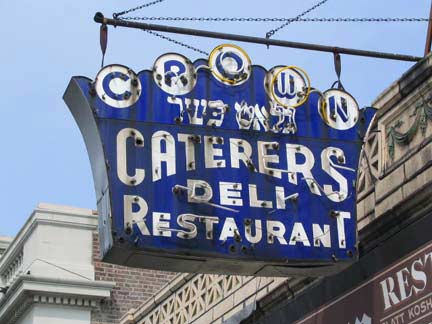 I was sorry to see that grand old Crown Caterers neon sign between 49th and 50th was replaced by something more contemporary. 
Two (JP Morgan) Chase branches took over other bank buildings just a block apart, at 48th and 49th. Why the neighborhood had a need for two Chase branches so close together, I'm stumped, though they may offer different services, or "products" as banks now like to say in promotional literature. 
Another monstrous addition, in addition to what was shown earlier. However, Bloomberg's plan is  9 million by 2030 or bust. We'll just have to accept this sort of stuff.
My cousin Eileen worked behind the counter at Lane drugs in her teens in the Super 70s, and it's still there at the northeast corner of 47th and 13th.
With no moving vehicles in sight, 13th Avenue on Saturday afternoon is among the quietest busy streets in NYC. The Sabbath goes from sundown Friday to sundown Saturday.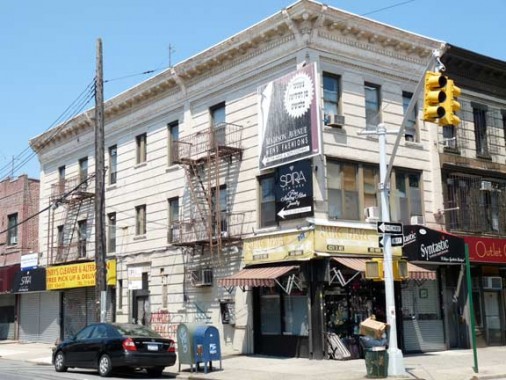 One of the few places open, NW corner 43rd,  was Sing Hwa "gifts, electronics, cameras" even though the display windows showed leather goods, perfume, suitcases.

13th Avenue and 42nd Street. Another Beaux-Arts building executed with casual excellence.
Turning onto 40th Street, this is the no nonsense side entrance to the Works Progress Administration-era 13th Avenue Retail Market; a similar front was once on 13th Avenue, but it's now been hidden under garish signage. These were a series of retail markets built during the Depression by the LaGuardia administration as a means to reduce pushcart traffic. The most famed of these is likely the Essex Street Retail Market in Manhattan.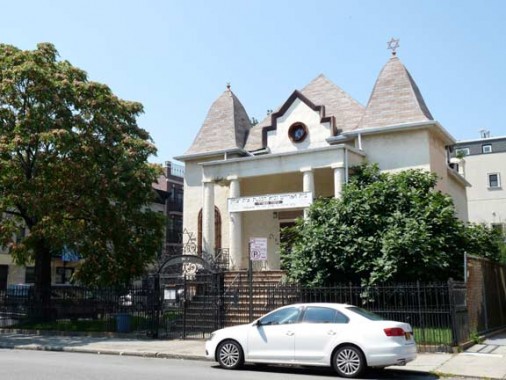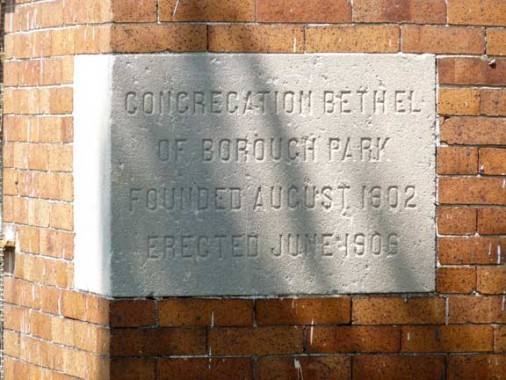 The Congregation Anshe Lubawitz of Borough Park was built in 1902 as Congregation Beth El, which moved to 15th Avenue in 1920. It's the oldest synagogue building in Borough Park, though the portico with Doric columns was a later addition. 
The years 190o-1905 were pivotal in Borough Park as so many of its landmarks were built in those fervid five years. The region's first Roman Catholic church, St. Catherine of Alexandria, had its cornerstone laid in 1902. It's the tallest tower in Borough Park and may be one of the tallest Catholic churches in the borough; I know St. Barbara in Bushwick and Regina Pacis in Bensonhurst are taller, but that's about it. The church is located at Fort Hamilton Parkway and 41st Street.
Many Catholic churches feature a number of buildings, the convent (shown above) where the parish nuns reside, and rectory where the priests live.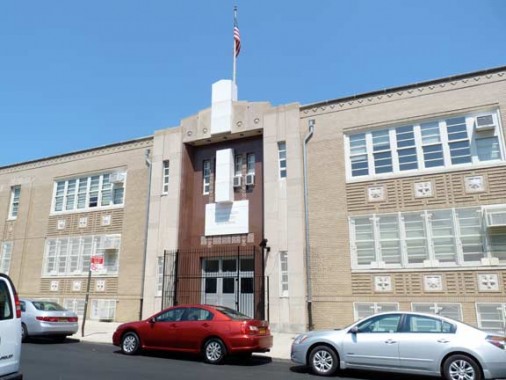 The parish grade school, constructed in 1956 on 41st Street, closed some years ago and is now the home of the West Brooklyn Community High School. 
1956 was the heart of the baby boom years, and Catholics used to have more children than any other religious group — on top of that, Roman Catholicism has more followers in the USA than any other Christian group. When I attended grade school, large class sizes were the norm. 35 or more kids were packed into a classroom, and for the most part, there were passing grades. Parents were dedicated, teachers were dedicated, and most of the kids were, too. Class size was never mentioned as a hindrance to learning anything. 
In recent years, Catholic schools have teetered, as they seem to have priced themselves out of competition. Teacher for teacher, student for student, they are still the best places to get an education, both practically and morally. And I am talking as one kid who did not enjoy my own parochial school experience. 
Attaining the el at New Utrecht Avenue, I spotted this sign near 42nd Street. Of course, I was immediately reminded of this guy. 
The West End Elevated runs on the 6th Avenue IND tracks in Manhattan, the BMT 4th Avenue Line tracks in Brooklyn, and the el on New utrecht Avenue, 86th Street and Stillwell Avenue to Coney Island. This arrangement has been possible since 1967, when a connection was made from the Manhattan Bridge to the 6th Avenue Line. From the 1860s through 1917, the tracks ran at grade on New Utrecht Avenue, and traffic on cross streets was forced to wait for the steam trains to pass before they could go through. The Brooklyn Rapid Transit/IRT Dual Contracts, enacted in the early 1910s, allowed for new subway and el lines to be built and all grade crossings but one were eliminated. That one, at East 105th Street in Canarsie, hung in there until 1973. 
This scene at 10th Avenue and 40th Street is somewhat humdrum and mundane. Just a closed deli on the corner. However, a couple of years ago I passed by here, and it was the Land That time Forgot. Let me show you.
This is what the place looked like in 2008. Find out more on my ForgottenSlice about this corner. 
There are three blocks between 39th and 41st Streets where New Utrecht Avenue, constructed as a turnpike from Green-Wood Cemetery to Bath Beach in the mid-1800s, is vouchsafed the sunshine and is free of the elevated's blackening grip. It is named for the former Kings County town of the same name, which in turn is named for the city of Utrecht (YOU-trekt) in the Netherlands. 
Driving south on New Utrecht Avenue, soon enough you are thrown into shadow as the el encroaches. 
The Brizzi Playground, with its abandoned bocce pit, is at New Utrecht Avenue and 42nd Street. 
Nicholas A. Brizzi (1918-1982) was an outstanding activist in this community and a decorated veteran of World War II. Born and raised in Borough Park, he served in the U.S. Navy in the Pacific Theatre and was twice cited for bravery. After the war, he attended Macalester College in Saint Paul, Minnesota, and then returned to Borough Park. He joined the family business, eventually becoming owner and operator of the Joseph A. Brizzi and Sons Funeral Home, which his father had founded in 1922. He was an active member of the Veterans of Foreign Wars, he served as a member of the Maimonides Ambulatory Advisory Board and the Maimonides Mental Health Board, and was also on the steering committee for the St. Rosa Cancer Care Facility. Brizzi also served as a trustee of St. Catharine of Alexandria Parish, where he was a member of the Holy Name Society. NYC Parks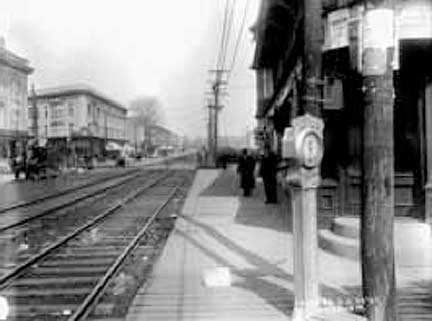 This photo gives you an idea of what New Utrecht Avenue looked like before the el was built above it in 1917. This scene at 49th Street was shot in 1914. Railroad tracks occupied the east side of the street with a narrow roadway on the west side. The object in front is a weighing machine, likely outside a drugstore. Your webmaster tends to stay off of scales. The tracks were used, until the 1940s with more paving surrounding them, as trolley tracks.
Indulge me briefly about lampposts under elevated lines. When the Department of Transportation needs to fit a shorter pole under an el structure, it sometimes employs shorter versions of its cobra neck masts, seen here. But not always. 
I discovered this special mastarm on New Utrecht Avenue, which must have been more frequently used in the past. It seems to be a variant of the curved mast with bracket that was the original mastarm used in the 1950s. I've only seen this mastarm used elsewhere in the city on White Plains Road near East Tremont Avenue — these are now rare indeed.
Borough Park is a giant regular grid of streets with a big "X" in the middle, where the diagonal routes, New Utrecht Avenue and Fort Hamilton Parkway, meet at 44th Street. While not designated an express stop, when architect Squire Vickers was designing the el in the 1910s, he considered this a major crossing and so marked it with a concrete viaduct, decorative terra cotta, and Guastavino-style interlocking brick work. 
PS 131, at the Big X on Fort Hamilton Parkway, was Borough Park's first public school of note and was built in that annus mirabilis for the neighborhood, 1902. The Latin phrase alma mater means "nourishing mother."
In 2009-2010 the Department of Transportation installed some center median traffic barriers, or guides, on Fort Hamilton Parkway. They have proven quite unpopular and local politicians have been trying to get them removed.
Fort Hamilton Parkway appears on maps as early as the 1870s, running from Prospect Park southwest to the fort at the Narrows it was named for. It was originally an 'Avenue" but was changed to a Parkway in the early 20th Century. 
In the summer of 2011 the Fort Hamilton Parkway station was undergoing intensive repair and cleaning, which polished the diamond-motif tilework. 
At Alben Square, New Utrecht Avenue, 11th Avenue and 45th Street, we find the 1927 Universal Theatre, later the 46th Street Theatre, and amazingly, the 46th Street Rock Palace, where major names in rock such as the Grateful Dead played in the early 1970s. Find the whole story here. Note the Rubenstein & Klein Fine Furniture sign — we'll see them again later. Regal Furniture now occupies the ground floor.
Click on images in the above Gallery for more views of the theater. 
At 12th Avenue, 50th Street and New Utrecht Avenue we see one of those surviving curved mast/bracket lamps I was alluding to earlier. At right is the modern iteration of under-el street lighting. 
At 52nd Street we have entered Beaux-Arts territory again. Remember, these buildings went up long before the smoke and noise-belching el was in city planners' dreams. 
At New Utrecht Avenue and 56th Street is a ground floor kosher (adhering to Jewish dietary restrictions) diner that was actually decorated to look like an actual railroad car-style diner. The term glatt refers to a stricter variety of kosher.
The diner has been here since 1947, and the Kosher restaurant is the newest reincarnation.
ForgottenFan Sarah Elizabeth: Glatt primarily means it's a restaurant that serves meat (as opposed to a dairy/parve restaurant), and though it means informally that it's stricter, there are really a ton of other, more precise terms to describe various standards of kosher. 
The peaked cornice marks this building at 58th Street as being from 1890-1900, when, of course, there wasn't an el and fancier buildings appeared out in the open.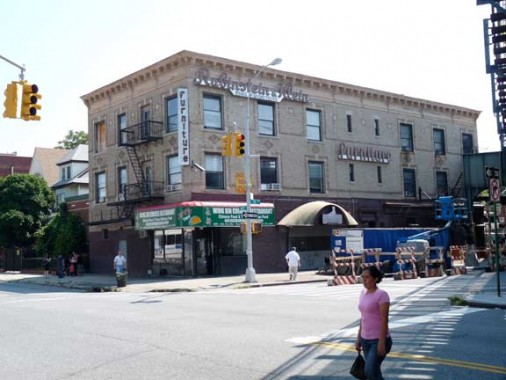 At the busy intersection of 14th Avenue, 60th Street and New Utrecht Avenue is another decommissioned Rubenstein and Klein furniture showroom. The neon sign could be seen easily from passing els. 
At 60th Street, Borough Park ends, and Bensonhurst, a heavily Italian  but now increasingly Russian and Chinese, neighborhood begins. Bensonhurst features many quality Italian pastry shops and one of these is Savarese, at 60th street. I got a sour Italian ice, but it took great willpower to not purchase more Italian pastries and baked treats, which fill display cases and wall shelves.
At 60th Street under the el is an early 1910s-style fire alarm stanchion. The accompanying fire alarm lamp is unusual, as well. This curving mast usually appears on ornate cast iron Corvington or Bishop Crook lamps, but this one was co-opted for an octagonal pole. Quite unusual– only two other examples of this can be found in Brooklyn, both on Avenue L in Canarsie. Its days may be numbered, as new fire alarm lighting has been installed on lamps throughout the city. 
Underworld Plaza, at 61st and New Utrecht, isn't a lounge or disco but a wholesale lingerie distributor. Though it might make sense to combine operations.
Time to kick it in the head for today at what used to be Bath Junction, at 14th Avenue and 62nd Street, where the steam-era West End and Sea Beach railroads met. Today the West End el runs atop the Sea Beach, which runs in a tunnel. The bus plaza was once a trolley lines terminal, and a couple of trolley poles remain. The Vickers terra cotta tiles here are especially varied and bright.
Photographed August 2011, page completed 10/23/11.
Recommended: Borough Park, Centennial Edition 1898-1998, Oscar Israelowitz, Israelowitz Publishing. The Neighborhoods of Brooklyn, Jackson and Manbeck, Yale University Press 1998