Four auto traffic bridges connect Staten Island to the outside world. In order of construction, they are the Outerbridge Crossing (named for its engineer, not because it is in the outer reaches of NYC) the Goethals Bridge (opened the same day as the Outerbridge, 6/29/28), the Bayonne Bridge (11/15/31), and the Verrazano-Narrows Bridge (11/21/64). Though I have crossed the Verrazano hundreds of times, especially when living in Bay Ridge, I can't recall having been on the other three — I had never even approached the Outerbridge, and have only been close enough to glimpse the Goethals once, when I was visiting the Arlington and Mariners Harbor areas for a FNY photo essay. So, I have some catching up to do.
On Richmond Terrace near Port Richmond Avenue, a rusted arrow-shaped sign saying "Bayonne Ferry" is the lone reminder of the Bergen Point Ferry, which brought passengers across the Kill Van Kull until 1961. Since the Bayonne Bridge opened in 1931, this ferry ran for a good 30 years in competition with the bridge. Compare the situation with 1964, when Robert Moses would broach no competition with the tolled Verrazano-Narrows, and the Bay Ridge to Staten Island Ferry, which ran from Bay Ridge Avenue to St. George, closed the day after the bridge opened.
The Bayonne Bridge can be seen from Upper New York Bay on the Staten Island Ferry, but perhaps the most spectacular views can be had from Richmond Terrace, which runs along the north end of Staten Island along Kill Van Kull. This view at dusk is from Faber Park, the only public space facing the water on Richmond Terrace except for the official "terrace" in the St. George Ferry area. The park is named for the Eberhard Faber family — the pencil tycoon (1822-1879) settled in Staten Island, though his principal factory was in Greenpoint, Brooklyn.
When the Bayonne Bridge was in its planning stages, a suspension bridge was envisioned. Port Authority commissioners, however, wanted space for two rail transit tracks to be included in the design, and architect Othmar Ammann turned to an arch design developed in concert with Cass Gilbert. The bridge would have to rise at least 150 feet above the Kill Van Kull, in accordance with the US Navy's tallest ships in use in 1930. A new method using truss segments was developed for the Bayonne, since the usual arch bridge design would have interfered with shipping. The segments were built offsite and then trucked to the bridge site and assembled there.
The Bayonne held the title of world's longest arch bridge (1675 feet) for 45 years until it was surpassed by the New River Gorge Bridge in West Virginia, which in turn has been superseded twice. Ironically, the railroad tracks that necessitated a change to the arch bridge format were never placed on the bridge.
The Port Authority of New York and New Jersey has announced plans to raise the roadbed of bridge by 64 feet, in order to provide the 215-foot clearance required by the newer container ships to pass under it. Hudson Bergen Light Rail (see below) is considering adding trackage on the bridge during that project.
The beauty of the Bayonne Bridge lies, in part, because it spans two blue-collar regions, the rough-around-the edges Port Richmond section in Staten Island, with its collection of factories and cement truck parking along the water's edge, and the Bergen Point neighborhood in lower-to-middle class Bayonne. Martian war machines blew up the bridge and its surroundings in the 2005 Tom Cruise remake of War of the Worlds.
The city of 63,000 was thought to be named for a town in France from which waves of Huguenots (French Protestants) who, seeking refuge, emigrated to New Jersey and Staten Island in the colonial era. Another story has it that early real estate speculators were influenced by the French name, but simply named it for Upper and Lower New York Bay. Among its more famous residents have been US Representative from Massachusetts Barney Frank, Game of Thrones author George R. R. Martin, actress Sandra Dee, comic Jim Norton, basketballer Shaquille O'Neal, and boxer Chuck ("the Bayonne Bleeder") Wepner.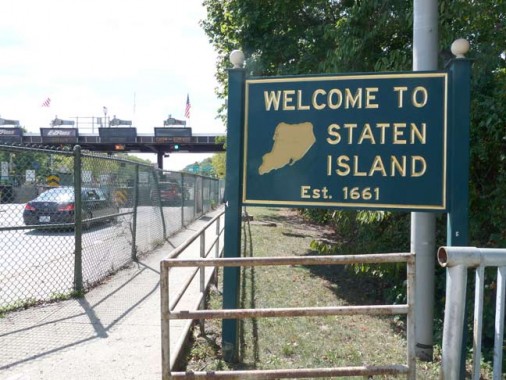 For pedestrians, the Bayonne Bridge is attained by a walkway at Morningstar Road and Hooker Place. Staten Island itself wasn't established in 1661 — a shift in tectonic plates founded it several thousands of centuries before that — but 1661 was the year the first permanent Dutch settlement, Oude Dorp (Old Town) was founded. The County of Richmond was formed in 1683 and consolidated with NYC in 1898.
Richmond vs. Staten Island: In 2012, we're in Richmond County, but the borough of Staten Island. In addition, there was also the village of Richmond in mid-island, which today is mostly referred to as Richmondtown. Until April 1975, this was the borough of Richmond, but since then, it's been the borough of Staten Island. Get that?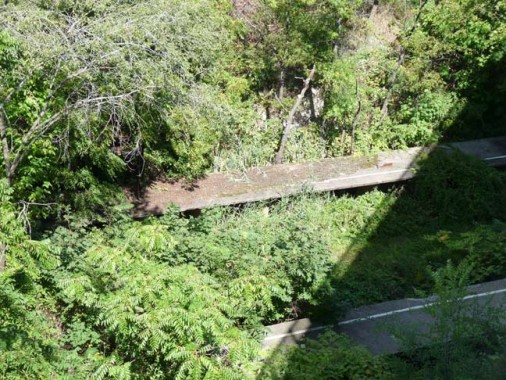 A glimpse down while ascending the walkway toward the Bayonne Bridge will reveal the ruins of the Elm Park Staten Island Rapid Transit station, which was shuttered on 3/31/1953, but, like its brethren stations on the North Shore Branch, has never been dismantled; instead, it has been left to decay and return to nature.
This has led, every so often, to hopeful rumblings about service restoration on the line, whether it's the former heavy rail still used on Staten Island railway's main line, or light rail, like the one in use in Bayonne and northeast New Jersey (see below).
These are the hopeful rumblings of a dangerously naive way of thinking.
Looking down on Newark Avenue where it joins Morningstar Road. Naturally, a road that goes under the Bayonne Bridge is called Newark, not Bayonne, Avenue.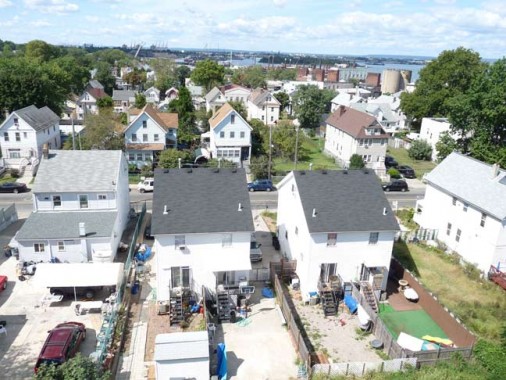 We are far enough above the ground that the houses of Elm Park, Staten Island, look like the toy houses from hobby railroad kits, of which I was a big fan when I was a kid.
After this part of Staten Island was settled in the early 1830s it was known as Jacksonville and Lowville, but was then formally called Elm Park for the elm trees on the estate of John T. Harrison, MD. In the early 20th Century, Elm Park became home to many Polish immigrants, many of the descendants of whom are still here. The area is now roughly 23% White, 25% Black, 44% Hispanic, 2% Multiracial, and 6% Asian. wikipedia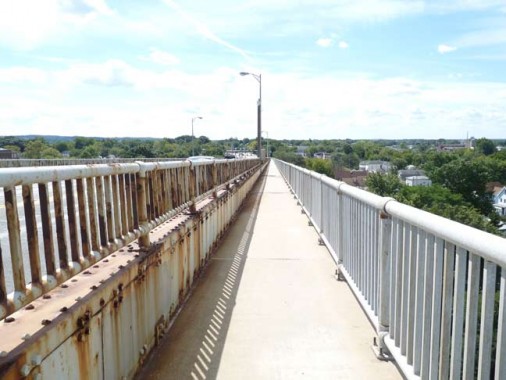 The walkway approach to the bridge is quite lengthy.
At Richmond Terrace and Morningstar Road is a vast field, recently cleared out. You can see in the above photo taken from ground level  that this was formerly a storage area for cement mixer trucks. I wonder what is envisioned for this large space.
Among my companions on this walk were Mitch Waxman (of the Newtown Pentacle) and Mai Armstrong (both from Working Harbor Committee) and, while their interests lie more with waterborne traffic, I was here to record anything and everything of interest to me.
The Kill Van Kull is a strait separating the north shore of Staten Island from Bergens Point, New Jersey, on which Bayonne is located. Its western end faces Newark Bay and empties into the Arthur Kill, another strait that separates the western shore of Staten Island from Union and Middlesex Counties, New Jersey. These names have nothing to do with anyone's murder; they are transliterations of Dutch terms into sounds that British tongues could pronounce more easily. Kill Van Kull means "channel from the ridge" while Arthur Kill comes from "achter kol" or, "back channel," from its position to the "rear" of Staten Island.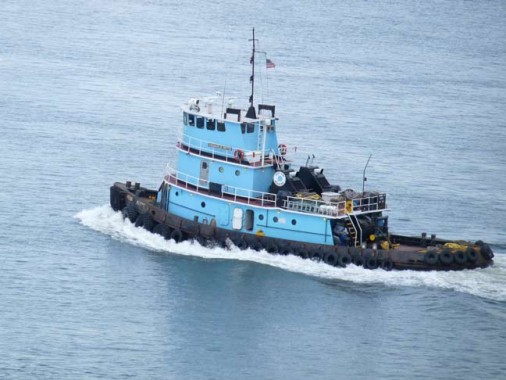 To the disappointment of Mitch and Mai there was not much boat traffic on the water today, but we did see the Thomas D. Witte tug, built in 1961 and owned by Donjon Marine:
Originally constructed as a twin screw canal tug with a small retractable wheelhouse that could be adjusted up and down. The tug was later acquired by Poling Transportation where she was renamed as the June C. , where her retractable wheelhouse became stuck in the "up" position and was disabled. A raised fixed house, was constructed for better visibility as well as a new superstructure were completely rebuilt on the original hull. 
She was later sold and renamed as the Matty J. , then as the Tammy , and then as the Reliance . 
The tug was then acquired Empire Harbor Marine where she was renamed as the Kendall P. Brake . Empire Harbor Marine eventually became Port Albany Ventures. 
In 2009, Port Albany Ventures was acquired by DonJon Marine of Hillside, New Jersey where she was renamed as the Thomas D. Witte…
The tug's capacities are 28,268 gallons of fuel oil, 500 gallons of lube oil, and 3,609 gallons of fresh water. Tugboat Information
The Witte family has long been involved in NYC's harbor scene. The Staten Island Ship Graveyard in Rossville, Staten Island is owned by Donjon and officially called the Witte Marine Scrapyard.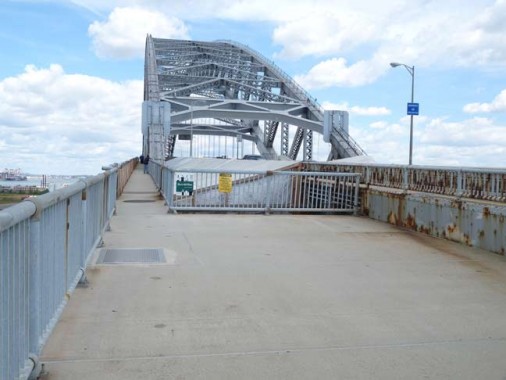 Approaching the central span of the Bayonne Bridge.
…where there are grim reminders of past teen suicides and cautions about breathing in too deeply of the bracing marine air, which may contain toxic lead contamination.
A view of the south side of Kill Van Kull, with abandoned factories, rotting piers and the occasional sign of bustling riverine activity.
I used my 18X optical zoom to get a picture of 43-acre Shooter's Island, which sits in the middle of Kill Van Kull north of Staten Island's Mariners Harbor section.  It's unique among NYC area islands, as it is divided between two states, NY and NJ. On maps, it appears as if 75% of the island is in NY, and the northern 25% in NJ. You can see the remnants of now-abandoned piers along the rim.
I turned to the Bible of NYC's many islands, The Other Islands of New York City, by Sharon Seitz and Stuart Miller (Countryman Press, 2nd ed. 2001). In the colonial era, this was a cherished hunting preserve, and was later home to shipbuilding and petroleum refining. President Theodore Roosevelt traveled to the island in 1902 to witness the launch of racing yacht (under the German flag) Meteor III. The shipbuilding industry added 32 acres to what was originally an 11-acre spit.
Today, Shooter's, as well as other small islands off Staten Island's western shore such as Island of Meadow and Prall's Island, are  preserved for migratory birds under the Harbor Herons Project.
At 150 feet above the Kill Van Kull, the towers of distant Manhattan easily come into view. The object on the right is a modern-day windmill situated in eastern Bayonne.
A look skyward at the trusses that support the Bayonne's vast arch.
A look north at the Bayonne Bridge's little sister, the 1270-foot Newark Bay Bridge, built in 1956. It carries the New Jersey Turnpike over Newark Bay, connecting Jersey City to Newark Airport. A railroad bridge can be seen directly behind it.
And, a look back toward Staten Island, with the Arthur Kill railroad bridge in the front, a vertical lift bridge built in 1959 that connects tracks in New Jersey with Staten Island's Arlington Yards and is the island's only railroad connection with the mainland USA. It is mainly employed for carting garbage, easing truck traffic for the same purpose on the Goethals Bridge, seen behind it. This is the largest vertical lift bridge in the world, with towers at 215 feet in height.
The cantilever Goethals Bridge, opened in 1928, stands behind the railroad bridge in this photo. It carries Interstate 278 over the Arthur Kill and is named for General George Goethals, the engineer of the Panama Canal and first consulting engineer of the NY-NJ Port Authority.
As the Goethals ends its planned lifespan of approximately 80 years, plans have arisen for a replacement span.
An 18X zoom view shows the new #1 World Trade Center, with #4 WTC just to its right.
Relaxing the zoom a little and panning out, the King of All Buildings comes into view on the left, while just to its right is seen New Jersey's tallest building, Jersey City's Goldman Sachs Tower.
Avenue A in Bayonne. The city is located on a peninsula, with north-south lettered avenues from A to F and numbered east-west streets; in the wider southern part of town, some named streets mix in with the numbers.
On a rarely used portion of railroad track west of Avenue A is located a RR crossing signal installed in 1937.
One of Bayonne's main drags is John F. Kennedy Boulevard, which runs from Bergen Point northeast through several Union County municipalities to the Bergen County line, where it turns east and then south again to the Hoboken city line. Parts of it were completed by 1896 as a wagon road, and it was completed in entirety in 1913. Originally known as Hudson Boulevard, it received the name change a few years after JFK's assassination on 11/22/1963.
Though the power company serving most of New Jersey, Public Service Enterprise Group (PSE&G), has been on an extensive program to replace older streetlamps with more energy-efficient models, JFK Boulevard still has a collection of nearly 50-year old General Electric M400s. No doubt, their days are numbered.
Unlike NYC, New Jersey municipalities don't show an obsessive need to standardize their street signs, so, interspersed with newer models, there are still a lot of stamped metal signs as well as handpainted ones like these still lurking about in plain sight. There are a few of this type still around in NYC, but they hide in little-trafficked areas.
Corner store on West 4th Street
Truck Co 1, Engine Co. 2, built in 1928.
Bayonne marks some fire hydrant locations with an iron cross.
The Iron Cross was used as the symbol of the German Army from 1871 to March/April 1918, when it was replaced by a simpler Greek cross. In 1956, the Iron Cross resumed its German military usage, as it became the symbol of the Bundeswehr, the modern German armed forces. The traditional design is black and this design is used on armored vehicles and aircraft. A newer design in blue and silver is used as the emblem in other contexts. wikipedia
If anyone can explain its use in Bayonne, please do so in Comments.
Ah, I got something right away:
"The 'Iron Cross' is probably a poorly executed attempt at a MALTESE cross, which is the universal symbol of the fire service. "
The Maltese cross is a common symbol in the fire service, it is considered a symbol of protection and a badge of honor. wikipedia
This indeed a poorly rendered Maltese cross, since, as you can see on that wikipedia link, Maltese crosses are 8-pointed.
Note the hand-lettered window signs on this delicatessen on Broadway and West 5th. Broadway is Bayonne's main shopping street, continuing as Garfield Avenue once it reached the Jersey City line.
Though Broadway will likely be the next focus of my future Bayonne explorations, I made an earlier foray in 2008.
I've never seen the front window of a pizzeria covered with a picture of a pizza before…
I don't think I have ever seen a green and red fire alarm before, but this one may have been painted to celebrate an Italian holiday, Columbus Day perhaps. During the 20th Century, Gamewell was the premier fire alarm manufacturer: oddly, Gamewells are in a distinct minority in NYC.
Typical early 20th, or perhaps late 19th, apartments/stores on Broadway in lower Bayonne.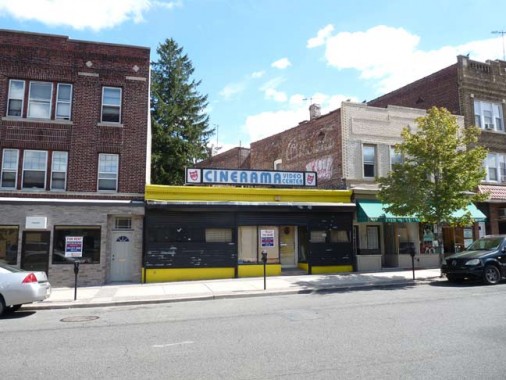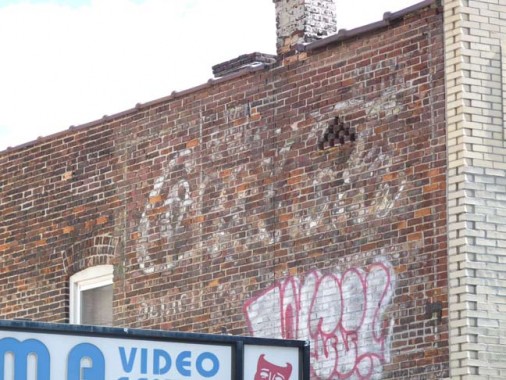 This Coca-Cola ad might be a century old, but the script logo is unchanged since then.
Ionic-columned Bayonne Trust Company building, Broadway and West 8th Street
More classics along West 8th.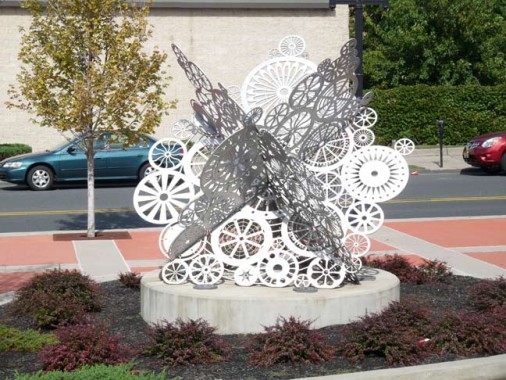 Tom Nussbaum's 2010 metal sculpture in front of the West 8th Street Hudson-Bergen Light Rail (HBLR) station consists of wheel patterns used by early versions of working railroads from 1784 to 1830.
I am totally envious of northeast New Jersey's Hudson-Bergen Light Rail system, which, as its name implies, connects communities in Hudson County such as Bayonne, Jersey City, Hoboken, and other towns and cities. In Bayonne, the system runs along the former Central Railroad of New Jersey route with West 8th the southern terminal (opened January 2011). The first segment opened 4/22/2000 from Exchange Place to West Side Avenue in Jersey City, and new lines and routes have steadily been added since. Plans call for service to be extended north into Bergen County communities.
New York City has plenty of potential rights-of way ideal for light rail routes like this: the abandoned Long Island Rail Road Rockaway Branch; the Bay Ridge Branch, currently used for freight trains; connector tracks in the South Bronx. NYC seemingly lacks the political will to muscle projects like this through and more's the pity.
11/18/12