PART 3: MANHATTAN
I'm surprised I never thought of this until now, after about fifteen years of doing Forgotten New York. I've seen these historic plaques mounted on poles as I travel in Nassau and Suffolk Counties, and a very occasional one in the five boroughs. They're part of an initiative devised by New York State Education Department in 1928 to mark places of historical significance, and for nearly forty years, almost 2800 such markers were placed all over the State.
The signs themselves are marvels of design, in my opinion. Most of them feature dark blue backgrounds with gold raised block lettering and trim, though there are variations in color and lettering, and very occasionally, shape, just to change it up, I imagine. The State discontinued the series in 1966 after high speed travel on expressways became the norm.
This flickr page that assembles photos of the State markers taken by various photographers illustrates the basic, simple and readable design of these signs.
No study had yet been made of the 92 locations within the five boroughs that these signs delineated, so I decided to do one myself with photographs culled from my own collection; I also used scans from books I had in my collection, and screen captures from Google Street View.
It should be noted that this page doesn't include the brown and gold markers placed by the Richmond Hill Historical Society and the blue and gold ones placed by the Woodhaven Cultural and Historical Society, which closely resemble the New York State signs. I gave those signs their own page a few years ago, though I didn't catch them all.
Of the 92 NYS historical signs placed around town beginning in 1928, only a mere handful are still there. Over the decades, the local youth have removed or vandalized them, some have been claimed by new construction or car crashes. Some of the remaining ones are in very poor shape, while others have been restored to better-than-ever construction….
In each case I'll give the location as shown on the NYS Museum site, as well as the text as originally rendered on the sign, per the Museum listing.
Manhattan, it turns out, is the only borough with no remaining NYS historical markers. But in many cases, the little-known sites they demarcated can stil be recognized…
"An Amiable Child"
Who IS buried at Grant's Tomb? It's not who you think.
The last resting place of the 18th President, Ulysses S. Grant, and his wife Julia on Riverside Drive on the Upper West Side has been the subject of NYC's most infamous, and silliest, riddle over the years. The correct answer is that nobody is buried under the monument…Grant and his wife are, however, entombed here and are not six feet under. (That's why it's Grant's Tomb, not Grant's Grave.)
But if you take a short walk up Riverside Drive, you will find a grave here.
It's a small monument surrounded by an iron fence.
The story goes that St.Clair Pollock was playing on the rocks overlooking the Hudson River on the Pollock property, and fell to his death on July 15, 1797. He was just five years old. When the Pollocks later sold the property, his father (perhaps his uncle; records are unclear) made the request that St. Clair's grave, which was on the property, would always be respected. Though this part of NYC has been through many hands since then, St. Clair's grave has always been marked. A small stone urn is marked, "Erected to the memory of an amiable child." St. Clair is also commemorated with the very short St. Clair Place, which runs between the Hudson River and West125th Street under the Riverside Drive Viaduct, about a half mile to the north.
The NYS historical marker formerly found here said:
Grave of St. Clair Pollock, kiled by fall over cliff, 1797. Plot deeded by uncle, George Pollock, to Cornelia Verplanck to preserve.
Bowling Green
The NYS Bowling Green historical marker copy:
Center of New Amsterdam about 1650; market and parade for soldiers. Here Indians sold Manhattan to Peter Minuit, 1626
In the 1600s, Dutch soldiers from Fort Amsterdam used this triangle formed by Broadway and Whitehall Street as a site for marching drills, and it later became a market, or marktveldt where cattle changed hands (cf. Marketfield Street). This is the oldest public space in NYC, becoming a park in 1733. A statue of George III dressed as a Roman emperor was erected here after the repeal of the Stamp Act in 1766, and later, a fence was built in 1771 with gold-plated crowns, but after independence was declared in 1776, statue and crowns were pulled down and transported to Litchfield, CT where they were melted and formed into ammunition. The fence, though, has remained all these years.
Latter-day scholarship suggests the "purchase" of Manhattan Island was made by Minuit uptown in today's Inwood Hill Park, and the Weekquaeskeek Indians did not have a tradition of real estate or land property, and so didn't realize the exchange gave the Dutch free rein on the island, which was later obtained with muskets.
In the 1970s, Bowling Green was closed to auto traffic and the current Belgian block surface was installed.
A second NYS historical marker here was headlined STAMP ACT RIOT and read:
Centered here in 1765; statue of George III torn down, 1776, at reading of Declaration of Independence and melted into bullets.
British Lines
Erected in 1776, to defend Manhattan Island, with blockhouses and batteries, extended across these hills on the line of 100th Street.
This was one of a number of NYS historical signs commemorating Revolutionary War events in what is now Central Park, which was developed as such in the late 1850s. The photo is of 5th Avenue and the line of East 100th Street; the sign stood on East Drive, a few yards west of here.
McGown's Pass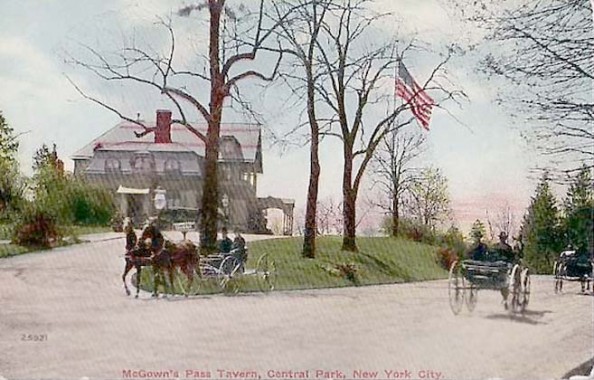 McGown's Pass, "yesterday" (1900) and today.
McGown's Pass was named for a tavern run by Scotswoman Catherine McGown and her descendants from 1759 into the 1840s. (The tavern was on an aboriginal Manhattan road called Old Harlem Road; no trace of it remains, but a road it intersected, Harlem Lane, is today called St. Nicholas Avenue above Central Park from 110th Street north). The pass, located about midway on the southern edge of what would become Harlem Meer, was occupied by the British and Hessian mercenaries in 1776 and held until the end of the war in 1783.
As for McGown's tavern, which was located south of the pass, it was purchased by the Sisters of Charity in 1847 and became a religious community center called Mount St. Vincent. The Sisters decamped to Riverdale in the Bronx in 1860, and the site once again became a tavern and renamed once again for McGown. It was razed in 1917.
A former NYS historical marker placed at the site said:
Here stood original tavern on Old Post Road, built 1750 by Jacob Dyckman, sold 1760 to Mrs, Daniel McGown, who kept resort for foxhunters.
The Dyckman and Benson families owned much of upper Manhattan in the colonial era.
A chain of major batteries was installed in upper Manhattan: Fort Clinton, Fort Fish, a battery at McGown's Pass, Nutter's Battery, and Blockhouse Number One were in what would later become Central Park. When it was built, this Blockhouse had a sunken roof with a large cannon that could be fired in any direction. The five fortifications in what would become Central Park had over 2000 militiamen garrisoned.
None of the batteries, fortunately, ever saw combat. The Treaty of Ghent was signed on Christmas Eve 1814, and the forts were abandoned almost overnight. (Andrew Jackson defeated the British at the Battle of New Orleans on January 1815 before word of the treaty had reached the two opposing forces.)
Fort Clinton
Above: the former cannon installation at the Fort Clinton site, near McGown's Pass. Only the stones remain.
Today, the sites remain as a reminder of the role that New York City played in the early history of the American Republic. Perched on a steep inclined of Manhattan schist, Fort Clinton is surrounded by a curved iron railing and offers Park visitors a stunning view of the Meer.  Central Park
The former marker read:
Named for Mayor DeWitt Clinton, erected in 1814 to protect New York City. Site of British earthwork during the Revolution.

British Provost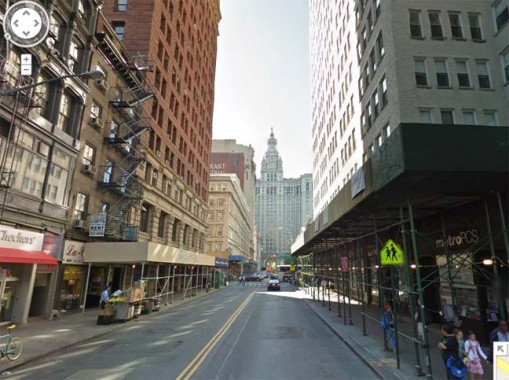 Above: Chambers Street, looking east toward the Municipal Building
The sign marked "British Provost" was placed somewhere on Chambers Street and said:
Site of military prison during the Revolution. Ethan Allen confined there. Later debtor's prison and register's office.
The military prison I am aware of in this area was the Bridewell, of which a foundation was dug up and restored to City Hall Park at Broadway and Warren Street.
It was designed by Theophilus Hardenbrook in 1775.  The jail, poorhouse and another building known as the new Bridewell were used by the British to house American prisoners of war. Construction was interrupted by the Declaration of Independence. The Bridewell, named for a London jail, was the most deadly of the prisons. It had no windows, only bars. The winter winds took the lives of hundreds of ill-fed patriots. Many thousands died in prison ships in the Harbor.
The sadistic William Cunningham was the provost marshal of the British jails. It is thought that Cunningham hung Nathan Hale, though the location of Hale's execution is disputed. Cunningham is reported to have made a deathbed confession to starving 2,000 prisoners in the city as he sold their allotted rations for personal profit. He confessed to executing outright 275 American prisoners and "other obnoxious persons." Women who visited the jails to speak to their husbands through the windows were beaten with canes and ramrods. (from wikipedia entry)
The Bridewell was used as a jail until its demolition in 1838. Granite blocks were incorporated into the new Manhattan Detention Complex (the Tombs). Its cornerstone can be found at the New -York Historical Society.
Bryant Park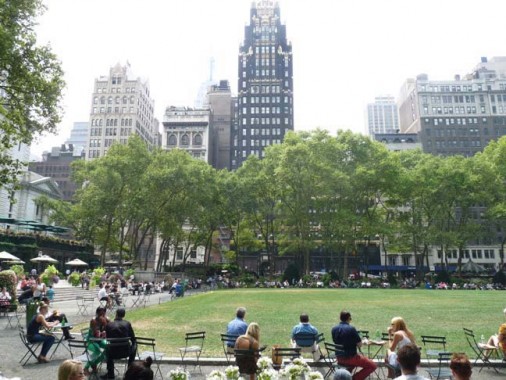 I've always found Bryant Park, between East 40th and 42nd Streets facing 6th Avenue, as fascinating not only for its transformation as a drug-fueled mugger's paradise into the midtown lunch hour gathering place, but also because of its collection of ancient furnishings like bronze lampposts and its collection of statuary depicting forgotten (at least, by many of the parkgoers) personalities.
Bryant Park, too, used to claim a NYS historical marker:
Once part of the farm of Robert Murray, whose wife delayed Gen. Howe's chase of Washington, 1776. Later Croton water reservoir.
Murray Hill, which is east and south of Bryant Park, is named for the patriot (1721-1786), who was an Irish immigrant, shipping merchant, and Presbyterian turned Quaker. Beginning in 1762, he rented land now part of Murray Hill from the Kip family (of Kips Bay fame). In 1776, when British forces led by General William Howe were pursuing Washington's relatively ragtag company, the story goes that Robert's wife Mary had the British general and his officers in for tea, delaying the pursuit and letting the patriots slip away (many of Washington's NYC triumphs were, in fact, retreats that let him preserve lives and resources). Further scholarship suggests that the tea party scenario wasn't completely based in fact.
The Murrays' son, Lindley, was said to be a Tory and was forced to leave the USA, settling in England, where he became a bestselling textbook author.
Castle Garden
The NYS historical marker copy, written in 1936, read:
Built 1807 as a battery; amusement hall, 1824; opera house, 1847, where Jenny Lind sang; Immigration Bureau, 1855-1891; now the Aquarium.
Originally called West Battery, Castle Clinton was built as a fort from 1808-1811 in the Hudson River, 200 feet from the shore, in 35 feet of water. Its purpose was to defend the island against the British at a time of increasing tension between the USA and England, which eventually broke out into the war of 1812. During the war NYC was not invaded as Washington, DC was, possibly because of protection from forts like this. It was renamed Castle Clinton in 1815 in honor of former mayor and NYS governor DeWitt Clinton.
In 1823 the federal government ceded the fort to NYC and it was connected to Manhattan Island by a causeway. Until 1851 it was an entertainment center called castle Garden, playing host to band concerts, fireworks and singing and dancing acts, notably Jenny Lind, the 'Swedish Nightingale' and Lola Montez.
By 1855 the Castle was being used as NY's prime immigration entrance facility and remained thus until 1890 when Ellis Island was opened. Eight million immigrants were processed here during that time. Among the luminaries who entered NYC for the first time via Castle Clinton are electricity pioneer Nikola Tesla, Joseph Pulitzer, Sophie Tucker, Harry Houdini and anarchist Emma Goldman.
In 1896 the New York Aquarium arrived and the castle was remodeled by McKim, Mead and White (who later built Penn Station). By 1941 90 million people had patronized it. However, Robert Moses' bid to build a bridge from Brooklyn to Battery Park, later revised to a tunnel, led to the Aquarium's closure and later rebirth in Coney Island in 1957.
Castle Clinton was designated a national monument in 1946, ensuring its survival, and in 1975 it was restored to approximate its original appearance as a fort. Today the interior is home to a small museum, gift shop and ticket booths for Ellis and Liberty Island ferries.
City Hall Park
photo: wikipedia
The NYS historic marker here said:
Old Dutch Vlachte or pasture,  later called the Common; granted to the City in 1686 by the Dongan Charter
On April 27, 1686, Governor Thomas Dongan granted the Dongan Charter of the City of New York. Part of this early city charter officially put all "waste, vacant, unpatented and unappropriated lands" for the first time in municipal care, under the jurisdiction of the Common Council. These "unappropriated lands" included the outdoor marketplaces and public commons that later became the first city parks. NYC Parks
City Hall Park, known as the Commons in the eighteenth century, is a triangular plateau of land with the modern borders of Broadway on the west, Park Row and Centre Street on the east, and Chambers Street on the north. Early colonial use of the Commons, rooted in Dutch tradition, was as communal pasture. Because of its location at the town's outer limits, the eighteenth-century Commons was an appropriate location for those groups considered "undesirable" at the time…
As the city continued expanding northward, the Commons became less isolated. Despite its increased institutional use, the Commons continued to be used as a public gathering space, either for celebration or demonstration. Opponents of British policies rallied at the Commons, and from 1766 to 1770, British soldiers cut down four of the five Liberty Poles erected there by the "Sons of Liberty." During occupation, American prisoners-of-war were housed in the Gaol and Bridewell. After the war, the Barracks were removed and the primary function of the Commons was again civic. Construction began on City Hall in 1803 and the Tweed Courthouse in 1860. Both structures remain in City Hall Park today. Archeology.org
Above: the Jacob Wrey Mould fountain, first installed in City Hall Park in 1871
City Hall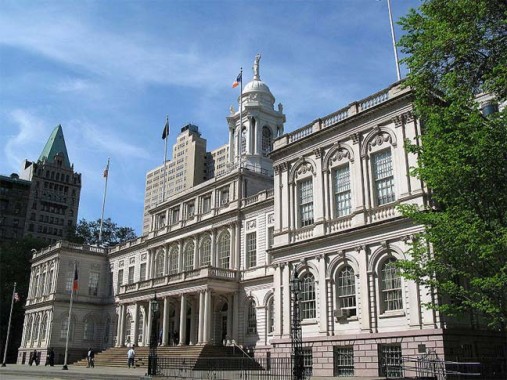 photo: wikipedia
In 1803 the cornerstone was laid for the current City Hall, which was designed by Joseph Mangin and John McComb.  When the building opened in 1812 many felt that it was too far north of the center of the City.  In 1818 a circular building called the Rotunda that housed the City's first art museum was built on the park's northeast corner, and in 1830 the debtors' prison was converted to the City Hall of Records.  In 1842 a fountain with a 100-foot-diameter basin and an impressive center jet capable of shooting water 50 feet into the air was built using water pumped in from the then-new Croton Aqueduct.
The building's Governor's Room hosted President-elect Abraham Lincoln in 1861, and his coffin was placed on the staircase landing across the rotunda when he lay in state in 1865 after his assassination. Ulysses S. Grant also lay in state beneath the soaring rotunda dome as did Colonel Elmer Ephraim Ellsworth, first Union officer killed in the Civil War and commander of the 11th New York Volunteer Infantry Regiment (First Fire Zouaves). The Governor's Room, which is used for official receptions, also houses one of the most important collections of 19th century American portraiture and notable artifacts such as George Washington's desk. There are 108 paintings from the late 18th century through the 20th. wikipedia
City Hall has been mostly closed to the public since the 9/11/01 terror destructions, and the area surrounding it has been mostly turned into an armed camp, for better or worse. The White House in Washington has been called the "People's House" but NYC's stewards have had a different philosophy. Despite the protections, City Hall was the site of a political assassination in 2003 because of a lax application of metal detectors.
Corlaer's Hook
FDR Drive at Corlears Hook Park
Indian village, Naigianac "sand lands" trail along line of Grand Street, across Manhattan; later occupied by farm of Jacob Corlaer.
Corlear's hook Park can be found where the Franklin Delano Roosevelt Drive turns northward along the line of Manhattan Island at the east end of the Lower East Side, at Jackson and Cherry Streets. Grand Street reaches the FDR Drive a couple of blocks north of the park at Corlears Hook Houses. The houses stand on the route of the former Corlear Street.
This point of land on the East River was also called Crown Point during the British period. It was an important landmark for navigators for 300 years. On older maps and documents it is usually spelled Corlaers, but since the early 19th Century the spelling has been anglicized to Corlears. It was named after Jacobus van Corlaer, who settled there prior to 1640. oldstreets
In the 1800s, Corlear's Hook was infamous as a region where prostitutes plied their particular trade, and some etymologies have it that the term "hooker" comes from Corlear's Hook.
Fort Washington
Fort Washington Avenue, which runs from Broadway and West 159th Street north-northeast to Fort Tryon Park, was named for the fort built by patriots on the present site of Bennett Park, on Fort Washington Avenue between West 183rd and West 185th Streets. It was seized by British and Hessian troops during their takeover of Manhattan Island in 1776. The fort was held by Colonel Robert Magaw, who defended it against 8,000 troops led by Lieutenant General Wilhelm von Knyphausen; after its capture, the fort was renamed for the Hessian.
During the battle the Americans were materially assisted by Margaret Corbin, the wife of John Corbin of the First Company of the Pennsylvania Artillery. After he was killed in the battle, she cleaned, fired and loaded his cannon.
Although the NYS historical marker delineating the fort is no longer there, you can see a memorial tablet on the site that was placed here in 1901.
There had been, in fact, two NYS historical markers here, which read…
American garrison of 3,000 captured, November 16, 1776, by 9,000 British and Hessians, later named Fort Knyphausen, after the Hessian general
Central fortification of American defenses of the heights, 1776. Built by Col. Rufus Putnam, and Pennsylvania troops.
Margaret Corbin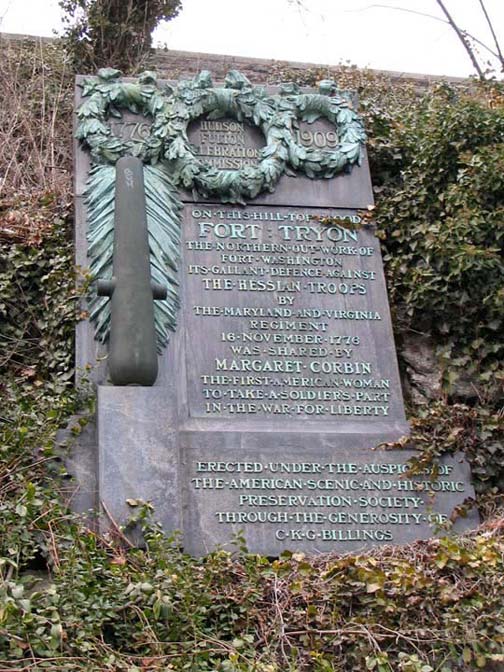 Fort Tryon Park, illuminated on this FNY page, contains a handsome plaque commemorating American troops and Margaret Corbin was erected by Cornelius Billings in 1909 when this was still part of his estate. The plaque is immense and must weigh the considerable part of a ton.
There was, of course, a NYS historical marker honoring Margaret Corbin in the park:
Wife of John Corbin, of a Pennsylvania battery, killed here in the battle of Fort Washington,  fired his gun until she was badly wounded.
Gracie House
photo: wikipedia
Gracie Mansion is one of NYC's more mysterious mansions, because it's way over on the east side of Manhattan in Carl Schurz Park at East End Avenue and East 88th Street. It's one of Manhattan's oldest residences and one of three, along with Harlem's Morris-Jumel Mansion and Inwood's Dyckman Farmhouse, to be built in the 18th Century. The namesake of the house was Scottish immigrant Archibald Gracie, who made his money in business in Virginia. Upon moving to New York he bought property on the east side of the island from the estate of David Provoost, razed a fort (Horns Hook) and built Gracie House. It became the unofficial residence for NYC mayors in 1942 (it was the idea of Robert Moses for the building to assume this role!) , though some, like Michael Bloomberg, chose not to live here, though he received guests and performed official functions at Gracie. The building has undergone occasional revampings and additions over the years, from 1804-1808, 1934-1936, 1965-1966, 1985, and finally in 2002.
In 1801, Gracie held a meeting here with like-minded Federalists, raising $10,000 to assist Alexander Hamilton in the founding of the New York Post. The building also did a stint from 1924-1936 as the home of the Museum of the City of New York (now in a mansion at 5th Avenue between East 103rd and 104th Streets).
Its old NYS historical marker, which has long gone missing, said:
Built by Archibald Gracie, merchant, 1813. Earlier Horn's Hook, where batteries were placed in the Revolution and the War of 1812.
The marker seemed to be incorrect about the date of construction, and I can't find any other material about the building's role in the War of 1812.
Lastly, the famed WPIX-TV yule log was originally filmed at the mansion's fireplace. Weekly tours are offered.
Hamilton Grange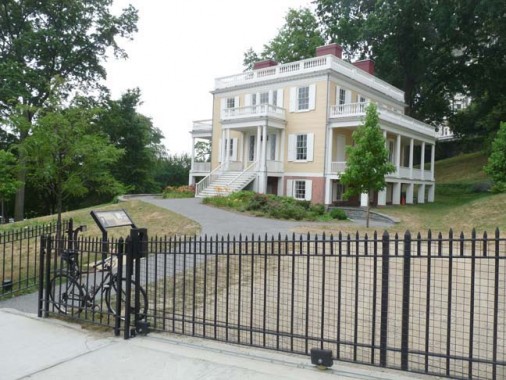 I've hung with Hamilton on a FNY page written in 2012, so I'll direct you to that page for info about this historic house, which has been moved twice during its history.
A NYS historic plaque located at the building's former home on Convent Avenue read:
Gen. Alexander Hamilton, one of the framers of the Constitution, first Secretary of the Treasury, built this house in 1802.
Jumel Mansion
Built by Col. Robert Morris 1765; ocupied by Washington, Sept.-Oct. 1776; later by Stephen Jumel. French wine merchant, 1810 to 1832
Similarly to Hamilton Grange, FNY covered this Harlem landmark (in Roger Morris Park at Edgecombe Avenue and West 160th Street) in the Sugar Hill neighborhood page, in an excerpt from the ForgottenBook
There was an additional marker here, headlined WASHINGTON'S HEADQUARTERS:
Built in 1765 by Col. Roger Morris. Center of American defense of New York, Sept.-Oct. 1776. Later home of Stephen Jumel.
Madison Square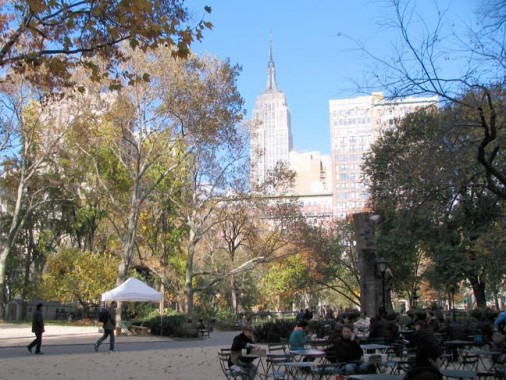 This midtown oasis formerly claimed its very own NYS historical marker, which read:
Originally parade ground made city park in 1837. Double line of trees north from fountain marks line of old post road, closed in 1844.
Self-referencing is habit-forming! In 2012, there was a ForgottenTour concentrating on Madison Square, between 5th and Madison Avenues from East 23rd-26th Streets, and I also covered it as part of my Five Squares of Manhattan series.
Mount Morris
Only one thing stopped Fifth Avenue's inexorable march uptown to the Harlem River during the time it was surveyed and laid out: the massive rock outcropping now known as Marcus Garvey Park, originally Mount Morris Park.
As stated on FNY's Mount Morris Park page, the origin of the name Mount Morris Park has apparently been a puzzler for historians. A Robert H. Morris was NYC mayor from 1841-1844, but the park had been established by then. Sanna Feirstein of Naming New York guesses that the park's high elevation gave a good view of the Morris holdings across the Harlem River to the northeast.
The chief attraction to the rock's summit is the presence of an ancient fire tower. Before the gays of telegraphy, telephony and fire alarms, warnings of fires were literally shouted from the summits of fire towers at strategic points all over Manhattan. This one is the last one standing.
Mount Morris' NYS historical marker read:
Here was the calf pasture in which Harlem Dutch settlers had common rights. American and Hessian batteries on summit, 1776.
Oak Villa
Site of country seat of Brockholst Livingston, judge and general, grandson of Philip, lord of the manor of Columbia County, NY
above: Riverside Drive at about West 90th Street
Henry Brockholst Livingston (November 25, 1757 – March 18, 1823) was an American Revolutionary War officer, a justice of the New York Court of Appeals and eventually an Associate Justice of the Supreme Court of the United States. wikipedia
Oak Villa was a prominent mansion in what used to be the town of Bloomingdale, on the Upper West Side, which was just one of the many small towns absorbed by New York City in the post-colonial era.
The bluest blood in Bloomingdale flowed in the veins of the Livingstons … and the most prominent of the Bloomingdale Livingstons (as well as the most belligerent) was the lawyer Henry Brockholst Livingston, whose country seat, Oak Villa, was one of the most stately portions of what had been the DeLancey estate, on a broad bluff east of Riverside Drive east of West 91st Street. ("I miss the thousand delights of Bloomingdale," he wrote to his wife, Catherine, while on official business in upstate Geneva in 1806.)
In the Revolution, Brockholst, the oldest son of Governor William Livingston of New Jersey, had been a colonel (serving with Benedict Arnold at Saratoga) and later an envoy to the court of Spain, where he instantly antagonized the Spanish nobility. Back in New York, he mixed it up enthusiastically in the violent politics of the 1790s. A rabid anti-Federalist, Livingston was on hand during the 1795 riots against the unfortunate Jay treaty with Spain, in which his cousin John Jay was burned in effigy and Alexander Hamilton wounded (in person) by a stone. 
He was also the target of an assassination attempt and fought several duels, a practice stil tolerated though not encouraged… he had the honor of delivering the first Independence Day oration under the Constitution at St. Paul's Chapel in 1789 to an assembly that included George Washington and members of Congress. Upper West Side Story: a History and Guide, Peter Salwen
Striker's Bay
Near the former Oak Villa site on Riverside Drive was a second NYC historical sign that was headlined "Striker's Bay" and stated:
British outpost in Battle of Harlem Heights. Nearby stood elm that inspired George Morris' poem, 1837, "Woodman, Spare That Tree."
Returning to Salwen for a moment, "The elevated area that included Oak Villa was generally called Striker's Bay, and was the heart of the wealthy suburb. It reached roughly from John MacVicar's sixty-acre estate at modern West 86th Street, with its winding drive and large Palladian house, to St. Michaels Episcopal Church, Bloomingdale's second church (1807) which stood above a pretty stream at 99th and Amsterdam Avenue."
"Woodman, Spare that Tree!" was first published in the January 17, 1837, issue of the Mirror under the title "The Oak" and was that year set to music by Henry Russell before being reprinted under its more common title in 1853.
Woodman, spare that tree!
Touch not a single bough!
In youth it sheltered me,
And I'll protect it now.
'Twas my forefather's hand
That placed it near his cot;
There, woodman, let it stand,
Thy axe shall harm it not!
That old familiar tree,
Whose glory and renown
Are spread o'er land and sea,
And wouldst thou hew it down?
Woodman, forbear thy stroke!
Cut not its earth-bound ties;
O, spare that aged oak,
Now towering to the skies!
When but an idle boy
I sought its grateful shade;
In all their gushing joy
Here too my sisters played.
My mother kissed me here;
My father pressed my hand —
Forgive this foolish tear,
But let that old oak stand!
My heart-strings round thee cling,
Close as thy bark, old friend!
Here shall the wild-bird sing,
And still thy branches bend.
Old tree! the storm still brave!
And, woodman, leave the spot;
While I've a hand to save,
Thy axe shall hurt it not.
Spuyten Duyvil
There were a trio of NYS historical markers in the Inwood Hill Park – Spuyten Duyvil Creek area, the placement of which has been rendered as vague:
SPOUTING SPRING
Here was the Shorakapkok or "sitting down place" of the Indians who made spuyten Duyvil a place for loafing and eating.
SPOUTING SPRING
In cove below was resort of Indians, known as Shorakapkok, or "sitting down place." Name of spring given to Spuyten Duyvil.
SPUYTEN DUYVIL
Early Dutch name of this stream, resort of Indians whose palisaded village, Nipnichsen, was on summit of hill on north shore.
Two of the three markers seem to have been the present Shorapkok Rock in the middle of Inwood Hill Park. The rock  is on the exact site of a giant tulip tree, its girth marked by a concrete ring around the rock, where supposedly, it's the site of one of the greatest, or worst, real estate swindles in history, depending on your point of view. In 1626, the story goes, Dutch governor Peter Minuit purchased Manhattan Island from the Weekquaeskeeks, or possibly the Canarsie or Lenape Indians, for a collection of beads and trinkets valued at 60 Dutch guilders, ascertained to be worth 24 US dollars. In reality the Indians most likely thought they were bargaining with the Dutch for the use of the area. Minuit is remembered by a plaza at Whitehall and South Streets all the way downtown, which was formerly thought to be the place where the "deal" was struck.
Spuyten Duyvil is tucked into the corner of the Bronx at the Hudson and Harlem Rivers above the Harlem River. It has been known as Speight den Duyvil, Spike & Devil, Spitting Devil, Spilling Devil, Spiten Debill and Spouting Devil, among other spellings. In Dutch, "spuyten duyvil," the mostly-accepted spelling these days, can be pronounced two ways; one pronunciation means "devil's whirlpool" and the other means "spite the devil."
The Lenape Indians inhabited the land for hundreds of years before Europeans arrived; they called the banks of the creek "shorakapkok" or "sitting-down place". After a few hundred years, the name has been pared down and exists as a street name: Kappock (pronounced kay' pock).
Old Shore Line
On State Street in front of the Seton Memorial building in the sidewalk, there is a small marker indicating that the Hudson River shoreline once reached thist point. There also used to be a NYC historical marker here stating the same thing, which read:
The original Hudson River shore to 1700 was on the line of the Ninth Avenue elevated from Greenwich Street to the South Ferry.
It's revealing that if these historical markers had been retained, they would have pointed out some additional ghosts of NYC history unintended by their authors. Until 1940, this site was shadowed by the 9th Avenue El, wich ran up State Street, Greenwich Street and 9th Avenue, finally joining with the Jerome Avenue el in the Bronx.
The Claremont
The Claremont Playground, Riverside Drive just north of Grant's Tomb north of West 122nd Street, resembles many other NYC parks: a kiddie area with spray showers and jungle jims, and a sitting area for the grownups. It also has a concrete monument in the sidewalk marking it as the former site of a colonial-era mansion:
Rich in history, the plain of Claremont Playground has been the site of a Revolutionary War battle, a country estate, a fashionable inn, and a children's recreation area. This was the scene of fierce combat during the Battle of Harlem Heights, fought on September 16, 1776. Michael Hogan, a former British Consul in Havana, purchased land here in 1806 and built the Federal-style Claremont Mansion (for which Claremont Avenue was named). Possible sources of the name are the elevated site's scenic outlook; Hogan's birthplace in County Clare, Ireland; and the title of his friend Prince William, Duke of Clarence, who would ascend the English throne as King William IV in 1830.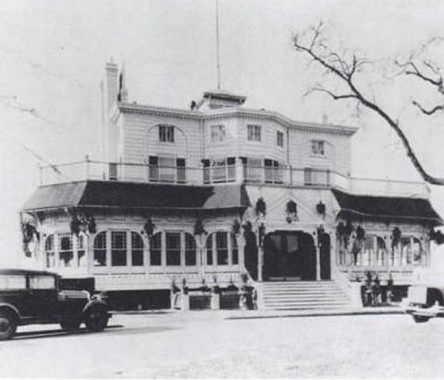 photo: The Street Book
After a series of owners, the mansion came to be used as a popular roadside inn by 1860. The City acquired the property in 1873 for the development of Riverside Park and continued to operate the inn. At the turn of the century, the Claremont Inn and its formal gardens attracted visits from numerous politicians, military officials, socialites, and entertainers including President William McKinley, Admiral George Dewey, Lillian Russell, and members of the Morgan, Vanderbilt, and Whitney families. By 1907 it was a public restaurant, serving house specialties like curry of chicken Claremont to such notables as Cole Porter, George S. Kaufman, George M. Cohan, Fannie Hurst, and James J. Walker. Claremont Inn burned down in 1950, and a new playground was constructed on the site within two years. NYC Parks
The NYS historical marker that formerly stood here read:
Built 1785, by Michael Hogan, named for home in Surrey, England, of King William IV, with whom Hogan served as midshipman in British Navy.
Whitehall Ferry
above: State and Whitehall Streets, showing #1 New York Plaza
You're in the footsteps of George all over Manhattan, from downtown to midtown to uptown. This last NYS historical marker once stood about here, and indicated…
Here in 1783 was the head of the Whitehall Ferry slip where Washington embarked, after his farewell to his officers in Fraunces Tavern.
And it's time to say farewell to this segment of NYS historical markers in NYC….
3/24/13
(Sorry about the different font sizes on this page. WordPress refuses to allow consistent sizes on material cut and pasted from Microsoft Word, where much of my notes were originally written)