As seen in Part One, among the odder things, at least to me, about the names of the neighborhoods of Manhattan is that so many of them are named prosaically. Many neighborhoods do not honor prominent personages, or name check prominent landmarks or geographical features. The central part of the island below Central Park is called simply Midtown. The region on the southeast end of the island is called the Lower East Side. That condition also continues as we get north of Central Park…
The Ansonia, Broadway and West 73rd Street
UPPER WEST SIDE
In the late 1800s, the old Bloomingdale Road was straightened and called The Boulevard until it became a northern extension of Broadway. Till then this was the northern limit of "civilized" Manhattan and, located on the west side of Central Park, it became the "Upper" West Side and the name has remained in place even as the northern end of the island was built up all the way north to the Harlem River.
The Ansonia is just one of the beautiful hotels and residences that were built with a park view in mind. It was built in 1899 by industrialist William Earl Dodge Stokes, heir to the Phelps-Dodge mining fortune, and named in honor of his grandfather, Anson Greene Phelps.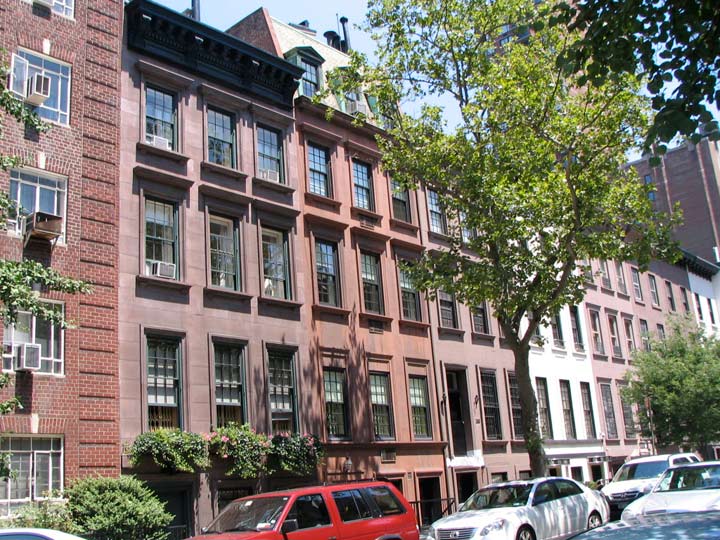 Treadwell Farm houses, East 61st between 2nd and 3rd Avenues
LENOX HILL
Encompassing the neighborhood between Central Park and the East River between East 59th and East 72nd Streets, Lenox Hill recalls the farm of Robert Lenox, who owned about 30 acres of land between today's East 68th and 74th Streets east of 5th Avenue. His son, James, developed the area after his father's death:
Robert Lenox's son James Lenox divided most of the farm into blocks of building lots and sold them during the 1860s and '70s; he also donated land for the Union Theological Seminary along the railroad right-of-way, between 69th and 70th Streets, and just north of it a full square block between Madison and Fourth Avenue, 70th and 71st streets, for the Presbyterian Hospital, which occupied seven somewhat austere structures on the plot; he built the Lenox Library on a full block-front of Fifth Avenue, now the site of the Frick Collection. wikipedia
Thus, while Lenox Hill, the neighborhood and Lenox Hill Hospital are named for Robert Lenox. Lenox Avenue, which runs in the place of 6th Avenue and today is alos named for civil rights champion Malcolm X, was named for James Lenox.
The Shively Sanitary Tenements/Cherokee Apartments, East 77th-78th Streets at Cherokee Place
UPPER EAST SIDE
The counterpart of the Upper West Side  on the east side of the park is a bit smaller and hemmed-in because it is flanked by two other defined neighborhoods, Lenox Hill on the south and Yorkville on the north. The UES can be said to run from the park east to the East River and from East 72nd Street north to about East 82nd, where Yorkville takes over. It's more of a workaday neighborhood than the Upper West Side, though on its west side it boasts the Metropolitan Museum of Art and on its far east, the Cherokee Apartments, which introduced a novel concept in tenement construction in 1909 — plenty of sunshine, as before inoculation against tuberculosis, sunshine and fresh air were considered the chief weapons against the disease.
Schaller & Weber, 2nd Avenue and East 86th Street
YORKVILLE
Yorkville, located between 3rd Avenue and the East River from East 82nd north to East 90th Streets,  did not start out as a German neighborhood; from colonial times, it was a small settlement on the Upper East Side clustered along the now-disappeared Boston Post Road as it meandered north.
Beginning around 1930 German as well as eastern European and Irish immigrants began moving to the East 80s. There were greater opportunities to find work as well as new apartment buildings began to appear at the time, and there was plenty of mas transportation. Bear in mind that NYC had many trolley car lines and both the 2nd and 3rd Avenue Els were in business until 1940 and 1955 respectively. But the neighborhoods around the els began to dilapidate and age, and calls rang out to eliminate the els and let the sunshine in.
Coincident to the departure of the els came the departure of the neighborhood's ethnic flavor.
Social clubs and religious and educational institutions sprang up in Yorkville, creating and maintaining a network where German traditions were practiced and celebrated. Similarly, German restaurants, stores, beer halls, bookstores, and music venues guaranteed that German residents felt right at home and outsiders and visitors felt immersed in German culture. Eighty-sixth Street was considered German Broadway where one could purchase, consume, and enjoy all things German.
It may be surprising to know that Yorkville was so-called at least by the Civil War era, and became more populated when the new NY & Harlem Railroad was built through the region in the 1830s. It was not named for York Avenue, which received that name in honor of World War I hero Sergeant Alvin York in 1918 (York Avenue was previously called Avenue A).
John C. Rennett House and Adam C. Flanagan Houses, East 92nd Street between Park and Lexington Avenues
CARNEGIE HILL
Carnegie Hill, which runs from the north end of Yorkville (I arbitrarily make it East 90th Street) north to East 96th Street and from 5th Avenue to the East River. It is named for the mansion at 5th Avenue and East 91st Street built by industrialist/philanthropist Andrew Carnegie in 1901, which today is home to the Cooper-Hewitt National Design Museum.
Carnegie (1835-1919), a Scottish emigré best known for the steel industry he helped build in Pittsburgh, PA, was a prominent philanthropist and founded hundreds of libraries and museum, and funded dozens of new libraries in the early 1900s in New York City alone.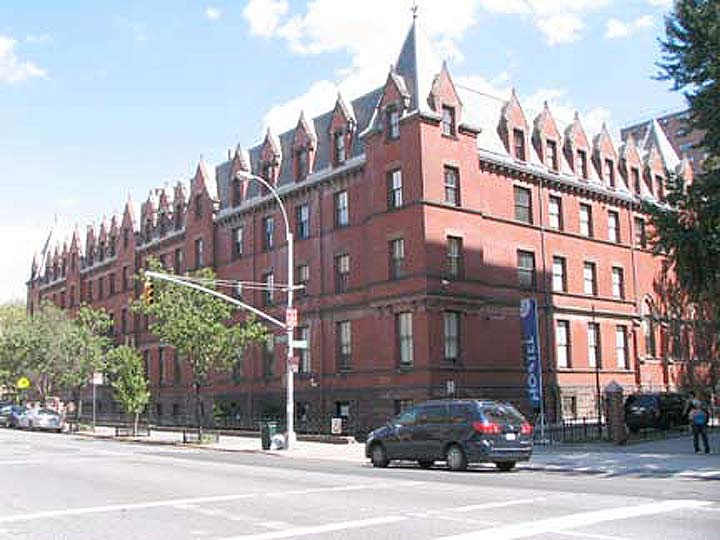 Former Residence for Respectable Aged Indigent Females, Amsterdam Avenue between W. 103rd and 104th Streets, Manhattan Valley
Former Bernheimer and Schwartz Pilsner Brewing Company Building, Amsterdam Avenue and West 126th Street
MANHATTAN VALLEY (West 96th Street to Cathedral Parkway/West 110th Street and Central Park West and Riverside Drive) and MANHATTANVILLE (West 125th-135th between St. Nicholas Park and Riverside Drive) are both named for the island on which they are located, of course; but Manhattanville has its own story.
Of all of Manhattan's former self-contained villages, such as Harsenville, Yorkville and Seneca Village, Manhattanville has retained more of a singular identity than the others. Indeed, its old street pattern, centered on slanting West 125th (formerly Manhattan) Street, predating the overall street grid, has been retained. The village was founded in 1806 in a deep valley whose location was propitious for cross-island travel to and from the older village of Harlem to the east.
Manhattanville more or less defied the 1811 Commissioners Plan street grid surveyed by John Randel, and in some cases, maintained its old street layout. Over the decades a good deal of it has been erased. But two of the main streets retain their old routes: the former Manhattan and Lawrence Streets. Both are still where they always were. The bend West 125th Street (Dr. Martin Luther King Blvd.) takes west of Morningside Avenue is the point where Manhattan Street began; likewise its partner to the north, Lawrence Street, now West 126th. Manhattan Street was renamed West 125th in 1920, and the old route of West 125th west of Morningside Avenue became LaSalle Street (for Jean Baptiste de la Salle, a founder of the Brothers of the Christian Schools, an order that founded Manhattan College which has since moved to Riverdale in the Bronx).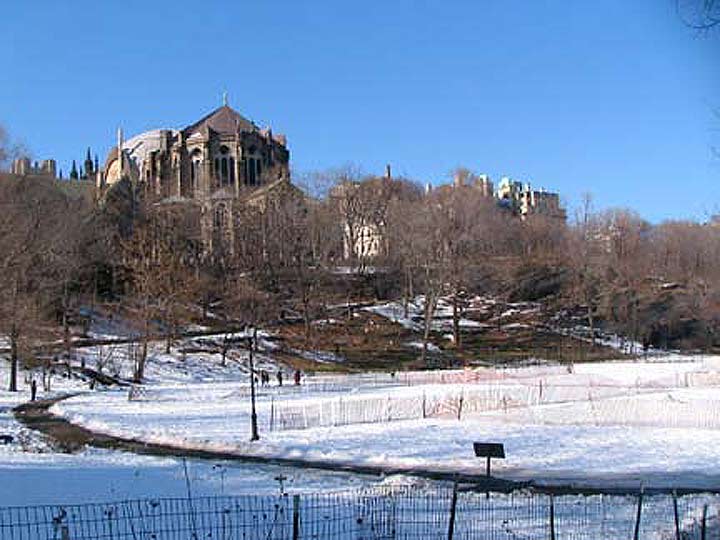 Morningside Park and Cathedral Church of St. John the Divine, Cathedral Parkway and Manhattan Avenue
MORNINGSIDE HEIGHTS
If you look at the Manhattan map, 30-acre Morningside Park can be seen as a northern fingerlike extension of Central Park, extending as it does from Cathedral Parkway (West 110th Street) to West 123rd Street roughly between Manhattan and Morningside Avenues and Morningside Drive. And, it was designed by Central Park architects Frederick Olmsted and Calvert Vaux, opening in 1887; Jacob Wrey Mould, who designed the carvings at Bethesda Terrace in Central Park, finished Olmsted and Vaux' plan and designed the masonry wall along Morningside Drive. Located along a steep cliff, the park takes its name from the morning sun that illuminates the cliffs — hence the addition of the word "Heights."
Astor Row, West 130th Street between 5th and Madison Avenues
HARLEM, EAST HARLEM, SPANISH HARLEM
Of all of Manhattan's early uptown villages, it is Harlem that has survived most famously today in the public's imagination. As early as 1658 Dutch farmers had established a settlement here, ultimately supplanting an earlier Native American settlement that had sprawled along the Harlem River where the streets in the 110s and 120s are now. Their village was named Nieuw Haarlem, after the west Netherlands city. In 1776, the village was the setting for the Battle of Harlem Heights, in which the colonists scored a key victory over the British.
When first a railroad and then elevated public transportation was extended north to Harlem (which by then had lost an "a") in the 1880s, they started a feverish building boom, producing block after block of new apartments and tenements. In the decades after the el and subway construction Harlem was home to Eastern European Jews, who had moved uptown from the cramped tenements of the Lower East Side; after World War I they were moving elsewhere, and Harlem became a mecca for the city's African-Americans, fleeing from prejudice not only in other parts of the city but from the southern states. In the Roaring Twenties, Harlem became a political and also a cultural capital for literature, painting and the form most closely associated with it, jazz in the movement known as the "Harlem Renaissance."  The Depression and the following decades proved devastating to the area, but by the 2000s, investment in the area was having an effect and Harlem was again on the upswing with new and renovated housing and a reviving artistic community.
Harlem is a vast, sprawling area above Central Park. Harlem proper can be said to run from Central Park North up to the Harlem River and the rapidly narrowing Manhattan Island, while from east to west from Manhattan and St. Nicholas Avenues and Jackie Robinson Park east to Madison Avenue and north of that, the Harlem River.
Harlem is then subdivisioned into East Harlem from Madison Avenue east to the river and north of East 116th Street, with Spanish Harlem, named for its longtime Latin population, from 5th Avenue east to the river north of East 106th. There is also a rapidly shrinking Italian Harlem located north and south of the east end of East 116th Street. Rao's Restaurant on Pleasant Avenue is probably the surviving institution best associated with Italian Harlem.
Shepard Hall, City College of New York campus, Convent Avenue and West 140th Street
HAMILTON HEIGHTS
Hamilton Heights is a small, tight area just north of the City University of New York (whose Shepard Hall, built on a high hill, is one of New York City's great edifices) consisting of  beautiful row houses clustered along Convent Avenue and Hamilton Terrace between West 141st and West 145th Streets. City College of New York has anchored the neighborhood since the first decade of the 20th Century; I showed many of its handsome buildings on FNY's Convent Avenue page.
The Hamilton Grange is a house that Bank of New York, first US Treasury Secretary, co-author of the Federalist Papers and New York Post co-founder Alexander Hamilton called home from 1802 until his death in a duel with political rival Aaron Burr in 1804. The house originally occupied a 32-acre plot about 350 feet to the southeast, but when the city's street grid system reached this far north in 1879, the Grange lay in the roadbed of West 143rd Street and so was moved into a tight space on Convent Avenue next to St. Luke's Church. In 2010, the city moved it again to a more spacious area in St. Nicholas Park on West 141st near Convent Avenue.
The National Parks Service acquired the Grange in 1962 and has continued operating it as a museum (as it has been run since 1933).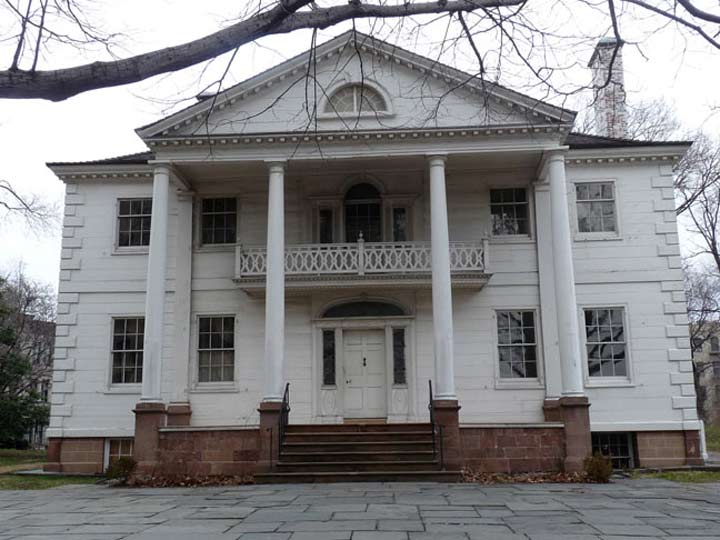 Morris-Jumel Mansion, Edgecombe Avenue and West 160th Street
SUGAR HILL
Sugar Hill, so named because it represented the "sweet" life to aspiring African-Americans who lived uptown, aspired to the neighborhood's then-luxury buildings and spacious apartments, and were then inspired by the Harlem Renaissance, a literary, philosophical and musical movement of the early 20th Century. Musicians Duke Ellington (who took the A train to get there),  Cab Calloway, Paul Robeson, Billy Strayhorn and Count Basie called the neighborhood home, as well as civil rights activists W. E. B. Du Bois, Walter White, Roy Wilkins and the Rev. Adam Clayton Powell Sr; literary giants such as Langston Hughes and Ralph Ellison; and jurist Thurgood Marshall.
Sugar Hill proper is between West 145th and 155th Streets and Amsterdam and Edgecombe Avenue (the avenue is s-called because it runs along the cliff overlooking the Harlem River known as Coogan's Bluff, "comb" derived from an old English term signifying hill.
Manhattan Island's oldest remaining building, the Morris-Jumel Mansion, was built around 1760 by a British colonel, Roger Morris, who was married to Mary Philipse: some say Mary had previously turned down a proposal from George Washington. Morris' estate, Mount Morris, covered a vast amount of Harlem acreage, some of which would become Mount Morris Park, now Marcus Garvey Park. During the war, Morris, a loyalist, was forced to vacate the mansion and return to England; it then became a headquarters for Washington in the autumn of 1776. While President in 1790, Washington had a formal dinner in the mansion with John Adams, John Quincy Adams, Thomas Jefferson and Alexander Hamilton.
After passing through several owners, the mansion was purchased in 1810 by a wealthy French emigrant, Stephen Jumel, and his wife Eliza. They redecorated the house in the French Empire style it retains today and imported furniture; a bed purportedly owned by Napoleon can be found in the Mansion. Jumel also planted a number of cypress trees south of the mansion that were brought from Egypt by the French emperor. After Jumel's death in 1832, Eliza married former Vice-President Aaron Burr, who is probably better remembered today for killing Alexander Hamilton in a duel in 1804. Their marriage was stormy and brief, and after their divorce in 1834, Eliza occupied the Mansion until her death in 1865 (she is entombed in nearby Uptown Trinity Cemetery). Some say her sprit is in the house, since the ghost of a well-dressed woman in the fashion of the time has occasionally been spotted in the halls. The Mansion has been preserved as a monument since 1904.
"The Little Red Lighthouse" or Jeffries' Hook Lighthouse, Riverside Park at the George Washington Bridge
WASHINGTON HEIGHTS
Washington Heights, located roughly from West 155th Street north to Fort Tryon Park between the Hudson and Harlem Rivers, is named for Fort Washington, located on the high hills in the area where Bennett Park on Fort Washington Avenue between 181st and 183rd Streets is now. The region featured many forts, four in upper Manhattan and Fort Lee across the Hudson, that unsuccessfully tried to check the British from accessing New York harbor via the Hudson River in 1776. The old fort site now hosts a public park.
After the Revolutionary War was over, Washington Heights, with its amazing views of the New Jersey Palisades across the Hudson, was dominated by mansions and country estates, remnants of which can still be made out along the Henry Hudson Parkway. Washington Heights' main tourist attraction, the Cloisters, opened in Fort Tryon Park in 1938 after John D. Rockefeller purchased the former Cornelius Billings mansion and built a medieval art museum after the mansion burned down. Castle Village, consisting of five thirteen-story towers containing 580 apartments, was built on the site of Paterno Castle, a former Xanadu at what is now Cabrini Boulevard and West 181st Street. Charles Paterno's manse contained a mushroom cellar, a swimming pool surrounded by birdcages, and a 20′ by 80′ master bedroom. Its seven-acre site was surrounded by woods and greenhouses.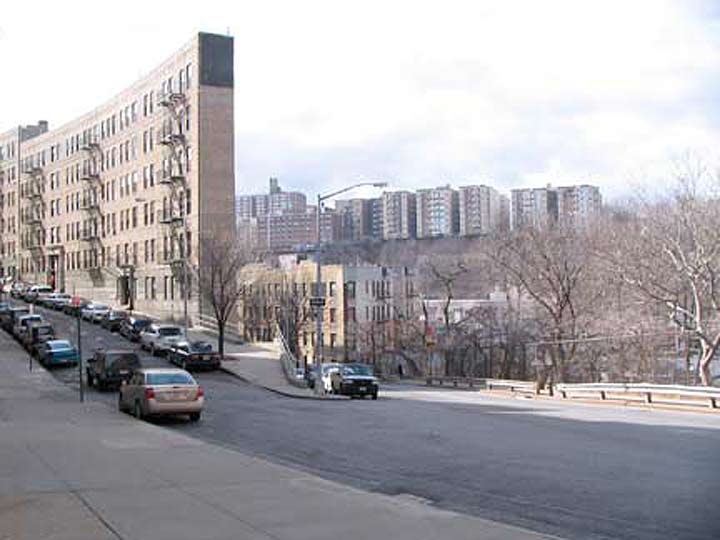 Fairview Avenue and Wadsworth Terrace
FORT GEORGE
Fort George, originally Fort Clinton, was built by US patriots at about where George Washington High School stands at Audubon Avenue and West 192nd Street. Though the British eventually captured the fort, Colonel William Baxter and his Bucks County Pennsylvania militia were able to hold off British general William Howe's troops long enough for Washington's troops to escape to New Jersey (much of the Revolutionary War in 1776 in the NYC area consisted of Washington escaping to fight again).
In 1895, entrepreneur Joseph Schenck and his partner, Marcus Loew (later founder of a movie theater chain) opened the Fort George Amusement Park at the end of the old 3rd Avenue trolley line on the old fort site:
During its heyday this Gotham wonderland would boast two Ferris wheels, three roller coasters, nine saloons, a pony track, several hotels, a casino, five shooting galleries, a tunnel boat ride, two music halls called the Star and the Trocadero, fortune tellers and more frankfurters, peanuts and pretzels than you can imagine. My Inwood, which features plenty of photos and postcards of the park
However, as "civilization" crept north to Inwood, the park's noise became increasingly distasteful and the park came under attack from arsonists, who unsuccessfully tried to burn down the park in 1911, but succeeded two years later. By then Schenck and Loew had sold their interests and went on to the motion picture industry. The site then became part of High Bridge Park.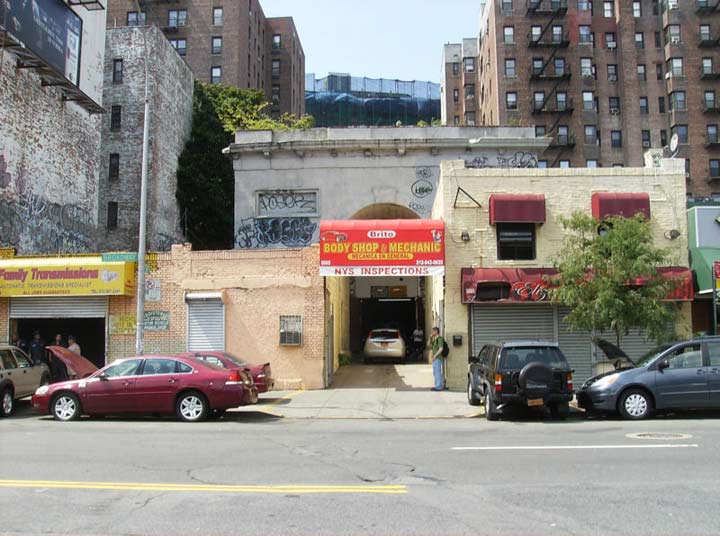 Seaman-Drake Arch, Broadway and West 215th Street
INWOOD
Most people think Manhattan is buried under layer upon layer of concrete, with all evidence of its primordial past vanished. There are still hundreds of acres of natural Manhattan Island still left, though. Inwood Hill Park retains a forest that has remained pretty much untouched by human landscaping since colonial days. The neighborhood was originally "in woods" at the north end of the island.
What about Central Park? As natural as some parts of Central Park look, every square inch of Central Park was originated on the planning boards of planners Frederick Olmstead and Calvert Vaux. Inwood Hill Park is 196 acres of primordial forest (with the occasional path and rusting park lamppost). It was the site of Native American habitation; deer and raccoon were hunted for food and clothing. After the Civil War, prominent families built large mansions here overlooking the Hudson, among them Isidor Straus, who perished aboard the Titanic in 1912, and the Lord family of Lord & Taylor. The area officially became a park in 1926.
Enter Inwood Hill Park's northern end at West 216th street by crossing a short street called Indian Road. The street commemorates the Weekquaeskeeks, an Indian tribe that lived in the area. Remains of their settlements were found in Isham park, a more formal and landscaped part of Inwood hill Park in its northeast corner. (Indian Road is the only road open to traffic in Manhattan actually called "Road.")
Among Inwood's highlights are the Dyckman Farmhouse, a Colonial-era relic at Broadway and West 204th Street, and the Seaman-Drake Arch, the last remnant of a large estate.
St. Stephen's Methodist Episcopal Church, Marble Hill Avenue and West 228th Street
MARBLE HILL
There's a section of Manhattan sporting winding, quiet streets, country villas, and gently sloping hills a lifetime away from the traffic choked gridiron and honking horns usually characterized with Manhattan. It's not Greenwich Village and certainly not Central Park. In fact, it's not on the island of Manhattan at all and still, it's in New York County, otherwise known as Manhattan.
In a little-known quirk of geography, a small piece of the borough of Manhattan, known as Marble Hill, is on the mainland. It is surrounded on three sides by the Bronx and on the south by the Harlem River. It shares its character with the neighborhoods of Kingsbridge and Kingsbridge Heights on its north and east. It is protected from Spuyten Duyvil, on the west, by a steep hill.
So why is there a piece of Manhattan on the mainland? Once it was a part of Manhattan Island and surrounded by the Harlem River and Spuyten Duyvil Creek. In 1895 it was separated from the island by the newly straightened, dredged and deepened Harlem River Ship Canal, leaving Marble Hill as an island itself. When, in about 1917, the creek was filled, Marble Hill became a part of the mainland! No one cared much until the el was built through Marble Hill and apartment buildings were constructed in the 1920s, joining the few frame houses that were already there. Marble Hill never changed its designation as part of Manhattan, and so a part of Manhattan it stays, separated from the rest of the borough by the Harlem River.
NAMES OF THE NEIGHBORHOODS: BRONX | BROOKLYN
3/31/14