I was desultorily trudging through Williamsburg on January 1, 2014 when I was reminded of the power of trolley tracks to preserve ancient streets.
Johnson Avenue is a relatively busy two-lane road that cuts through East Williamsburg from Manhattan Avenue east to Flushing, Cypress and Scott Avenues in a section of Bushwick that is being rapidly overtaken by Williamsburgers who have been priced out of the downtown section, and along with them came the artists' lofts and restaurants with unusual menus.
But there's a short section of Johnson Avenue unmentioned on printed maps, and you have to zoom in close on Google Maps to see it. In 1964, Johnson Avenue between Union Avenue and Manhattan was eliminated to make room for the Lindsay Park Houses, which were named for a Williamsburg congressman, George H. Lindsay (1837-1916) and for Sternberg Park, honoring community activist Frances Hamburger Sternberg (1920-1990) expanded over the old Johnson Avenue roadbed.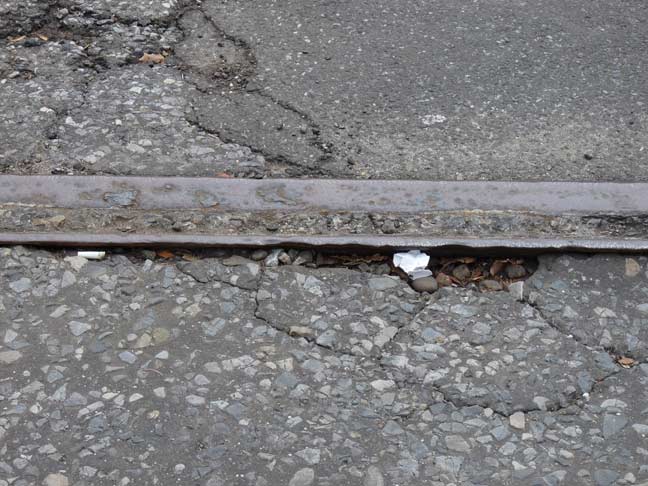 However, a small sliver of Johnson Avenue between Union Avenue and Broadway was not involved with the Lindsay Houses and was allowed to remain. It hasn't been paved in decades, which vouchsafes a view of trolley tracks belonging to the #14 trolley line, which traveled from Williamsburg all the way to Canarsie via Johnson Avenue, Morgan Avenue, Wilson Avenue, Cooper Street, Rockaway Avenue and Rockaway Parkway.
The line ended service on May 27, 1951, and were severed from the rest of Johnson Avenue when the housing project was being constructed.
Looking east toward the Lindsay Park Houses from the Johnson Avenue stub at Union Avenue.
The intersection of Johnson Avenue and Broadway rates a blinking red traffic signal.
While this part of Johnson Avenue preserves old tracks, remaining segments of Old Ridge Road in Astoria and Jackson Mill Road in Jackson Heights owe their continued existence to old trolley routes.
10/1/14