I've been on Fulton Street a lot. Over a decade ago I learned that the classic restaurant Gage & Tollner, at Fulton and Smith, had just closed, so I did a piece on it that evolved into a survey of ancient stuff to be found in the stretch between Adams and Flatbush Avenue.
Not to be content with that, in 2004 I authored a piece on Fulton Street from the East River waterfrontand continuing with its guise as Cadman Plaza West as far as Joralemon and Adams Streets. THis part of town has been a FNY staple over the deca…ah, over the years.
Later that year, I walked Fulton Street from Fort Greene to East New York and posted a page about all that in October 2004.
It's taken a full eleven years but I'm finally ready to complete the Fulton Street saga from East New York to the borough line with Queens and beyond. I actually had to shoot this whole page in its entirety twice. I walked the route in the fall of 2013, but my hard drive swallowed those photos in its death agony in December. Your webmaster, who is sometimes known as "Mr. Loser," had failed to check if my backup, called Time Machine by Apple Computers, was still working; it had turned itself off for whatever reason some time before, and poof! went my work for about ten months. Easy come, easy go, as they say.
I was determined to finish Fulton, though, so I revisited it after a few months when the route was newly fresh in my mind. I took the subway to the Broadway-East New York complex, went down Fulton, circled around in Woodhaven for awhile and staggered to the J train on Jamaica Avenue and headed home.
GOOGLE MAP: Fulton Street to Woodhaven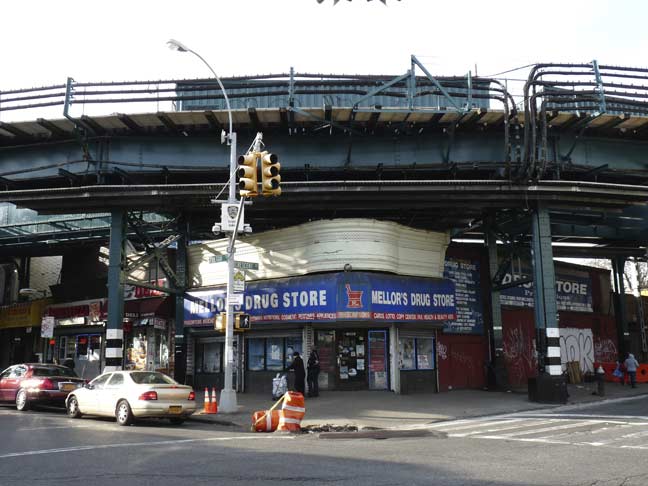 At the end of Part 2, I had arrived at Fulton and Crescent Streets, where the el turns north for three blocks and then east on Jamaica Avenue. This was all new territory for me because much of my explorations in the Cypress Hills-City Line area have happened on Jamaica Avenue or on Elderts (or Eldert, as the Department of Transportation has settled on)  Lane, which serves as the undefended border between Brooklyn and Queens for much of its length.
Two views of the south side of Fulton Street between Crescent and Hemlock Streets in the 1960s (via the East New York Project) and the 2010s. The ogee-curve doorways of the funeral home can still be made out in the Metro PCS store. Michael Long, a former City Councilman and the longtime chairman of the NYS Conservative Party, was a member of the Long family that ran the ice cream parlor. His son, firefighter and athlete Matt Long, chronicled his comeback from a severe bus accident in his book The Long Run.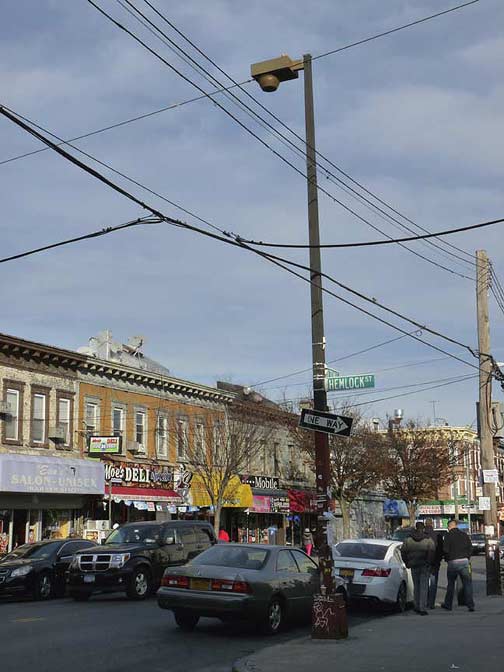 Here's one of FNY's lamppost mysteries. This post had a boxy base, a 4-sided shaft and a very short mast that had just the lamp fixture and diffuser bowl. It was installed on a few NYC streets in the late 1970s or early 1980s, mostly in business districts — it was used on both 5th Avenues, in Manhattan and Brooklyn (where they are no longer found) Church Avenue in East Flatbush, and a few other places. Some lamppost nuts call them "shoebox lamps" because of the lamp casing. They also were never given any special fire alarm light fixture.
Anyone know who manufactured these, let me know. The still pop up here and there on Fulton between Crescent and Eldert, but when they fail, they're grandfathered out of service.
This is about as far east as Brooklyn gets. As a comparison, we are now directly south of Glendale, Elmhurst, Jackson Heights, and LaGuardia Airport.
I'm fascinated with this group of apartments on the north side of Fulton between Hemlock and Autumn Avenue, since the brickwork, window lintels and corbelling are just a bit more intricate than usual. The bricks have been painted different colors over the years and the paint has almost completely peeled off. Even stranger, the building is only three windows deep at the west end and two windows deep on the east, making these probably the ultimate in railroad flats. A view from the air reveals 4 separate buildings. I wonder what the history is here.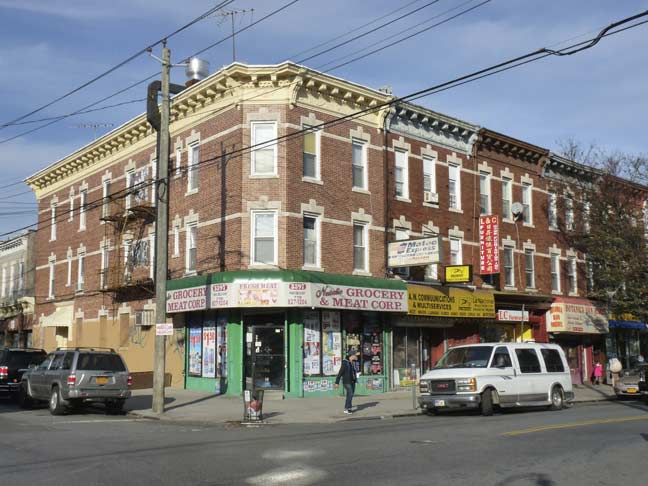 NE corner of Fulton St. and Autumn Avenue. Some of the combo apartments/stores along Fulton Street are terrific to look at since they have retained a lot of their original elements.
A group of porched houses, all part of the same development, along Autumn Avenue north of Fulton.
On older maps, Autumn Avenue shows up as "Railroad Avenue."
Southeast corner of Fulton Street and Lincoln Avenue, again with original features like arched windows and corner feature.
North-south streets in this part of Brooklyn are named for Civil War figures such as Lincoln, Grant and Sheridan; north of Atlantic Avenue, Sheridan becomes Nichols Avenue, named for New York's first British governor, Richard Nicolls, who ascended to power after the British takeover of New Netherland in 1664.
Glass house number on Fulton between Nichols and Grant.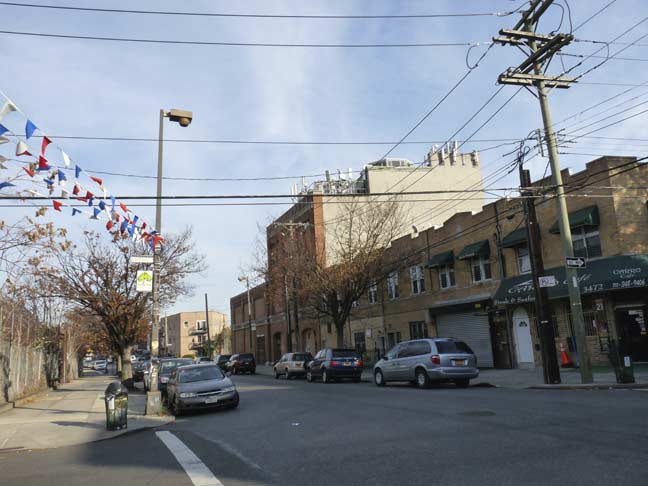 The easternmost block of Fulton Street between Grant Avenue and Eldert Lane.
The last address on Fulton Street, at the SW corner of Eldert Lane, is #3480, once the address of the William (though the chiseled name says W.M.) Evans Dairy Company. The name can also be seen painted at the roofline along Fulton Street.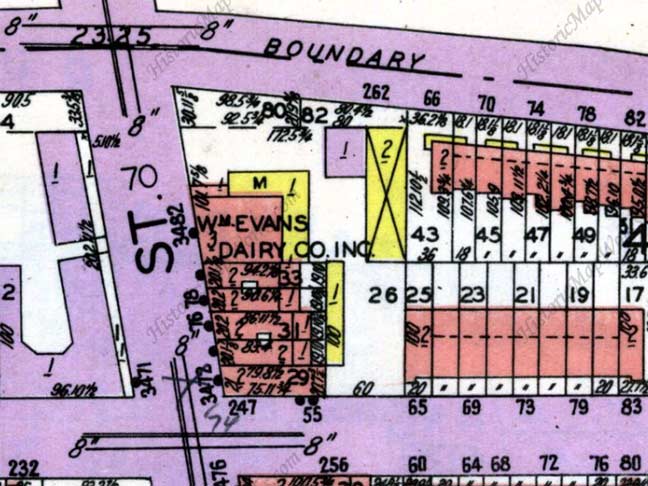 An internet search comes up empty about the Evans Dairy Co., but this 1929 atlas plate indicates it had been built by that year.
Going back to the early 1980s I remember the corner of Fulton and Eldert well, since it was the only place in the city where Fulton Street was represented by a sign in Queens white with blue letters. The sign had been placed there by mistake since it was on the Brooklyn side; unlike Jamaica Avenue or Atlantic Avenue, Fulton Street stops at the undefended border and becomes 91st Avenue once in Queens.
The former Franklin K. Lane High School's tower looms over City Line. When built in 1923 and named for the Secretary of the Interior under President Woodrow Wilson, it was one of the largest high schools in the world. Over the decades it gained notoriety as one of the city's toughest. After the grauating class of 2012 it was split into five separate schools: The Academy of Innovative Technology, The Brooklyn Lab School, Cypress Hill Prep Academy, The Urban Assembly School for Collaborative Healthcare, and Multicultural High School.
Among its alumni are Red Holzman, the only coach to pilot the New York Knicks to titles (1970, 1973) and actress Anne Jackson.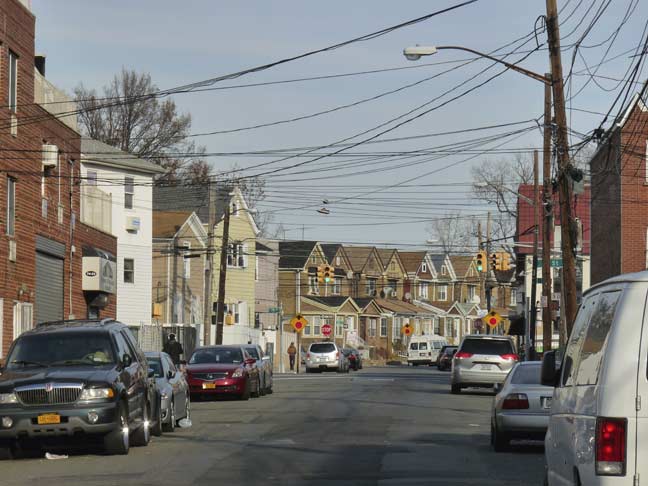 Fulton Street becomes 91st Avenue in Queens and narrows considerably. The first cross street it encounters is…
… Rockaway Boulevard, seen here looking toward its western end at Eldert Lane. Just as Fulton Street does not deign to enter Queens, Rockaway Boulevard, here a mere two-lane road, does not go sufficiently west to make it into Brooklyn, and never has!
This road shows up on maps going back to the 1850s and it likely existed long before that. It has been called the Jamaica South Plank Road, Rockaway Plank Road and finally, Rockaway Boulevard. Its eastern end is in the Five Towns of Nassau County, just NE of the Rockaway peninsula.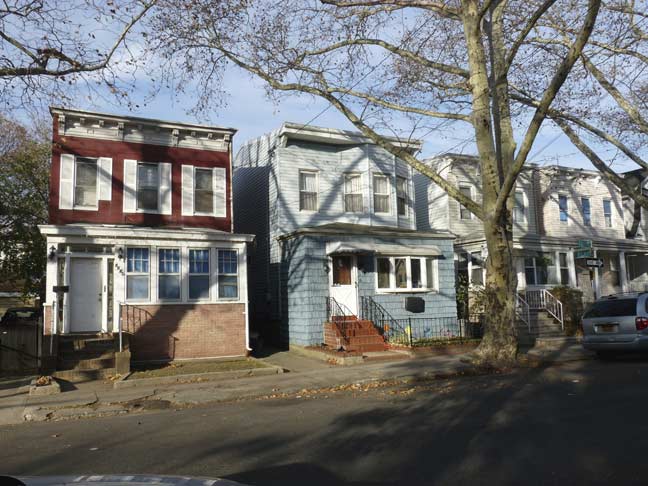 Continuing east on 91st Avenue past Rockaway Boulevard. The general scenery and atmosphere abruptly changes in Queens. Could you imagine these three duplex houses on Fulton Street? The building on the left has an unaltered roofline. These buildings likely go back before 1920.
Unusually, 84th Street is wide with a tree-filled median for one block, between 91st Avenue and 90th Road, and at the north end of the mall, Lt. Clinton L. Whiting Square announces itself with a flagpole and a large boulder. The square is named for a local military hero:
…a First Lieutenant in the 308th Infantry, who was posthumously awarded a Distinguished Service Medal for Heroism in Action on August 4, 1919 for his performance on the battlefields of World War I. While on an advance through the Argonne Forest in France between the 26th and 28th of September, 1918, Whiting was able to lead his men into a key position in a marsh covered by wire, grass, and stunted brush despite heavy enemy fire. However, Whiting paid the ultimate price for his bravery, as a machine gun bullet seriously wounded him on September 28, 1918. Whiting died from his wounds on October 23rd of that same year. NYC Parks
An old name for this section of Queens is Union Course, as the area hosted  a race course by that name between 1821 and 1868. Little trace remains of it except for the local watering hole Neir's Tavern, which opened when the racetrack was still in business, and Trotting Course Lane, Woodhaven Boulevard's old name before about 1920 or so when it was straightened and widened. Short pieces of the old lane can still be located in forest Hills.
Looking east on 88th Avenue at 85th Street toward St. Thomas The Apostle Church at 88th Street, which has a wealth of colorful terra cotta. My old high school principal, the late Msgr. Joseph A. Martusciello, was the principal at my high school, Cathedral Prep for several years there.
Walking north on 85th Street you find several groups of attached brick buildings with bay windows, convenient for looking up and down the street. Most of these are home to two families. Just about my favorite variety of NYC housing.
In early 2015, an announcement was made about the closure of St. Luke's Lutheran Church at 85th Street and 87th Road, and its congregation transferred, along with an other church, to a Brooklyn congregation. I do not know what will happen with this handsome blond-bricked church building, opened in 1910.
I have come a long way from the East New York el complex at Fulton Street and Van Sinderen Avenue, time to get the train back home. The J is the only remaining subway line in NYC with a brown bullet: the M turned orange when it was moved to 6th Avenue, and the brown diamond R, which went from Bay Ridge to Chambers Street, was discontinued about 30 years ago.
For more on Woodhaven…
4/12/15