When I left off…
I had just arrived at the former Kenmore Theater and Beverly Hills Bridal at East 21st Street, a mere block west of Flatbush Avenue, which with Church forms one of Brooklyn's busiest crossroads. But we are also at the site of Brooklyn's oldest religious congregations.
There's been a church at the location of Flatbush and Church Avenues since 1654, the very beginnings of the village. Flatbush Dutch Reformed has had three incarnations: a wood structure built on orders from Governor General Peter Stuyvesant in 1654, a stone building in 1699, and the current one built from Manhattan schist dating to 1798. The churchyard goes back to the church's very beginnings and contains stones inscribed in both English and Dutch. Among the many stained glass windows are a few by Louis Comfort Tiffany. The tower contains a clock and bell that are dated 1796, plus a 10-bell chime that was cast by the Meneely Foundry of Troy, N.Y., and installed in 1913. The church bell has tolled the death of every U.S. President. It also offers services in Spanish and tailors services for the local Ghanaian believers.
Surprisingly I found the Flatbush gate locked with signs indicating the cemetery was closed ("Private Property No Trespassing") , a change from previous policies. The Church Avenue gate was open — perhaps in error — so I scurried in and out just long enough to get some photos. It would be a shame if the space was closed to the general public.
Erasmus Hall High School on Flatbush Avenue, seen from Church Avenue. Named for Dutch philosopher Desiderius Erasmus, the school presents two historic buildings in one location. Its white clapboard  Federal-style building, constructed in 1787, housed the private academy instituted by the Reformed Dutch Church across the street. The older building isn't visible from the street, however, since it is surrounded by the Gothic, fortress-like Erasmus Hall High School, constructed in 1905.
The original academy was funded by several Founding Fathers, including Alexander Hamilton and Aaron Burr (who didn't agree on much else). The academy became a high school in 1896: it can boast famous alumni such as pop's Barbra Streisand and Neil Diamond, chess king Bobby Fischer, TV's Lainie Kazan and Bernie Kopell, and opera's Beverly Sills. The historic academy, known by students and faculty as  "the white house" can usually be glimpsed from the iron gate guarding the high school. C.B. J. Snyder's magnificent 1905-1906 building surrounds the much older original. Erasmus Street and the former surrounding neighborhood, Erasmus, now absorbed into Flatbush, were named for Dutch scholar/philosopher Desiderius Erasmus (his parents named him Gerhard Gerhards, 1466-1536). A statue of Erasmus can be found outside the original academy building in the courtyard.
From a settlement in its beginnings in the 1650s, the crossroads of Flatbush Road and Church Lane, later Church Avenue, later became the Town of Flatbush which was absorbed into the City of Brooklyn in 1894 — only to see Brooklyn absorbed into NYC in 1898. Note that a lot of the side streets and little lanes you see on this map are mostly still in existence such as Johnson Place, Lloyd Street and Lott Street; Locust Street was absorbed into Bedford Avenue while Prospect Street became Veronica Place. "Erasmus Hall Academy" and Town Hall, now on Grant (Snyder) Avenue, are already in place. The Reformed Dutch Church originally owned the land in the east part of town, and the individual plots had already been allocated.
Flatbush's post office building on Church Avenue is likely a 1930s Works Progress Administration building, but it looks as if it could have been built in the Dutch colonial era.
The Ellsworth Building, corner of Church and Bedford, has an amazing terra cotta exterior that has been marvelously restored in recent years.
At the SW corner of Church and Bedford is a ruin in limbo. This was once the Flatbush District #1 School, later PS 90, and was constructed from 1878-1894 in a design by John Culyer, also the architect of Flatbush Town Hall on Snyder Avenue — and it's actually a designated NYC Landmark. It was a public school until 1951; 3 years later it became the Yeshiva University Boys' High School in 1968, the Beth Rivkah private Jewish school for girls. It has been empty since the 1990s.
Now and then you come across a building on Church Avenue or other Flatbush streets that looks as if it was there when the neighborhood was still part of Flatbush Village.
Painted ad for the Lincoln Savings Bank on Church Avenue east of Woods Place and lettered in the handsome Egyptian Bold Expanded font. In late 2015, I explored the interior of a former Lincoln Savings Bank in Bay Ridge. The Lincoln Savings Bank of Brooklyn was incorporated as the German Bank of Brooklyn in 1866 and then changed to the new name in 1917, no doubt World War I influencing that decision. The bank merged with Chase Manhattan in 1993.
Though Church Avenue was named for the First Dutch Reformed Church, established in the 1650s, on Flatbush Avenue, there's also the formidable Roman Catholic Holy Cross Church, established in 1845 and centered on Church Avenue west of Veronica Place. In the 1900s, Catholic churches all over the city built small towns in association with the parish, including grade schools, parish houses, rectories and cenacles built to house the priests and nuns associated with the church and school. The Holy Cross Parish House is a brick building with a grandentrance staircase featuring both brownstone and terra cotta trim. Latin inscriptions above the door mean "This is the house of the Lord" and "This is the gate of heaven."
Holy Cross Church is associated with a large cemetery in East Flatbush in which the Brooklyn Dodgers' and New York Mets' Gil Hodges is interred as well as pre-eminent church architect Patrick Keely.
In 2011, the Holy Cross parish school became the St. Gregory the Great Catholic Academy.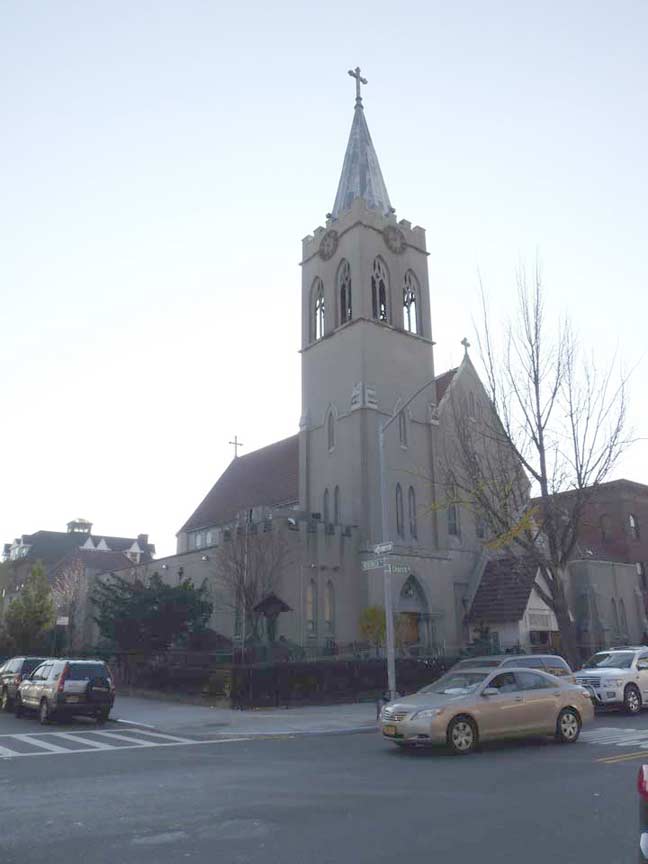 The present Holy Cross church building at Veronica Place, dating to the early 20th Century, is difficult to photograph on winter afternoons, as the sun is right behind it. Originally Prospect Street, it was renamed in the 1940s for Sister Agnes Veronica, a principal of the parish school until her 1939 death.
Though she is not mentioned in the gospels, according to church tradition Veronica was the name of a woman who witnessed Christ's torturous procession to Calvary, carrying the cross on which the Romans later nailed him. She offered Christ her veil to wipe the blood and sweat out of his eyes, and when her veil was returned to her, an imprint of Christ's face was left on it.
At Rogers Avenue at Church there are a pair of detailed mixed-use buildings on opposite corners. The brick-faced building is just the end unit of an impressive row of buildings that are about identical running north on Rogers that are three windows across, each surmounted by a pediment, arched windows on the third floor, rectangular on the second, and stores on the ground floor.
The other is considerably older-looking and has a large pediment, a single round window, with the others featuring very large lintels. Most of the ground floor is given over to a roti restaurant; roti is unleavened flatbread served with a  variety of toppings — though it originated in India, it is popular in parts of South Africa, the Caribbean and Atlantic and Pacific Ocean island nations.
What catches the eye about the building is the street art painted on the Rogers Avenue side…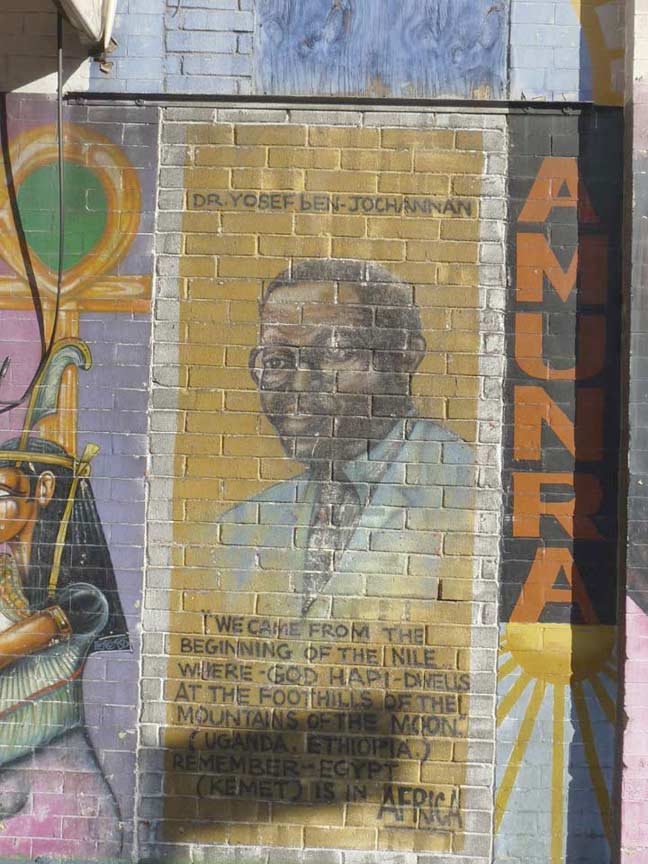 Dr. Yosef ben Jochannan (1918-2015), known popularly as "Dr. Ben," was a professor in African studies, specializing in Nile Valley civilizations and their impact on Western religions; he asserted that the Jewish people, and the foundations of the Christian religion, originated in Ethiopia.
Another piece of the wall depicts Dr. John Henrik Clarke (1918-1998) a second professor of African studies and a prominent proponent of African nationalism. Interestingly, he changed his middle name from Henry to Henrik because of an admiration he had for Norwegian playwright Henrik Ibsen.
I recognize Marcus Garvey, Bob Marley and Malcolm X on this section, but somebody help me out in Comments about the others.
Proceeding east toward Nostrand Avenue an overhanging neon sidewalk sign for Willie's Liquors caught my eye. One of the lost arts in New York are large (much bigger than this one) wood, plastic or neon/metal signs that overhang on sidewalks. Places I have visited like Bayonne, NJ or Philly are still replete with them, in fascinating and colorful designs. New Yoprk's advertising signage gets blander by the year as private businesses are driven out and corporations with standard logos move in.
This fast food emporium at Church and Nostrand is a former Lincoln Savings Bank, likely the same one advertised on the wall ad a few blocks to the west. FNY Correspondent Gary Fonville has put together a few pages depicting other former and now repurposed banks.
Apparently the entire length of Church Avenue from Nostrand Avenue to its end at East 98th is co-named for million selling reggae master Bob Marley (1945-1981) in the heavily Caribbean-American neighborhood of East Flatbush, but oddly, only two signs appear — one here at Nostrand, and the other at East 98th.
The Church Avenue station serving the #2 and #5 trains on what is oddly never called the "Nostrand Avenue Line" (even though two subway lines using 7th Avenue and Lexington Avenue in Manhattan) is the third of three subway lines with a stop on the avenue, this being the IRT entry in the series. It opened August 23, 1920 along with other stops between Bergen Street and Flatbush Avenue. This was midway through the 1913 Dual Contracts that authorized both BMT and IRT subway line development for what were then two different companies, but designer Squire Vickers was in charge of subway signage for all stations during this time, and during this time they followed pretty much the same mosaic lettering template. A hallmark of the design is the use of a small triangle to separate words. Note that by this time the Period of Importance is mostly absent, though it can still be found on some signs but more as an abbreviation.
The signs themselves are a mix of blue and green here, though Vickers had some tricks up his sleeve by adding buff-colored squares at the top band. In most of the Dual Contracts stations, earth tones, green and dark blue prevail, though some stations especially on the Canarsie Line use brighter tiles.
Go big or go home — I like large-scale subway art installations. Louis Delsarte's "Transitions,"depicting East Flatbush neighborhood scenes, has been on station walls since 2001. Delsarte, originally a Flatbusher, has works exhibited all over the USA.
Do I use Google Street View? You bet I do, and I enjoy it. At Nostrand Avenue I ended my original walk, as I frankly felt the urge for relief, and decided to hop on the #2 train back to the clean and sanitary facilities at Penn Station. However, Google helped me complete the remainder of my Church Avenue survey.
As I related in Part 1, Church Avenue is a very old conveyance going back to the Dutch colonial days as early as the 1650s. Thus, it doesn't follow an exactly straight line and does the occasional jog north or south while its younger parallel streets were laid out in the 1800s in straight lines. Church Avenue makes one of these slight jogs at Brooklyn Avenue (which stands in for East 36th Street). Meanwhile, at the south side of the intersection you can see a very old private dwelling that may originally have served as a farmhouse.
In East Flatbush, Kings Highway is the main bailiwick of fantastical apartment buildings, but this Art Deco entry on East 37th and Church is formidable.
At Church and Schenectady Avenues (which has no doubt been baffling bad spellers for over a century) there's another streetcar relic. Previously I had no idea this decommissioned trolley pole was still here and this one is the rare bird with a crossbar that held multiple wires.  Now I know it's there because of the magic of Google Street View.
The #8 (later #35) trolley plied this route, and hung in there until 10/31/56 — the last surviving surface route in Brooklyn!
Church Avenue takes another northeast wobble at Utica Avenue (which runs south in place of East 50th Street). I had thought this terra-cotta faced building was either a movie theater or an old Child's restaurant, but I found none of the usual ichthyic decorations like seahorses or Neptunes usually found on Child's. I have to file it as a mystery for now.
However, on Utica just north of Church are the remnants of the former Rugby Theatre, now a department store.
The Rugby Theatre stood on Utica Avenue just north of Church Avenue. It opened in 1926 and was designed by architect Harrison G. Wiseman. It was equipped with a Robert Morton 2 manual 3 rank theatre organ. It also had a roof garden theatre which seated 722. Alterations were carried out in 1932 & 1933 to the plans of architect Eugene DeRosa.
Operated by the Brandt Theatres chain, it was taken over by the Golden Theater chain in the early-1970's and operated as a dollar theater. Then it went showcase run, before being twinned in 1976 by seperating the balcony.
Eventually the neighborhood around it got rough and the theater went XXX on one screen and kung fu double feature on the other, before closing in 1986. cinematreasures
Since Church Avenue passed Rugby Road in Park Avenue South several miles ago, you may wonder why the theater carried this name. Rugby was the name of an early 20th Century development in these parts formerly known as Ford's Corners; in the 1800s, it rated a stop on the Long Island Rail Road on what became known as the Bay Ridge Branch, which extended between the Fresh Pond Yards in Glendale, Queens and the Narrows waterfront at 65th Street with a branch going south to Manhattan Beach. All passenger services on that line ended in 1924. Rugby has been absorbed into East Flatbush and northern Canarsie.
This Kings County map shows Church Avenue's easternmost extent in 1890. Note that slight dipsy-doo at Utica Avenue that was referred to. An old road that has left no trace intersected Church avenue at where Utica Avenue would eventually be built. The purple line at the right is Kings Highway. It also marks the irregular boundary of the towns of Flatbush and New Lots.
Kings Highway just north of Church Avenue. It's one of Brooklyn's oldest and longest roads, though it escaped extinction in the 1920s when Boro President Riegelmann (the Coney Island boardwalk is named for him) decided to widen and expand the route east of Ocean Parkway to a 6-lane behemoth. NYS 27 doesn't run along Kings Highway, but the signs direct traffic to Linden Boulevard a block north, which does.
Church Avenue at Remsen Avenue. When Rem Jansen Vanderbeek arrived in New Netherland in 1642, he eventually set off a street naming frenzy — he had fifteen children with the surname Remsen, and most had their own descendants. Brooklyn, Queens and Staten Island all have at least one street named Remsen; the longest is Remsen Avenue, which runs in a straight line from Ralph Avenue to Seaview Avenue in Canarsie, standing in for East 90th Street. If you look at a Brooklyn map, Remsen Avenue is the westernmost street in an odd NW-SE grid orientation that defies the primary N-S-E-W grid found hereabouts and contains most of Canarsie. It causes several numbered streets to be skipped — the next numbered street Church avenue encounters after East 59th Street is East 91st!
Also, here the Department of Transportation decided, in the late 1970s or early 1980s, to install some square, brown "shoebox" lampposts — the manufacturer escapes me. This is the only occasion in which I saw one of the apices slapped on top of a regulation stoplight. There is a similar run of them on nearby Utica Avenue.
At Remsen Avenue, Church Avenue was laid out in the 1800s to make a northeast turn and in doing so, it runs smack into…
… Linden Boulevard, which received its name and its length at about the same time as its brother road, Kings Highway. At the time (the Roaring 20s) Brooklyn was embarking on an upgrade to its surface roads in the nascent automobile era. Thus, Linden Avenue, which begins at Flatbush Avenue, was extended east in new sections and overlaid on older streets, such as Vienna Avenue in East New York and eventually, Central Avenue in St. Albans, Queens. Linden Boulevard eventually hands Route 27 over to the Belt Parkway and was planned to run through Ozone Park, but most of its sections there, except for a couple of stubways, were never built!
When I encountered this Deco-ish building on Street View at Church and East 94th I knew it had to possess some kind of importance in the past. Sure enough, this is the remains of the former Waldorf Theater. Even ciematreasures.org knows not much beyond that the theater opened in 1934, hence the Deco design, and had closed by 1956. If any old timers remember it, the Comments floor is open.
At Rockaway Parkway is another stumper. Theater, restaurant, or both? If anyone remembers, let me know.
All roads end somewhere and Church Avenue ends here at East 98th Street between Lott and Hegeman Avenues in the Brownsville street plan. Note the Bob Marley Boulevard sign – the other one was encountered about 40 blocks to the west.
Nearby Brookdale Hospital, seen here at its Rockaway Parkway entrance, serves a vast area — East Flatbush, Brownsville, Canarsie and East New York. It opened in 1921 as the Brownsville and East New York Hospital and acquired its present name in 1963.
1/17/16