Sunset Park's boundaries are under dispute (like any other Brooklyn neighborhood) but to me it's rather simple: Upper New York Bay waterfront, 39th Street, 9th Avenue, the Bay Ridge Branch LIRR cut. The neighborhood is named for a longstanding park between 5th and 7th Avenues and 41st and 44th Streets set on a promontory giving a good view of the sunset in the west.
I passed through Sunset Park with regularity on my way downtown Brooklyn to school and work from my Bay Ridge home, and visited family in Borough Park. Beginning in the 1980s I noticed the stretch along 8th Avenue become one of NYC's three Chinatowns (along with the one in Manhattan and the one in Flushing); the area nearest the water has a distinctly Latin flavor. Decades ago, Sunset Park and its neighbor to the south, Bay Ridge, boasted a considerable Scandinavian population, primarily Norwegian (Nordisk Tidende was to be found on most newsstands, and a number of Danish bakeries lined Fifth Avenue). The Scandinavian legacy is being preserved by the annual Norwegian Independence Day Parade in May, Lutheran Medical Center on 2nd Avenue and 54th Street (founded in 1883 by a Norwegian Lutheran nurse, Sister Elizabeth Fedde, which is improbably noted in the signage at the 53rd Street BMT subway station).
My Sunset Park forays for Forgotten NY have been relatively infrequent. I did a series several years ago, but I haven't explored Sunset Park as much as I could have, perhaps. Beginning in November 2016 I made a pair of forays into the nebulous neighborhood some call Greenwood Heights as well as Sunset Park proper, and I'm planning a ForgottenTour in the neighborhood for 2017.
GOOGLE MAPS: BEFORE THE SUNSET: 4th AVENUE and 39TH STREET
It also occurred to me today that while I had bicycled 4th Avenue's full length (the stoplights are synchronized) before I moved out of Brooklyn in 1993, and ridden the B70 bus up 39th Street plenty of times, I had never walked either route and so has never observed the nuances. Turns out, there are always lots of those.
I set out expecting forecast sunshine but it turned out to be one of the darkest days of the year thus far with even an occasional flurry. Forgive the crude photoshopping on some of these pictures as I used the levels control.
Leaving the BMT from the Prospect Avenue station at 4th Avenue. I confess, this is a relatively unchronicled section of Brooklyn so much of this page will be my personal observations instead of historical citations!
You find this style of apartment house quite a bit in what used to be called "South Brooklyn," especially on street corners on 4th and 5th Avenue. The streets here conform to a strict grid with rectangular-shaped blocks (contrast the Bronx, which has an irregular grid that lends itself to sweeping semicircular building facades). Architects placed a diagonal set of windows that face in two directions. Try finding that kind of imagination with the bland metal and glass boxes being built today.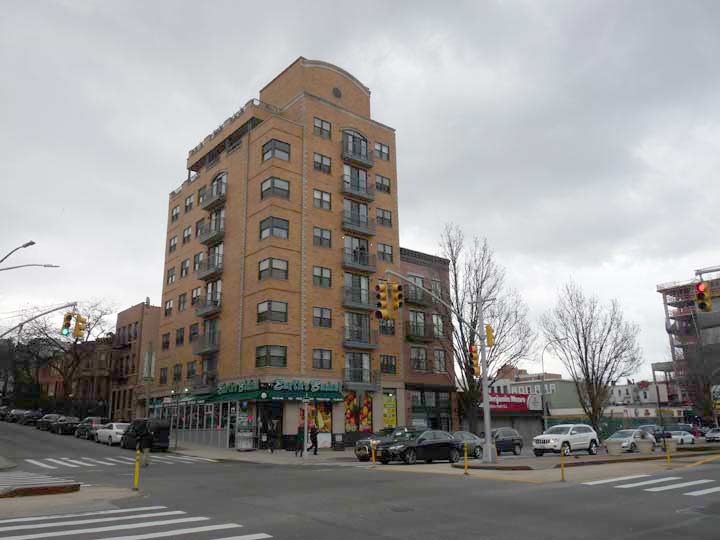 Here's a sobering reminder of what modern-day apartment building construction looks like directly across 17th Street.
Taking a detour on 17th to check on something — you will see what below. Two separate trios of attached three-story residences on 17th Street; some of these have been in place since the late 19th Century. These buildings — some now with aluminum siding, some still with brick faces intact, were the bread and butter of "South Brooklyn" middle-class dwellings from that era.
A local artist has been placing these messages in which one sentence overlays another in various points around southern Park Slope. This one says "Unless we change ourselves we can't change the world." under an overpass supporting the Prospect Expressway.
I'm here to check once again on the lone remaining Gowanus-BQE "Whitestone" post remaining, here on 17th Street as it passes under the expressway. These posts are referred to in my Welsbach street lighting handbook as the Type 41. They were first used on the Bronx-Whitestone Bridge in 1936.
There were quite a few more Type 41s when I first began working on Forgotten NY in 1998, but they've gradually disappeared and this may be the only one left with a pendant light. There are a few on the approach roads on either side of the Brooklyn Bridge. There had been a flock of them on the Roosevelt Island Bridge until the bridge was recently renovated. At one time, these were the lamps of choice on elevated parkways, supporting both "gumballs" and Westinghouse AK-10 "cuplights." The Staten Island Ferry bus terminal used to feature them as well.
Needless to say I've featured this post before…
I was intrigued by this unusual brick building near the east side of 3rd Avenue on 18th Street, and consulted a Belcher & Hyde 1929 desk atlas for assistance in identifying it, but no luck; the atlas simply colors it maroon as it does with brick buildings. It doesn't have the earmarks of a school, so I'd think it has been a factory, albeit a small one.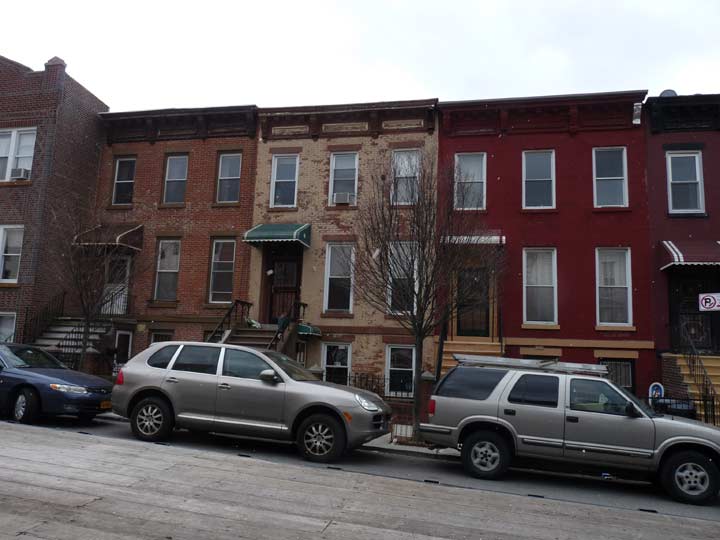 Returning to 4th Avenue via 22nd Street. No doubt, these modest brick buildings used to house dockworkers and laborers and their families when there was still a Brooklyn waterfront. They are still middle class, but for how long? You can't assume size stops gentrification: the Warren Place houses in Cobble Hill sell for over a mil, even though they're tiny.
At 4th Avenue and 22nd, here's a pair of superior corner apartment building designs, one with a corner turret and the other with the classic window arrangement mentioned above.
Unusually for an avenue, especially 4th Avenue which more often than not is home to gas stations and car repair shops, 4th has some classic residential brick buildings on the west side between 22nd and 25th Streets. One building still has an entrance pediment, perfect for rain protection while you're looking for the keys.
St. Rocco Roman Catholic Church, named for an Italian saint, was established in 1902; its centennial banner is still hanging by the front entrance, at this writing 15 years later. There are an abolute plethora of Catholic churches in the area: this one, Our Lady of Czestochowa on 24th Street, and St. John The Evangelist (est. 1846) on 21st between 5th and 6th Avenues. The latter parish was combined with St. Rocco by Bishop Nicholas DiMarzio in 2011, though worshippers attend services at both buildings as before.
Across 27th Street from St. Rocco is a classic series of attached dwellings with bay windows in different directions, which enables residents to look up both sides of the street.
A sign honors Sister Mary Franciscus, a renowned educator who opened a teacher training site at 4th avenue and 27th Street. I'm reminded of actor James Franciscus (1934-1991), best known as the teacher Mr. Novak, the blind detective in the TV series Longstreet as well as the ill-fated astronaut sent to find Charlton Heston in Battle for the Planet of the Apes.
A statue on the front lawn of the St. Rocco Youth Center on 4th Avenue illustrates the Bible verse from Matthew 19:14:
Then the little children were brought to Jesus for Him to place His hands on them and pray for them; and the disciples rebuked those who brought them. But Jesus said, "Let the little children come to Me, and do not hinder them! For the kingdom of heaven belongs to such as these."
Another brick factory building on the southwest corner of 4th and 28th Street. As it happens, the Belcher-Hyde identifies this one as the Empire Switchboard Company, which undoubtedly made those circuitry switchboards that telephone operators such as the one played by Lily Tomlin used to use.producing machines that directed electricity from one or more sources of supply to several smaller regions of usage. It is an assembly of one or more panels, each of which contains switches that allow electricity to be redirected, according to wikipedia.
Here's an Empire Switchboard metal plaque for sale on Ebay (see it while it's available).
I found this on the sidewalk on 4th near 28th. It's probably associated, of course, with the Feats of Clay contest in Lincoln, CA in 2005. That's the year that Nielson Amon and Ruby Levesque from Brooklyn won the Tile Heritage Prize in the contest as stated on the Tile Heritage site, which has a photo of their Shark's Tooth clay sculpture. "Auxesis" has a variety of meanings, including hyperbole or overstatement, or climax. I can't find Nielson or Ruby on facebook, but if you know them, tell them their plaque is here!
Some very handsome light-brown brick dwellings on the north side of 29th Street between 4th and 5th Avenue. Most have their original stoop handrails!
Looking west down 29th Street, you never know what you'll see in Brooklyn. It's NYC's tallest windmill, operated by Sims Municipal Recycling. It cost three-quarter million dollars and stands 160 feet tall, can generate up to 100 kilowatts, 20% of the power used by the recycling facility. it went online in 2015.
Here's a video tour of Sims Recycling.
72nd NYPD precinct, 4th Avenue between 29th and 30th Street. The lamps at the front entrance are white glass, but the printing is in the traditional green used for police precinct entrances.
Combined stores and residences in a brick building at 4th Avenue and 30th Street.
The south side of 32nd Street between 3rd and 4th Avenues is dominated by one of those huge brick factories of which I'm so fond. Now home to a motley collection of manufacturers and offices, it was once, according to Belcher-Hyde, the home of the Grand Corrugated Paper Co.; however, some painted letters on the east side facing 4th Avenue has "Window Shades" among other words I can't make out; that may have been the prior use, a shade manufacturer.
Looking west on 32nd toward one of the Bush Terminal/Industry City buildings, currently the site of a $1B redevelopment.
There's a block-long set of attached residences on the south side of 4th between 33rd and 34th, punctuated by the diagonal window treatment at each end of which I am fond. The businesses include Uncle Sam's Restaurant and Brooklyn's Tiki Bar.
Uncle Sam, the personification of the USA with his red, white and blue outfit, was originally a Trojan… yes, a meat packer from Troy, NY named Samuel Wilson who provisioned soldiers fighting during the War of 1812. Wilson's packages contained the initials U.S. and soon, he was colloquially referred to as Uncle Sam. The image of Uncle Sam, who resembled Wilson, spread gradually until World War I, when it became nationally known due to J.M. Flagg's representation of him on the "I Want You" recruitment posters.
"A tiki bar is an exotic–themed drinking establishment that serves elaborate cocktails, especially rum-based mixed drinks such as the mai tai and zombie cocktail. Tiki bars are aesthetically defined by their tiki culture décor which is based upon a romanticized conception of tropical cultures, most commonly Polynesian." wikipedia. Probably NYC's best-known tiki bar is Otto's Shrunken Head.
Vintage signs at the west side of 4th Avenue at 34th Street.
North exit of the 36th Street express station of the BMT 4th Avenue Line serving R (local) and D/N (express) trains. From here, R and N trains continue south while D trains travel southeast and south along the West End elevated over New Utrecht Avenue to Coney Island.
I suspect the entrance railings and lamps are originals installed when the line opened in 1915. The BMT used this style until 1928 when the last of its first group of stations were opened in 1928; after that, the Independent Subway opened the bulk of new stations until the 1980s.
Pastry shop a short distance from the subway entrance. Every time I pass one I'm tempted to buy the entire contents.
Across the street, 4th Avenue briefly forms the western boundary of Green-Wood Cemetery between 34th and 36th streets.
Speaking of eating here's a McDonalds at 4th Avenue and 37th Street. Why show this? McDonalds are seemingly on every ten blocks or so, and they're hardly Forgotten NY fare. However, this McDonalds is a little special to me. I was a high schooler in the 1970s and at that time. McDonalds had not yet saturated the market as they did in later years. This was actually one of the first McDonalds near my home in Bay Ridge; I had previously been in one in Dongan Hills, Staten Island, which I don't think is there anymore.
Anyway just to change things up a little on my way home, sometimes I would take the R train to 36th, eat here and then get the B70 bus, which ran down 8th and 7th Avenues right to my door back home. This may have cost me an extra fare, but like I said, it was something special I would do now and then.
Hard to see it through the fencing, but 4th Avenue passes over the South Brooklyn Fright Railway here. It connects the Coney Island Yards to waterfront carfloats. Trains used to run at grade in a right of way next to 37th Street and down the middle of McDonald Avenue to the yards facility, but now they simply run on the West End elevated, which separates from 4th Avenue here.
I did not photograph it, but the Gowanus Expressway has an exit that empties traffic onto 4th Avenue at 38th Street.
Clean Rite, 442 39th Street, is still in business, but this older painted ad on 4th and 38th was recently revealed after a newer ad was removed.
Los Tres Portillos (Three Colts) Restaurant, 4th Avenue and 39th Street.
This shoe store at 4th and 39th doesn't seem to have a name. A more historic shoe store, Frankel's, in business since 1890, is a block away at 3rd Avenue and 40th Street.
I'm heading the other way, southeast on 39th toward Sunset Park. In a later Sunset Park post, I'll talk about several very interesting buildings fund further south on 4th Avenue including St. Michael's Church, seen in the background.
39th Street
This is the only numbered street in the 30s in Brooklyn's numbered street system (not counting the East, West, North, South, Bay and Beach numbered streets) that extends past Greenwood Cemetery and ends on the border of Borough Park and Kensington. It's a two way street home to two bus lines, one of which, the B70, runs between what was the 39th Street Ferry on the bay waterfront and Veterans Memorial Hospital at Fort Hamilton.
As a kid I remember seeing a batch of wired trolley poles that were still there on 39th Street, and indeed the #8 route on 39th and Church Avenue ran here until 10/30/1956 and the 8th Avenue line, #30, ran here till 5/15/1948 according to James C. Greller in Brooklyn Trolleys. if I'm not wrong the trolley poles were left in place until the 1970s.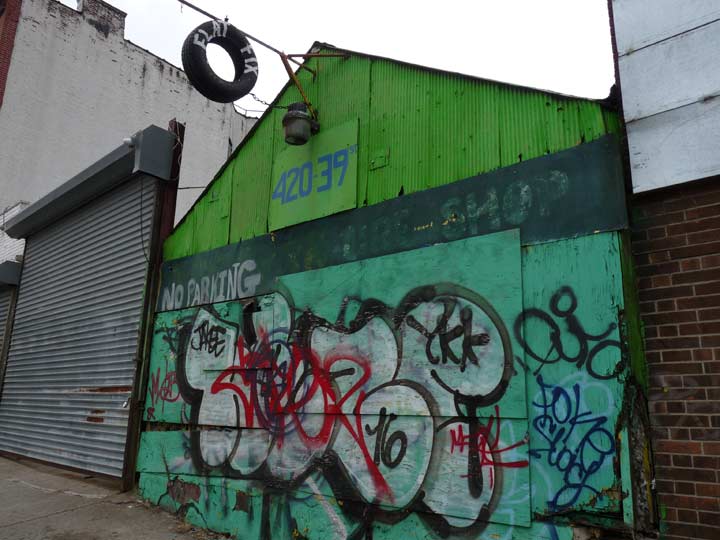 Among some very interesting structures on 39th Street is what looks like it could have been a barn a couple of lifetimes ago. It was an auto repair shop in its most recent incarnation.
Three story brick dwelling. There are probably six apartments; I lived in a building much like this one on 73rd Street in Bay Ridge between 1982 and 1990.
This building has had some work done with the addition of aluminum siding and a new pediment, but the older pediment over the front entrance was left intact.
This trio is punctuated by Engine Co. 228, a Landmarked Romanesque Revival style building erected in 1891 by the then- Brooklyn Fire Department.
"Engine Co. 228 retains a commanding presence that's conveyed the reliability and strength of the FDNY for more than 100 years," said Robert Tierney, chair of the commission. "It's also an imposing showcase for an architectural style that had an important role in shaping firehouse design at the end of the 19th century."

The Romanesque Revival building was constructed by William J. Moran, a successful and well-known builder in Brooklyn who helped construct the former Domino Sugar plant on Kent Avenue and the Dime Savings Bank on DeKalb Avenue in Williamsburg. Both of these were among the best-known buildings in Brooklyn until the recent building boom. [Brooklyn Eagle]
By comparison, there's this glass object, a member of the Wyndham Garden chain of hotels. Its website gives you a look of what the interiors look like; the views of Sunset Park seem to be impressive.
The parking lot for the Clean Rite Center mentioned above has a sole 4-headed lamppost still bearing Westinghouse OV-25 lamps. They once jockeyed for dominance on NYC streets with General Electric M400 lamps, but since 2009, most of them on NYC streets have been wiped out. The lamps still have strongholds in Yonkers just north of NYC, and in private lots like this. This is the second iteration of OV-25s, with the photocells placed toward the rears of the casings.
This quartet of attached brick dwellings abuts the Wyndham on the north side of 39th Street. Only the one on the right preserves its original brick facing.
Handsome apartment house, NE corner 5th Avenue and 39th Street.
For decades the Rainbow Cafe and its neon sign lit up the west side of 5th Avenue at 39th Street. Photo: Gary Fonville
A look at the northwest corner of 5th Avenue and 39th Street. In the foreground are an old-style (pre-1965) traffic signal stanchion with a fluted base, and a fire alarm with sloped roof that goes back to the mid-1910s.
A look north on 5th Avenue from 39th Street, Between 24th and 26th Street, 5th Avenue is the western boundary of Green-Wood Cemetery. If I had been standing here before 1940, I would have seen the 5th Avenue Elevated curving in from 38th Street. The Jackie Gleason MTA bus depot is just ahead on 37th Street; in the 1970s it replaced the Union Depot, a main trolley system interchange. BMT subway yards also run between about 6th and 9th Avenues between 37th and 39th Streets.
Attached homes on the north side of 39th Street. They appear to have a Moderne style popular in the 1930s. The back yards of these homes face the parking lot serving the bus depot.
South side of 39th Street between 5th and 6th Avenues. Notice the exaggeratedly stepped design. 39th Street climbs a steep hill, the slope that gives Park Slope its name and the hill giving the sunset view of Sunset Park, between 5th and 7th Avenues.
One of 39th Street's few remaining freestanding homes. It has a ridiculously long front driveway that may at one time have been a front lawn, and one wonders what the building originally looked like before the aluminum siding was applied.
Auto repair and machine shop with colorful artwork.
Of all western Brooklyn's numbered avenues, 1st through 28th, 6th Avenue is interrupted the most, by Greenwood Cemetery and by Sunset Park. There is a two-block stretch between 39th and 41st before the park interrupts it.
I like a sign that gets to the point and that's exactly what this one at 39th Street and 6th Avenue does, in black plastic letters. Protective Lining Corp. does have a modern-looking website, which describes their product line as polyethylene film & packaging products; the product line includes elastic dust covers, industrial bags, rigid liners, and inserts. I imagine they make that plastic packaging found on new sets of headphones that can't be removed without the aid of diamond cutters.
There's actually a hotel being built on 39th Street between 6th and 7th avenues, a relatively far-flung outpost.
In these parts, handsome residential buildings are next door neighbors with retail tire merchants and flat fixers.
If I haven't mentioned it yet in FNY I'm a big fan of the signs installed on lamps and telephone poles by local business associations. I checked with Google Street View and there seem to be only a few of these particular signs remaining.
8th Avenue runs from 39th Street to the intersection of 7th Avenue and 73rd Street; there's a separate piece of 8th Avenue on the other side of Green-Wood Cemetery running between 20th Street and Flatbush Avenue. Beginning in the early 1980s, a third Chinatown (after the Manhattan Chinatown and the Flushing Chinatown) sprung up between 7th and 9th Avenues on the border of Sunset Park and Borough Park. Coincidentally or not, the number 8 is a good luck number in China; many weddings are scheduled for August 8th and the Beijing Olympics opened on 8/8/08.
When I rode the B70 bus here as a kid the area was still largely Scandinavian, Irish and Italian; in fact, the nearby blocks were part of a Finnish enclave. Tangible remnants of it are still in plain sight, and I'll explore them on a subsequent Sunset Park page.
One of the great mysteries of my youth was this concrete fence separating the stub end of 8th Avenue from the subway yard in back of it. Generations of taggers, it seemed, inscribed the name "Cucco Bear" on it. As it turned out there were two gentlemen, Mr. Cucco and Mr. Bear.
From an earlier Sunset Park FNY page:
ForgottenFan Michael Puzanskas: J.Cucco went to school with my brother-in-law Greg G. So did Sal C. (not Cucco) who was BEAR. Two different people for sure. They were part of the 8th Avenue [clique].
ForgottenFan John Dell: I have a correction: Cucco Bear IS J. (Joey) Cucco but Bear is Frankie Castellanos. (not Sal C. as stated)
This information comes from an impeccable source and friend of Joey Cucco himself and corroborated by 2 Sunset Park natives who lived & grew up 2 blocks from the Cucco Bear tag on 41st Street. The original (before another rude egotist tagger spray painted on top) was a familiar landmark and was prominently centered on the old West End subway cut wall on 39th Street and 8th Avenue next to the Toll House Bar & Grill for nearly 50 years!
No trace of the Toll House remains…
I can't find anything about Model Garage online but I liked the serifed lettering, likely done by a signpainting professional. Apparently someone with the garage has an in with the Department of Transportation, as an official NYC street sign has been attached to a nearby lamppost.
Another handsome corner building, this one on the NW corner of 9th Avenue and 39th Street.
New Utrecht Avenue forms a triangle with 9th Avenue and 39th Street at Heffernan Square. NYC Parks doesn't have a website listing on the Heffernan referred to. I gather that the Brooklyn Eagle reported that the triangle was named anywhere from 1932-1934 but the Eagle archives is now behind a paywall, so I'm not sure which year. My suspicion is James J. Heffernan (1888-1967) who was elected as a U.S. Representative for the first of five terms in 1940. However, in 1933 he was serving as the Traffic Commissioner for the borough of Brooklyn.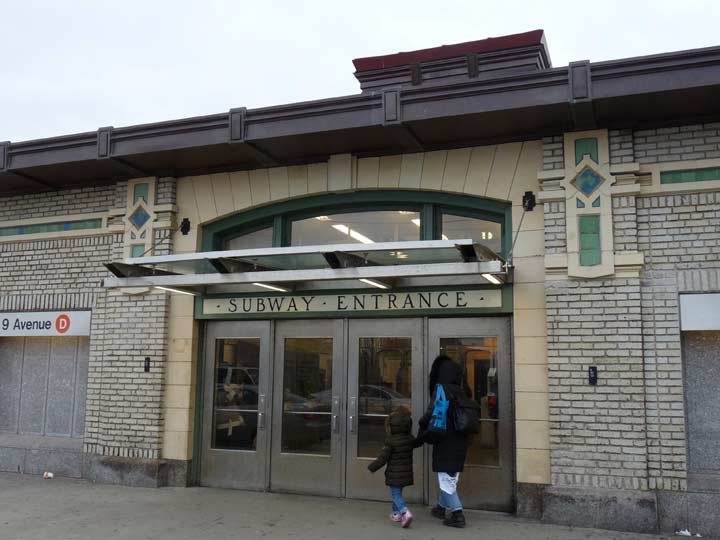 I finished the day's wanderings by catching a D train at the BMT 9th Avenue stationhouse, restored recently. I have plenty of photos at FNY's first New Utrecht Avenue page.
I had mentioned the string of trolley poles that survived till relatively recently on 39th Street. The BMY yards here serviced subways, trolleys and buses at one time, and in the yards you can still see a number of poles formerly supporting trolley wire that have been put to different purposes.
Continued in Sunset Park to Borough Park
As always, "comment as you see fit." kevinjudewalsh@gmail.com
2/11/17