By SERGEY KADINSKY
Forgotten NY correspondent
In my appreciation of the city's eternal green public spaces, I enjoy documenting the history of parks big and small. Throughout the Five Boroughs, triangular parcels are formed at places where street grids collide. Too small to develop, they are set aside as parks under the Greenstreets program. In the Bath Beach neighborhood of Brooklyn, one such example is the .043-acre Private Anthony Catanzaro Square.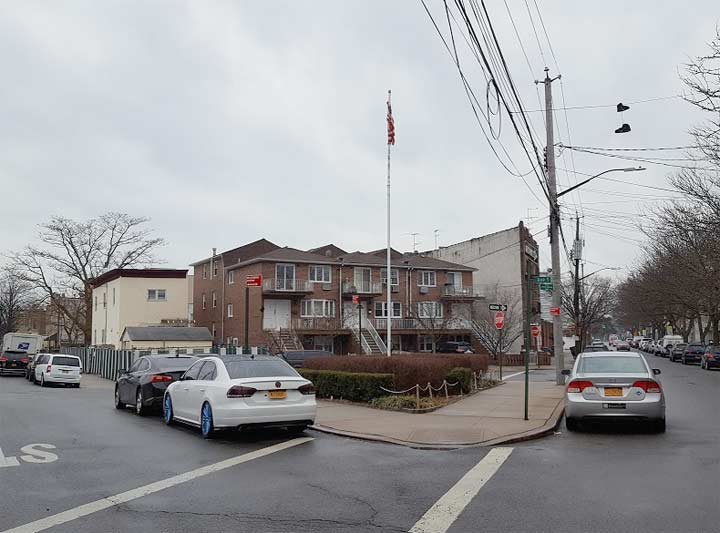 Such parks receive little respect, many of them named after local individuals but lacking the historical signs to explain their namesakes. I tried to correct this injustice by putting these small parks on Wikipedia and quickly found them proposed for deletion by other users. Their alibi being that these tiny parks do not have enough "notability" to merit a Wikipedia page. If the prudes at Wikipedia succeed in deleting my hard work, fortunately there is Forgotten-NY , where no place is too obscure for documentation.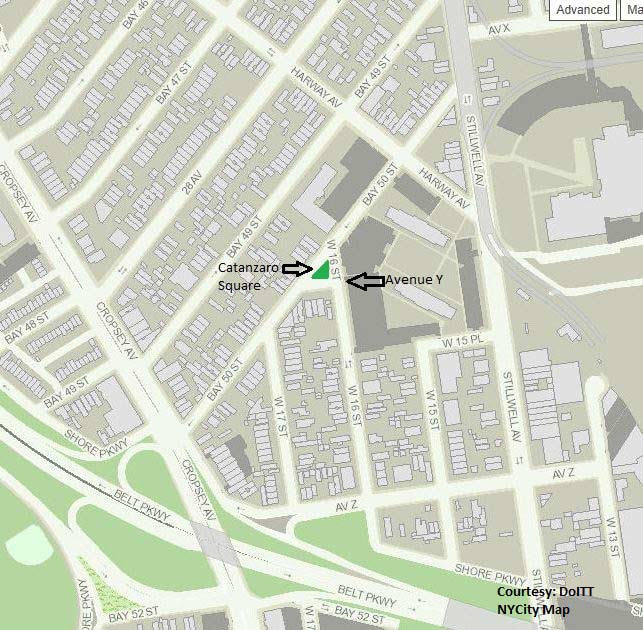 Anthony Catanzaro Square is formed by the northern end of West 16th Street at the same place where Avenue Y meets its western end, with both of these roads meeting Bay 50th Street. Particularly notable is Avenue Y, an orphaned segment containing four addresses and nearly a half mile to the west of where Avenue Y picks up again at Gravesend and Sheepshead Bay. The vast Coney Island Yard cuts this avenue into two segments. A third easternmost segment of Avenue Y is found in Bergen Beach. West 16th Street represents a mainland penetration of the Coney Island street grid, while Bay 50th Street is part of the Bensonhurst-Bath Beach grid. Avenue Z also has a segment in Bath Beach, stretching for five blocks.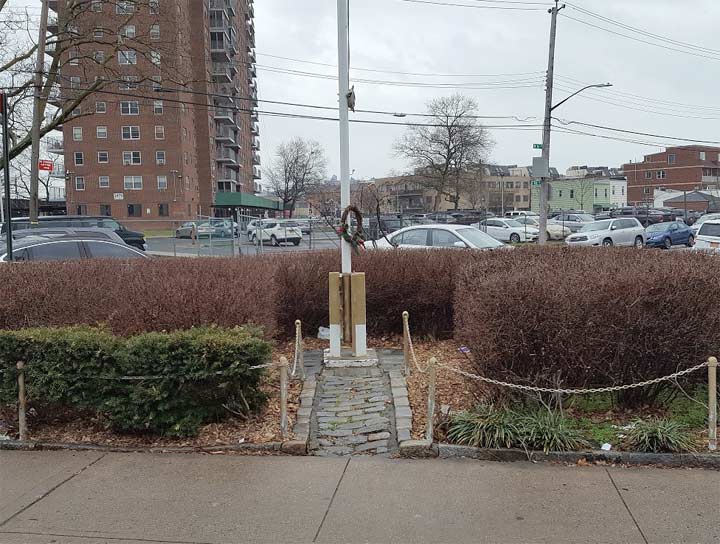 At the onset of World War Two, Bath Beach had a sizable Italian-American community. The Catanzaro family lived across the street from the undeveloped triangle where three grids met, their oldest son Anthony was born in 1916. Fighting in the 322nd Fighter Control Squadron, PFC Anthony Catanzaro's ship was on its way to the front in Italy when it was torpedoed on November 26, 1943 by German forces. Catanzaro was posthumously awarded the Purple Heart medal and buried at the nearby North Africa American Cemetery in Carthage, Tunisia.
In this war, his younger brother Joseph (1919-2015) survived the June 6, 1944 invasion of Normandy and returned home vowing to honor Anthony. Through the efforts of Joseph , a flagpole was installed and shrubs planted at the site, lovingly cared by Joseph who raised the park's flag each morning. In 1963, the City Council designated this triangle as Anthony Catanzaro Square.
The immediate vicinity of Catanzaro Square is not exactly a tourist hotspot, but there is one local curiosity of note down the block at 114 Bay 50 th Street, a front yard shrine to the Virgin Mary. Such miniature shrines are popular among Italian-American homeowners, but Anthony Vespoli's shrine is like a miniature garden. In particular, the smiley face on the tree.
Sergey Kadinsky is the author of Hidden Waters of New York City: A History and Guide to 101 Forgotten Lakes, Ponds, Creeks, and Streams in the Five Boroughs (2016, Countryman Press)
"Comment as you see fit." Comments for FNY are once again open!
3/2/17