FNY has been spending a lot of time in Brooklyn of late, at least for the weekly longform posts, and I'll continue in that vein this week and next, with a two-parter in Fort Greene and Clinton Hill where I spent some time in June 2016. Fear not, I've made some recent journeys to adventure in Manhattan, Bronx, Queens and Staten Island these past few months and those voyages will be represented over the next few weeks.
I was in Fort Greene and Clinton Hill to scout a ForgottenTour scheduled for late June. Unfortunately I came down with a bad back one day before the tour and was forced to cancel while I recuperated. Why let the notes I accumulated go to waste? I'll reschedule the tour sometime in the next couple of years, but I'll post my notes right here along with some extras.
Fort Greene is named for a fort built in 1776 at what is now Fort Greene Park's central summit by General Nathanael Greene (1742-1786). The fort, originally named Ft. Putnam, aided in George Washington's retreat after his defeat in the Battle of Brooklyn in 1776, and was reactivated during 1812 when a British attack was anticipated.
Nathanael Greene (August 7, 1742 – June 19, 1786, frequently misspelled Nathaniel) was a major general of the Continental Army in the American Revolutionary War, known for his successful command in the Southern Campaign, forcing British general Charles Cornwallis to abandon the Carolinas and head for Virginia. When the war began, Greene was a militia private, the lowest rank possible; he emerged from the war with a reputation as George Washington's most gifted and dependable officer. Many places in the United States are named for him. Greene suffered financial difficulties in the post-war years and died suddenly of sunstroke at age 43 in 1786. Wikipedia
GOOGLE MAP: FT. GREENE AND CLINTON HILL
Atlantic Avenue's is one of the few station houses remaining from the subways' early days: it was designed by early subway contractors Heins and LaFarge and placed here in 1908 when the subways first forayed into Brooklyn. After several years in the wilderness, when it served as a hotdog stand with garish neon signage, it settled into a tattered, neglected old age, covered in graffiti and peeling paint.
In 2003, during a complete renovation of the subway station beneath, it was restored to full glory (though it now stands isolated in a traffic island with no entrances at all!) and given a skylight above a station staircase. It's meant, though, to be viewed from across the street and now serves no practical purpose other than filigree.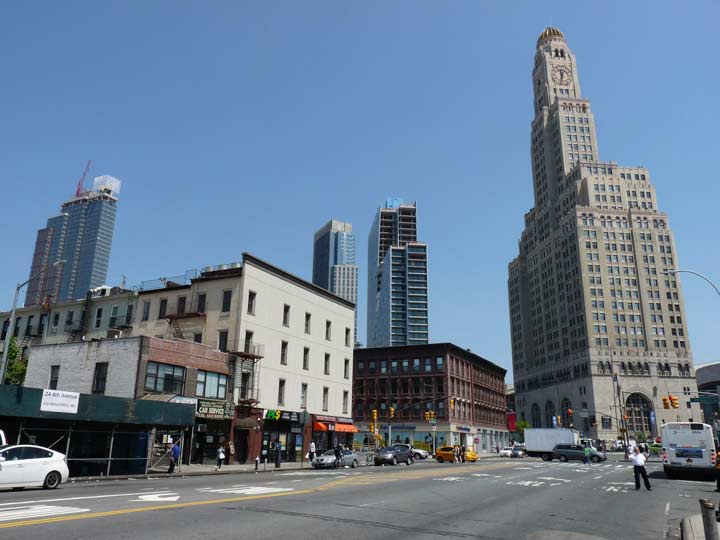 A gathering of some of Brooklyn's tallest buildings can be seen from just outside the 4th Avenue exit of the Atlantic Avenue-Barclays station (formerly called Pacific Street; the mosaic tiles are still on the walls).
From left to right is Brooklyn's tallest building in 2017, The Hub (333 Schermerhorn); 250 Ashland Place, Brooklyn's 4th tallest; the not-yet-completed 300 Ashland; and the Williamsburg Savings Bank Tower, Brooklyn's tallest between 1929 and 2009 (see below for details) and still King of All Brooklyn Buildings–though it had slipped to 6th place in 2017!
I realize this is an unusually large Gallery but I wanted to show some of the incredible details found at the entrance to the Williamsburg Savings Bank Tower. Since it was converted to luxury condos during the previous decade it has been known as One Hanson (it is the first address on Hanson Place) but I've alternately called it The Willie and the House of Pain, given my oral surgeries here; it had been chockablock with dentists before its residential conversion.
Carved details around the windows are appealingly literal, in the vein of architecture parlante, speaking of the values of thrift with beehives, squirrels that store nuts, the head of Mercury, god of Commerce, wise owls, and seated lions whose paws protect the bank's lockbox, with the bank's monogram on the lock haft. Embedded in the ashlar wall face above are square bas-reliefs, one on the right of a burglar, whom the depositor understood would be thwarted by the extremely massive 60-ton vault doors in the basement, which stood open for inspection during banking hours. wikipedia
The 'Willie' was built by the architectural firm Halsey, McCormack and Helmer from 1927-1929. It is 512 feet tall, and can be seen from Brooklyn housetops as far away as Bay Ridge and Dyker Heights. It is the tallest building in Brooklyn for 80 years and remains one of the tallest buildings on Long Island. Its four-faced clock was the largest in the world in 1929, and held the title until 1962, when it was surpassed by the clocks on the Allen Bradley Building in Milwaukee. The ground-floor banking room boasts a 63-foot ceiling (it is periodically open to the public for events such as the Brooklyn Flea (Market), and its windows overlooking Hanson Place are 40 feet high.
The crowning dome was built as a homage to the other Brooklyn Williamsburgh Bank building, on Broadway in Williamsburg (the bank has an h, the neighborhood does not). In 1987, the two buildings became a part of the Republic National Bank and subsequently, the Hong Kong Shanghai Banking Corporation.
At one time the bank's observation deck was open to the public. Informational plaques describing the 1776 Battle of Long Island were installed in 1976 and they're still there, as far as I know. FNY has photos of these plaques, taken by Moses Gates and Mike Epstein, on the original page devoted to the tower from 2000 and revised in 2012. More appear on FNY's Hanson Place page.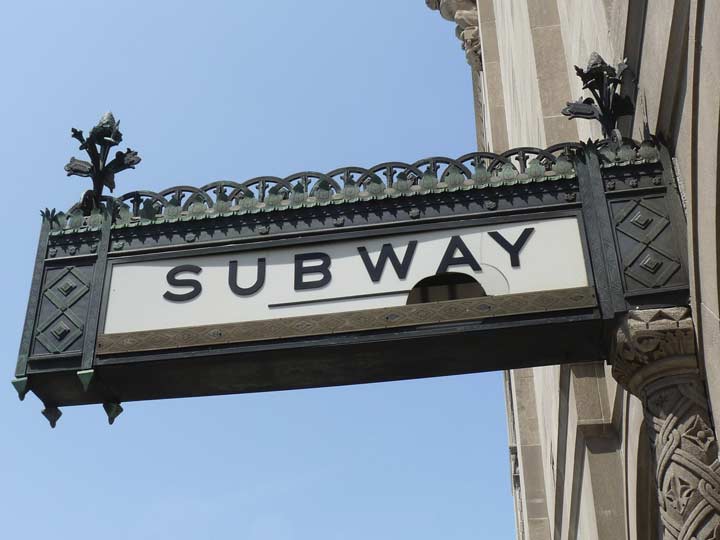 Here's one of the more ornate subway entrance signs in NYC. It is made of wrought iron and has been illuminated from the interior in the past; not having been here at night lately, I'm not sure if it still is. The IRT subway station beneath the building serving #2, 3, 4 and 5 trains dates to 1908, so this sign dates to the building's beginnings in 1929.
An old-style street vent, employed to disperse miasmic vapors from subway and other tunnels below the street, can be seen on Hanson Place outside the bank. This one appears to be an OKAPI (BING-675x).
I thought for the longest time that the Hanson Place Central Methodist Church was the Church of St. Felix, as it is adjacent to that street. Instead it's the Hanson Place Central Methodist Church. It's also the only church I've ever seen that has leased space to a pizzeria on the ground floor. It quickly followed the Willie, which it adjoins, in 1931 and can be seen as a companion pice, since the architects were the same. Francis Morrone, one of NYC's foremost architectural observers, says it's reminiscent of the Liverpool Cathedral in the UK, built in 1903. This is the third church to occupy the site.
The cornerstone notes the previous addresses of Central Methodist, on Summerfield Street in Ridgewood and Fleet Street in downtown Brooklyn. Notice the buiilding detailing at the St. Felix Street entrance, which marks the congregation as having a good number of maritime workers.
St. Felix Street wasn't named for a church, as I had thought, but Brooklyn Heights merchant John Renane St. Felix, a son of French immigrant Mary Antoinette St. Felix, whose father had been an aide to the queen with the lopped-off noggin. St. Felix owned acreage the city of Brooklyn purchased in the early 1840s and laid out the rough grid of streets that marks it now.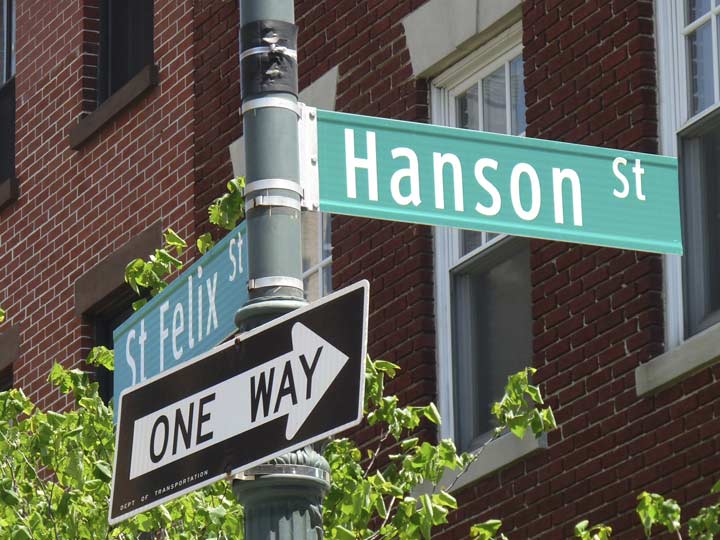 The Department of Transportation made an error at St. Felix Street, labelling Hanson Place as Hanson Street. The Place first turns up on maps before 1850, though its namesake, abolitionist Dr. Samuel Hanson Cox, born in 1793, lived until 1880. Cox was pastor of the First Presbyterian Church on Henry Street for 17 years and built a house, formerly at Fulton and South Oxford Streets, that he named Rusurban (short for the Latin rus in urbe, or "country in city.")
Brightly colored brownstones on St. Felix Street between Hanson Place and Lafayette Avenue. Approximately 15 years ago (from 2017) the sewer system under St. Felix Street was completely replaced and all the homes on the east side of the street needed to be shored up down to their foundations so they wouldn't collapse.
The Brooklyn Music School and Playhouse, 126 St. Felix Street, was founded in 1909. According to the school's website it provid[es] high quality music and dance instruction without regard to income, age, previous experience or professional aspirations. All students are given a solid foundation and develop discipline, self-confidence, and poise. Jazz vocalist Betty Carter lived across the street at 117 St. Felix.
The hand lettered sign appears to be several decades old.
The Brooklyn Academy of Music, Lafayette Avenue between St. Felix Street and Ashland Place, is hardly Forgotten but I'd be remiss if I didn't post a photo of it since I passed by. The Academy was founded in 1861 and was initially located on Montague Street in a building designed by Leopold Eidlitz, one of the premier architects of his era. A lecture series that featured Booker T. Washington, Mark Twain and explorer Henry Stanley, who sought Dr. David Livingstone in Zanzibar, Africa. That first building burned down in 1903; the new building went up in 1908, designed by Henry B. Herts and Hugh Tallant. The initial production was Faust with Enrico Caruso as lead tenor. You can't see it too well here, but stroll past for a look at some incredible terra cotta detail.
I've been inside just twice: in June 1981 for my graduation ceremony from St. Francis College, and again in December 1989 for Lou Reed and John Cale's presentation of Songs for Drella, a tribute to the recently deceased Pop artist Andy Warhol.
Returning to Hanson Place, here's the Shirley Chisholm State Office Building at #55, named for the first black woman elected to Congress, representing Brooklyn's 12th District from 1969-1983. In the spring of 1972 she ran for President thus becoming the first major party African-American Presidential candidate, and first female Democratic candidate (Senator George McGovern of South Dakota won the nod but lost 49 states to Richard Nixon). In 2016, Hillary Clinton was the first woman to be nominated for President on a major-party ticket.
One of the finer buildings in an area full of them is the Romanesque style, Corinthian columned Hanson Place 7th-Day Adventist Church at South Portland Avenue is a NYC Landmarked building that was first built as the Hanson Place Baptist Church from 1857-1860. Its quartet of Corinthian columns, massive pediment and stained glas work are notable. The Adventists, who worship on Saturdays and differ in other practices from other Christian churches (including virulent anti-Catholicism), were founded in 1860 by Ellen Gould White. An interesting sidelight is that health food enthusiast John Harvey Kellogg, whose brother William founded the cereal empire, was an Adventist and the faith's teachings informed his early work.
Some barely postbellum houses on the north side of Greene Avenue just east of Fulton Street. Like the Fort and the park, Greene Avenue is named for General Nathanael Greene (see beginning of page).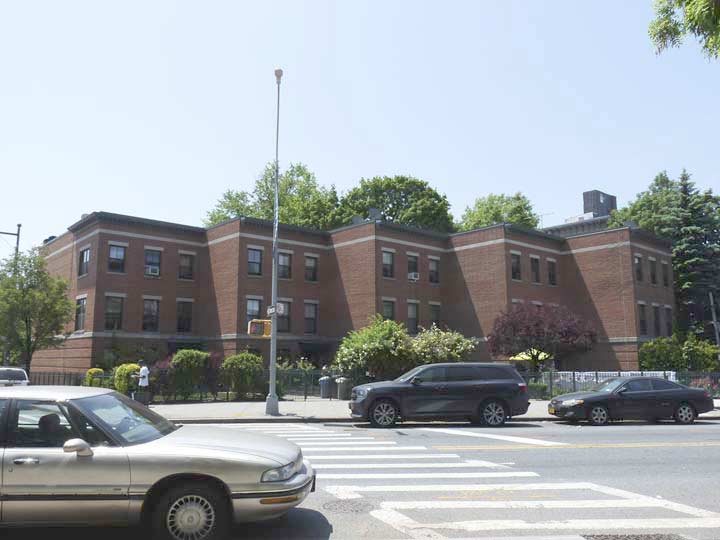 I've always been partial to the Village at Atlantic Center development located between Atlantic Avenue, Fulton Street, South Portland Avenue and Cumberland Street. Its 3-story, simple brick construction harks back to the housing stock of western Brooklyn side streets in the early 20th Century. Construction began in the early 1990s.
The green space at the Fulton-Greene-Carlton Avenue confluence is redundantly called "Cuyler Gore Park" when "Cuyler Gore" would have been sufficient, as "gore" already means a triangular park.
The western portion of this triangular plot was purchased by the City of Brooklyn in 1845 for one dollar. The site was named for a prominent local minister, Dr. Theodore Ledyard Cuyler.
Further west on Fulton Street, an inscription for Habana Works, a non-profit organization that provides free, hands-on programs that celebrate urban environmentalism, has been placed on what is called the Brooklyn Love Building at South Portland Avenue.
I ducked into the Greenlight Bookstore on Fulton across South Portland Avenue and was happy to see it jammed with younger readers. It has a comprehensive New York City section right behind one of the front windows. Forgotten New York (whose price has been reduced on amazon — get it cheap!) was not displayed, but it has been ten years since its release.
Painting of Robert Fulton's steamship, Clermont, above the front door at Greenlight. Fulton did not invent the steamship; he proved it could be successful financially. He is buried in downtown Trinity Cemetery in Manhattan.
Who is that fellow, whose portrait was sculpted by Henry Baehrer, in the triangle park formed by Fulton Street, South Elliott Place and Lafayette Avenue? Ned Fowler. I've written about him before.
Facing Fowler on South Elliott Place is The Smoke Joint with a handsome sidewalk sign with News Gothic lettering. I had suspected it was a cigar store but it is actually a barbecue joint.
This business on Lafayette between South Elliott and South Portland is part of a burgeoning trend in which newer stores retain the previous business's sidewalk neon or vinyl signage. A Clinton Hill restaurant at Gates Avenue and Cambridge Place has actually restored an old sidewalk sign to former glory.
In this case a haute clothing store actually called itself French Garment Cleaners; unfortunately it closed shortly after I snapped this photo in June 2016.
Directly across Lafayette Avenue, the owner of this building handprints Bible verses on the ground floor exterior.
Another street vent has survived on the north side of Lafayette on this block. From the looks of things, it's a WILDEBEEST (GNX-1141a).
Walking north on South Elliott Place from Lafayette, you find the headquarters of 40 Acres and a Mule Filmworks, the production company of noted American filmmaker and professional Knicks fan Spike Lee.
The company was named for an episode from the Reconstruction, the period in the defeated South following the end of the Civil War. In 1865 General William Tecumseh Sherman issued "Special Field Order 15," ordering distribution of property amounting to 40 acres to a number of freed slaves; the order included surplus army mules. After the war, Abraham Lincoln's successor, Democrat Andrew Johnson, reversed the order and returned the land to its previous owners.
In early 2016, Lee held a dance party on South Elliott Place celebrating the life of the recently deceased Prince that attracted thousands. Many of his early films are set in Brooklyn; Lee formerly resided in Fort Greene and has been a vocal critic of so-called gentrification.
Woodframe buildings in Brooklyn's older neighborhoods are beginning to disappear, victims of property owners' desire to build more lucrative multifamily houses on their plots. You can still find them in pockets in Park Slope, Fort Greene, Clinton Hill and Bedford-Stuyvesant.
Mixed among the brownstones in Fort Greene you will see some leftover wood frame buildings that date from the Civil War years or even earlier, such as 63 and 65 S. Elliott Place, #59, and #41.
#41 indeed dates back to the mid-19th Century, but it has been renovated in recent years and a porch added to "retrofit" it to look more its age. Previously it had been porch-free and covered with aluminum siding.
The very narrow #37 S. Elliott once had a twin at #39. It was constructed in 1873 and is just 13 feet wide. It too was covered under siding until recently but its board and batten exterior was discovered intact underneath.
Brooklyn Tech
Brooklyn Technical High School opened in 1922 at 49 Flatbush Avenue Extension (near Fulton Street) in a converted warehouse. It moved to its present building, a 12-story structure at 28 Fort Greene Place, in 1933. It's one of NYC's marvels you don't read or hear much about.
Brooklyn Tech features an Olympic-size swimming pool; foundry; a materials testing lab; an aeronautical lab; an 18,000-watt radio transmitter (and a 456-ft transmitter tower, when combined with the building's 145-ft. height, made Brooklyn Tech the tallest combined structure in Brooklyn until recently); the 3,000 seat auditorium; and a robotics lab. It is considered one of NYC's most elite and toughest-to-get-into high schools.
Alumni include Harry Chapin, the late storytelling pop singer; US Congressmen Gary Ackerman and Anthony Weiner; computer magnate Charles Wang; author Richard Matheson of "I Am Legend" fame; and my cousin, Jim King.
Exterior bas-reliefs depict Thomas Edison; the Wright Brothers; the father and son Roeblings who built the Brooklyn Bridge; steamship pioneer Robert Fulton; Lee De Forest, father of talking pictures; Ira Remsen, the developer of saccharin; Elmer Ambrose Sperry, inventor of the marine gyrostabilizer and the gyrocompass; and others.
There's no longer a B19 bus route running on DeKalb Avenue bordering Fort Greene Park, but in the Swinging 60s when this small sign was posted, there had been. Actually there are plenty of numbers inexplicably skipped in the list of Brooklyn bus routes (and probably other boroughs). Today the B38 bus (double 19–a coincidence?) runs on the one-way DeKalb and Lafayette Avenues en route to Ridgewood.
I haven't paid attention to bus stop signs as much as I could have (Forgotten NY is the "Infrastructure of a Lost Metropolis" after all) but much larger signs are now provided with route maps and schedules (which should be taken with several grams of salt).
The B19 route seemed relatively short and may have served to connect the A/C and G subways to the Brooklyn Navy Yard, which constructed US military vessels until 1966; today it is a collection of private businesses and a movie studio.
Walt Whitman, editing the Brooklyn Daily Eagle from 1846 to 1848, pressed for a public park in the area, and in 1847, Washington Park, named for the President, began development. Whitman lived nearby, at 99 Ryerson Street in a building that is still standing (see Part 2 next week), and it's not surprising he wanted a park near his home.
Washington Park was partially designed by Frederick Law Olmsted and Calvert Vaux, the architects who went on to develop Central and Prospect Parks. It was constructed beginning in 1847, officially opened in 1850, and redesigned in 1867 by Olmsted and Vaux; in 1897 the park was renamed for Fort Greene, the environs of which by then had become a handsome residential neighborhood. The two-block stretch of Cumberland Street lining Fort Greene Park's eastern side is still called Washington Park.
During the Revolutionary War, the British anchored eleven prison ships in Wallabout Bay (the body of water west of Williamsburg) and subjected American prisoners of war to deprivations and torture during the years 1776-1783. More than 11,000 died in the ships.
There were early monuments to those who became known as the "prison ship martyrs": some of the remains were buried in the vicinity of the Navy Yard in 1808 and interred in Washington Park in 1873. The current monument, a 148-ft. Doric column, was designed by McKim, Mead and White (the firm that would later design Pennsylvania Station) and dedicated by William Howard Taft, then President Teddy Roosevelt's Secretary of War, in 1908. The monument originally featured a staircase and elevator to its summit, where there was a lighted brasier and observation deck. The elevator was broken by the 1930s and was finally removed in the 1970s. The Prison Ship Martyrs Monument, however, remains one of Brooklyn's more striking landmarks, visible from any part of the neighborhood. The remains of the prison ship martyrs are interred under the monument.
The Fort Greene Park information center, in a handsome Doric-columned building, reopened in 2015 after a two-year shutdown. The center features permanent exhibits celebrating the park's Revolutionary-era past, including a period cannon, musket and bayonet as well as local flora and fauna information and overviews of how volunteers have and continue to keep the park clean and safe.
Next week: Part 2: into Clinton Hill
"Comment…as you see fit" in Comments.
3/26/17