In spring 2017 I took a couple of walks in the wide open spaces of eastern Queens, one on Union Turnpike going generally west skirting Glen Oaks, Hollis Hills and Hillcrest (the subject of today's installment) and the other generally west on Hillside Avenue into Bellaire, Queens Village and Hollis, the site of a future installment to be completed soon.
I moved to Flushing in 1993 after 35 years in Brooklyn to be closer to a job in Nassau County. I have lived in Queens since, within walking distance of the Long Island Rail Road (which acts like a subway, with frequent local stops, on the Port Washington Branch in northern Queens, though with a round trip daily rush hour fare of $20 without a discount monthly ticket, it's geometrically more expensive than a mere subway; for temp jobs of short duration, I spend $5.50 daily with lengthy bus-subway transfers).
I was impressed with how wide the roads are in eastern Queens when I rode a bicycle around the area in the 1990s and into the 2000s. Near Nassau County, these are realms unplumbed by subway lines, and with scant bus service (some lines are rare or absent on weekends) and just the Port Washington LIRR, which serves a specific area, leaving most of eastern Queens without subways or railroads, this is truly the land of the auto. I have never driven a car, so I get around Eastern Queens exclusively by foot; I never "Forgotten" on a bike, since I consider bicycling for exercise only and as the self-crowned "king of caution" I'm always aware of pedestrians, dogs and cars impinging on my bike "safe zone."
I was surprised to find a mounted artillery weapon on Union Turnpike at 80th Avenue and 252nd Street. The Stein-Goldie Veterans Square, marked by both a Department of Transportation sign and brown Parks Department sign) was dedicated in 1943 with donated 75MM Howitzer M1 (later called M116) gun implantment. The square was dedicated in the year the weapon reached peak production. To my surprise the howitzer was not named for its inventor, but comes from the German word houf, for "crowd." Original howitzer weapons were fired into charging cavalry.
Identical houses on 250th Street off Union Turnpike. Characterized "Little Boxes" in the Malvina Reynolds folk classic, these were likely built in the period just after World War II and as mass-produced buildings go, they're handsomer than the current crop of Fedders Specials seen around town.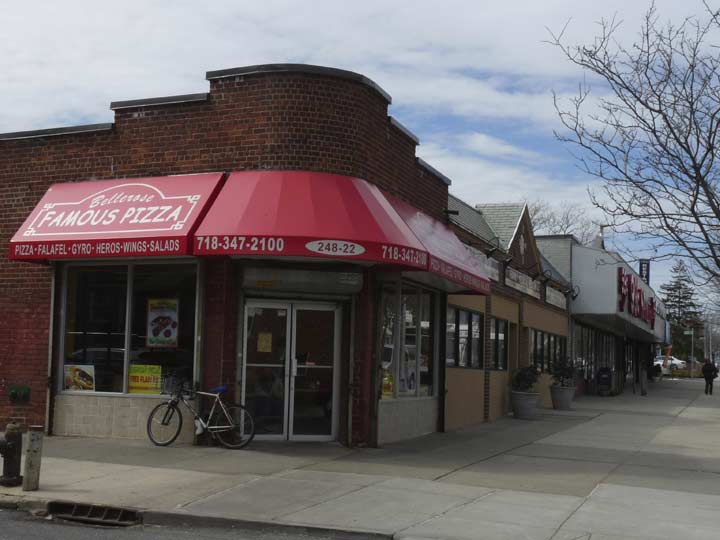 I won't comment on the quality of Bellerose Famous Pizza ( I haven't had it yet) but they do have a modern, conventional vinyl sidewalk sign. There was a time when…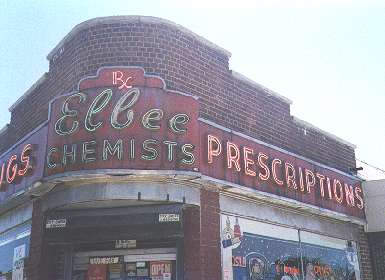 … this was home to Elbee Chemists (drugstore) and a trio of gorgeous neon signs. The owners' initials were likely L and B, hence the name.
Businesses on the north side of Union Turnpike on a mini-mall between 248th and 249th Streets indicate this section of Glen Oaks features a number of immigrants from India.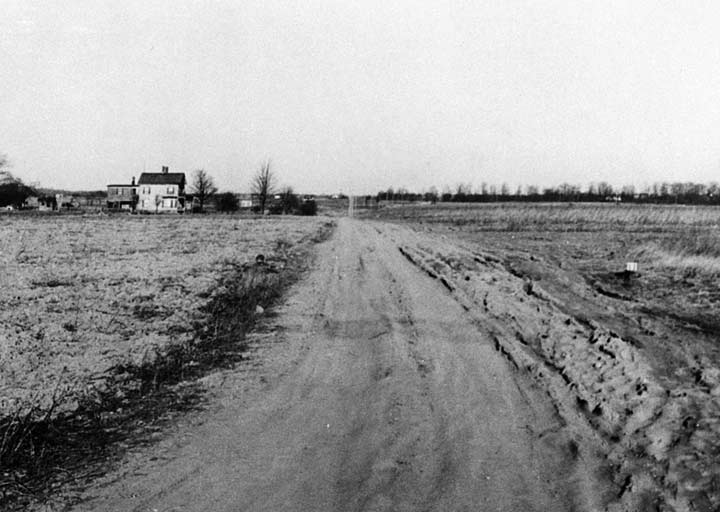 Union Turnpike at Commonwealth Boulevard, looking east, 1933. Since I have this photo, which appeared in my book with the Greater Astoria Historical Society, Forgotten Queens, it's a good time as any to discuss the history of Union Turnpike, as far as I can suss it out.
This map depicts Union Avenue in the Jamaica Estates and Hillcrest areas between 164th and 188th Streets in 1909. Jamaica Estates, a residential development featuring upper middle-class homes, was first developed in 1907 by the Jamaica Estates Corporation, founded by Philadelphians Ernestus Gulick and Felix Isman. Donald J. Trump, 45th President of the USA, spent his early years in Jamaica Estates.
A lengthy stretch of Union Avenue between Metropolitan Avenue and Brushville Road (which evolved into 188th Street) was laid out by 1909. The road was extended both east and west, reaching to Myrtle Avenue and 88th Street in Glendale in the west and in the east, the Nassau County Line; Union Turnpike extends east briefly to Marcus Avenue in New Hyde Park.
There may have been a plan to toll the road at one time — hence its renaming as a Turnpike — but once Greater New York consolidated in 1898, those plans were likely scrapped. (I don't see any photographic record of any tollhouses on the road, unlike postcards I've seen featuring tollhouses on Jamaica Avenue, originally Jamaica Plank Road.)
1922 Hagstrom map of Glen Oaks area. Though the area is depicted as having been built out, with a modern street grid, you can see by the photo above that this was wishful thinking on the part of developers in 1922. The eastern and southern areas of the map were laid out as shown, while the cluster of streets at Winchester Boulevard was never built; the old Creedmoor Rifle Range (which had been established by the National Rifle Association in 1871 and was here until 1891) was converted to theFarm Colony of Brooklyn State Hospital and then the Creedmoor Psychiatric Center, which occupies the space where those streets are shown; Alley Pond Park occupies the space north of Union Turnpike on the left side of the map section.
The Motor Parkway, which was eliminated east of Winchester Boulevard when the Psychiatric Center was established, was one of the few routes in eastern Queens open to auto traffic in 1922.
The state purchased land for the rifle range from the Creed family in 1871, hence the name "Creed's Moor."
This is the same view of Union Turnpike at Commonwealth Blvd, taken in 2015. Union Turnpike was finally built up in the late 1930s (as well as other main roads such as Commonwealth Blvd.) in anticipation of the opening of the NYC World's Fair in 1939.
Building 40 of the Creedmoor Psychiatric Institution is among the tallest buildings in eastern Queens, exceeded only by the North Shore Towers apartments in Glen Oaks.
Founded in 1912 as a Farm Colony of Brooklyn State Hospital, the Creedmoor Psychiatric Center in Queens became, by mid-century, a world unto itself. At its peak, it housed some 7,000 patients. They tended gardens and raised livestock on the hospital's grounds. The hospital contained gymnasiums, a swimming pool, a theater, a television studio, and giant kitchens and laundries where patients were put to work.
Today, Creedmoor, still run by the New York State Office of Mental Health, has only a few hundred patients. In a process of deinstitutionalization that began in the 1960s and accelerated in the 1980s, psychiatric wards were nearly emptied, their charges turned over to outpatient treatment centers that would help re-integrate the mentally ill into their communities. [NY Times]
Creedmoor's Building 60, the Stepping Stones Transitional Residence, is shown at the institution's south campus entrance on Winchester Boulevard.
[Map of Creedmoor Psychiatric Institution Campus]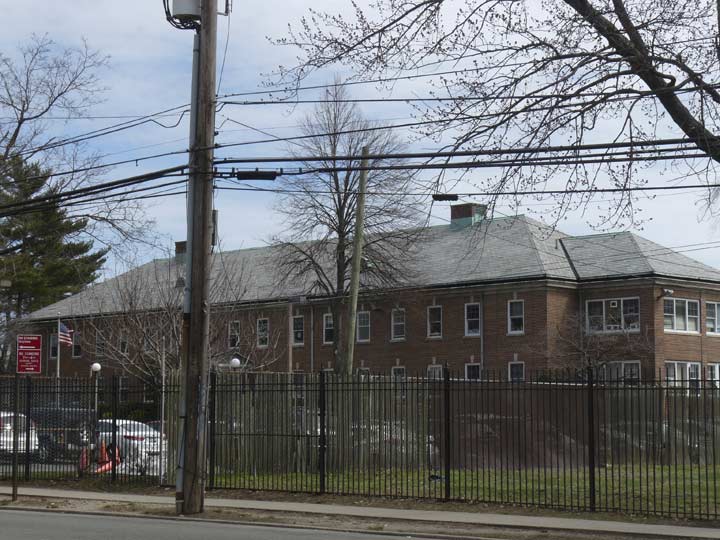 A number of buildings on the south side of campus, south of Union Turnpike, are disused or abandoned. One notable exception is Building 75, which houses the Living Museum, featuring art created by campus inpatients. The Living Museum was profiled in a 1998 film by documentarian Jessica Yu.
The Queens High School of Teaching, Liberal Arts, & The Sciences at Union Turnpike and Commonwealth has among the larger high school campuses I've seen at 32 acres. In 2008 the campus was named for Frank Padavan (1934- ), the longtime NY State Senator from Queens County District 11 from 1973 to 2010. In the latter year he was defeated by Democrat Tony Avella. His slogan was "Nobody Cares Like Frank."
A magnificent stone arch bridge carries a lane of the Grand Central Parkway over Winchester Boulevard near the Creedmoor campus. It is accompanied by another one, as well as several steel bridges carrying other roadways of the parkway. While this section of the GCP opened in 1933 and expanded in 1961, it appeared on maps as early as 1922 (see above Hagstrom).
In 1790, and even well into the 20th century, there were few good roads in eastern Queens. What is now West Alley Road runs through a valley between two hilly areas left by a retreating glacier 150 centuries ago, and the lone road through was called "the alley" on early maps. A number of roads through the area took its name. In the early 19th Century, Alley Road became Douglaston Parkway and East Alley Road became 61st Avenue; only West Alley Road retains its old name.
President George Washington visited the plant nurseries of Flushing in 1789 and made a return visit to Queens and the rest of Long Island on a five-day swing the following year. Beginning April 20, he made a 165-mile round-robin journey from Brooklyn to Jamaica, Long Island's South Shore, Patchogue, north to Setauket, Smithtown, Huntington, Oyster Bay, Roslyn, and Flushing, returning home to his Manhattan mansion on April 24. Washington was on his final leg of the tour when passing Alley Road.
The area now constituting the 635-acre Alley Pond Park was occupied by the Matinecock Indians in the precolonial era. After their violent ouster by Thomas Hicks in the 1700s the region remained mostly rural with exception of mills harnessing water flowing into Alley Creek. A general store in the Alley surprisingly survived between 1839 and 1929. The store went out of business and was razed when the City acquired the acreage to turn it into Alley Pond Park in the latter year. The new park's ribbon was cut by Mayor Fiorello LaGuardia in 1935.
I've been an admirer of Alley Pond Park's park headquarters for some time. It appears to date back to the park's origins in the 1929-1935 period. When I lived in Flushing, its water fountains and bathrooms were a way station for me after a hot day bicycling in eastern Queens as I prepared to return to my apartment on 159th Street by using an express route, the Motor Parkway (see below). I always rode west on it because that was downhill!
The interior is fairly bare and spare, with bulletin boards advertising park activities and award plaques for the Alley Pond Striders, a walking/racing club. There is one notable artifact, though…
… an actual phone booth. I wonder how much change is collected from it by Verizon these days. It's a push button phone, unlike the dial-up phone I found under the massive World War II monument in Brooklyn's Cadman Plaza!
The Alley Pond Park entrance at Union Turnpike and Winchester Boulevard also is the eastern end of what was built as the Long Island Motor Parkway in Queens. The road was first constructed in 1908 as a venue for industrialist heir William Kissam Vanderbilt's Vanderbilt Cup Race. It was one of the very first auto races and attracted drivers from the world over. It replaced an earlier route of the race held on Jericho Turnpike and other public Long Island roads.
After a 1910 accident in which 4 people were killed and 20 injured, the US capital of auto racing shifted to Indianapolis, Indiana. The Motor Parkway became a public toll road, and remained in that role until 1938 when it was supplanted by lengthier roads like the Grand Central Parkway. In 1926, the Motor Parkway was extended west to Fresh Meadows, and a surviving section between Fresh Meadows and Alley Pond Park was turned over to runners, walkers and bicyclists after the autos departed. The Motor Parkway still looks a great deal as it did when it was open to auto traffic.
Since my original Forgotten NY feature on the road in 2000, I hadn't photographed it again until this very walk! I decided to alternate between it and Union Turnpike for the remainder of the day. Note the original concrete posts, dating to the 1920s, that carried metal wiring that stopped cars from going off the road. Later on you will see some of that wire still attached.
Another example of "little boxes" housing along Union Turnpike at 235th Street. Developers still had a sense of style in the 1930s and 1940s.
A brick overpass takes the Motor Parkway over an Alley Pond Park path. The bridge was likely built during park construction between 1929 and 1935.
In what's becoming a theme, another of My Favorite Overpasses takes the Grand Central Parkway over Union Turnpike. I don't know if this is a 1936 original, though it doesn't look like it.
A number of concrete overpasses take the Motor Parkway over already-existing roadways such as Springfield Boulevard. In this manner the Motor Parkway was a true expressway and there were never any stopping points. There were on and off ramps, some of which survive as pedestrian paths. The Parkway also had to bridge over the right-of-way of the old A.T. Stewart railroad, which connected Flushing and Garden City in the 1870s. At the Motor Parkway the railroad's path is marked by a diagonal roadway called Stewart Road.
Kingsbury Avenue, which parallels the Motor Parkway between Bell and Cloverdale Boulevards, features some handsome Tudor-style dwellings.
220th Street is a dead end north of Kingsbury to auto traffic, but not walkers and bicyclists.
Motor Parkway between Bell Boulevard and 220th Street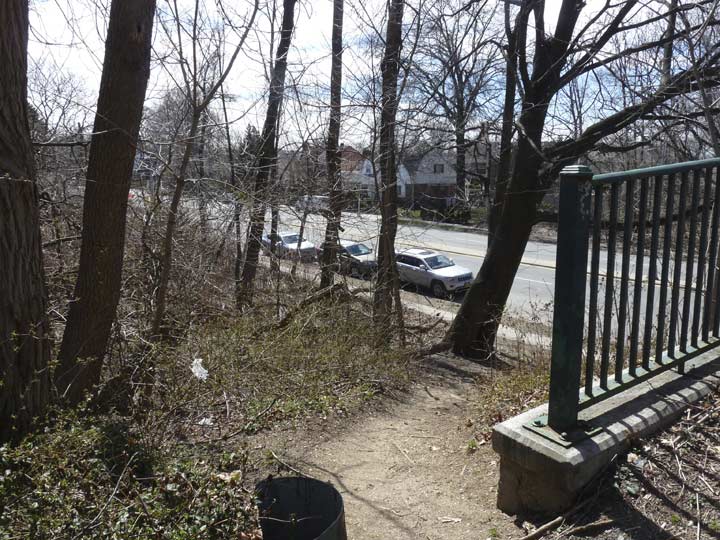 Here the Motor Parkway is bridged over Bell Boulevard. The road does not honor Alexander Graham Bell, as many suspect, but shipping merchant Abraham Bell, who purchased about 250 acres in what is now Bayside in 1824. Bell Boulevard (at first named Bell Avenue) was once the dividing line between his two farms. Bell's mansion on Bell Blvd. and 39th Avenue remained standing until 1971, when it gave way to a building now home to a Tiger Schulman judo school.
Speaking of Bell Boulevard…
The saucer has landed at Union Turnpike and Bell Boulevard, where you find the American Martyrs Roman Catholic Church, built in 1967. The martyrs were eight Jesuit missionaries to the Huron Indians in the 17th Century. All eight were killed during a Huron conflict with the Iroquois in what is now Quebec and upstate NY between 1642-1649.
This and other unusual Union Turnpike architecture in Hollis Hills can be found on this FNY page.
A series of concrete posts, some of which still have iron wiring attached, mark the original width of the Motor Parkway between Bell Boulevard and Hollis Hills Terrace.
Some of the original railings can be seen on the Motor Parkway span over Holllis Hills Terrace. The isolated road runs through or along Cunningham Park between 73rd and 86th Avenues, bordering the neighborhood it is named for. It was formerly part of Hollis Court Boulevard, but it was renamed for the neighborhood in the 1970s.
Cunningham Park is one of the least publicized of Queens' vast park systems — no World's Fairs were ever held there, but it has its own set of attractions. Today it stretches from the Horace Harding (Long Island) Expressway south to Grand Central Parkway, while its western end runs irregularly along 199th Street, Union Turnpike and 193rd Street, while on the east it borders Oceania and 210th Streets and the Clearview Expressway.
Today, Cunningham Park consists of 358 acres, some of it being maintained wilderness. The park also boasts several mountain bike trails (unaware of how winding they are, I was temporarily lost on the trails in June of 2015!) Most of the park's playgrounds and athletic fields are located on the stretch along Union Turnpike east of 193rd Street, and along 73rd Avenue between Francis Lewis Boulevard and the Clearview.
Take a look at some fascinating scenes in and around Cunningham Park I gathered in a then-and-now FNY page.
I found some evidence that old Dobbin had been by. However, the nearest stables I'm aware of, in Auburndale, shuttered a couple of years ago. Can anyone solve this conundrum in Comments? A police horse perhaps?
[cops on horses have been spotted here –I was sent a photo on Twitter–so that seems to be the answer. –ed.]
The Motor Parkway passes under the Clearview Expressway, constructed in sections from the Throg(g)s Neck Bridge to Hillside Avenue from 1960 to 1963. It was an unpopular expressway because it displaced about 400 households and it was built in an era when there was considerably more pushback to traffic czar Robert Moses and his projects.
As Robert Caro explains in his Moses biography, The Power Broker, a perennial best seller:
In road-building in and out of New York, Robert Moses had a dictator's powers. And he used them. He enjoyed using them — for using them gave him what was his greatest pleasure: the imposition of his will on other people. One evening, he was sitting with Sid Shapiro and several other aides parked in his limousine parked on a side street in Queens, studying possible locations for the Clearview Expressway. Suddenly, there appeared at the end of the street hundreds of citizens bearing torches and a scarecrow effigy labeled, in large letters, "ROBERT MOSES." The aides realized that they had happened upon an anti-expressway torchlight rally. The big black car sat at the end of the street unnoticed in the dusk by anyone in the crowd as the effigy was hoisted to a lamppost and set afire. "I didn't dare look at RM," Shapiro recalls. But to his surprise, his boss threw back and roared with laughter. And when someone suggested they drive away, RM said no. He wanted to stay for a while. He didn't want to miss a thing. He sat there through all the speeches comparing him to a "dictator," "a Hitler," "a Stalin." And, says Shapiro, "he laughed and laughed. RM really got a kick out of it."
And with that, I'll bring this particular foray into eastern Queens to a close, but there's more to come.
"Comment…as you see fit."
5/21/17