I found myself once again in Port Richmond midweek in December 2016, the subject of a number of FNY forays over the years. The story has been told here many times, but I was well familiar with the area from my youth, when my parents and I would occasionally tale the S53 bus (then known as the R7) over the new Verrazano Bridge. Occasionally, we'd wind up in Clove Lakes Park, where in 1965 I got a rare whupping from the old man when I decided to wander around the park by myself at age 8 and got lost (an incident that sort of set the tone for all my subsequent ambulations: walking around by oneself, with or without a camera, is a form of subtle subversion).
Armed with my handy dandy guide, Staten Island Walking Tours by the Preservation League of Staten Island, I set out to record that part of Port Richmond that I'd ignored on previous FNY forays here, and also lit off down Castleton Avenue, the main drag of New Brighton and West New Brighton (Staten Island has no Brighton, as its Brighton neighborhoods are named for the original in England).
GOOGLE MAP: PORT RICHMOND and CASTLETON AVENUE
In a unique arrangement in NYC, the finned telephone pole masts on Castleton Avenue between Bodine Street and North Burgher Avenue (about ten blocks) were been given Bell luminaires around a decade ago, and the Department of Transportation has committed to them, as they have been given new Bell-shaped Light Emitting Diode lights. Heretofore, finned masts have supported "crescent moons," GE M400s, Westinghouse OV-25s, and a variety of subsequent yellow sodium fixtures, but heretofore, never Bells. Here, the city has also reverted to its former practice of mounting orange/red fire alarm indicators above the main streetlamp.
The AIA Guide to NYC praises Our Lady of Mt. Carmel/St. Benedicta Church at Castleton and Bodine (1968) as a "sophisticated modern church center" with "dramatic skylit altar" and "rich modern stained glass." I did like the glass panels but the church seems to be styled with an incipient Brutalism that "marred" so many 1970s structures. The two churches were established in 1913 and 1927 respectively, and combined in 1957, with worshippers meeting at the first Mt. Carmel. That church burned down in 1966, necessitating a new structure.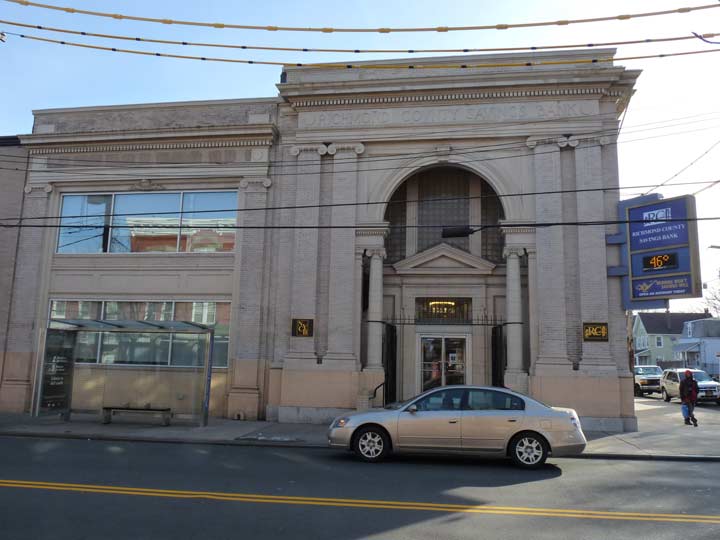 Richmond County Savings Bank, still in its original building at Castleton Ave. and Taylor Street featuring a massive arched entrance and Ionic pilasters. The Staten Island Yankees minor league franchise plays in Richmond County Bank Ballpark.
A pleasant trio of well-maintained brick buildings of a type unusual in Staten Island, with the date of construction conveniently shown on the central arched window.
The FDNY Ladder 79 was constructed in 1905 on Castleton Avenue opposite Roe Street as the Medora Hook & Ladder Company #3. The architect, Alexander Stevens, also supervised the construction of Manhattan's famed "Ghostbusters" firehouse in Tribeca.
Handsome mixed-use building at Castleton Ave. and Barker Street. Check the interesting window lintels, corner quoins, and roof corbels.
This handsome brick building at 1150 Castleton and Elizabeth Street was a mystery to me until I checked the address online. It was, or is, a group home affiliated with St. Vincent's Hospital of Westchester:
The Tompkins Residence is a 24-bed residence for individuals with serious mental illness who are older than 45 years of age. The program offers 24-hour supervision with comprehensive, structured and therapeutic activities. Special attention is given to medical issues and coordination of medical and psychiatric medications.
Castleton Avenue looking west from Alaska Street. There are a number of streets in Staten Island that have an association with Alaska — further southwest in New Springville, there's Yukon, Klondike and Nome Avenues, as well as Platinum, a precious metal mined in bulk in Alaska in the 1930s.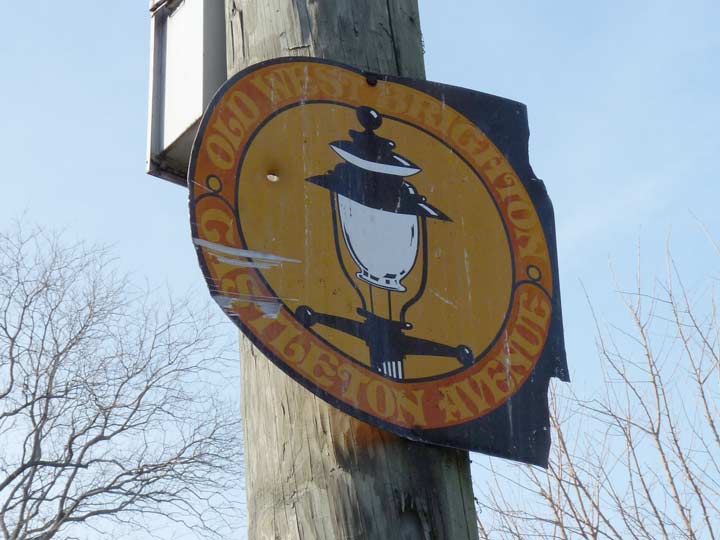 I am fascinated by neighborhood signs placed on utility poles by neighborhood associations to promote shopping districts. This one caught my eye, as it seems to be the last Mohican representing a publicity push decades ago. To my knowledge there is no "Old West Brighton" in Staten Island… there's New Brighton, just west of St. George, and west of that there's "West New Brighton" or alternatively, "West Brighton." There are historic locales in West Brighton, however, which may be what the sign is alluding to.
The West New Brighton Houses, built in the 1950s, combine Corbusian-esque towers in a park theme with bungalow-like structures. The pathways are lit by cylindrical post-top lamps.
It's no secret that parts of West New Brighton are economically recessed. However it's an old neighborhood rich in different architectural styles. This tiny dwelling on West Street off Castleton Avenue may well have been built in the 1875-1885 period as its slanted French Second Empire-style dormered roof attests.
Every NYC borough has a Broadway. Staten Island's is where the S53 bus from Bay Ridge plies its trade. It makes a turn onto Castleton Avenue here, where on the SW corner is found the former West New Brighton Bank. The ever-dependable Scripophily site reports the bank was established in 1920 (making this building no older than that) and through a series of mergers is now JP Morgan Chase.
Somehow, this roadside church on Castleton east of Broadway gives evidence of having had some other purpose originally, with its gambrel-shaped roof. Further up the road, there is a rather more well-funded church (see below)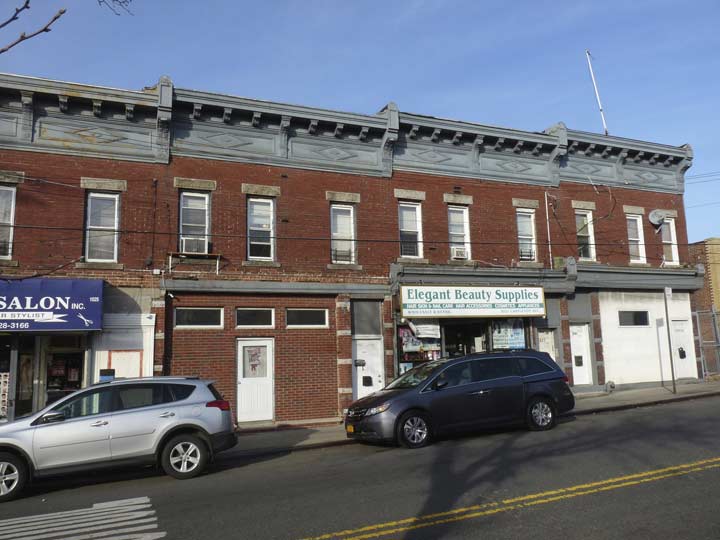 Next door is this series of mixed-use brick buildings with elegant roof treatments. Castleton is on a hill here, so they are slightly stepped.
On the north side of Castleton Avenue is West New Brighton's utilitarian post office building…
…and on the south side near North Burgher Avenue, another Second Empire-style dwelling, this time set back from the street on a large plot and generous lawn. The rough stone fence is likely original to the property.
A puzzlement…
West New Brighton contains a pair of "North" avenues, North Burgher and North Mada. North Burgher is north of Burgher Avenue, which is miles away in Old Town, on the South Shore. Yet, there is no Mada Avenue that North Mada is north of; while North Randall and Randall Avenues behave more conventionally, with Castlton Avenue the divider between the two.
The Roman Catholic Sacred Heart Church was established in 1875 with this eclectic church building, with its silo and square-shaped towers, dedicated in 1900.
Like many churches of its time, Sacred Heart is chockablock with Christian imagery, such as the symbols of the four evangelists: Mark, a lion (it was thought in prior centuries that a lioness' cubs were born dead and they were given life from the father lion's breath); John, an eagle (a symbol of highest inspiration; John, according to tradition, wrote a gospel, three epistles, and the Book of Apocalypse in the Catholic tradition, Revelation in Protestant churches); Matthew, a man with wings, though not an angel (Matthew deals with Christ's genealogy) and Luke, an ox (oxen were traditional sacrificial animals).
In Catholic iconography, Christ is often represented with an exposed heart. Devotion to His Sacred Heart is one of the most widely practiced and well-known Roman Catholic devotions, taking Jesus Christ's physical heart as the representation of his divine love for humanity, and many churches worldwide are named in honor of this particular aspect of prayer.
Many Catholic parishes built mini-small towns to support the ministry. Sacred Heart is no different, as this eclectically gabled, arched building serves as the parish rectory.
Catercorner across North Burgher at Castleton is the Sacred Heart school complex with two major buildings on a large campus and schoolyard.
West New Brighton features a wealth of handsome architecture along Castleton Avenue in this stretch. The West New Brighton Public Library, across the street from the church, looks a great deal like it could have been one of the Carrere and Hastings-designed libraries included in the Carnegie library grants from the early 20th Century. It is not. It was constructed in 1933, but looks as if it was clearly modeled on Carrere & Hastings libraries in Port Richmond (shown in Part 1) or Tottenville.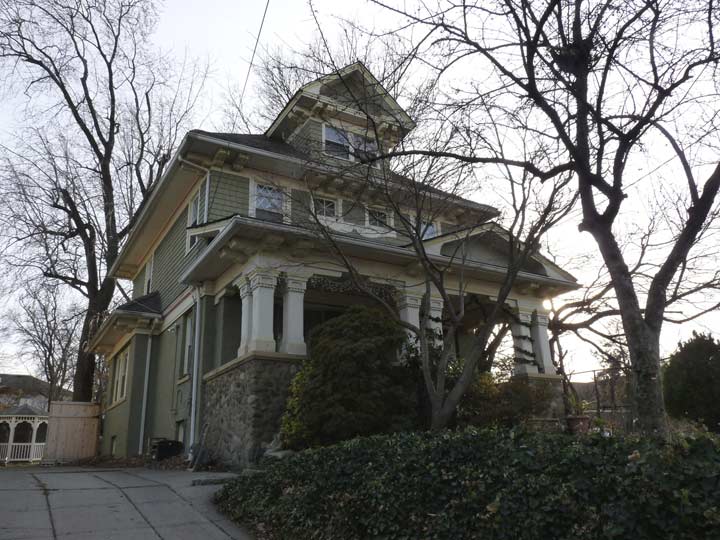 Another classic building at Castleton and Elm Street, with the porch supported by eight massive pillars. I liked the small attic dormer window.
One more classic church building at #909 Castleton at Bement (to my surprise, pronounced BEE-ment), the Calvary Presbyterian Church. The original congregation was organized in 1872, but arsonists put an end to the original wooden church building in 1892. Two years later this Tudor/Romanesque building was erected. The three large stained glass windows in front are Louis Comfort Tiffany's, salvaged from a hurricane damaged Randall Chapel in Sailors Snug Harbor.
On the other side of Bement is the Classically-styled, six-Corinthian-columned Richmond County Civil Courthouse. There are a number of these scattered around in Staten Island neighborhoods, and they feature architecture of this type.
There's something interesting going on at Pelton Avenue. Street art has cropped up on both sides of Castleton, with a Viking readying his spear on the north side.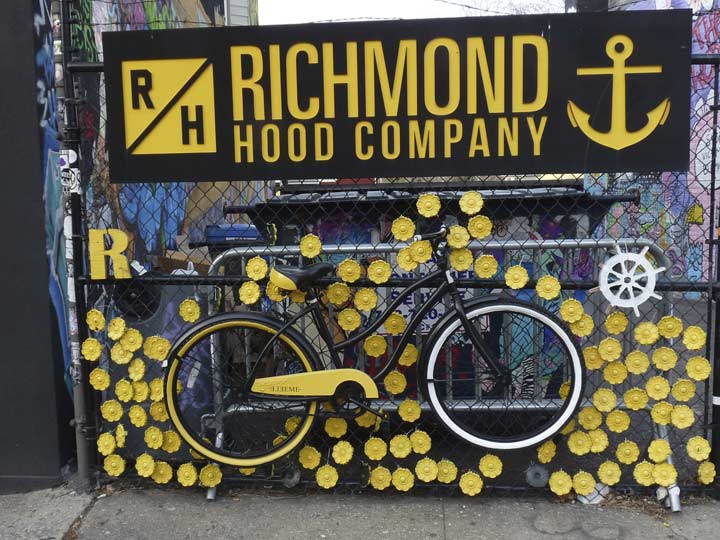 Richmond Hood, at 827 Castleton. The store sells custom T-shirts and hoodies, catering to the skateboard crowd.
The really interesting aspect, though, is the driveway/alley next to the store, the walls of which feature some engaging street art canvases.
With the announcement that the Schaffer Tavern in Westerleigh is closing this year, that's one less German beer hall on the island. However, there are still some left, such as the Nürnberger Bierhaus at #817 Castleton. The owner is named Robert Kelly, but he was born in Nuremberg, Germany. His newest venture is Nürnberg Bierhalle next door to the original restaurant.
St. Mary's Episcopal Church sits on an expansive plot at Castleton and Davis Avenues. The church itself was constructed in 1853, while its attendant parish building look about the same age but actually came along much later, in the 1910s. Original architect Frank Wills and later architect Ralph Adams Cram based the looks on English architectural styles of the 14th Century. Take a look at St. Mary's website for a look at the beautiful interior.
After about 3 hours walking in cool 45-degree weather, frankly, I was needing a rest room, so I headed to Forest Avenue as I knew there was a Starbucks there, and a bus back to the ferry. I walked up Regan Avenue, a narrow route sans sidewalks for the most part.
At Forest and Davis Avenues, I spotted a neon sign for a long-defunct Cocktail Lounge above the 3 Guys Sushi place. There may still be cocktails.
Also at Davis and Forest is a mural devoted to Angela "Big Ang" (pronounced Anj) Raiola (1960-2016) a star of the VH1 series Mob Wives. Raiola, a member of the Genovese crime family, proved an engaging reality TV star. Other than that, not being a reality TV fan, I'm out of my depth here and will refer you to her wikipedia page.
But that's not all in West New Brighton…I went back to Castleton Avenue with the magic of Google Street View and here's some details on interesting buildings on its eastern stretch.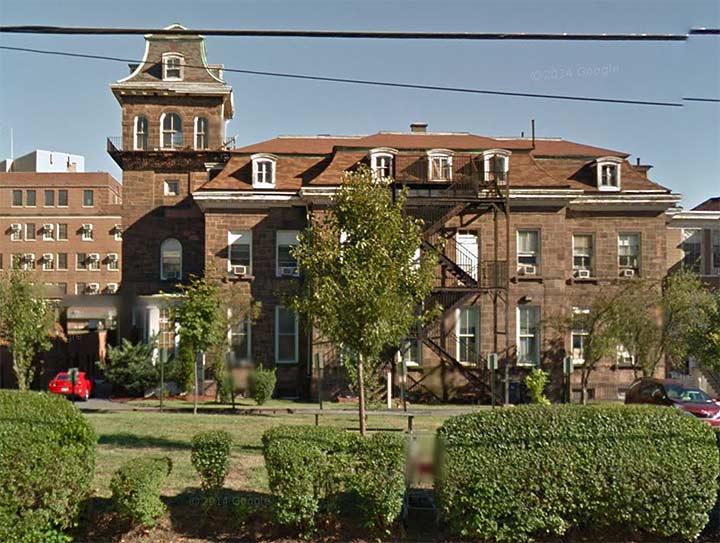 This mansion, part of the Richmond University Medical Center on Castleton and Hoyt Avenues, was originally the T.F. McCurdy mansion constructed in 1850. It passed through a number of owners before becoming a school and now a campus office building. The AIA Guide states that President Ulysses S. Grant once considered purchasing the house, but his wife couldn't stand the Staten Island mosquitoes. The gatehouse, a mini-version of the mansion, still stands around the corner on Bard Avenue.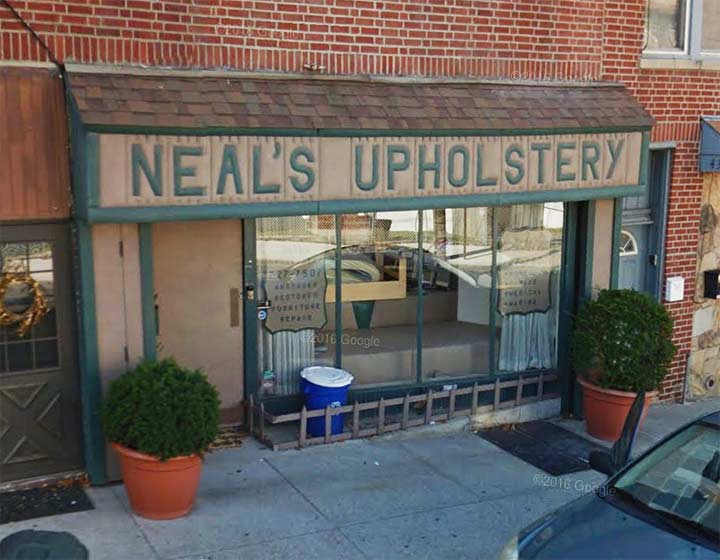 Edging now into Brighton, Castleton Avenue's easternmost section, here's an unusual sidewalk sign east of Brighton Avenue.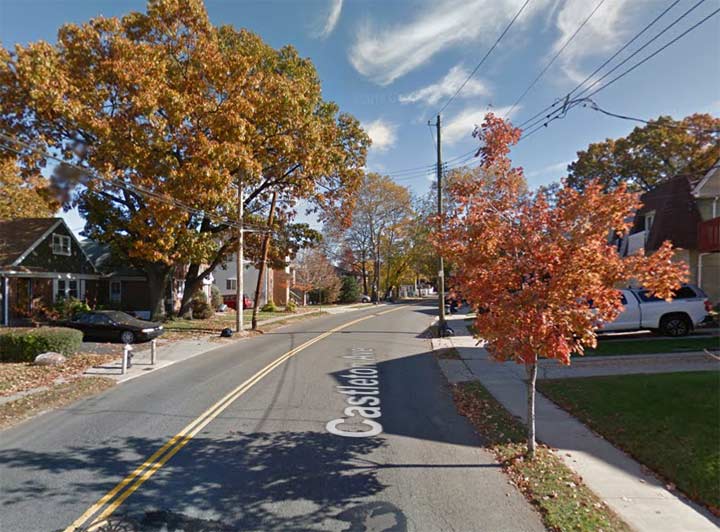 In Brighton, Castleton Avenue assumes a leafier, more suburban aspect for a few blocks. Street View, taken in November, shows the area's autumnal charm at Havenwood Road.
An aerial Street View shows the unusual mall arrangement at Haven Esplanade and Castleton Avenue. This is one block north of Silver Lakes Park, one of the island's many rural-style parks which nonetheless is a former reservoir.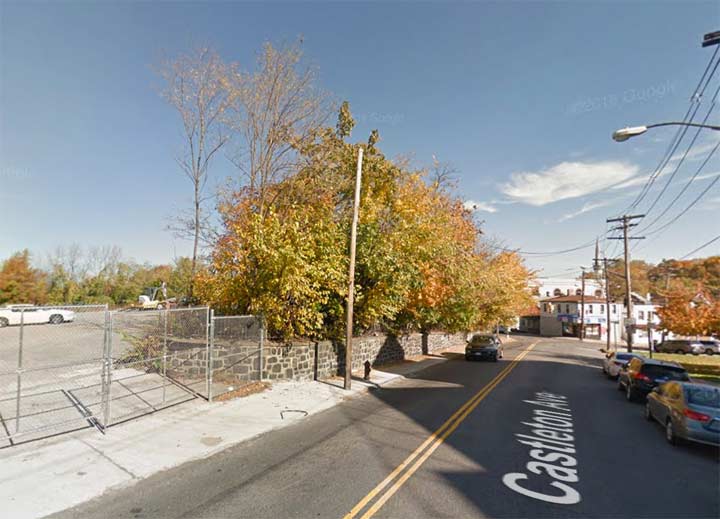 After running as a straight line through West New Brighton, Castleton Avenue is at its twistiest as it dodges the foothills of NYC's only near-mountain range, running through the island's center through Grymes and Todt Hills all the way to Latourette Park.
Approaching Cebra Avenue, there's a large empty lot on the left, heading east. Until 2011, the land played host to a true castle on Castleton Avenue — the S.R. Smith Infirmary, a.k.a. Staten Island Hospital. Physician Samuel R. Smith's mansion, where he had his practice, was constructed in 1861 and was razed on its 150th anniversary, after standing in neglect for the bulk of two decades.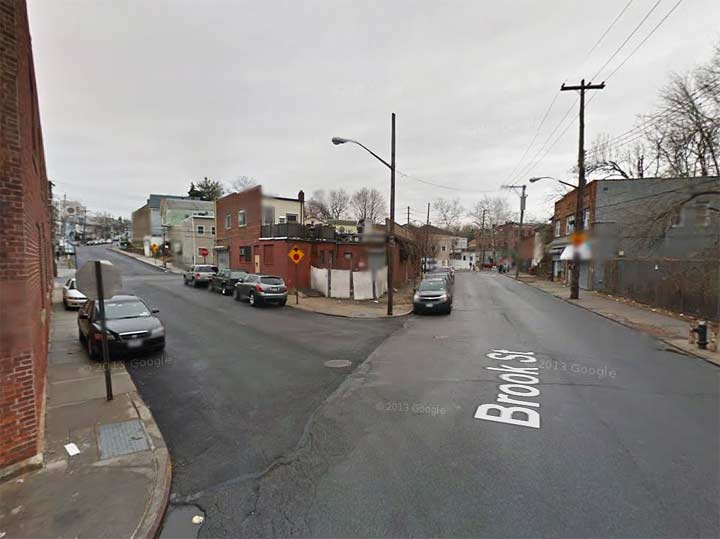 Castleton Avenue begins humbly, springing from Brook and Jersey in one of Staten Island's toughest sections.
Check out the ForgottenBook, take a look at the gift shop, and as always, "comment…as you see fit."
6/11/17