It was the first really hot day in May (2017), and I went forth to DUMBO on a mission. As it turns out I had to abort the mission, as you will see later, but I did get a good walk in and had plenty of photo opportunities. I usually find myself in DUMBO in the cold months, when shadows are long and good photo ops are few. I actually was there every day in early 2015 as I had a temp job with the educational publisher, Amplify, which was located on Washington and Water Streets. In contrast with recent winters, 2015's was stone cold and there were few chances for me to get about and take photos; I just got lunch and came back and ate it at my desk (no cubicles, which are being phased out in workplaces). Thus, I relished a chance to get some DUMBO shots in full sun. I also learned that the mustard they use on sandwiches at La Bagel Delight, Front and Adams, is incredibly pungent and will clean out your sinuses in short order.
Today I did something a bit different from my earlier DUMBO explorations. I frequently go east into Vinegar Hill (which I explored in detail on this FNY page) but also walked along Navy Street past the Navy Yard and into Fort Greene, as I wanted to check the progress of something. What was I checking? You will find out below.
I had originally planned a two-part feature, but I was writing Part 2 late Sunday night and decided to leave a few images over and complete things during the week, so that's what you are reading now.
My route: GOOGLE MAPS: DUMBO and FORT GREENE
Flushing Avenue begins at Navy Street and runs continuously to the junction of Grand and Maspeth Avenues in Maspeth. The road assumed its current form around 1900 and is a straightening of what was originally the Brooklyn and Newtown Turnpike. This is among the most striking instances of a number of NYC streets named for the neighborhoods where they originally wound up, not where they go through. (I imagine the Bronx's Boston Road is the most prominent example, leading to US Route 1 to Boston.) Though Flushing Avenue ends in Maspeth, it connected to other cart paths and farm to market roads that did lead to Flushing, but all those routes have since disappeared or been absorbed into the overall street grid, so this road's connection to Flushing has been muddied since 1900.
In 2004 I walked Flushing Avenue's entire length with FNY correspondent and president of the Newtown Historical Society Christina Wilkinson.
Walking east on Flushing Avenue in May 2017, the most striking thing I noticed was that all but one of the decaying buildings of "Officer's Row" had been razed, and the trees, ivy and vines that made them nearly invisible in the warm months had been removed, leaving a huge empty lot with a single officer's residence, Residence B, standing.
Since the military left the Navy Yard in 1966, most of the Navy Yard's old officer's quarters, some dating from the mid-to-late 19th Century, had been allowed to rot. They looked out over Flushing Avenue between Navy Street and Carlton Avenue, their windows ivied and hollow. The Navy Yard does include the landmarked Surgeon's House, built in 1863 for the Navy Yard's chief surgeon, and the United States Naval Hospital, built from 1838 to 1862.
In 2015, Curbed's Nathan Kensinger was able to enter the remaining officers' residents one final time to document their deterioration. Plans call for a large mixed-use building that would include NYC's first Wegmans supermarket that would be completed by 2018. Residence B will be rehabilitated for a to-be-determined use.
Brooklyn's oldest park, named for Commodore John Barry, can be found at Navy and Flushing Avenue, across the street from Officer's Row (see below). What was originally City Park (when Brooklyn was a city) is indeed Brooklyn's oldest, dating back to 1836 and renamed in 1951. Commodore Barry (1745-1803), known as the "father of the American Navy," was born in Ireland, went to sea as a youth and quickly rose in the ranks from cabin boy to captain of the shipping vessel Black Prince. He served with success in the American Revolution, making the first American capture at sea of a British vessel, and made several others during the war; the sale of these vessels helped fund the nascent US Congress. In 1781 he escorted the Marquis de Lafayette on a mission to America. Barry helped found the Brooklyn Navy Yard in 1801, which constructed US vessels until 1966.
The Church of St. Michael and St. Edward (one saint per tower, supposes your webmaster), St. Edwards Street north of Myrtle, was built in 1902 by architect John Deery as St. Edward Church. Its claim to fame regarding the old Myrtle Avenue El (demolished in 1969) is that you can still see the el when you enter! The church replaced its altar in 1972 with a new one built with a few of the old girders spared when the Myrtle Avenue El was demolished. Talk about your holy relics. In 1942 St. Edward's congregation was combined with the St. Michael's parish, while in 2008, St. Michael and St. Edward's parish became a part of the local Sacred Heart parish on Clermont Avenue between Park and Flushing.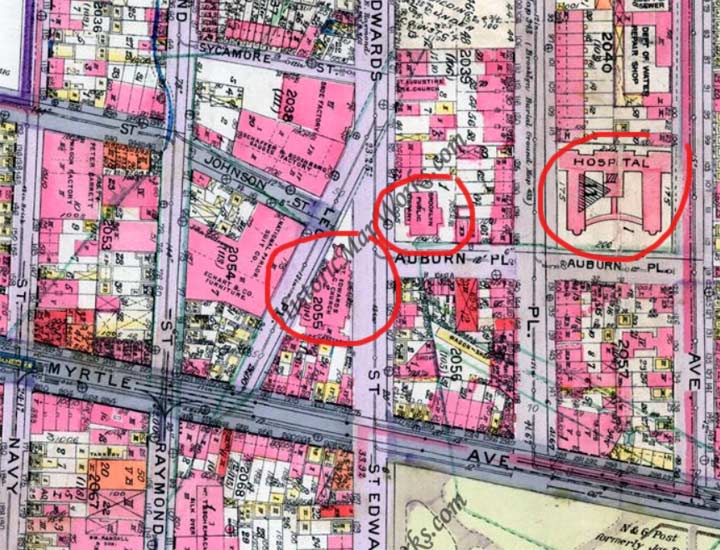 Here's a 1916 atlas section showing the area. I've circled the Church, the Whitman Library, and the former Cumberland Hospital. Virtually everything on this map west of St. Edwards Street (originally Canton Street) and north of Myrtle Avenue is the Raymond Ingersoll housing project. The church was built on a triangular plot formed by Myrtle, St. Edwards and Leo Place (which had been part of an original trail overlaid by the street grid).
A small chunk of the region's former street layout, St. Edwards Street and Auburn Place, was allowed to remain amid the big housing projects that went up mid-century. The reason was the existence of the church, as well as the Walt Whitman branch of Brooklyn Public Library, one of the many libraries built in the early part of the 20th Century thanks to a grant from steel magnate and philanthropist Andrew Carnegie.
The former Cumberland Hospital was established in 1852 as the Brooklyn Homeopathic Dispensary and renamed Cumberland Hospital in 1922, when the present building went up. In 1983, its patients were moved to Woodhull Hospital at Flushing Avenue and Broadway and Cumberland Hospital closed. The huge building, at Auburn Place and Cumberland Street, is now a primary care center, the Cumberland Diagnostic and Treatment Center.
I turned east on Auburn Place because I knew exactly what I was looking for there. I have checked this particular thing each time I've been in Fort Greene. And, I knew this day would come eventually.
A pair of rust marks on a midblock lamppost are all that's left of one of Brooklyn's last pair of 1950s era porcelain and metal street signs. They had somehow escaped notice from the Department of Transportation, which removes nonstandard signage with ruthless efficiency. Somehow, this pair had escaped the all-seeing gaze, until this year. Sic transit, Gloria!
Here's one metal sign the DOT can't remove since it's on the grounds of the Walt Whitman Houses. Why all the Whitman namesakes? The famed 19th Century journalist/poet was a resident of Fort Greene in the 1840s, edited the Brooklyn Eagle for a short while, and agitated for the creation of Fort Greene Park. His house on 99 Ryerson Street, much altered, is still standing.
The west end of Myrtle Avenue has seen a building boom in recent years as huge residential towers have been constructed along the street as well as up and down the Flatbush Avenue Extension. This stretch was once home to tenements with shops on the ground floor, and a trundling elevated train built in 1888 which ran until October 7, 1969.
As these buildings has gone up so have new directional signage and street maps.
Flatbush and Myrtle. The tall building on the corner is 15 MetroTech Center, a business and educational center that began construction in the 1980s and completed in the 1990s.
It is the nation's largest urban academic-industrial research park. The early occupants included JPMorgan Chase, the New York City Fire Department, the New York City Department of Information Technology and Telecommunications, Verizon Human Resources, Keyspan Energy (now National Grid), Empire Blue Cross Blue Shield, the New York City College of Technology and the New York University Tandon School of Engineering. Later tenants include MakerBot Industries, the Brooklyn Nets, Slate magazine, the Ms. Foundation for Women, El Diario La Prensa, Robert Half International, UniWorld Group, and HeartShare Human Services of New York. The NYU Tandon School of Engineering, previously named Polytechnic University, was one of MetroTech's founding members. The Marriott Hotel at Brooklyn Bridge is located across Jay Street. The MetroTech Business Improvement District, a non-profit organization, provides sanitation, marketing, and events programming services. wikipedia
There was a time when the clock tower in the foreground, a multistory parking garage, was one of the tallest buildings in the neighborhood, certainly on the Flatbush Avenue Extension. In the 1990s, huge towers such as the Oro (named for its location on Gold Street); the 432-foot tall BKLYN AIR; and the Avalon Fort Greene.
About to kick it in the head for the day at the Jay Street subway entrance, I always note the old City of Brooklyn Fire Headquarters, Jay just south of Willoughby. This magnificent double-towered, triple-turreted former fire department headquarters on Jay Street just north of Willoughby contrasts with the rather less exuberant office buildings surrounding it. Built in 1892 by Frank Freeman, it is a prime example of the Romanesque Revival movement of that time. It is now used as housing for people who were displaced by the construction of MetroTech.
If you've ever been to Boston, note the resemblance to H.H. Richardson's Trinity Church in Copley Square. The arched doorway once had the words "Fire Headquarters" carved into the stone. Freeman also designed the Eagle Warehouse Building further north on Old Fulton Street, the Crescent Athletic Club on 129 Pierrepont Street, and the original Brooklyn Union Gas headquarters on Remsen Street (now a part of St. Francis College, my alma mater). Many of his beautiful Brooklyn buildings have by now been demolished. The building served as Brooklyn's fire department headquarters for just six years until Brooklyn consolidated with Manhattan as part of a Greater New York City. After that, it was only New York City's most magnificent firehouse for over eight decades.
Check out the ForgottenBook, take a look at the gift shop, and as always, "comment…as you see fit."
9/13/17