Time for another entry in Puzzlements, Forgotten New York's examination of noncontextual street names, especially named streets smack in the middle of areas featuring numbered or lettered streets, or even lettered or numbered streets smack in the middle of a group of named streets, such as Port Richmond's Avenue B (seen on this page) or B Street in Pelham Bay, Bronx.
To save time preparing this piece, I'll use images captured from Google Street View.
Highlawn Avenue, Gravesend
Highlawn Avenue in Gravesend is a relatively short street, slotting in between Quentin Road (logically, Avenue Q; covered in Part 2) and Avenue S,running from Stillwell Avenue east to West 3rd Street. Its eastern progress is stopped by a bend in Kings Highway. As a precolonial road that may have been a Native American trail, Kings Highway ranges all over southern Brooklyn from Bensonhurst to Brownsville, wandering southeast, then northwest.
So why "Highlawn Avenue" and not Avenue R, which finally begins at Kings Highway and East 5th? Real estate development.
As related in this FNY page, developer Otto Singer purchased the area through what was first called Avenue R runs in 1907, and subdivided it for tract housing. Since this came about in 1907, many of those buildings are handsomely built with distinctive ornamentation, some of which remains in place. "Highlawn" was a private development at first, but that ended decades ago, with only gateposts remaining to remind anyone of those days.
Flushing Avenue, Brooklyn-Queens
Flushing Avenue is a lengthy street, running from Nassau and Navy Streets east through Fort Greene, where it forms the southern end of the Brooklyn Navy Yard, through Clinton Hill, Bedford-Stuyvesant, Bushwick, Ridgewood, and Maspeth, where it ends at Grand Avenue and 64th Street. You will note that "Flushing" is not listed in the above. Actually, Flushing Avenue is named because of a quirk in nomenclature that was popular in the 19th Century.
Flushing overlays a portion of what was a colonial road called the Brooklyn and Newtown Turnpike, Newtown being the Queens town of which Maspeth is a part. Before consolidating with NYC, Queens, Brooklyn, the Bronx, and staten Island all had political divisions called towns that were dissolved once City Hall took them over.
In the 19th Century streets were named primarily for where they led, not the regions they ran through. Because the Brooklyn and Newtown Turnpike led to a maze of roads that eventually crossed Flushing Meadows and the Flushing River into the town of Flushing. Such roads have since been absorbed into the street grid, where they have anonymous numbers, or in the case of Strong's Causeway, which crossed the river, overbuilt by expressways. Thus, Flushing Avenue was named not because it could get you to Flushing, but because it got you to other roads that could get you to Flushing.
That street grid itself was instituted in part to remedy the problem created by many municipalities: duplication of names. In addition to several Mains, Spruces, and Washingtons, the map of Queens before 1920 or so boasted a number of different Flushing Avenues, including two in Maspeth (and they intersected each other, causing a bit of confusion!). The "other" Maspeth Flushing Avenue became 57th Street.
Union Street, Brooklyn
Most of the time, Union Street behaves just the same as its parallel brothers in Carroll Gardens, Gowanus, Park Slope, Crown Heights and Brownsville, albeit its interruptions by Prospect Park and Lincoln Terrace Park, running generally easterly. It's two-way in Park Slope, and has its own bridge crossing Gowanus Canal and its own BMT station.
But then it meets East New York Avenue, the street that separates the street patterns of Bedford-Stuyvesant and Crown Heights from the rather tighter grid of Brownsville and East New York. It's the only east-west street to successfully break the barrier and enter Brownsville; north-south avenues like Ralph, Howard, Saratoga, etc. do it, but not east-west streets.
But Union Street does so by taking a 90-degree turn to the south, running from ENY Avenue south to its demise at East 98th Street (which is itself part of the old Town of Flatbush nomenclature). It finds itself parallel with Ralph Avenue for a couple of blocks.
Why was Union Street laid out in this manner? I do not know. But I can say that at one time, it wasn't alone.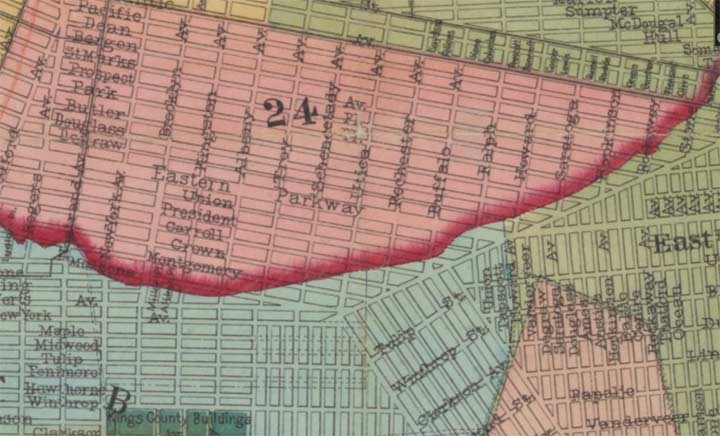 This is an excerpt from a Kings County map from about 1870. The red line represents the irregular boundary between what was the City of Brooklyn and the towns of Flatbush and New Lots. I've never been able to discern why this line was drawn so irregularly, but it may have described a hill or ridge that ran through the area.
Note Union Street running east, then south, as it does today. However, Degraw and Douglass streets also joined Union Street by doing the same thing! Of course both those sections have been renamed since; in fact, both have been renamed twice. Degraw later became Barrett and then Legion (probably because of an American Legion post), sometime in the early 1930s.
Douglass is a strange case. Today, it runs only between Court Street and 5th Avenue in Carroll Gardens and Park Slope. East of that Douglass was renamed St. John's Place about 1890 in honor of St. John's Episcopal Church between 6th and 7th Avenues. That's a pretty wide stretch to be renamed for a Park Slope landmark. However, an infamous murder had taken place on neighboring Degraw in 1873, which was subsequently also renamed east of 5th Avenue as Lincoln Place, for the 16th President.
That renaming, though, orphaned a section of Douglass that ran south from ENY Avenue to East 98th. That section was renamed after the sinking of the Titanic in 1912 for one of its doomed passengers, US Congressman, philanthropist, and part owner of Macy's Isidor Strauss and his wife Ida.
Sergey Kadinsky discusses the Brownsville streets renamed for Jewish luminaries on his Livonia Avenue FNY page.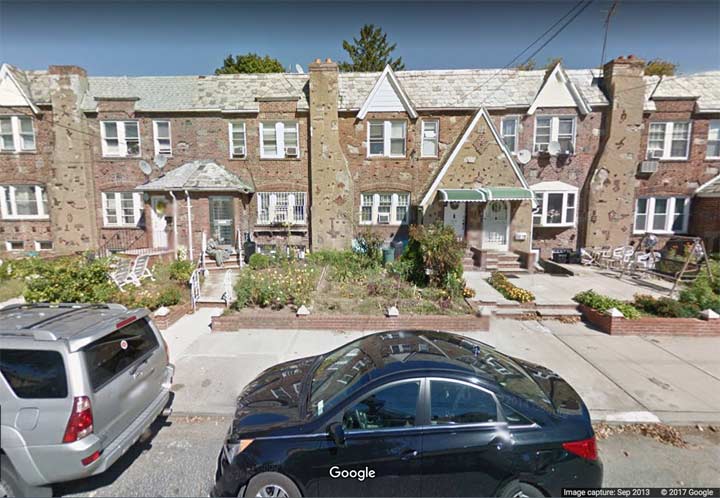 Vanderveer Street, Queens Village
Vanderveer Street is a true Puzzlement, as I cannot account for its presence other than the Topographical Bureau not wanting Queens streets to advance in number too quickly. It can be found running from Hillside Avenue south to Jamaica Avenue between 214th and 215th Streets. East of here, the much longer Springfield Boulevard does the same thing, slotting in between 219th and 220th Street. Vanderveer first appears on maps around the late 1910s; Vanderveeer is a name found frequently on NYC maps and is likely the name of an early Dutch landholder.
Check out the ForgottenBook, take a look at the gift shop, and as always, "comment…as you see fit."
12/8/17