Here's another in my latest deck-clearing effort. In September 2015, I walked Bushwick Avenue from Montrose to Jamaica Avenues, finally completing a walk I had begun in fits and starts during the previous years; I even led a well-attended ForgottenTour into Williamsburg and Bushwick back in 2010 but we wound up stopping, for brevity's sake, at Linden Street after about 5 hours(!). Numerous mansions and handsome architecture line the road, which at its busiest is a pedal-to-the-metal connector between Williamsburg and the Jackie Robinson (Interborough) Parkway, one of the original gateways into Queens. Bear in mind then, that three years on, these photos are just a bit out-of-date.
Like many of Brooklyn's busiest roads Bushwick Avenue began as a Native American trail that took shape as a colonial pathway. The Old Bushwick Road first appears in documentation in 1640 when it was "the road from the kill"; Boswijck, or "town in the woods" was a town established by Peter Stuyvesant in 1661, with the Old Bushwick its main roadway.
In that remote era, the Old Bushwick Road proceeded from a connection to today's Woodpoint Road and Metropolitan Avenue (which was laid out much later, in the 1810s) following today's Bushwick Avenue in general south to today's Menahan Street, when it jogged to the east and ran in the roadbed of today's Evergreen Avenue, accounting for that avenue's slight aberration from the grid. Beginning at today's Putnam Avenue it ran straight southeast, through what is now Evergreens Cemetery, to the old Jamaica Turnpike, today's Jamaica Avenue. That last section has been completely eliminated. When the overall street grid was laid out in the 1860s, sections of the Old Bushwick Road were included in Bushwick and Evergreen Avenues, but long stretches were completely lost.* A bend in Old Bushwick Road still remains as Bushwick Place between Meserole and Boerum Streets just east of Bushwick Avenue.
In the colonial era Bushwick was a farming community where Dutch settlers grew tobacco for the local market. Later, farmers of Scandinavian, French and English descent moved to the area. Bushwick remained rural through the 18th Century. Hessian mercenaries settled in Bushwick following the 1776 Battle of Long Island, and began a long tradition of German influence in the neighborhood, which only increased, as we will see, when several German-born brewers moved into the region.
*From Colonial Highways of Greater New York, NYC Comptroller's Office, 1909.
Bushwick Avenue proper begins at Memorial Gore, a triangle formed by Bushwick, Metropolitan and Maspeth Avenues. Memorial Gore contains a memorial stature recognizing area soldiers who perished in World War I sculpted by the famed Piccirilli Brothers firm, dedicated December 5, 1920. Working from their studio in Mott Haven, Bronx, the Piccirillis also sculpted the statue of Abraham Lincoln at Washington's Lincoln Memorial as well as the twin lions, Patience and Fortitude, at the New York Public Library at 5th Avenue and 42nd Street, and the twice moved Triumph of Civic Virtue, plus dozens of other instantly recognizable works.
"Gore" has an interesting etymology. It was originally applied to odd-shaped bits of cloth excised during tailoring, and then was extrapolated to odd-shaped plots of land. Rudy Giuliani's NYC Parks Commissioner, Henry Stern, began applying the word to several small park plots.
The Chase bank at Bushwick Avenue and Grand Street contains a well-maintained ground floor mural that contains a hidden historic image from East Williamsburg…
The mural contains several striking images. Raindrops embazoned with peace symbols drop from the heavens to extinguish sticks of dynamite marked "crime," violence," "drugs." Adam and Eve play in a sandbox.
The mural dates to 1994, when this bank was a Chemical branch. Pfizer, named on the legend, is closing down its Williamsburg plant.
But the most fascinating item…for your webmaster at least…is the two large checkerboard topped tanks. These were the Maspeth Avenue gas tank towers…
… which, having outlived their usefulness to KeySpan (now National Grid), were imploded by explosive charges in July 2001. tanks photo: the late Bernard Ente
Before East Williamsburg and Bushwick became hipsterfied and later, generally yuppified, there was the Bushwick Hotel, really a motel, on Bushwick and Stagg Street, opposite the Williamsburg Houses.
Offering everything you could possibly desire from a hotel, ranging from extended stay reservations for those brave souls who kneel before the great literary figures found in the myriad works of Hemingway and Steinbeck (who amongst us has not yearned for the freedom of those transient workers following the harvests en route to the the great golden future of Santa Fe?), to very reasonable hourly rates for those looking to take a quick prostitute and crank fueled catnap amidst the pleasant aroma of antiseptic, all while wrapped in the very unique plastic sheets. I lay my head upon the pillow (a very reasonable $6 deposit) and suddenly I am transported to a dangerous sexual re-awakening not seen since Bernardo Bertollucci's Last Tango in Paris. –-from a hilarious old Tumblr review no longer linked
Directly across Bushwick Avenue is the eastern end of the Williamsburg Houses, occupying 12 blocks and approximately 23 acres between Maujer Street on the north, Scholes on the south, Leonard on the west and Bushwick Avenue on the east — one of the very first housing projects built in NYC, reaching completion in 1938, before the dismaying Le Corbusier-inspired 'boxes-in-a-park" pattern took hold. They were built by the Williamsburg Associated Architects, which comprised Shreve, Lamb and Harmon (who designed the Empire State Building) and Swiss architect William Lescaze, in a streamlined "International" style. The Houses were officially made a NYC Landmark in 2003.

At Bushwick and Meserole Street you find a pair of very old brick buildings (one is shown here), both with chiseled signs identifying Bushwick Avenue as "Boulevard." This requires something of an explanation, which I attacked on this FNY page.
A quintessential NYC scene, the subway entrance to the L train Montrose Avenue station at Bushwick, complete with an old-school plastic-lettered dry cleaners sign. The L train is scheduled to close for 15 months beginning in 2019 to repair Hurricane Sandy-related tunnel damage, a move certain to throw the commutes of hundreds of thousands into chaos. Before large parts of Brooklyn were gentrified in the early 2000s, the L train, built from 1924 to 1928 from Manhattan to East New York, was a sleepy BMT line running through realms that city planners considered an afterthought.
Skipping a few blocks south, the Bushwick branch of the Brooklyn Public Library sits at a bend in the road at Seigel Street across from PS 112. The handsome, Doric-columned building was part of the Andrew Carnegie library philanthropy program.
The Bushwick branch library, at the corner of Bushwick and Siegel St. was opened in 1908 when that area was heavily populated by Italian and Jewish immigrants. Before 1903 the Bushwick branch was run out of rented space in a church on Humboldt St. between Johnson and Montrose Avenues. The church burned down in 1903, and the library moved to Siegel St. and soon after into its new building. The building's architect was Raymond Almirall, who designed the Prospect Park branch and drew up the designs for the original Central library.
The adjoining John F. Hylan Houses were named for the NYC Mayor between 1918 and 1925. Hylan resided in Bushwick for many years in an attached house on Bushwick Avenue that still stands. He was defeated for reelection in 1925 by Jimmy Walker. His most visible legacy is in Staten Island, whose lengthiest street was named for him in the 1920s. The housing project was completed in June 1960.
Fletcher's Castoria ad, or rather, a pair of them, one painted over the other, at Flushing and Bushwick.
Fletcher's Castoria, marketed as a gentle stomach remedy for kids, has been sold since 1871 when Charles Henry Fletcher purchased the rights to a formula developed by Dr. Samuel Pitcher as a cathartic. It has been marketed ever since then, though in recent years the "Castoria," (for castor oil) has been dropped and it's now called Fletcher's Laxative for Kids, though adults can also use it.
Castoria was marketed extensively through much of the 20th Century, with large painted ads appearing on sides of buildings in major cities. The paint used proved quite resistant to sun bleaching; only during the last 20 years have they started to fade considerably. Buildings like this one that see limited sun can preserve them better; perhaps other signs placed over them also obscured them.
Rheingold Gardens, a housing project on Bushwick Avenue opposite Beaver Street. It is a NYC Housing Preservation and Development sponsored project to develop vacant city-owned land on the site of the former Rheingold Brewery in Bushwick, Brooklyn. The development, which runs along Bushwick Avenue and Noll Street, will ultimately include approximately 460 new dwelling units in low and mid-rise buildings, approximately 55,800 square feet of commercial space, and community facility space, according to its developer, Philip Habib & Associates. It is part of a massive amount of residential construction along Bushwick Avenue and the small side streets below Flushing Avenue.
In the 1960s, Rheingold was the NY Mets' primary beer sponsor. Rheingold, Schaefer and other popular local brands were produced in Brooklyn beginning in the 19th Century. The reliable Montrose Morris has the story in Brownstoner.
Vito J. Lopez (1941-2015), whose name appears above the door, was a NYC Assemblyman from this district from 1985 to 2013. In an early #metoo moment, Lopez was censured and forced to resign in 2013 after his abuse of female staff members came to light.
Gripping the wheels of government and politics, he brought hundreds of jobs, thousands of rent-subsidized apartments and an array of social services to one of the borough's poorest areas. And for 30 years, his constituents rewarded him with their votes. [NY Times]
Though the Rheingold brewery is long gone there are some surviving brewery buildings in these parts. Vigelius and Ulmer's Continental Lagerbier Brewery (later the William Ulmer Brewery) was constructed in 1872 ay Belvidere and Beaver Streets by architect Theobald Engelhardt. It was recently granted landmark status by NYC's Landmarks Preservation Commission.
Born in Wurttemberg in 1833, William Ulmer immigrated to New York in the 1850s to work with his two uncles, Henry Clausen Sr. and John F. Betz, in the brewing industry, eventually becoming the brewmaster for Clausen's very successful New York firm. In 1871, Ulmer partnered with Anton Vigelius to form the Vigelius & Ulmer Continental Lagerbier Brewery on Belvidere and Beaver Streets in Bushwick, Brooklyn. Born in Bavaria, Anton Vigelius immigrated to Brooklyn in 1840 at the age of 18 and was involved in the produce business prior to opening the brewery. He purchased land at the corner of Beaver and Belvidere Streets from Abraham and Anna Debevoise in 1869. In 1877 Vigelius sold his share of the brewery to Ulmer. The building ceased to be used as a brewery at the dawn of Prohibition in 1920. Though compromised by time, its arched windows and details such as tie-rod caps stand the test of time. Currently awaiting true renovation, it's home to offices and light manufacturing. Local "street artists" continue to tag its bottom floors.
Next door on Belvidere is one of my favorite buildings in Brooklyn and I never fail to pay a visit whenever I'm around here, and you should too. A "mansarded, cast-iron crested house" and a "Little Italianate castle of brick and terra cotta" with an ornate driveway gate over Belgian blocks and a courtyard, wagon house stable in the rear, this is the former offices of the nearby Ulmer Brewery complex. It has recently been owned by a stone sculptor and marble worker and later, furniture designer/restaurateur Zeb Stewart. In the central bay, molded terra-cotta ornaments "Office" and the brewery's trademark "U" identify the building's original function and owner. Note the then-current syle of maintaining a period after a title, even on a building front. The New-York Times. has lost both its hyphen and period over time.
Since this photo was taken, the sodium vapor light has been replaced with Verdeon LED lamp, as has most streetlamps in Brooklyn. This one is notable for its mastarm, which is curved and once had a thin supporting bracket. When lampposts of this type first started appearing in the 1950s, most were of this type, until straight masts quickly took over.
Parked nearby in an empty lot was a magic bus straight out of Magical Mystery Tour. Bus and empty lot had disappeared by the time of the next Street View in 2017.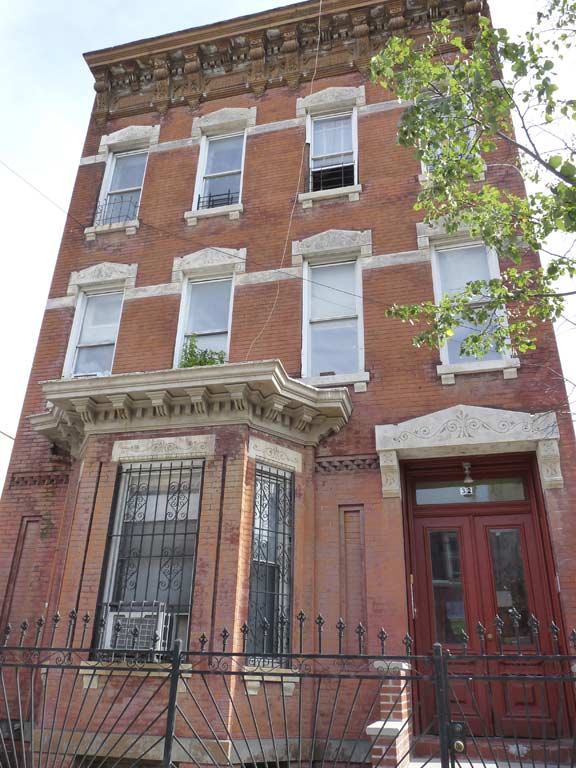 Here representing 1905 is #32 Belvedere Street.
Around the corner on Arion Place is a Forgotten NY favorite, the hulk of the old Arion Mannerchör, Bushwick's foremost German "singing society," an organization promoting German culture. It later became a mansion and catering hall, but these days it has been converted to apartments (when I first visited in 1999, the building was in decrepit shape). The building is rich in detail of its musical past with initials at the very top and lyre-shaped ironwork on the fire escapes. Arion was a lyre player in the classic Greek stories. The cornerstone reveals an 1886 construction date.

On the corner of Broadway and Arion Place is a venerable building with a chiseled reminder that before its name was changed decades ago, Arion Place was Brooklyn's Wall Street.
At #929 Broadway at Melrose Street can still be found a number of faded ads for businesses once located there, including Buckley Newhall, Furniture, Carpets and Bedding…
… and S. B. Krauss, Paints, Oils, Varnishes. One of these days I will revisit Brooklyn's Broadway and what lurks under and besides its el. We walked it on the very first Forgotten NY tour, June 1st, 1999.
Back on Bushwick, there's no question what this stolid factory building produced, on Stanwix and Jefferson Streets. The bottom floor how hosts a gymnasium.
In 2015, construction netting enveloped what was once St. Mark's Evangelical Church, and its once majestic steeple had been removed. By 2017 its transformation into a residential building had been completed. The building contains some so-called affordable apartments.
Unlike, say, Park Slope, Clinton Hill or Brooklyn Heights, Bushwick in the 19th Century was economically mixed, with middle-class rowhouses, upper-class mansions and working-class tenements existing side by side. Many, although not all, of the mansions belonged to brewers. These brewers also endowed some of the neighborhood's most majestic churches. Since Germany is part Protestant and part Catholic, the neighborhood boasts both St. Mark's Evangelical Lutheran Church and the breathtaking, Spanish-baroque style St. Barbara's Roman Catholic Church on Central Avenue, which is still a church.
A wealth of copper verdigris can be seen on both the tall steeple and the roof of the school next door. Note the German inscription on the cornerstone and the date of construction, 1892.
My camera is always attracted to elevated train structures. Here we see the only extant stretch of the Myrtle Avenue El, retained for the present-day M train, which uses it to get from Broadway to its terminal at Metropolitan Avenue. It has recently come back into service after being out of business for several months after it was shored up for expected increased train traffic when the Great L Train Shutdown occurs.
One of Brooklyn's and NYC's myriads of World War I memorials can be found at Freedom Triangle, formed by Bushwick, Willoughby and Myrtle Avenues. It is one of two along Myrtle Avenue by sculptor Pietro Montana and dedicated on Memorial Day, 1922.
In his book about NYC war memorials, Out of Fire and Valor, author Cal Snyder comments:
She appears to us to be wearing the crown of Victory, sword hilt forward and face transfigured. Her arm uplifted in a torch-like gesture to the vision of peace — the supposed end for which the Great War was fought, by America at least. The ninety-three dead who were sacrificed to it are carved on the handsome pedestal.
The William Ulmer Mansion at Bushwick and Willoughby, which later belonged to explorer Frederick Cook, who claimed to be the first person to reach the North Pole, has been rehabilitated and is now occupied after years of moribundity. The mansion had previously been occupied by brewer Ulmer, whose nearby brewery complex on Beaver and Belvidere Streets (see above) has recently been landmarked by the city Landmaks Preservation Commission. Ulmer also built a long-vanished amusement park in Bath Beach, which today is remembered by the Ulmer Park bus repair facility and storage yard at 25th and Harway Avenues and by the Ulmer Park Library.
While lower Bushwick Avenue features larger brewers' mansions, there are some eclectically-designed residences in the stretch south of Myrtle, including these buildings between Willoughb y and Suydam Street.
Two different philosophies on how residential housing should look, 2015 versus 1890, on Bushwick either side of Suydam.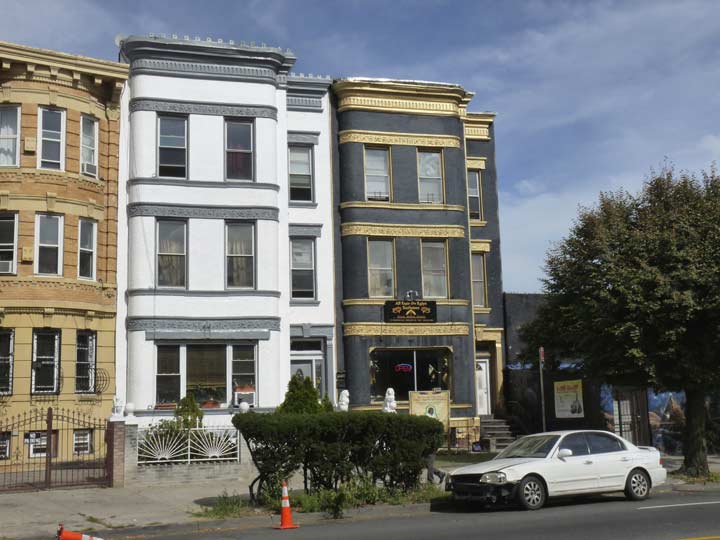 A difference of opinion on Bushwick and Hart Street about color. Since I was here in September, an incredible Egyptian temple has been created by the United Nuwaupians on the corner of Bushwick and Hart. Make sure you have the 2017 view on that link.
Southern Poverty Law Center described the Nuwaupianism belief system as "mix[ing] black supremacist ideas with worship of the Egyptians and their pyramids, a belief in UFOs and various conspiracies related to the Illuminati and the Bilderbergers" [wikipedia]
The white and black building on Bushwick on the corner of Cedar Street was home to a number of artists —featured in this NY Times article.
Nine artistically inclined 20-somethings — "Renaissance men and women," as they were once described — use the premises to create hipper-than-thou music and art. Crowds have packed the house for events like an installation called "When All Through the House," for which video screens flickered in every room. A black-metal band called Liturgy has blasted away in the basement, surrounded by dozens of dead Christmas trees.
"Really, there's nothing like this house anywhere in Brooklyn," said Ben Shapiro, an original resident and the one who provides much of the glue that holds the place together. "Everyone is so creative and so talented. We're all friends, and this is such a fun place to play." [NYTimes]
I gather they have since moved out…
The Brooklyn Public Library's DeKalb Branch was constructed in 1904-05 as one of the first branch libraries built in the Borough of Brooklyn with the money provided by Andrew Carnegie's multi-million dollar gift. The neighborhood's tremendous population growth during the last decade of the nineteenth and first decade of the twentieth century necessitated a variety of civic services including a public library. The DeKalb Branch was the first of five library designs by noted architect William B. Tubby, who served on the Architects' commission for the Brooklyn Carnegie branches. This building followed the stylistic guidelines agreed upon by that group: a free-standing, brick and limestone building in the Classical Revival style.
PS 274, the Koscius(z)ko School, at #800 Bushwick Avenue and the Department of Transportation disagree on the correct spelling of a Polish patriot who aided in the American Revolution, General Tadeusz Kościuszko. The 1939 bridge spanning Newtown Creek (and its 2017 replacement) were named for him in 1940, while the Brooklyn thoroughfare and elevated train station on Broadway came much earlier. All have the "z," so you'd have to say that the spelling the school goes with is a typo. No one has seemed to complain, though adding a "z" to the sign would seem like an easy task.
The pronunciation is another matter. The traditional Brooklyn pronunciation is Kos-kee-OS-ko, while in Polish, it's closer to Ko-SHOOS-ko.
The steeple is teetering and in need of a paint job but the South Bushwick Reformed Church, a "wedding cake white," Ionic-columned church, completed in 1853 and known as The White Church, remains a Bushwick touchstone decked out in clapboard and milk glass. The cross street is named for its first pastor John Himrod.
The Reformed Church of South Bushwick is an excellent example of the adaptation of a Georgian type masonry church, with tower, to a Greek Revival church of frame construction. Its dominant features are the classic portico and the soaring tower which rises from a square base through a handsome octagonal belfry to an octagonal spire. This type of steeple once characterized the skyline of London with its appearance on the numerous churches which the architect Sir Christopher Wren and his follower James Gibbs built to replace those lost in the Great Fire. This style of church continued as the model of many churches in England and America.
It's the oldest remaining building on Bushwick Avenue.
#923 Bushwick Avenue at Greene Avenue is a handsome two-story brick residence constructed in 1908.
Two more classic churches face off across Bushwick Avenue at Menahan Street: Mount of Olives Seven-Day Adventist (1905) and the Episcopalian (Anglican) Calvary & St. Cyprian's (1910).
#999 Bushwick Avenue at Grove Street:
This is one of the finest of the brewer's mansions on Bushwick Ave, built for Gustav Doerschuck. It's a huge granite and brick pile, meant to impress, with its large tower, bays, bows and ornament.
There is so much house here, that some of the best little details get lost.
There's a couple of wonderful little eyebrow windows on the top floor in the front, to the left of the tower, a lot of fantastic carved stone detail, all along the roofline, that unusual stone verge board trim in the eaves, in a stylized almost lacey pattern, and the expert detailing in the brickwork of the chimneys, as seen from the Grove St. side. [Brownstoner]
Theobald Engelhardt, an architect responsible for many of Brooklyn's classic mansions, designed #1002 Bushwick Avenue at Grove Street. After some years in the dumps, this building has been marvelously restored. It was built in 1887 for German immigrant lumber magnate Louis Bossert, who built the grand Bossert Hotel in Brooklyn Heights in 1909. It's also a former headquarters of the Arion Mannarchör (see above).
Yet another classic across the street, #1001 Bushwick, an eclectic Queen Anne style, built in 1890 for Charles Lindemann, an officer in Brooklyn's German Republican Club.
The Colonial Revival #1019 Bushwick Avenue, near Linden Street. The architect was Ulrich J. Huberty, who built the Grand Prospect Hall, the massive St. Barbara's Church on Central Avenue, and (the closed) Prospect Park Tennis House with Frank Helmle. He did this all before his death at the young age of 33. Brownstoner has the full story.
Next door is #1025 Bushwick, on the corner of Linden. It is an 1880s eclectic Queen Anne, apparently much altered over the years.
Brick mansions are my favorite type. #55 Linden Street, on the corner of Bushwick, went up in 1885 and is the end piece of a row of handsome brick townhouses on Linden. The slanted roof, dormers and metal crenellation show French Second Empire influences.
"Leverich Gardens," 1040 Bushwick at Gates Avenue, is the first large apartment building I encountered walking down the avenue. Whenever you see buildings of this type, assume they were constructed in the early to mid-1920s in this style. I grew up in a building like this in Bay Ridge.
The name "Leverich Gardens" is a puzzler, since Leverich is a name more associated with Woodside/Jackson Heights at least on early maps. Perhaps a member of the family moved to Bushwick.
In 2015, I encountered this former Masonic temple at #1054 Bushwick on the east side of Gates and found it in desperate need of a rehab. The latest Street View shows it surrounded by construction netting so those needed improvements are finally being made. The building was constructed in 1920 as the Ridgewood Masonic Temple; the lodge located here moved to College Point some decades ago. It is a late example of Beaux Arts style. It is a designated NYC Landmark, but is being converted for residential use.
By 2017 the Kings Hotel, 1078 Bushwick, had lost the crown on its awning. It is in a row of brick attached houses built in the 1870s.
The Romanesque Bushwick United Methodist Church (Bushwick Avenue Central Methodist Church) at Madison Street was built in 1887 with an addition in 1901 (one cornerstone has the date 1912, when the addition, which included the corner tower, was completed). Most of it faces Madison, the side street. It remains a big part of the community, hosting concerts and feeding the needy.
Yet another church in the former City of Churches is at #1170 Bushwick at Cornelia Street, originally Bushwick Avenue Congregational Church, now the Restoration Worship Temple. Another Romanesque Revival this one completed in 1897 with darker brick. It was gutted by a 1997 fire, but rebuilt. As Montrose Morris explains, it had a colorful early history.
Catercorner on Bushwick and Jefferson Avenue, two different philosophies in architectural styling.
I always liked this late 1880s style of placing windows facing the intersection; it allows whoever is sitting by the window to see in 3 different directions, at Bushwick and Hancock Street.
Attached residences with porches, late 1880s, Bushwick Avenue between Weirfield and Halsey Streets.
In a brick row, #1284 Bushwick has kept its original metalwork at the second floor window, but not its original door.
A number of buildings on Bushwick Avenue between Eldert and Covert Streets have kept much of their original detailing including this corner house.
The Episcopalian St. Thomas Church and its parish house take up most of the eastern side of Bushwick Avenue between Cooper and Moffat Streets. The parish was established in the 1870s, but the present parish house was built in 1905, the Neo-Gothic church itself in 1915. The congregation is primarily of West Indian extraction and ceremonies combine British, Caribbean, and African customs.
Cooper Street is named for Peter Cooper, the inventor and entrepreneur who parlayed his Newtown Creek glue factories into riches and philanthropy. He is directly responsible for the Cooper Union school in the East Village, which was originally free of charge to attend, and the dessert treat Jell-O®.
Unusually, Cooper Street extends into Queens, where it gains lanes and becomes busy Cooper Avenue, extending to Woodhaven Boulevard in Forest Hills. Exterior shots of Archie Bunker's house (which was supposed to be in Astoria) were done at a Cooper Avenue house opposite St. John's Cemetery.
The massive brick building on Bushwick between Moffat and Chauncey Streets is the former German Evangelical Home for the Aged, presently the Bushwick Multi-Service Center; currently, "residents receive services ranging from primary health care, HIV/AIDS services, mental health, family and individual counseling, job referrals and placement, foster care services, WIC, legal services and assistance, information & referral, advocacy, and also food & emergency food pantry services."
Whatever its use over the years, the place looks pretty forbidding.
With all the churches encountered on Bushwick Avenue, I had yet to find a Roman Catholic church — but here's one of the more obscurer ones you'll ever see, Our Lady of Lourdes, a simple brick building at the dead end of Furman Avenue, marked by a simple cross, church bell, and an image of Jesus' mother, the Virgin Mary.
The original church was much more massive and prominent, but it was arsonized in 1976. The original parish school building survives a block away on Broadway, but its grotto was demolished in 2015; the school had closed in 2004. The parish convent is being converted to residential.
Time to kick it in the head. I could have continued on into Evergreens Cemetery at the end of Bushwick Avenue, but I was tiring a bit. The Bushwick-Aberdeen Street station of the L train is hard to find — it's set back from the avenue between a pair of used car dealers.
Check out the ForgottenBook, take a look at the gift shop, and as always, "comment…as you see fit."
5/14/18